Obituaries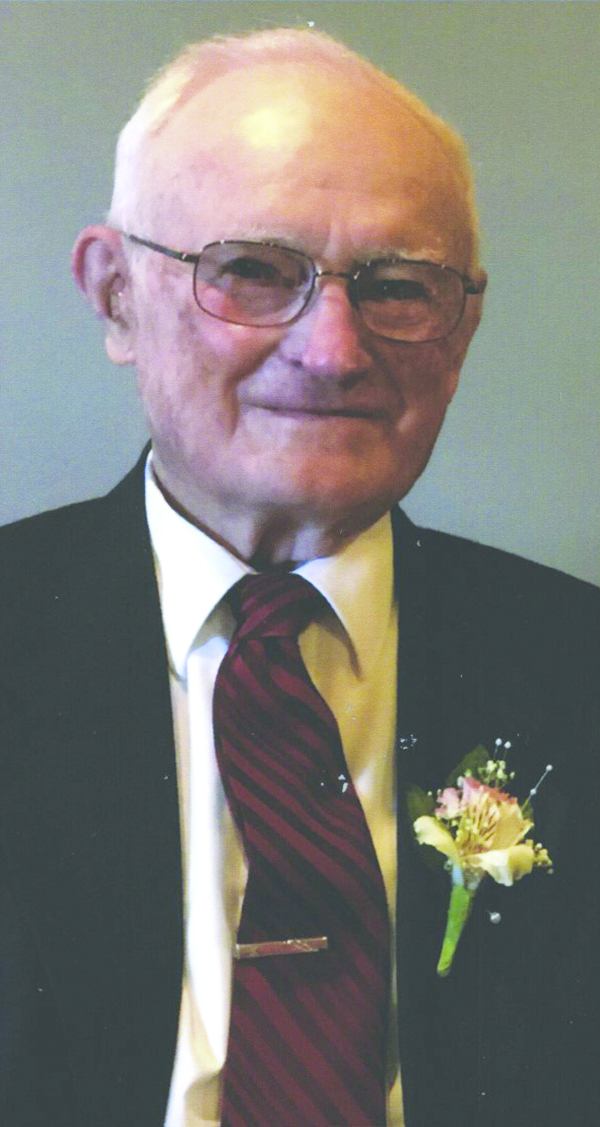 Raymond A. Reinert, 89
Raymond A. (Ray) Reinert of Millington, MI passed from our world into God's Kingdom early Wednesday afternoon May 9, 2018, Ray was 89.
Ray was born in Millington on September 21, 1928, and was the son of the late Louis and Charlotte (Dittmar) Reinert. On April 5, 1953 Ray married Miss Marian Ill, of North Dakota. She and Ray celebrated 65 years of marriage. Ray was also a lifetime member of St. Paul Lutheran Church and he served in the U.S. Army during the Korean War. When he returned he went to work for Frutchey Bean Elevator and the Millington Truck Body and Bob's Truck Body Repair working for these companies for many years. Ray also ran his own farm. Ray was a 49-year member of the Conrad-Wager and Keene American Legion Post 164 of Millington. Though he has left us; his kindness and his warm smile will be forever in our hearts. The family would like to thank the many prayers, and thoughts people have expressed and shared. They would also like to give thanks to the staff at Covenant-Harrison and the many care givers that have been there these past weeks assisting Ray.
Ray leaves his wife Marian. He also leaves four children; Connie (Bill) Hoard, Gailan (Dawn) Reinert, Larry (Kim) Reinert and Ron (Melissa) Reinert. Surviving are also eight grandchildren; Greg, Kathryn, Chad, Amber, Alexis, Evan, Alana, Erinn and six great-grandchildren; Ace, Raegan, Lucas, Reese, Blake and Watson. Ray has two sisters surviving; Beulah Schiefer and Mildred Schreiner, two brothers, Al and Vic Reinert and many nieces, nephews and extended family. Besides his parents, Ray is preceded in death by four brothers; Walter, Erwin, Harvey and Wymon and two sisters; Vera Witt and Erna Rodammer.
Funeral services took place on May 14 with burial at the Millington Twp. Cemetery. Pastor James Bruner delivered the funeral message and the committal prayer at the cemetery. The Conrad-Wager & Keene American Legion Post 164 concluded the committal services with Military Honors. Memorial Gifts of Remembrance can be directed to St. Paul Lutheran Church, or the Conrad-Wager & Keene American Legion Post 164 of Millington. Hanlin Funeral Home in Millington, MI has been assisting the Reinert family. You're welcome to express condolences, share a memory or light a candle at hanlinfuneralhome.com
Ronald William Spencer, 76
Ronald William Spencer, 76, of Oscoda, passed away peacefully on May 14, 2018 surrounded by family. He was born in Flint, MI. on September 23, 1941 to the late Irving W. and Beverly (Smiley) Spencer.
Ron served in the US Navy and retired from General Motors. He enjoyed hunting, fishing and golf. He was known as "Road Map" because he knew all the roads in Michigan so well that his friends and family said he didn't need a map.
Ron married Judith Herring on March 17, 2008; she survives. Also surviving are children: Mary (Fritz) Weidenfeller, Wisconsin; Elizabeth Waske, Grand Blanc; John (Bambi) Spencer, Belding; Charles (Stacey) Spencer, Lowell; Joan Spencer, Illinois; Stepsons Clifton (Rosemary) Myers, Florida; and James (Debbie) Myers, Illinois; Grandchildren: Brian, Brendan, Madison, Pawel, Noah, Alex, Abigail and Sam; Sisters: Carol Spencer, Saginaw; Karen (Chuck) Welker, Grand Blanc; Sandy (Steve) Rose, Traverse City; and a brother, Larry Spencer, Burton.
He was preceded in death by his parents; grandparents, Irving B and Hazel Spencer; Uncle Ted Spencer; step son, Kenneth Myers; and best friend, Don Myers.
Interment with military honors will be held at Great Lakes National Cemetery in Holly, MI on Tuesday,
May 29, 2018 at 12:30pm.
Condolences may be sent to www.sorensonlockwood.com.
Arrangements by Sorenson-Lockwood Funeral Home of Grayling, MI.
292472