Top Stories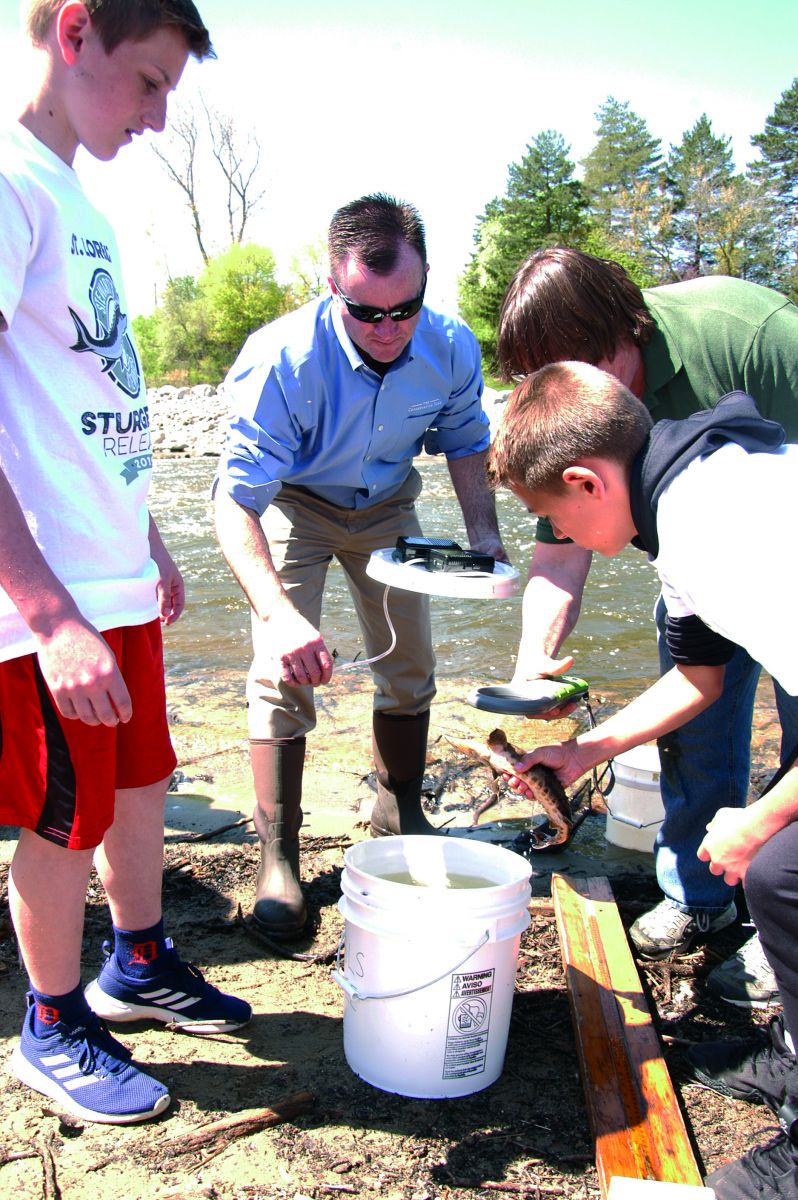 "STEWART THE STURGEON" . . . was released into the Cass RIver Tuesday morning by St. Lorenz Lutheran School seventh grade students Zakary Andrews (left) and Jacob Bently, with assistance from several fish and wildlife agencies. The Lake Sturgeon was given to St. Lorenz on October 30, 2018 and was four inches long. At release, it measured nearly 16 inches. The project was part of an education initiative called "Sturgeon in the Classroom." St. Lorenz Environmental Education Director Mandy Liddle coordinates the fish-rearing exercise. Last spring, 166 salmon fingerlings were released in the Cass River and in late August 2018, 144 juvenile Lake Sturgeon were placed in the river below the rock ramp. (News photo)
Stewart the Sturgeon released into the Cass
As was shared in the winter 2018 SLN edition, the fifth-grade classes at St. Lorenz Lutheran School are participating in the Michigan Department of Natural Resources (MDNR) Salmon in the Classroom (SIC) Program. This is a place-based, hands-on learning opportunity for the students to raise and release Chinook salmon into the Cass River in Frankenmuth.
Last spring, the students set free 166 salmon fingerlings into the river and bid them a fond farewell. Again, this year the fifth-grade students are busy tending to the next wave of salmon fingerlings to be released sometime in April.
Due to St. Lorenz's involvement in SIC, our school was asked to embark on another fish rearing journey; this time a threatened Michigan species. Through a network of environmentally minded organizations, including Sturgeon for Tomorrow, MDNR, U.S. Fish and Wildlife Service, Michigan State University and MSU Extension, Michigan Sea Grant, the Conservation Fund, the Saginaw Bay Watershed Initiative Network, and others, efforts are underway in the State of Michigan to restore once abundant populations of native lake sturgeon.
Fisheries managers and these organizations have been working together to accomplish this goal by restoring spawning habitat, engaging in and facilitating scientific research and providing community connections through education and outreach.
As part of the education initiative, the Sturgeon in the Classroom (SITC) program debuted as a statewide K-12 classroom program in 2015. Much like SIC, this program provides students the chance to care for and learn about the life history of the lake sturgeon and how it found its way on the path to becoming a threatened or endangered species in the Great Lakes.
St. Lorenz Lutheran is now one of fifteen schools in the state, and one of three in the Saginaw Bay Watershed that are currently participating in this unique conservation themed program.
The seventh-grade classes are in charge of nurturing "Stewart the Sturgeon" until its release this spring into the Cass River. Stewart will join the other 144 juvenile lake sturgeon that were released on August 31, 2018 at the rock ramp in Frankenmuth at a well-attended, city-wide celebration. The event was part of the Saginaw Bay Watershed Lake Sturgeon Reintroduction Program, an effort led by the MDNR and other local, state and federal partners to reestablish lake sturgeon in the Cass, Shiawassee, Tittabawassee, and Flint Rivers.
Both the SIC and SITC programs connect the students to their local river, which encourages community awareness and environmental stewardship. It also showcases how Michigan's sport fishing industry provides funding resources for conservation efforts including managing threatened and endangered species.
The SITC program was made possible by our aquarium sponsor, the Saginaw Bay Watershed Initiative Network and the steadfast collaboration of all the aforementioned organizations.
989368