Top Stories
Letters to the Editor
Frankenmuth Farmer's Market
In and Around Frankenmuth
Michigan Primary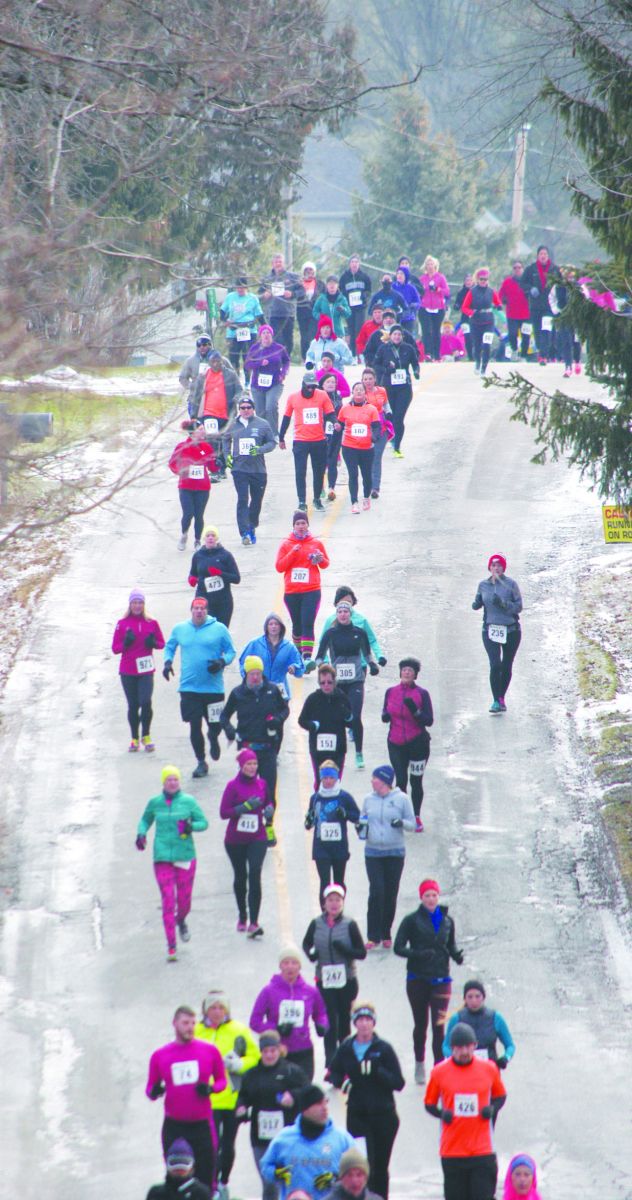 HEADING DOWNHILL: The sixth annual Winterlaufe, organized by the Frankenmuth Jaycees, drew over 700 runners and walkers to its unique 8K course last Saturday morning. Above, runners take on the hills of West Tuscola Road.
Winterlaufe draws record 723 participants
The Frankenmuth Jaycees first of three road races for 2016 was a record breaker for the organization last Saturday morning.
By the time the sixth annual Winterlaufe 8K road race began at 10am, over 700 runners and walkers were registered. This was a record for the event.
"Our committee was blown away by the success of this year's event," Winterlaufe Committee sponsorship chair Jessica Haynes said. "Not only did we have record-breaking attendance, but there were many new Jaycees involved in the project from the start who were able to see the impact this kind of event has on our community
The Jaycees organize the Winterlaufe, this year lead by Matthew Hutchinson as chairman. VantagePointe Financial Group was the presenting sponsor.
"The Winterlaufe race in beautiful Frankenmuth was a setting to some very competitive running on Saturday morning," Hutchinson said.
The participants enjoyed maybe the best weather in race history, with temperatures hovering around 30 degrees, partly cloudy skies and little wind. At least 12 participants were from different states and three hailed from Canada. About 11 percent were Frankenmuth residents and almost 90 percent came from outside the community, many who brought friends and family who cheered them on and boosted the local economy.
Hunor Tamas Csutak of Plymouth shot out of the starting line and held a big lead by the 2-3K mark of the race. The 27-year-old never let up, winning with a time of 26:45.
"Hunor ran a cool pace of 5:22 to lead the male category, finishing the five miler very quickly," Hutchinson pointed out.
Saginaw's Lee Bauer was second at 30:02. The 44-year-old male had to hold off the first-place female – who took third place overall. Clarkston's Tammy Nowik, 21, crossed the finish line at 30:11. The next closest female was in 18th place overall. Christina Swain, 21 of New Hudson, clocked a 33:58.
Other area 8K race males who finished among the top 30 were:
Thomas Heinlein of Ann Arbor, fourth place, age 48 (30:56). Heinlein is a FHS graduate.
Seth Willitz of Bridgeport, fifth place, age 17 (31:36);
Greg Thomas of Clio, sixth place, age 47 (31:40);
Dietrich Bronner of Frankenmuth, 10th place, age 36 (32:11).
Wesley Beck of Frankenmuth, 13th place, age 14 (32.55).
Ryan Hecht of Clio, 19th place, age 38 (34:15).
For the women who finished among the top 30 in the 8K race:
Amanda Simcox of Frankenmuth, fourth place, age 29 (35:45).
Sharon Bade of Frankenmuth, 11th place, age 53 (37:17).
Danielle Niergarth of Frankenmuth, 14th place, age 26 (38:18);
Delaney Knoll of Frankenmuth, 16th place, age 13 (38:38);
Samantha Rapson of Vassar, 18th place, age 14 (38:54).
Madison Mossner of Frankenmuth, 23rd place, age 20 (39:36);
Brenda Sievert of Frankenmuth, 24th place, age 52 (39:39);
Shanna Jacobs of Frankenmuth, 25th place, age 32 (39:43).
The top male and female walkers were John Wehrly of Madison Heights, age 76, clocking a 53:49, and Susan Mora Fassett, age 52, crossing the finish line with a time of 57:29.
The lone area male in the top 10 walkers was Vassar's Dewey Rapson, age 45, with a fifth-place time of 59:20.
Two Frankenmuth females finished among the top 10. Sandy Orlowski, age 29, clocked a seventh place time of 1:04.24 and Christine Ryan, age 66, strode to a 10th place time of 1:09.27.
"Winterlaufe could not have been such a hit without the help of our sponsors, who helped fund water and food for all our participants," Haynes said. "We are also thankful for our amazing volunteers, who showed up early and stayed late to help us set-up and clean-up for the event. That dedication is appreciated by the entire Winterlaufe Committee."
Additional sponsors included T𠆝ub's Pizzeria, the Harvest Coffeehouse, Weiss Equipment, daVinci's Italian Restaurant, Sullivan's Black Forest Brew Haus & Grill, Bavarian Inn Lodge, Bronner's CHRISTmas Wonderland, Grasel Graphics, Complete Runner, Frankenmuth Historical Association, Lee Tents, the Cobbler's Bench, Schaefer & Bierlein Chrysler-Dodge-Ram-Jeep, Fairfield Inn, SpringHill Suites, Weiss Centennial Farm and Frankenmuth Corn Maze; Healthy Handz and Gafkay Law.
𠇌ongratulations to everyone. The race hosted 723 registered runners and walkers and was the biggest turnout to date," Hutchinson concluded.
599302