Top Stories
Concert in the Park
Letters to the Editor
Frankenmuth Farmer's Market
In and Around Frankenmuth
4-H Club
Twp. Board Election
GAP Students
Fire Muster & More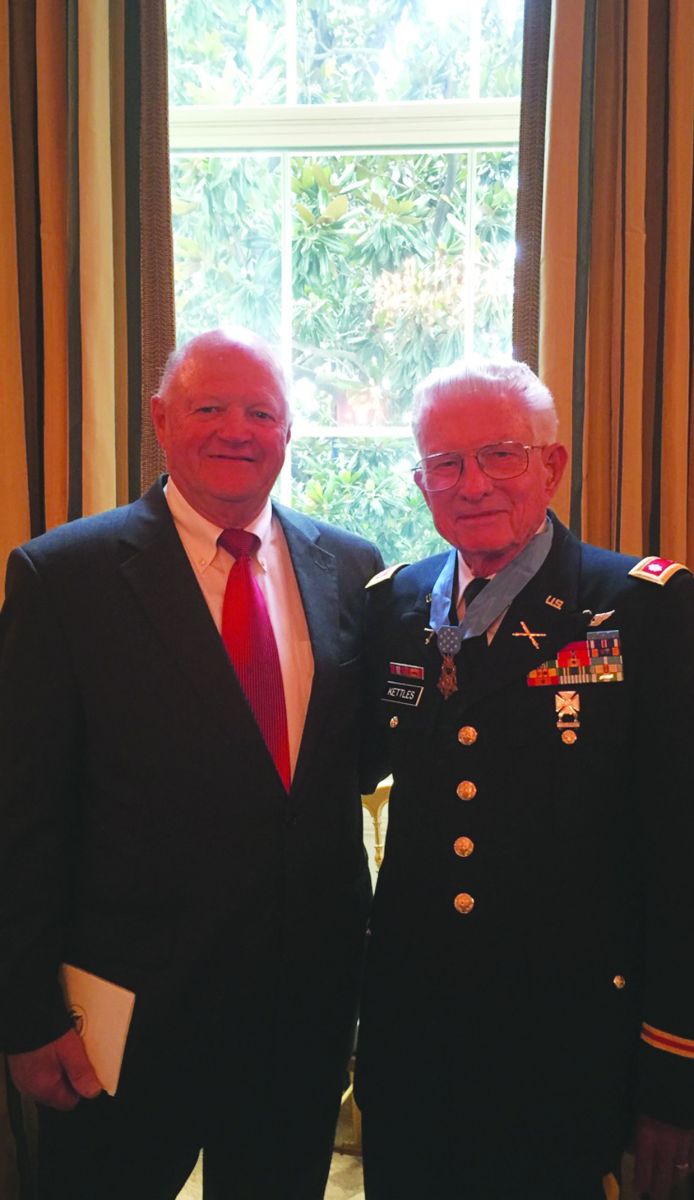 MEDAL OF HONOR CEREMONY: Michigan' Military and space Heroes Museum President David Johnston, left, was invited to attend a Medal of Honor ceremony at the White House July 18 as U.S. Army major Charles S. Kettles of Ypsilanti was presented the medal by President Baraack Obama.
Kettles receives Medal of Honor; Johnston witnesses ceremony
The State of Michigan now has four living Medal of Honor recipients among its 10 million inhabitants.
Ypsilanti's Charles S. Kettles has been a part of Michigan's Military and Space Heroes Museum for many years as a Distinguished Service Cross medal recipient, given to him for his action in Vietnam in May 1965.
However, a sit-down interview several years ago with Kettles by a journalist got the ball started to receive the Medal of Honor, Museum President David Johnston said.
"His wife said during the interview to talk about the Cross medal he received and his actions and that started the campaign to receive it," Johnston said.
Kettles received the Medal of Honor on Monday, July 18, from President Barack Obama at the White House and David and his wife, Carol, were there to witness it.
"I became friends with Charles years ago. He frequently called, came to our museum events, Stan's (Bozich, the museum founder) birthday party. I was just so flattered and honored to be invited to the ceremony," Johnston said. "The front row was filled with four-star generals, the secretary of the Army . . . it was an utterly amazing experience."
The Medal of Honor now has its home at Michigan's Military and Space Museum, which houses the largest collection of Medals of Honor in the world.
President Obama was moved by the actions of Kettles on that heroic day.
"To the dozens of American Soldiers that he saved in Vietnam, a half century ago, Chuck is the reason they lived and came home and had children and grandchildren. Entire family trees, made possible by the actions of this one man," Obama said at the medal ceremony.
During the Johnston's three-day stay in Washington, D.C., they enjoyed a reception with the U.S. Army, a family dinner with the Kettles at an elegant hotel overlooking the White House and Washington Monument, visited the Pentagon and the Hall of Heroes.
Kettles was born in 1930 in Ypsilanti and enlisted in the U.S Army in October 1951. He was commissioned in February 1953. His deployments included Korea in 1954, Japan in 1955, Thailand in 1956, France in 1964-66, and Republic of Vietnam, 1967 and 1969.
Kettles' Medal of Honor citation is as follows: For conspicuous gallantry and intrepidity at the risk of his life above and beyond the call of duty:
"Major Charles S. Kettles distinguished himself by conspicuous gallantry and intrepidity while serving as Flight Commander, 176th Aviation Company (Airmobile) (Light), 14th Combat Aviation Battalion, Americal Division near Duc Pho, Republic of Vietnam.
On May 15, 1967, Major Kettles, upon learning that an airborne infantry unit had suffered casualties during an intense firefight with the enemy, immediately volunteered to lead a flight of six UH-1D "Huey" helicopters to carry reinforcements to the embattled force and to evacuate wounded personnel.
Enemy small arms, automatic weapons and mortar fire raked the landing zone, inflicting heavy damage to the helicopters; however, Major Kettles refused to depart until all helicopters were loaded to capacity. He then returned to the battlefield, with full knowledge of the intense enemy fire awaiting his arrival, to bring more reinforcements, landing in the midst of enemy mortar and automatic weapons fire that seriously wounded his gunner and severely damaged his aircraft.
Upon departing, Major Kettles was advised by another helicopter crew that he had fuel streaming out of his aircraft. Despite the risk posed by leaking fuel, he nursed the damaged aircraft back to base.
Later that day, the Infantry Battalion Commander requested immediate, emergency extraction of the remaining 40 troops, including four members of Kettles' unit who were stranded when their helicopter was destroyed by enemy fire. With only one flyable UH-1D helicopter remaining, Major Kettles volunteered to return to the deadly landing zone for a third time, leading a flight of six evacuation helicopters, five of which were from the 161st Aviation Company.
During the extraction, Major Kettles was informed by the last helicopter that all personnel were on board, and departed the landing zone accordingly.
Army gunships supporting the evacuation also departed the area. Once airborne, Major Kettles advised that eight troops had been unable to reach the evacuation helicopters due to the intense enemy fire. With complete disregard for his own safety, Major Kettles passed the lead to another helicopter and returned to the landing zone to rescue the remaining troops.
Without gunship, artillery or tactical air support, the enemy concentrated all firepower on his lone aircraft, which was immediately damaged by a mortar round that shattered both front windshields and the chin bubble and was further raked by small arms and machine gun fire. Despite the intense enemy fire, Major Kettles maintained control of the aircraft and situation, allowing time for the remaining eight soldiers to board the aircraft.
In spite of the severe damage to his helicopter, Major Kettles once more skillfully guided his heavily damaged aircraft to safety. Without his courageous actions and superior flying skills, the last group of soldiers and his crew would never have made it off the battlefield.
Major Kettles' selfless acts of repeated valor and determination are in keeping with the highest traditions of military service and reflect great credit upon himself and the United States Army."
"We got the 44 out. None of those names will appear on the wall in Washington. There's nothing more important than that," Kettles said.
The other three living Medal of Honor recipients, recognized at the museum, include Peter Lemon of Tawas City (Vietnam), and Korean War veterans Duane Edgar Dewey of Muskegon and Robert Ernest Simanek of Detroit. A total of 108 Medals of Honor are accredited to Michigan, beginning with the Civil War.
We're glad you took the time to check out the abbreviated version of our paper. To enjoy the Frankenmuth News in its entirety - click on the "subscribe" tab.
652304