Top Stories
Police Report
New Business
Brucklaufe half-marathon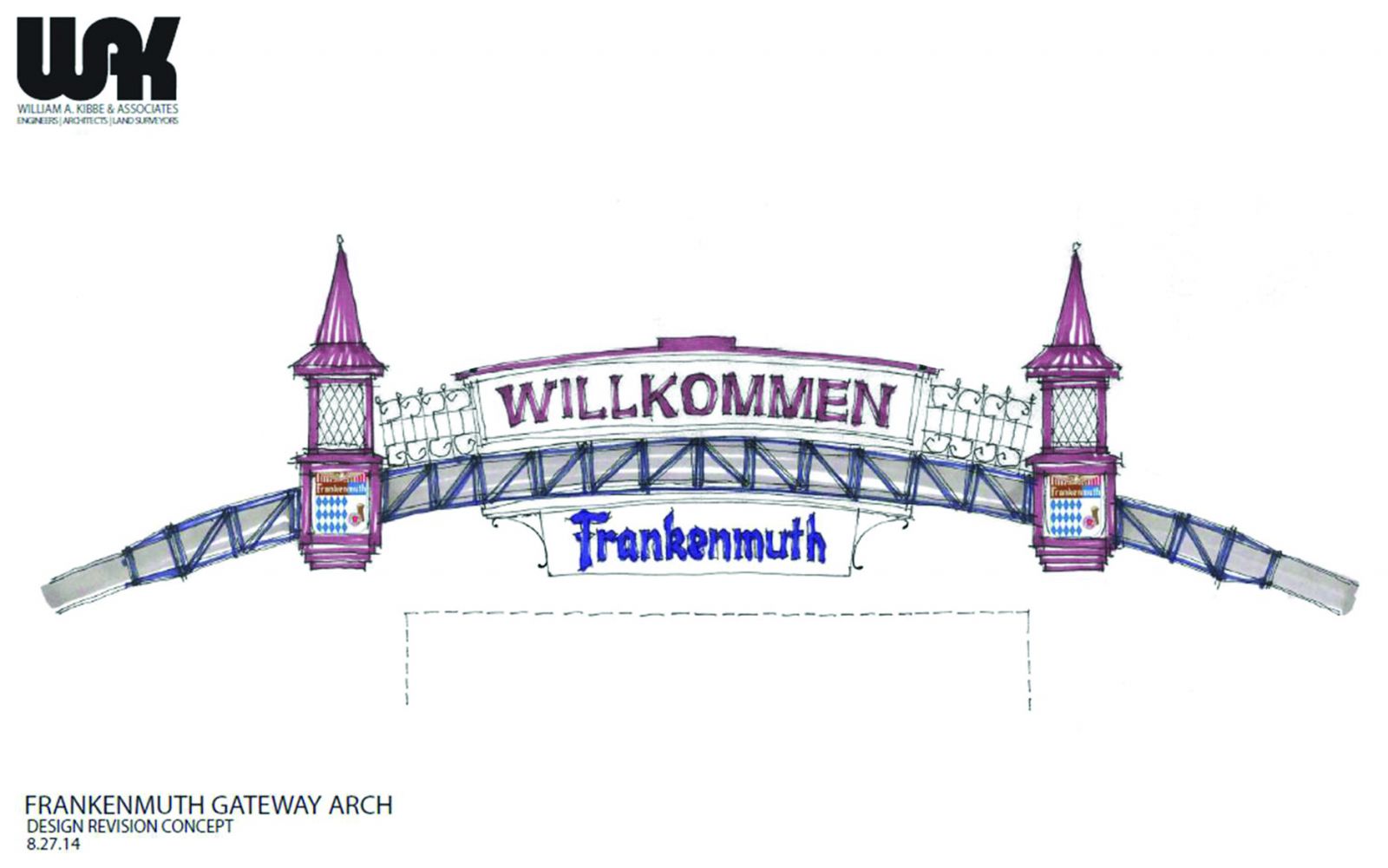 DDA Seeks comments on proposed gateway arch
A majority of motorists who visit Frankenmuth travel to town from the south, using M-83.
In the near future, they may have a gateway arch to "Willkommen" them or say "Auf Wiedersehen" as they leave.
On behalf of the Walter and Marie Palmer Foundation Fund of the Frankenmuth Community Foundation, the City of Frankenmuth will host an open house for the public on Thursday, September 18, between 3-6pm at Cross Park, located on M-83, just south of Weiss Street.
The proposed gateway arch site would span M-83 between Cross Park and Grandpa Tiny's Farm. An artist rendering will be available for public review and comment.
In the event of inclement weather, the open house will be moved to the City Township Public Safety Training Room, 218 West Genesee Street.
"The open house is informal in nature and will allow interested persons to see drawings of the potential arch as well as its location," Frankenmuth Downtown Development Authority Director Sheila Stamiris said.
Following the September 18 gathering, a more formal public hearing will take place at the Frankenmuth City Council's monthly meeting, set for 7pm Tuesday, October 7. At that time, members of the public can make comments officially to the City Council.
The Palmer Foundation Fund was started as a charitable organization by the late Walter and Maria Palmer, the original owners of the Bavarian Haus Motel, now Zehnder's Splash Village.
The Palmer Fund, now part of the Frankenmuth Community Foundation, has funded a variety of community projects, including the Palmer Schau Platz, the Christmas over-the-street star streamers, the Frankenmuth School District music and band programs and more. Currently, the Fund is helping improve the sound system at the Bronner Performing Arts Center.
Palmer Fund trustees, with the approval from the Frankenmuth Community Foundation, seek to gift this arch to the Frankenmuth community, paying all the construction and long-term maintenance costs – just has it has done for more than 20 years with the star streamer program.
"It is the intent of the Palmer Fund that the City of Frankenmuth would be the steward of the arch, overseeing its construction and maintenance at no cost to the local citizen," Stamiris pointed out.
The Fund is working through the Downtown Development Authority, who has supplied staff and guidance to the project.
For more information, contact Stamiris at 652-3430, extension 120 or choose her email at sstamiris@frankenmuthcity.com
464231