Top Stories
Frankenmuth Farmer's Market
FHS Student news
Birthdays
FHS Graduation
FHS Ag Heritage Day
Legion, VFW-Memorial Day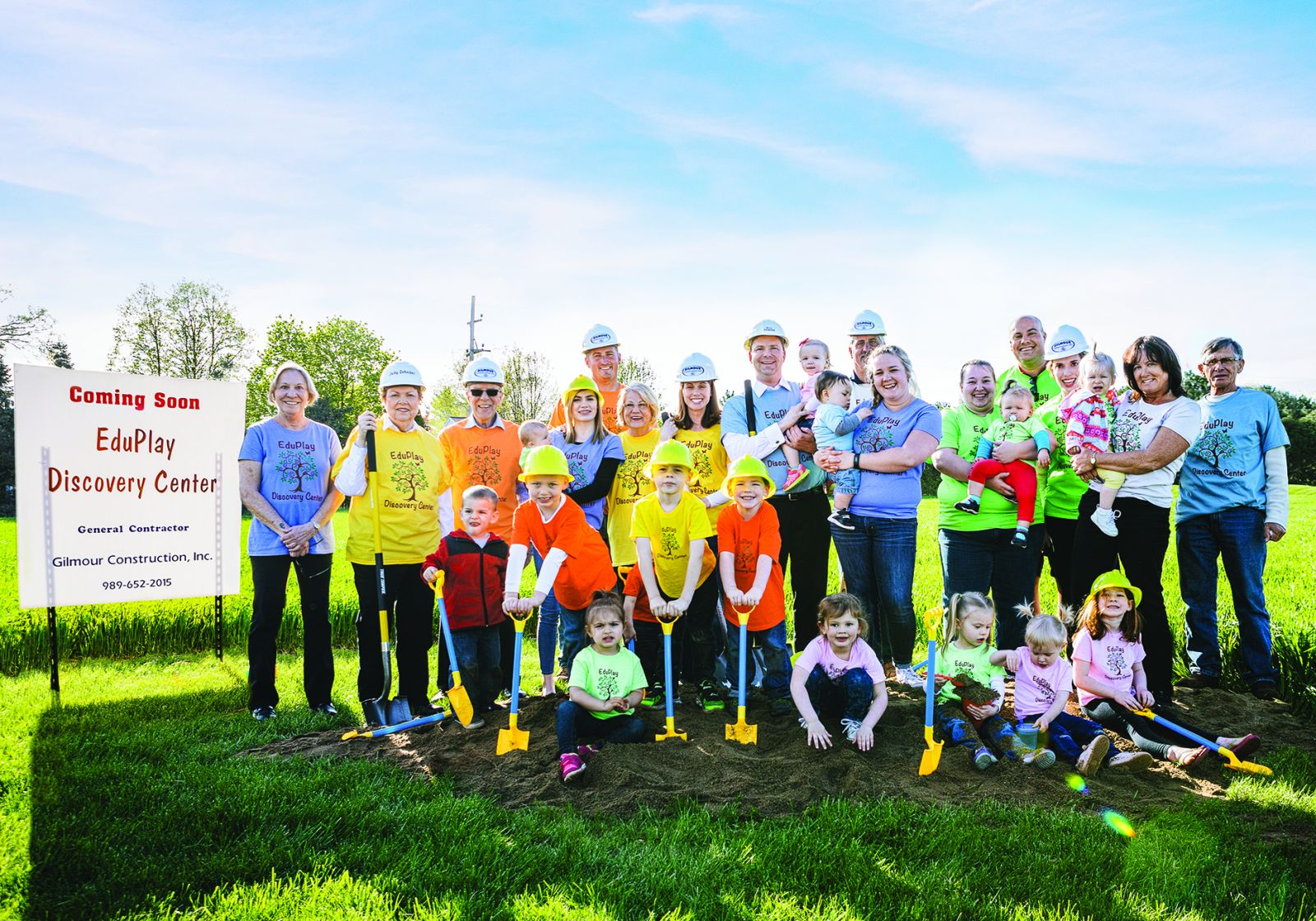 GROUNDBREAKING . . . for the EduPlay Discover Center took place May 3. Over 100 persons attended the event, including several exuberant children ready to get their shovels in the ground.
EduPlay Discovery Center to open this Fall
Families with small children from Frankenmuth and surrounding communities will soon have a brand-new child care facility right in the heart of Frankenmuth when the EduPlay Discovery Center opens this fall at 518 N. Franklin Street. Local Owner/Director Kimberly Zehnder and her team hosted a formal groundbreaking at the site on Wednesday, May 3 with over 100 people in attendance.
The new facility will house more than 10,000 square feet (5,800 on the main floor and 5,000 in the basement). It will feature approximately one acre of outdoor play space, a covered patio, indoor gym area, a hose-down art room for water and messy art play, a small library and a kitchen equipped for food service. It is designed to serve up to 66 children (0 – 12 years) during the first year of operation with the capacity to enroll an additional 48 children when needed. EduPlay Discovery Center has partnered with Frankenmuth Credit Union to finance the project.
"We are very excited that we will soon be able to accommodate so many of the children that have been on the waiting list for our services," said Zehnder. ter three and a half years of operating out of my home, I have 30 children from 0 – 5 years on the waiting list." She noted that those on the list will have the first opportunity for the additional full and part-time spots at the new center, including children who qualify for state-subsidized (DHS) assistance.
She explained that the children she currently cares for come from Frankenmuth, Vassar, Millington and Birch Run. While in her care, they learn through discovery, education, play and exploration, especially in an engaging environment that embraces her passion for outdoor learning.
𠇏ortunately, I have four wonderful teachers—Hailey Bellamy, Jaclyn Hershey, Karen Pratt and Rachel Smith—to assist me from day one. All have child development credentials. I plan to hire several additional team members ahead of our opening this fall," Zehnder added.
In addition to Zehnder and her staff, guests at the groundbreaking included: all of the families and children currently in the program, Project Architect Praveen Manyam from the Manyam Group, the building's General Contractor Tim Gilmour of Gilmour Construction, along with community representatives, Zehnder family members and friends.
Kimberly Zehnder holds a Bachelor of Arts degree in Business Administration and Marketing with a minor in International Studies from Northwood University along with a Child Development Associate. She has also pursued additional studies in child development from U of M Flint and has been a licensed provider since December 2012.
For additional information or to follow the project's development, go to www.EduPlayDiscoveryCenter.com. Families interested in having their children considered for participation in the Center's programs as well as qualified child care providers seeking employment are also encouraged to visit www.EduPlayDiscoveryCenter.com or email Kimberly at kimberlyz@eduplaydiscoverycenter.com.
748791