Home
Article Name
We hope you enjoy this abbreviated version of the
Frankenmuth News
Serving Frankenmuth Since 1906
Vol. 112 No. 20 In our 112th year!
Wednesday, December 13, 2017
-----------------------------------------------------------------------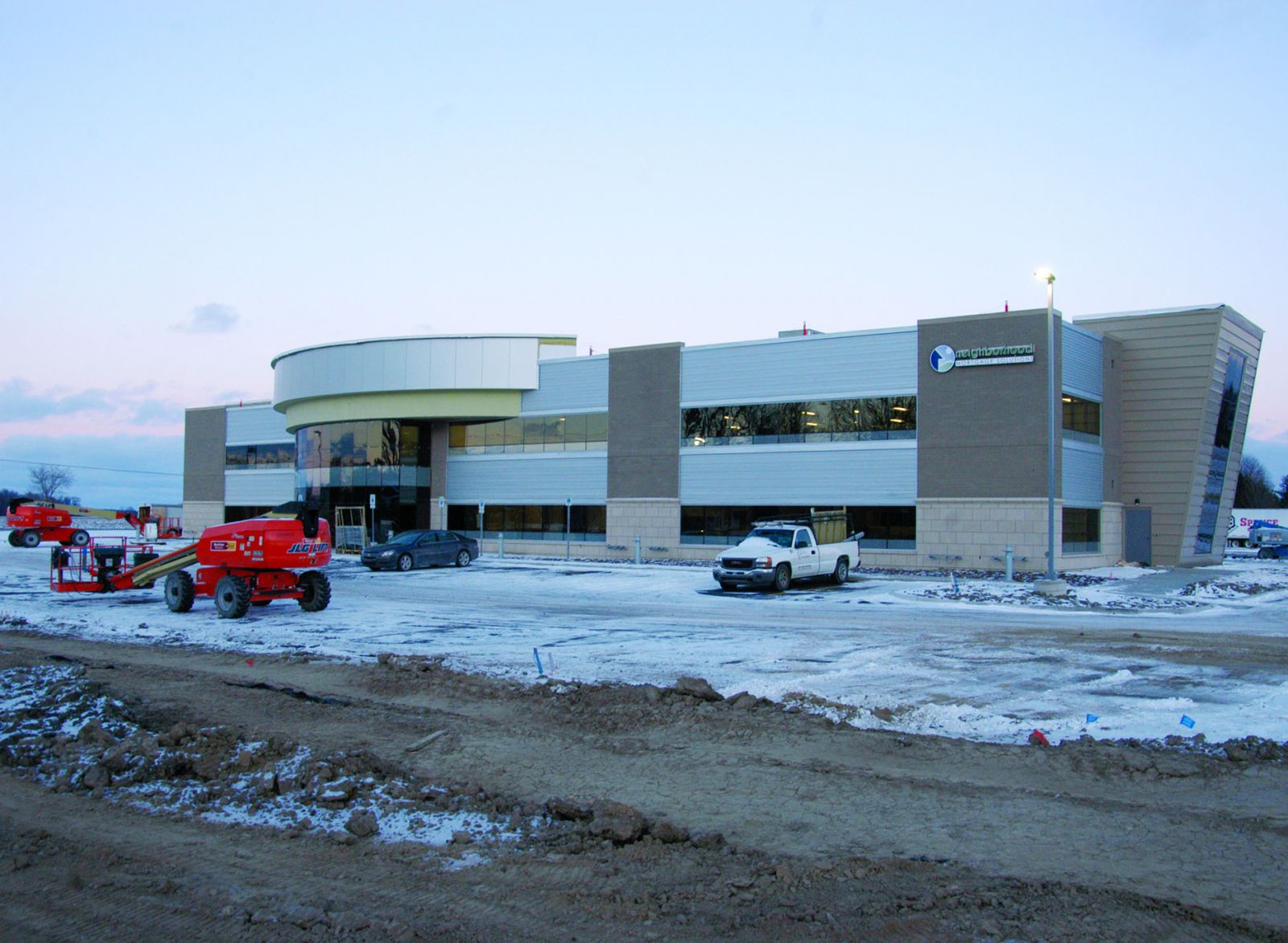 READY FOR BUSINESS! Uptown North main, a two-floor, 34,000-square-foot building, will have its first tenant moving in next week. Neighborhood Mortgage Solutions will open for business on Tuesday, December 19. (News photo)
Uptown North Main is nearly open for business
Neighborhood Mortgage Solutions to open December 19
Last March, the Uptown North Main project began with a windy groundbreaking ceremony in the Frankenmuth Business Park.
Ten months later and with a whirlwind of construction, the first business is set to open for business next week.
Uptown North Main is located on the corner of M-83 and Roedel roads, in the Business Park. The 34,000-square-foot, two-story building will be gateway-style structure, welcoming people to the city's north end.
The Frankenmuth Credit Union (FCU) purchased the land for the project, which is its own entity, FCU CEO Vickie Schmitzer said.
The first tenants to move into the building will be Neighborhood Mortgage Solutions as they will occupy the south side main and second levels. A total of 55 employees will be inside and ready to work on Tuesday, December 19.
Neighborhood Mortgage Solutions will have a short, across-the-street move. The firm has been located at 544 North Main Street – immediately south of the FCU main branch. They are also likely to be the most-happy to make the move as their current quarters are quite cramped and space limited.
Jeff Schmitzer's Uptown Barbershop will be next to open, with his first day on Tuesday, December 26, on the complex's lower level. Rich McClain, owner of Rich's Barber Shop at 1022 Weiss Street, will cut hair 1-2 days a week at the shop.
Next, Healthy Habitz will move their business from 545 South Main Street and open Wednesday, January 10. Healthy Habitz was looking for a new location as plans are in the works to expand the Frankenmuth Cheese Haus, with their current building to be razed. They will also be located on the lower level.
Finally, DIG Café owner Lynn Parlberg plans to open her eatery sometime in March 2018, Final interior work will take place in February. DIG stands for Delicious Intentional Goodness and will be located in a 560-square-foot space in the lower level.
The business will go hand-in-hand with Healthy Habitz as Parlberg plans to offer healthy and locally-sourced fruits and vegetables and will have a built-in cliental with the Neighborhood Mortgage Solutions.
The north upper level will house a banquet center for up to 270 persons and a conference room that can accommodate up to 70 persons.
"You should see the view from the conference center . . . it is unbelievable," Schmitzer said.
People wishing to use the banquet center or conference room should call the credit union's main switch line, 989-497-1600.
To enhance better traffic flow, Roedel Road now has a turn lane. This will help with traffic entering and existing Uptown North Main on that street. The are approximately 250 parking spots.
The exterior motif was created with a nod toward the community's farmers.
"This is the north city limits and the entrance to Frankenmuth. Roedel Road is the Urban Limit Line (with Frankenmuth Township). We wanted the look to fit into the agricultural community as well as become a grand entrance, gateway, to Frankenmuth," Schmitzer pointed out.
The storm sewer work will be finished up this week, weather depending. Schmitzer is pleased to see that open ditch closed. This is an $80,000 city project, with a $60,000 grant from the U.S. Department of Agriculture and $20,000 from Uptown North Main paying for the project.
Future plans call for an easterly wing to be built. To date, four tenants want to be a part of that expansion.
𠇌onstruction will be based on need or interest, as well as square feet," Schmitzer said.
Schmitzer added that three condominium lots are also available for purchase, located on the corner of North Main and Keystone streets. The lot sizes are 1.9 acres, 1.46 acres and .96 acre. It is zoned mixed use.
𠇌onstruction has been ahead of schedule, the building is full and we are pleased," Schmitzer stated.
TSFF Architects designed the building, with Spence Brothers the general contract. Subcontractors include William Bronner & Son Contracting, Nuechterlein Electric and Bierlein-Trombley Electric (BTE).
Schmitzer also noted that the FCU purchased the Santa and Reindeer and ski-jumping Christmas decorations from the Frankenmuth City Beautification Committee. Santa is set up in front of the FCU and the ski jumper just south of Uptown North Main.
979239