Eagles Sports
FHS Cagers
FHS Wrestling
Competitive cheer
FHS Boys Bowling
FHS Girls Bowling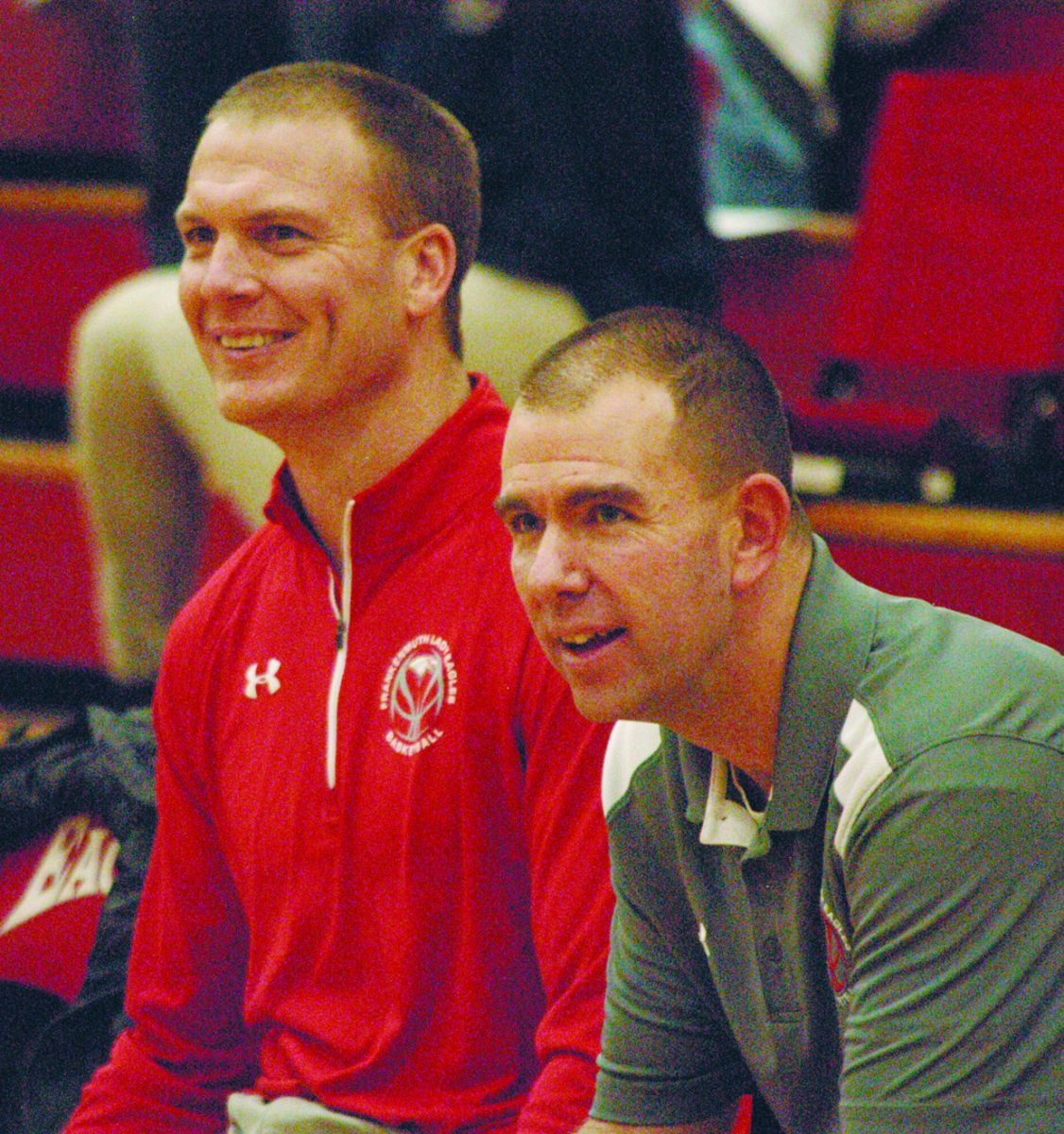 ALL SMILES: Frankenmuth junior varsity girls' Coach Walt Kujat and FHS varsity girls Coach Tom Keller share a smile during a game last week. The varsity finished the regular season 15-5 and the JV 14-6. (News photo)
Lady Eagle cagers clinch outright 11th straight TVC East Division title
The Frankenmuth Lady Eagles basketball team traveled to North Branch on February 14 and won 44-37 and then headed to Otisville-LakeVille on Thursday, February 16, and returned with a 61-33 triumph.
The win over the Falcons clinched at least a tie for the Tri-Valley Conference East Division – 'Muth's 11th consecutive crown. The team is 14-5 overall and 12-1 in the TVC East.
FHS Coach Tom Keller was pleased with the effort at LakeVille, following a lackluster contest versus the Broncos.
ter playing about as lethargic as we could have against North Branch, we played with great energy and effort against LakeVille. The first quarter was a good indication of how well we came out for this game," Keller said.
'Muth led 15-3 after eight minutes of play and led 23-15 at the halftime break.
"Offensively, we struggled a little in the second quarter when LakeVille started to pick us up full court and pressure a little more. We allowed them to speed up and make some poor decisions with the ball. We talked about how to handle that better at halftime and the girls did a great job coming out, finding their open teammates, and finishing easy baskets at the back end of the press," Keller explained.
Frankenmuth took a small, eight-point lead at the half and outscored the Falcons by 10 points in each of the final two quarters for the 28-point margin of victory.
"Our close win against North Branch, coupled with LakeVille's upset victory over Millington the same night, really got our attention," Keller said.
Kelynn Kujat led the Lady Eagles with 15 points, including a trio of three-point shots, and two assists. Kayla Kueffner also knocked down a pair of treys. Lindsey Mertz scored nine points with a three-point shot and collected 13 boards, five assists and two blocked shots.
"Our girls came out ready to play and we did an absolutely great job defending their top guards. That trio from LakeVille hit seven threes and we kept them from getting a single trey in our game, going 6 for 36 from the floor and contesting just about every look they had," Keller said.
Hannah Karwat scored 12 points, was 6 for 6 at the free throw line and filled the stat sheet with 13 rebounds, four assists, three steals and a season-high three blocked shots.
"I love the balance scoring we got in this game, with five girls scoring eight points or more. That makes it awfully tough to defend when there are that many scoring threats on the floor. We certainly needed to get a little confidence with our shot and it looked much better, shooting 40 percent from the floor, as well as the three-point line," Keller noted. "Our seniors controlled the paint, hauling down 13 boards each (Mertz and Karwat) and limiting LakeVille's second-chance opportunities."
For the game, Frankenmuth was 21 for 50 from the floor (42 percent), including 7 for 16 at the three-point line (44 percent) and 12 for 19 at the free throw line (63 percent). The Lady Eagles totaled 39 rebounds, nine steals, 19 assist and a season-high nine blocked shots while committing 23 turnovers and 10 fouls.
"With the win, we clinch at least a share of the TVC East title. When the season started, I don't think there were a lot of people who thought we would have been in the mix for that," Keller said.
The North Branch game story was in last week's issue of the News; however, the official statistics were not available at that time. Against the Broncos, Mertz scored 11 points and 14 rebounds and Kaylee Kujat posted 10 points with two, three-point shots and four assists. Karwat netted nine points with 15 boards and five steals.
For the game, FHS was 17 for 72 from the floor (24 percent), including 3 for 26 from the three-point line (11.5 percent) and 7 for 16 at the free throw line (44 percent). The Lady Eagles amassed 49 boards, 11 steals, 12 assists and one blocked shot (Kueffner) and committed 19 turnovers and 10 fouls.
Through 19 games, FHS has scored 937 points (49 points per game average) and shooting 36 percent from the floor. The team has made 64 of 241 three-point shots (27 percent) and 161 of 305 free throws (53 percent). 'Muth has collected 606 rebounds, 289 steals, 248 assists and 30 blocked shots while surrendering 399 turnovers and 247 fouls.
Frankenmuth played Essexville Garber last night (February 21) and with a win, clinches the outright TVC East title. The MHSAA Class B District No. 59 will be held at Birch Run, beginning on Monday, February 27.
Swan Valley (15-4) and host Birch Run (15-3) will square off on February 27, with the winner meeting 'Muth on Wednesday, March 1, at 7:30pm. The early game on Wednesday will pit Carrollton (3-14) against Bridgeport (7-11) at 6pm. The district title game will be held at 7pm Friday, March 3.
The district champ will advance to the MHSAA Class B Regional No. 15 at Frankenmuth, Tuesday and Thursday, March 7 and 9.
We're glad you took the time to check out the abbreviated version of our paper. To enjoy the Frankenmuth News in its entirety - click on the "subscribe" tab.
144626