Eagles Sports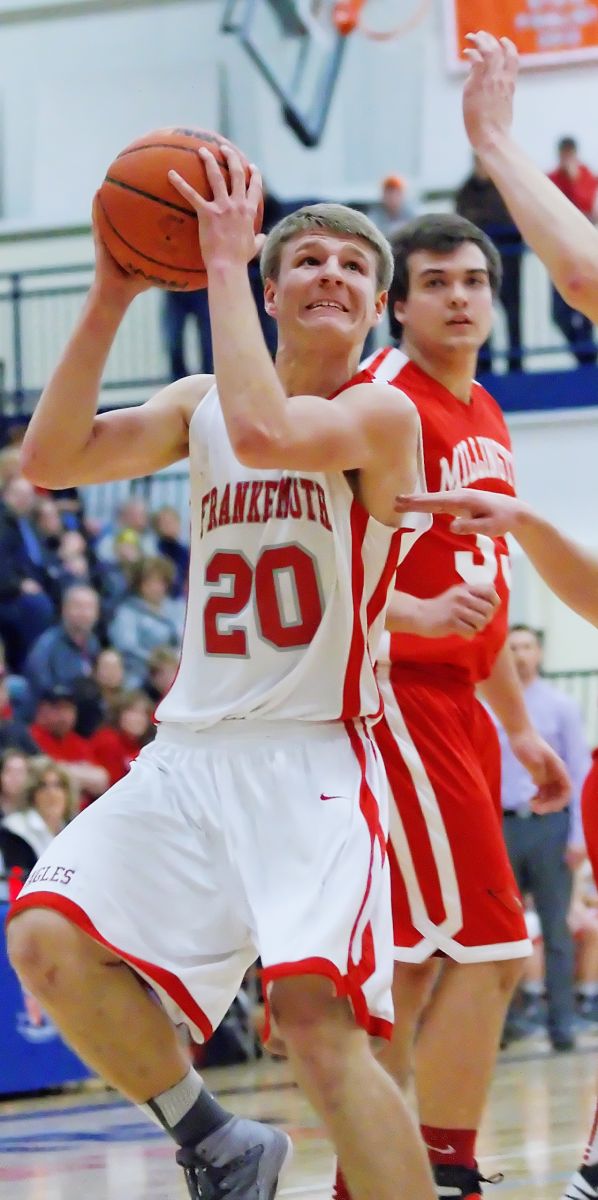 IT'S AN UP AND DOWN GAME: The Frankenmuth varsity boys' basketball team competed in the MHSAA Class B District No. 58 at Flint Powers Catholic last week, defeating Flint Northwestern 66-55 but falling to Millington in the championship game, 50-43. Above, senior Tyler Janson looks toward the basket to get off a shot. The Eagles finished 8-13 overall this season and 6-8 in the TVC East. (Photos courtesy/Chip DeGrace)
Eagle cagers cage Wildcats, fall to Cards in district final
'Muth pushes Millington in their 3rd meeting this season, falling 50-43
There was a lot of heart and determination in the 2013-14 Frankenmuth varsity boys' basketball team this recently-completed season.
The Eagles finished the year in the MHSAA Class B District No. 58 championship game, played last Friday night and hosted by Flint Powers Catholic High.
They were very familiar with the foe, Tri-Valley Conference East Division rival Millington. In the end, it came down to a little better execution and few more key plays as the Cardinals won, 50-43.
FHS squared off against Millington three times this year and, despite losing all three, held them down offensively.
'Muth ends the year with an 8-13 overall record and 6-8 in the TVC East. MHS won the TVC East with a 14-0 mark and for just the second time in school history, won a league and a district crown in the same season.
Millington, 22-1, faced 20-2 Imlay City Monday evening in regional action at North Branch. The 22 wins set a school record for MHS as well.
FHS Coach Andy Donovan had his charges ready for the third tilt against the Cards, with a recipe of tough defense. Millington led just 7-6 after one quarter and built it to 24-18 at halftime.
The third quarter saw both teams score 10 points, however, the Eagle cagers went on a 13-4 run in that time frame to pull within a single point. The last quarter became more offensive, with the Cards edging 'Muth, 16-4, for the seven-point margin of victory.
The difference in the game was Millington netting five of their final six free throw attempts within the final minute of the fourth quarter. Millington is shooting 70 percent from the charity stripe this season.
Seven Eagles scored in the game, led by Aaron Krafft with 10 points, including 2 of 3 three-point shots. The junior posted six rebounds, five steals and two assists for a good, all-around game.
Sophomore Zac Janson and junior Colton Zimmer each scored eight points, with Zimmer chipping in with seven boards and a team-high four assists. Sophomore Brady Wood scored nine points, making a pair of trey shots, and sophomore Sam Bookmyer collected 10 rebounds and a blocked shot.
Rounding out the FHS scorers was senior Tyler Janson with four points and five rebounds and Bookmyer and senior Lucas Ehrlinger had two points apiece.
For the game, Frankenmuth was 14 of 44 from two-point range (32 percent), 4 for 14 from the three-point line and 3 of 10 from the free throw line. 'Muth amassed 31 rebounds, one blocked shot, nine steals and six assists while committing 14 turnovers and 17 fouls.
Millington was led by sophomore Shawn Pardee with 19 points and Austin LeVan posted 11 points.
Despite the 8-13 overall record, the Eagles did outscore their opponents this season, 1,019-973.
Donovan will say goodbye to four seniors from this team: Tyler Janson, Lucas Ehrlinger, Michael Frahm and Jason Schaeff.
88958