Eagles Sports
FHS Ladies Golf
Eagle football
FHS Volleyball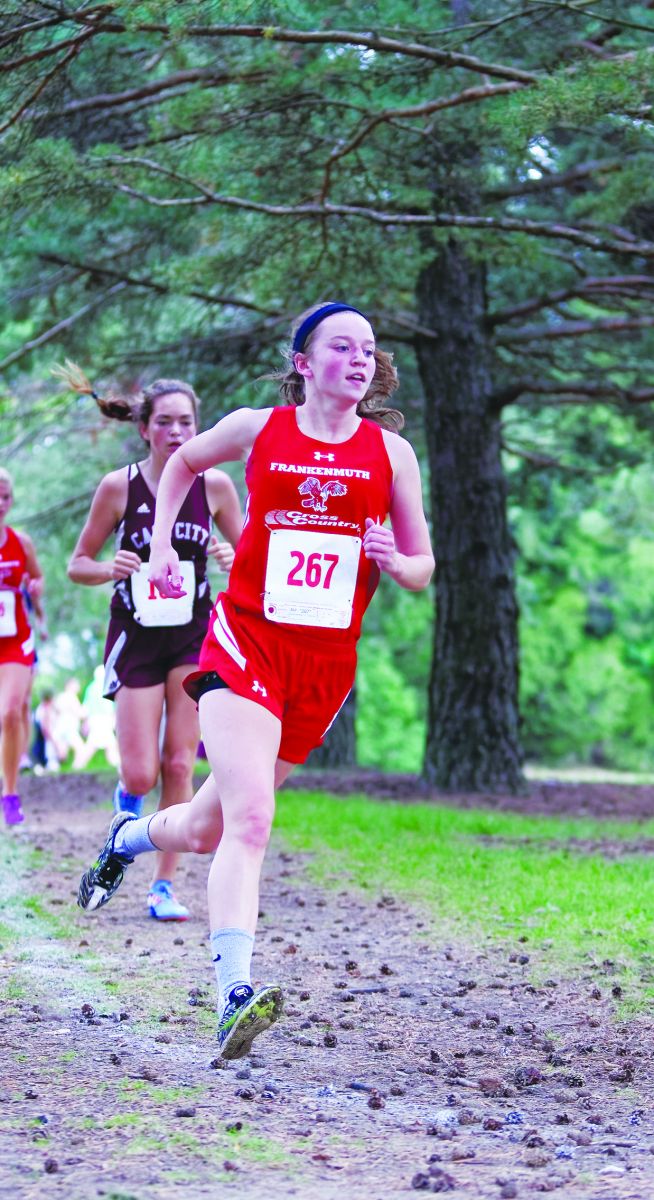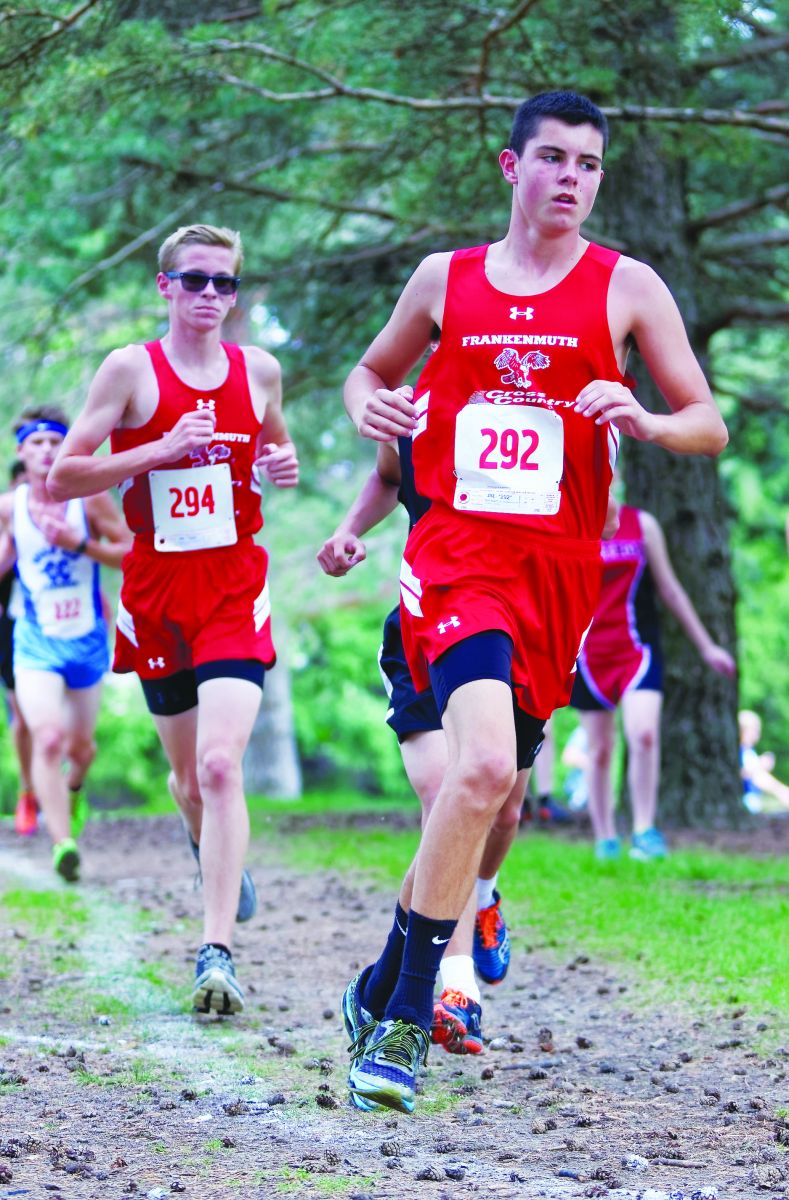 RUNNING BETWEEN THE PINES: The Frankenmuth varsity cross country teams competed in their own Eagle Invitational September 22, with the Lady Eagles winning the meet and the Eagles taking second. Above, Autumn Gentner and Scott Nedoff stride through Memorial Park.
FHS harriers use home course knowledge at own invitational
Lady Eagles take first place, Eagles settle on fourth place
by Head Coach Mike Snyder
The boys and girls high school cross country teams hosted their first home cross country meet of the year on Thursday with 19 schools and over 630 runners including middle school athletes. This was our largest home meet since Coach Fitch and I have been coaching and we believe it was very successful. We held five separate races and they all ran smoothly (varsity boys, varsity girls, JV boys and girls combined, middle school boys and girls combined and an open run). We added two items to our meet this year as Guernsey chocolate milk and DJ𠆝 music were waiting for the runners as they finished.
The girls' varsity and the girls JV teams each won their divisions and the boys' varsity and JV teams captured 4th places overall. Only teams with five or more runners are scored as part of the meet though all runners have chances to earn medals. Coach Fitch and I are very happy with the results of our teams especially on our challenging course with all of the hills. Very few athletes set season bests or personal bests on our course because it is one of the toughest courses in Michigan that we have been to.
The boy's raced first in 2016 and they did very well and are getting stronger and faster. They placed 4th just five points behind 3rd place New Lothrop. There were only two personal records and two season best times recorded today but effort and placement was the key to running on our home course. Getting a PR or SB on our course is doing very well.
Leading the boys, as he has all season, was freshmen Wesley Beck in 10th place with a time of 18:53 followed by senior Isaak Biddle in 21st place clocking a time of 19:27 which was over 1 ½ minutes faster than his time on this course last season. Senior Sam Stahlbaum was one of the few runners today that set a personal record as he clocked a time of 19:52 taking 28th place overall. Sophomore Scott Nedoff was next for the team in 46th place with a time of 20:44 more than a 1 ½ minutes faster than his time last year at this race. Sophomore Sam Piper shaved off 23 seconds from last years' time as he came in at 21:08 good for 53rd. Sophomore Michael Valone also shaved off 1 ½ minutes from last year as he placed 54th with a time of 21:09. Rounding off our top seven runners was junior Sam Neirink placing 74th with a time of 22:12.
The reserve team also placed 4th just eight points out of second place behind New Lothrop and Montrose; Yale won both the varsity and reserve races. Freshmen Nicholas Hyslop had a nice race with a 9th place 21:44 finish. Nicholas continues to look strong and is putting himself in a position to break into the top seven varsity runners. Junior Eric Hayes set a season best today and looked stronger than he has since he broke his collar bone at cross country camp. It's good to see him getting stronger as he clocked a 14th place 21:59. Junior Anthony Harris was 19th with a time of 22:33 followed by senior Hunter Duehring who set a season best time by shaving off four seconds from last years' time with a 22:43 finishing in 22nd spot. Freshman Conner Duff was impressive on the hills today as he worked to even his mile splits and it worked for him. Conner set a personal record of 25:49 by 30 seconds placing 45th. Junior Austin Notter came in 59th with a time of 27:52.
The girls were impressive again today as they captured 1st place in both the varsity and the reserve races. The varsity race was led by junior Hannah Loucks as she placed 3rd with a time of 21:05 which was 49 seconds faster than last season at this time of the year. Hannah is running on very tight hamstrings, but she finished in good form. Senior leader Carissa Schurr is still out with an ankle injury and the girls team did a great job and pulled together to fill in for her. Freshman Samantha Rapson continues to look strong as she was 7th with a time of 21:59. Freshmen Kallie Lindow was right on Samantha's heals as they battled back and forth with Kallie placing 8th today with a time of 22:02. It's great to have freshmen working together and pushing one another to get better. Sophomore Zoe Neirink shaved off 1 minute and 15 seconds from last years time as she placed 12th with a season best time of 22:29. Junior Sarah Richmond finished 20th with a time 15 seconds faster than last season clocking a 23:34. Senior Autumn Gentner finished 22nd with a time of 23:38 followed by freshmen Baylee Stainforth who earned a 7th spot on the team today and clocked a 28th place time of 23:57.
The reserve race (JV) was won by Frankenmuth with a very low score of 21 points (15 is a perfect score). The team placed 1, 2, 4, 5 and 8 for the top five scoring runners. They were led by sophomore Gabby Harris who is just starting to come back from shin problems and is finally feeling better. Gabby is working her way back to where she needs to be as she won the race with a time of 24:39. A strong senior Abby Struble was 3rd with a time of 25:25 followed closely by sophomore Adyson Bryce with a time of 25:27 good for 4th place. These two girls will continue to lower their times and I think it will surprise them how low they will be by the end of the season. Freshmen Hayleigh Atkin was 5th with a time of 25:53 followed by junior Dana Williams 8th place finish with a time of 26:20 which was four seconds faster than last season. Sophomore Nissia Bernard was 14th with a time of 27:56 followed by freshmen Heather Atkin and freshmen Tara Keller with times of 28:19/16th and 28:59/21st respectfully. Junior Kaitlyn Pierce is running on hurt legs again but managed to clock 29:58 good for 27th. Sophomore Mackenzie Miller shaved off one minute and 10 seconds off last years' time and is looking better and better. Junior Abbey Kerkau is also running on very sore legs as she toughed it out and was 32nd with a time of 30:33.
Coach Fitch and I are happy with where the team is at this point in the season. A majority of both teams are getting faster times than they had at this point of the season last year. This is a measure for us that they are heading for personal records. We would be happier if the entire team was healthy, but we are pulling together as a team and supporting one another very well.
We're glad you took the time to check out the abbreviated version of our paper. To enjoy the Frankenmuth News in its entirety - click on the "subscribe" tab.
133135