Eagles Sports
FHS Track & Field
Youth Sports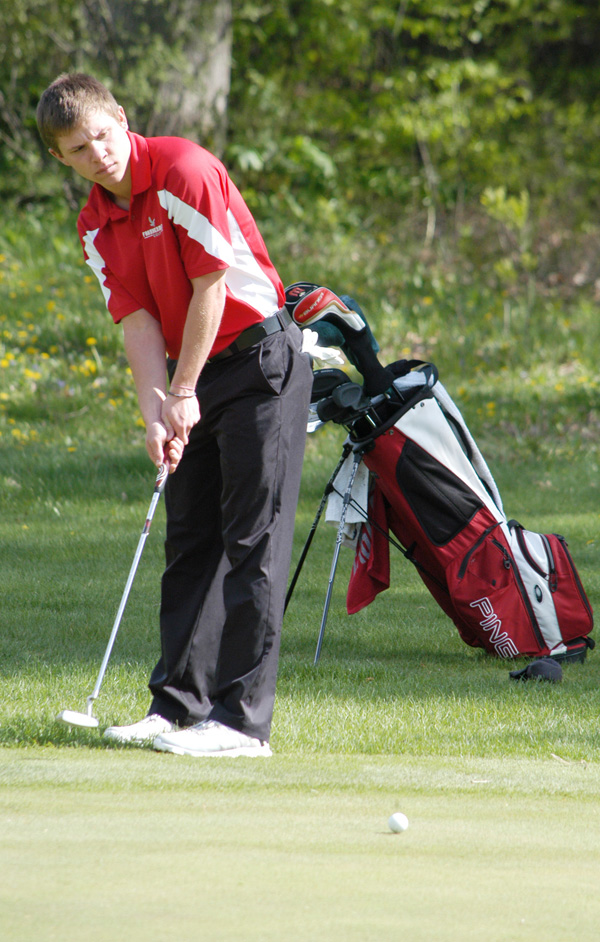 SMOOTH STROKE: Frankenmuth varsity boys' golf team member Joel Warnemuende putts off the fringe during the match at The Timbers Golf Course last Monday afternoon. The Eagles are currently in second place in the TVC East Division, behind Essexville Garber, with two league Jamborees left to play. (News photos)
FHS golf team currently in second place in the TVC East Division
The Frankenmuth varsity boys' golf season was off to a slow start this year, due to the cold and wet weather.
However, the Eagles are busy on the course, having played in three of the six Tri-Valley Conference East Division Jamborees in May.
The TVC East season opened at The Fortress Golf Course May 1, with FHS taking third place with a 173. Essexville Garber was first with a 162, Birch Run was second at 166, North Branch came in with a 177, Caro a 181 and Millington a 203. Bridgeport does not field a boys' varsity golf team.
Jamboree No. 2 was at Green Acres Golf Course and hosted by Birch Run. FHS carded a 176, good for fourth place. Garber won again with a 163, Caro was second at 170 and North Branch shot 174.
The Washakie Golf Course was the site for the No. 3 Jamboree, hosted by North Branch. The Dukes won their third straight match with a 152 while Frankenmuth was just four strokes back with a 156. Birch Run was third (166), Caro fourth (168), the host Broncos were fifth (172) and Millington was last (196).
The fourth Jamboree was held Monday, May 15, with cool, sunny and windy conditions at The Timbers Golf Course near Tuscola. Caro won with 175 strokes, followed by Garber with 178, Birch Run with 181, 'Muth with 184, North Branch with 184 and Millington with 214.
The four-Jamboree total has Garber leading with 655 strokes. The Eagles are second with 689 strokes – 34 behind the Dukes. The rest of the field is close, with Birch Run at 692, Caro at 694, North Branch at 707 and Millington at 809.
Nate Maroun led FHS with a 42 at the Timbers, followed by Chris List with a 43, Joe Warnemuende with a 49, Mitchell Leach with a 50 and Sam Struble and John Benson each carded 52s.
At North Branch, four FHS golfers fired 39s – List, Maroun, Leach and Warnemuende. Maroun leads FHS with 165 strokes in three league matches. List has 169 strokes, Warnemuende has 178 and Leach has 179.
On Monday, May 13, Jamboree No. 4 was held at The Timbers Golf Course.
The final two league outings are set for the Bay County Golf Course – Garber's home course – and the Caro Country Club – the Tiger's home layout. The matches will be held May 16 and May 22, respectively.
A trip to Tawas' Red Hawk Golf Course will take place Thursday, May 23, as well as the Bay City Western Invitational on Saturday, June 1.
The 13-school MHSAA Division 3 District No. 29 will take place Wednesday, May 29, at The Timber Golf Course.
The MHSAA Division 3 Regional No. 15 will be held at the Flint Elks Club on Thursday, June 6, hosted by Flint Powers Catholic.
Battle Creek's Bedford Valley Golf Course will host the MHSAA Division 3 State Finals on Friday and Saturday, June 14-15.
75945