Eagles Sports
FHS Cagers
FHS Wrestling
FHS Bowling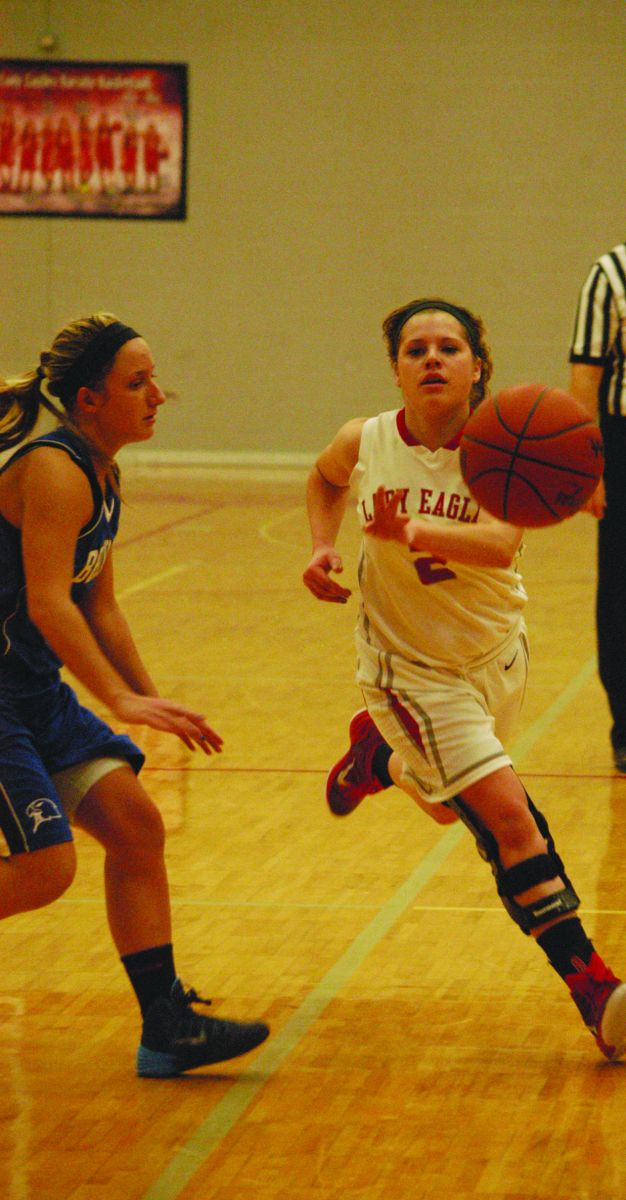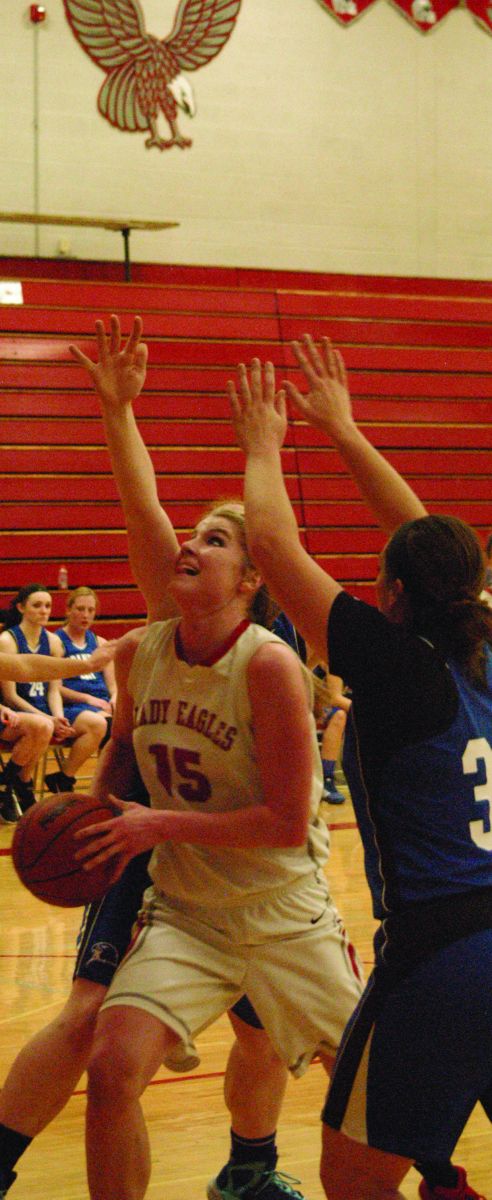 The Frankenmuth varsity girls' basketball team welcomed nonconference Ortonville-Brandon to town Tuesday evening, January 20. The Lady Eagles held a slim 27-22 halftime lead before bolting out to a 58-33 triumph over the Class A Blackhawks. Above and left, Elizabeth Laux makes a quick pass to a teammate. Above and right, Brayene Benner splits two Brandon players. Benner, a junior, led the team with 19 points, 10 boards, six steals, five assists and three blocks. She scored 12 of her 19 points in the second half. Junior Maddie Walter added 13 points and senior Kendra Kujat scored 11 points. (News photos)
Lady Eagle cagers are 9-1 at the season's halfway point
The Frankenmuth varsity girls' basketball team has reached its season's halfway point with an overall 9-1 mark.
The Lady Eagles also improved to a 7-0 record with a 53-22 home win over TVC East Millington. The victory was the 74th consecutive win in TVC East action, dating back to 2009.
FHS Coach Tom Keller was pleased with his team's effort, especially on defense.
"We came out with tremendous defensive intensity, shutting them out in the first quarter," Keller said of 'Muth's 10-0 first-quarter advantage. "They maintained it throughout the game as our pressure forced nearly 30 Cardinal turnovers, many of which resulted in transition baskets."
Frankenmuth extended the lead to 32-12 at halftime and with a 17-4 third quarter scoring spurt, led 49-16 to start the final quarter.
Senior guard Kendra Kujat continued her strong play, finishing with 20 points, six boards and four steals. She was 8 of 12 from the floor and 3 of 4 from the free throw line. Junior Maddie Walter chipped in with eight points, including a pair of three-point shots. She also had four steals to go with four assists.
Madison Wiskur scored seven points, Brayene Benner posted six rebounds, three steals and three blocked shots and Hannah Karwat added six points and five caroms.
For the game, Frankenmuth was 22 of 51 from the field (43 percent), including 4 of 12 from the three point line (33 percent) and 5 of 11 from the free throw line (45.5 percent). They registered 29 rebounds, 18 steals, 19 assists, nine deflections and nine blocked shots while committing 14 turnovers and 13 fouls.
Kendra Kujat is the leading scorer through 10 games with 126 points. She is shooting 40 percent from the floor, 30 percent from the three point line and 52 percent from the free throw line. She is the team leader with 39 steals and second in rebounds with 34 caroms.
Walter has scored 108 points, shooting a deadly 20 of 44 from the three-point arc (45 percent). Her 28 assists leads the Lady Eagles and her 13 blocks are second.
Benner has been cleaning the glass with 98 rebounds (45 on offense), while blocking 27 shots. She has 85 points.
Wiskur is the team leader with 37 steals and 20 deflections.
On Tuesday, January 13, FHS edged Birch Run, 37-35. While the game story appeared in the January 14 issue, the final team stats were not available as of press time. They are as follows:
FHS was 13 of 52 from the floor (25 percent), which included 2 of 20 from the three-point line, and 9 of 15 from the free throw line. 'Muth totaled 27 rebounds, 18 steals, seven assists, 11 deflections and three blocked shots while committing 13 turnovers and 18 fouls.
Frankenmuth will begin its second round of TVC East Division play with a trip to Otisville-LakeVille at 7:30pm Thursday, January 22.
Next week, the Lady Eagles will begin TVC crossover play, with a trip to the Central Division leading Freeland Falcons on Monday, January 26. On Thursday, January 29, they welcome North Branch and wrap up crossover action by bringing back TVC West leader Midland Bullock Creek on Thursday, February 5. The Lancers gave 'Muth their lone loss of the season back on December 5.
103695