Eagles Sports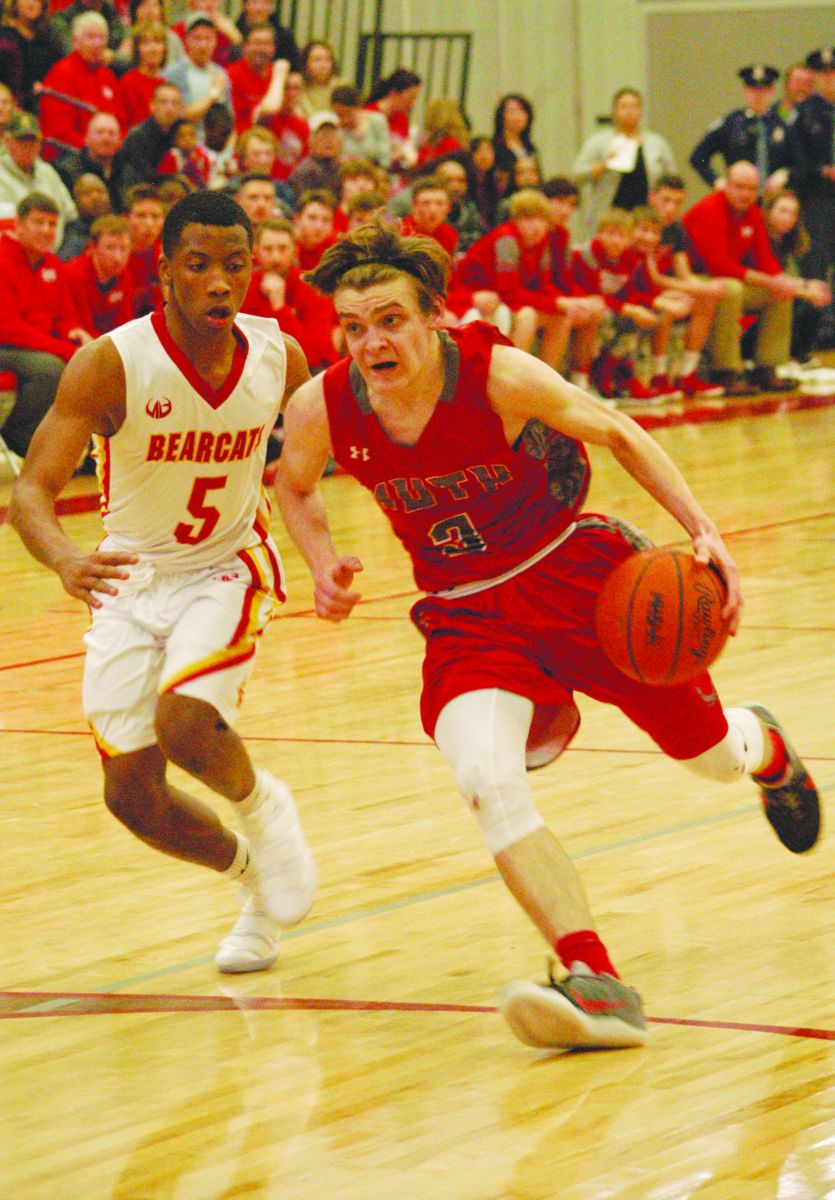 GETTING A STEP . . . on his Bridgeport opponent, Frankenmuth varsity boys' basketball player Sam Gray, right, pushes the ball up court during last Wednesday's home MHSAA district game against the Bearcats. The Eagles season came to an end with a 70-63 loss. (News photo)
Bridgeport beats FHS cagers in district semifinal, 70-63
The Frankenmuth varsity boys' basketball team had a third go-around with their league nemesis, Bridgeport, in the MHSAA Class District No. 55 semifinal last Wednesday evening at home.
Unfortunately, the Bearcats sidelined the Eagles, winning 70-63. The game was played before a sell-out crowd of 1,350 fans.
FHS finishes its stellar season with an 18-3 mark overall and 10-2 in the Tri-Valley Conference East Division. All three losses came at the hands of Bridgeport.
"The boys had three days of really great practice in preparation for the game. I thought it was our best effort of the three games we've played them, and they've all been battles. All year they've been a good practice team," Donovan said.
The game was quite physical and things got a bit chippy at times as the officials let both teams play full out. Foul trouble did catch up with the red and gray.
Frankenmuth led 15-14 after one quarter of play but trailed 34-29 by halftime.
"To beat Bridgeport, you first have to be really solid offensively. You can't turn the ball over, especially when it gives them runouts, and you have to get good shots, too, because they get out on the break off misses so well," Donovan pointed out. "Second, you have to be great on the defensive glass. They'll miss a lot of shots, but they are an elite offensive rebounding team and do such a good job scoring on those extra chances."
Following a 13-10 third quarter led by the Bearcats, both teams combined to score 47 fourth-quarter points, with 'Muth outscoring BHS, 24-23.
"I thought we played our best game offensively versus them. We changed some things, got the ball inside, and got back on defense pretty well. But they killed us on second shots, especially in the second half," Donovan recalled.
Starters Mario Whitley, Sam Gray and Stanley Trombley each finished with four fouls as well as reserve Thomas Brooks. That caused some down time for them late in the game.
"I was so proud of our team and how we battled back. We were down 60-46 with about four minutes to go. I thought our huddle was great as far as how we were challenging and encouraging each other. To go on that run and get it to 65-63 was impressive. We had our chances throughout . . . we just could not finish it," the coach added.
Whitley ended the game with 31 points, scoring on 10 of 13 attempts from the field and canning 11 of 13 free throws. He also hauled in 15 rebounds, blocked three shots and had two steals.
Gray scored 11 points, was 4 for 6 at the free throw line and gave out four assists. Zach Jacobs contributed nine points with three deflections while Trombley had a team-high six assists to go with five boards and a blocked shot. Carson Bell netted seven points and totaled six rebounds and three assists.
"It's very hard when the season ends. We were all hurting and I told the guys it always hurts more when you invest all you have and truly care. And these boys absolutely invested in our season, from last summer on. It's tough, too, because like last years, I really feel like both us and Bridgeport are two stronger teams capable of making a run, so the season ended just too soon. I loved coaching these guys; they are a great group," Donovan stated.
Bridgeport went on to win the district crown, mauling Millington, 72-38. The Bearcats, now 23-1, went on to win their MHSAA Class B Regional No. 14 opener at Goodrich, besting Ovid-Elsie, 82-44. BHS will take on 14-10 Flint Powers Catholic today (March 14) at Goodrich. The winner will move on to the MHSAA Class B Quarterfinal No. 7 in Corunna on Tuesday, March 20.
For the game, FHS was 18 for 27 from two-point range (67 percent), 2 for 14 from the three-point line (14 percent) and 21 for 30 at the free throw line (70 percent). The Eagles collected 28 rebounds, five blocked shots, six steals, seven deflections and 14 assists while committing 17 turnovers and 24 fouls, including one technical on Whitley in the second half. Gray took a pair of charging calls and Bell took one.
We're glad you took the time to check out the abbreviated version of our paper. To read more, you can find The Frankenmuth News at local news stands or click on the "subscribe" tab.
167664