Eagles Sports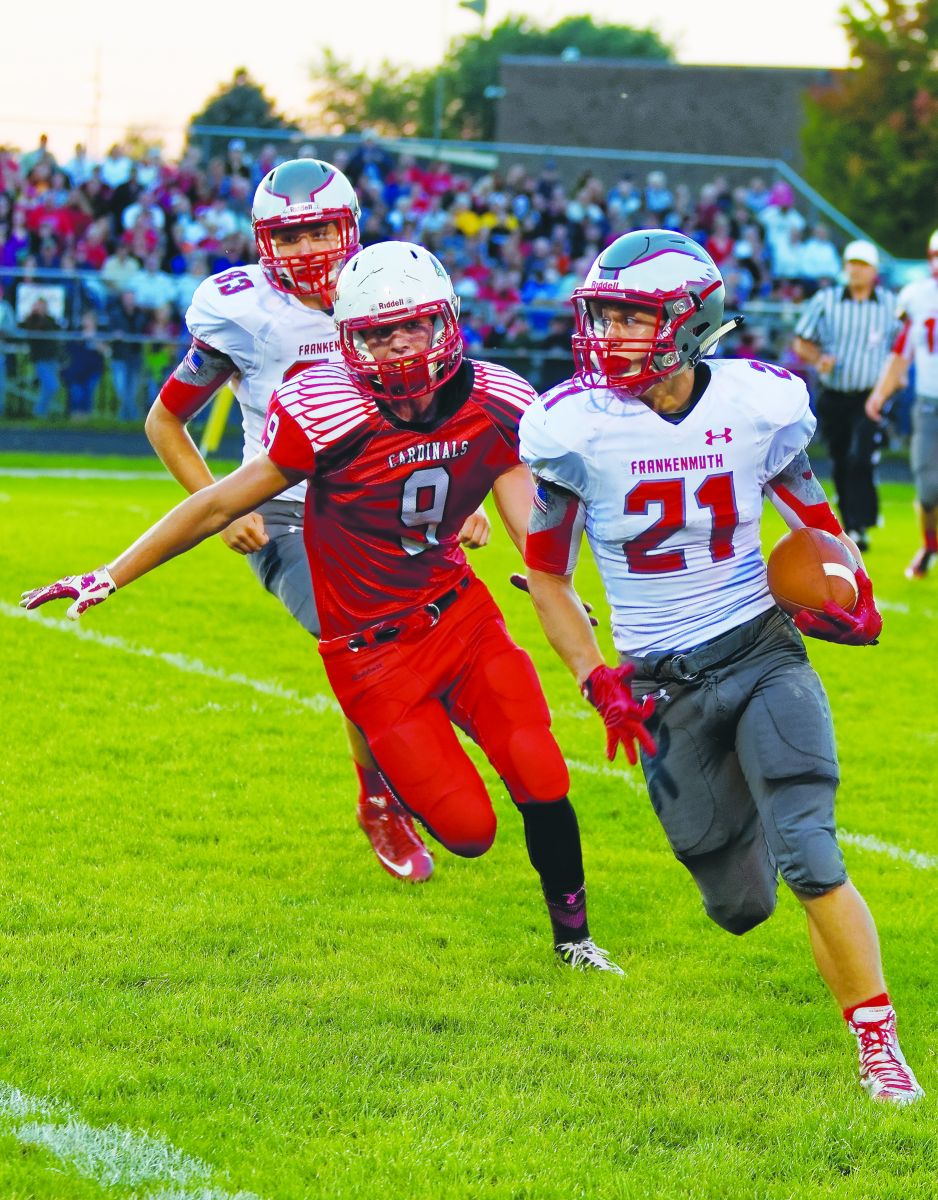 The Frankenmuth varsity football team tuned up for Homecoming 2015 last Friday night with a convincing 28-7 win at Millington. The victory pushes the Eagles' record to 5-0 overall and 4-0 in the Tri-Valley Conference East Division. FHS has been using its stable of running back to grind out games, coupled with a stout defense. Last week, 'Muth also showcased its passing attack as Eagle quarterback Jack Tagget completed 4 of 12 passes – all four were touchdown tosses – for 152 yards. Above, Eagle running back Jack Veitengruber scampers past a Millington defender, with teammate Aaron Haubenstricker in the background. At the right, Eagle linebacker Josh Szczepanski pressures Cardinal quarterback Caleb Wascher. FHS welcomes Essexville Garber for Homecoming on Friday, October 2. The parade is at 6pm, followed by the game at 7pm. (Photos courtesy/Chip DeGrace)
Running game sets up passing TD's for Eagles
An efficient pass completion to touchdown ratio fueled the Frankenmuth varsity football team last Friday evening at league rival Millington.
On a perfect evening for high school football, the Eagle gridders dominated the Cardinals coming home with a key 28-7 victory.
FHS moves to 4-0 in the Tri-Valley Conference East Division as they seek their fourth consecutive league title. They are 5-0 overall, with three of their last four regular-season games at home.
Millington falls to 3-1 in the East and 4-1 overall. The Eagles welcome Essexville Garber for a 7pm game this Friday, October 2, for Homecoming 2015.
FHS Head Coach Phil Martin used its vaunted running game to set up the timely passes, usually slants over the middle, to score all four touchdowns via the air.
Millington took the opening kickoff and four plays and nine yards, stopped them on downs at their own 46-yard line.
"We played well in all three phases of the game but the defense played exceptionally and set the tone early with a big fourth-down stop on their first possession," Martin said. "That stop energized our kids early and showed the coaches they were ready. Their offense came into the game red hot and we were able to slow them for the most part."
Following two rushing attempts, FHS quarterback Jack Tagget found a streaking Jared Davis for a 43-yard TD strike. Jack Veitengruber booted the first of his four PATs on the evening and 'Muth led 7-0 at the 9:12 mark of the first quarter.
The Cardinals' next drive lasted three plays and gained one yard, forcing a punt. FHS moved the ball seven plays and 41 yards but a Josh Szczepanski fumble ended the march at the Millington 17-yard line.
Szczepanski made up for the fumble eight plays later when Millington coughed up the ball and he recovered it at the Cardinal 42-yard line.
The two teams traded four more possessions until Frankenmuth mounted a 10-play, 76-yard drive midway through the second quarter.
The five-minute drive included five first downs, four different runners, two of 'Muth's 13 penalties on the night and it was capped by a seven-yard pass from Tagget to Grant Bronner. FHS led 14-0 heading into halftime.
The Eagle coaching staff must have inspired the team at the break as they mounted a 12-play, 75-yard drive to start the third quarter. Using just over six minutes off the game clock, Tagget got back to work and tossed a 47-yard TD pass to Brady Wood for a 21-0 advantage.
Overall, Frankenmuth had the ball approximately nine of the 12 minutes in the third quarter.
Frankenmuth tacked on its fourth touchdown on a four-play, 70-yard march. This time, Aaron Haubenstricker found the end zone, hauling in a 55-yard pass from Tagget. With 10:45 left to play in the game, the Eagles were thinking shut out.
Millington, however, did score with 4:36 left to play. Cardinal quarterback Caleb Wascher dashed 45 yards, ending a three-play, 49-yard drive. Shawn Pardee kicked the extra point.
Veitengruber did miss a 25-yard field goal late in the fourth quarter.
As a team, Frankenmuth rolled up 370 yards of total offense – 249 yards on the ground. They registered 63 offensive plays, 18 first downs, held the ball for 31:27, and converted 2 for 3 fourth downs and 6 of 14 third downs. 'Muth averaged 5.9 yards per play.
Millington managed just 133 total yards, six first downs, 43 plays (3.1 yards per play) and just 16:33 of possession time. Wascher was also sacked 3 times and hurried on many occasions.
"We did a great job of pressuring their quarterback and disrupting him – not letting them sustain drives. I was also proud of the defense not allowing points after they had a huge kick return early in the fourth quarter. That could have been a huge momentum boost for them and our defense rose to the challenge," Martin stated.
Szczepanski was the leading ground gainer with 100 yards on 18 carries. Veitengruber had eight carries for 51 yards, and Davis added 44 yards on 14 carries.
Tagget was 4 of 12 for 152 yards, no interceptions and four touchdowns.
"I felt like we moved the ball well most of the night and took advantage of play action for some big plays in the air. Our key was again holding the ball for 31-plus minutes and putting points on the board. Still some improvement needed, especially when it comes to penalties," Martin pointed out.
FHS was whistled for 13 penalties for 90 yards, including four for illegal procedure.
Grant Leach and Jared Mose each had seven tackles. Leach had two losses of 13 yards. Davis added five tackles while Dan Stone and Anthony Schurr posted four tackles each. Bronner picked off one pass and Szczepanski had a fumble recovery.
While 'Muth is unbeaten, Martin reminds his team and coaches there is a lot of season left to be played.
"We haven't clinched anything yet. This Friday we are playing another championship game. We look at the rest of our schedule as if we have started the playoffs already," Martin said.
After the Garber game, 'Muth heads to North Branch (October 9), brings in Caro (October 16) and entertains nonconference and currently unbeaten Freeland on October 23.
"We have a couple tough games and none tougher than this week. Garber will come here with league title hopes, too. Their offense has put up monster numbers and their quarterback had been the key," Martin pointed out. "We have to disrupt his timing and not let him feel comfortable in the pocket or he has the ability to pick us apart. They have a lot of offensive weapons that can stretch the field and score at anytime."
Defensively, Martin said the Dukes have good size, run to the ball well and their back seven players are very active, forcing quite a few turnovers.
To enjoy the Frankenmuth News in its entirety - click on the "subscribe" tab
115023