Eagles Sports
FHS Cagers
Lady Eagle Basketball
FHS Bowling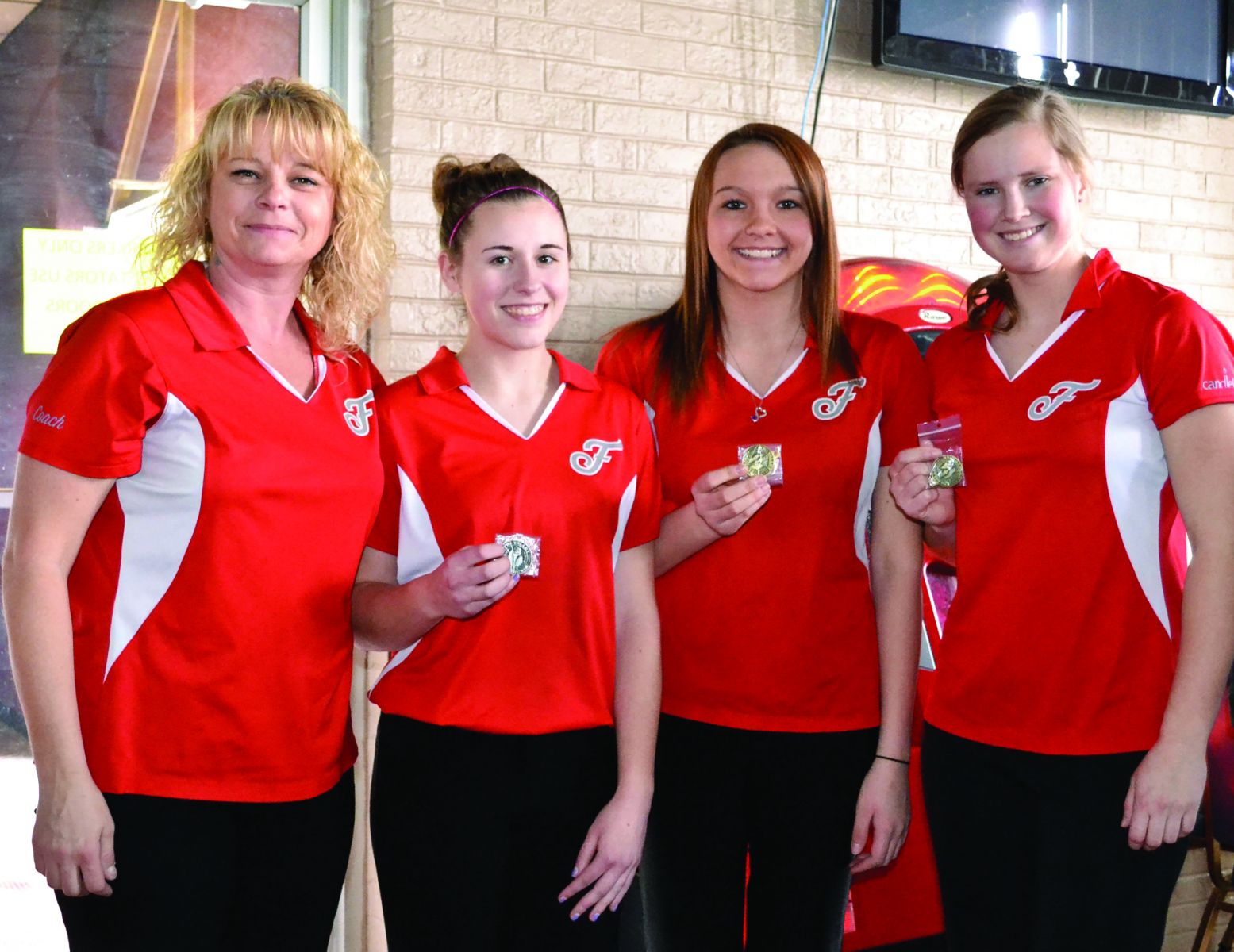 ALL TVC BOWLERS! Three Frankenmuth High School girls' varsity bowling team players earned All-Tri-Valley Conference honors following the league tourney last Saturday at Alma's 300 Bowl. Pictured with FHS Coach Laurie Harrington (far left) are, from the left, Madison Jammer, Billie Harrington and Andrea Perlberg. (News photo/Kelly Jammer)
Lady Eagle bowlers 7th at TVC Tourney
The Frankenmuth varsity girls' bowling team finished its regular season last Saturday afternoon at Alma's 300 Bowl.
The Lady Eagles competed in the overall Tri-Valley Conference Tournament, bowling three games which counted for the team and as singles.
FHS fared well in the first two games, sitting in fifth place out of 18 teams.
𠇊s the third game went on, they started missing their spares and in the end we finished in seventh place," FHS Coach Laurie Harrington said.
A total of 114 girls competed in the singles, with 'Muth's Billie Harrington finishing in 14th place. Teammate Haley Goodall ended up in 21st place, followed by Annie Matzke (23rd), Madison Jammer (42nd), Andrea Perlberg (56th), McKenzie Freeman (83rd) and Morgan Progler (91st).
With the season concluded, three Lady Eagles earned post-season honors. Harrington and Perlberg earned All-TVC first-team honors while Jammer collected second-team accords.
Harrington also finished the regular season with the league's high average, 191.
The Lady Eagles return to their home lanes, the Candlelite Bowling Center, this Friday and Saturday, February 27-28, for the MHSAA Division 3 Regional.
105274