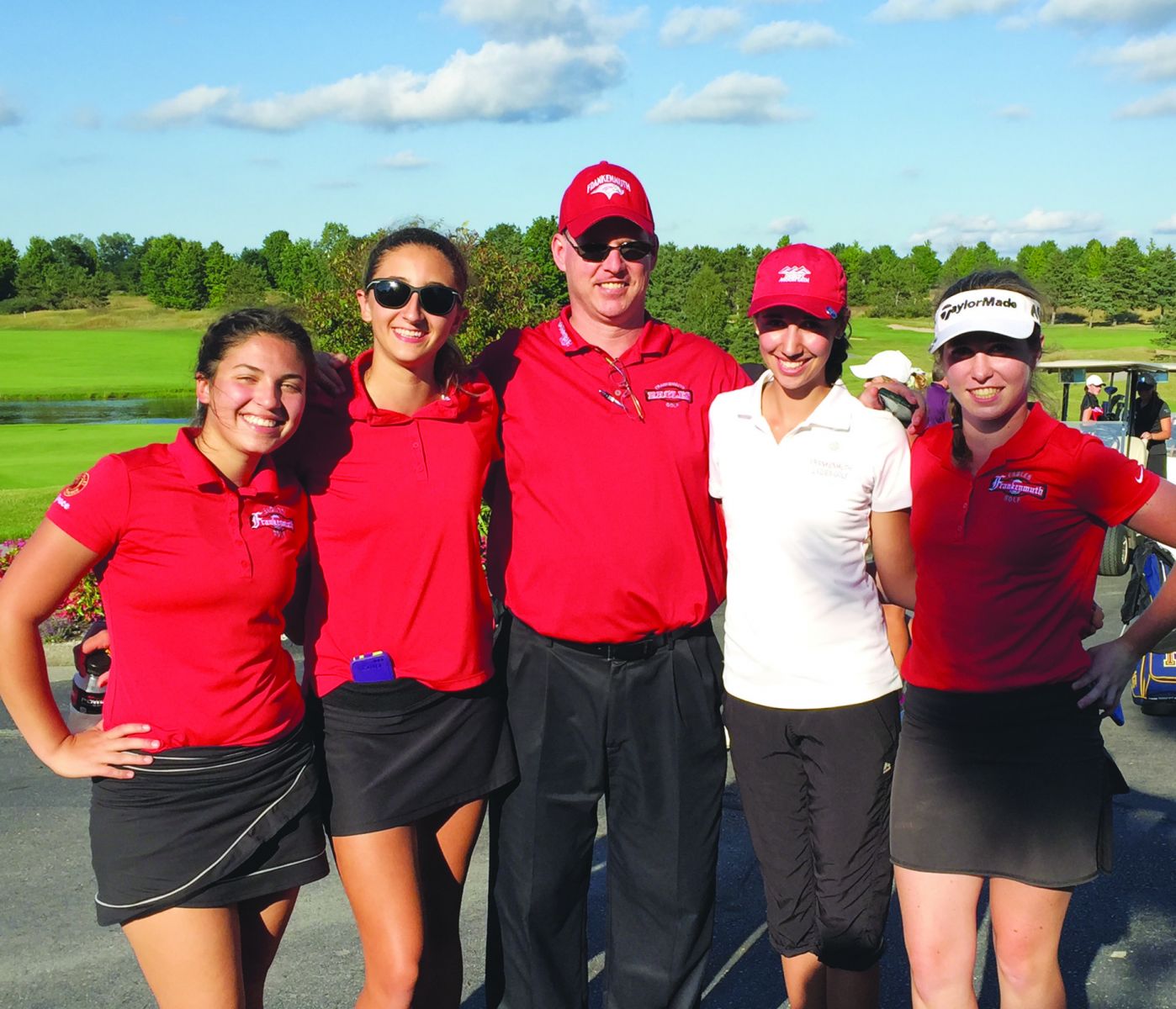 Lober Invitational provides early challenge for Lady Eagle golfers
Program boasts 15 players for 2016 season
The Frankenmuth varsity girls' golf team kicked off the 2016 fall Eagle sports schedule last week, becoming the first sport to open the new season.
The Lady Eagles did it in style, playing in two separate events on August 17 in Traverse City and Caro. Senior Meg Watkins made it three events as she represented FHS in an elite AJGA event at Grand Blanc's Warwick Hills Golf Club.
"This is a great milestone for our relatively young program," first-year Head Coach Doug Schneider said. "Our program continues to grow, which is a great sign. We now have 15 players."
Schneider has been assisting former Head Coach Matt Vaughn for the past few years. Vaughn needed to step down due to work commitments.
'Muth has six returning players from last year's team that finished first in the Tri-Valley Conference, first in the regional and third in the MHSAA Division 3 state finals. Four of them played in last year's state finals.
"We have a strong and experienced team returning this season," Schneider stated.
Traverse City Central High School coordinates the Lober Invitational, played on the prestigious and challenging Grand Traverse Resort's Spruce Run and Wolverine courses.
𠇍ue to the difficulty of the courses, and given they play 18 holes over two days, we have only been able to field a full team once before. Even without the full varsity team, we were able to break our previous best total score of 837 by 20 strokes, shooting an 817," Schneider pointed out.
The 817 score was good enough for fifth place in the Division 2-4 group of eight teams. At this invite, the Lady Eagles were one of just two Division 4 teams entered. Overall, 24 schools completed and FHS was 14th, topping many Division 1 and 2 schools along the way.
Division 1 Novi High School won the event with a score of 658. Rochester's Brooke Busse was the overall medalist, carding a 75 and a 69.
Junior Shelby Schneider paced 'Muth with a 97 on Spruce Run, followed by a 95 day two on Wolverine for a 192 total. Senior Hannah Turk shot a 104 and 99 for a 203 total strokes. Sophomore Sophia Lee shot a personal best for 18 holes with a 100 on the second day, for a 210 total. Senior Grace Smith fired her personal best with a 103 on the first day, followed by a 109 for a total of 212 strokes.
"It was a great experience to be able to have the girls play on such a challenging course early in the season. They learn a lot about their game and what areas they need to improve. Even with the personal bests, none of our players were satisfied with their scores," Schneider said.
The following day at practice, hot and muggy conditions prevailed. Schneider said it did not affect their work ethic.
"They were all very focused and determined to improve. They didn't waste any time . . . they were practicing with a purpose. These girls have an internal grit and determination that will drive them to be even better. We are looking forward to the rest of the season."
The Caro Jamboree was led by Katelyn Piesko with a 60, including a par on par-3 island hole. Newcomer Angela Kane shot 66. Other golfers, most playing in their first nine-hole competition, included Madison McKimmy Margo Samson, Hannah Wenzel, Kendra Weber, Maura Lee, Maddi Rosseau and Abbey Farago.
"The girls gained valuable experience and represented FHS well," FHS Assistant Coach Bob McCarthy said.
The team will travel to Alma today (August 24) for a TVC Jamboree, travel to the Bay County Golf Course for a Jamboree hosted by Essexville Garber on Wednesday, August 31, and the program will host the 20-team Patriot Cup beginning at 8am Thursday, September 1, at The Fortress Golf Course.