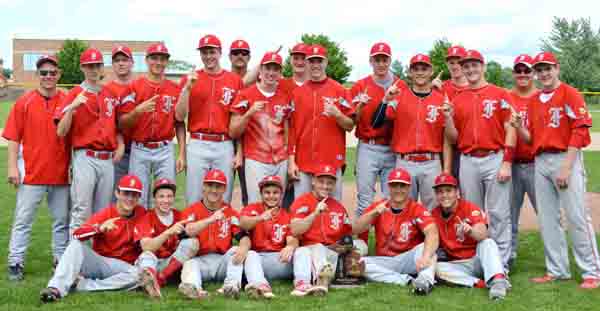 DISTRICT CHAMPIONS! The Frankenmuth varsity baseball team won its MHSAA Division 3 District crown at Reese on Saturday, June 1. The Eagles were 23-10-2 overall and 6-5-1 in the Tri-Valley Conference East Division.
Eagle '9' end season with tough 6-5 loss to Powers in regional action
A two-out walk in the bottom of the eighth inning spelled disaster for the Frankenmuth varsity baseball team last Saturday afternoon.
The Eagles traveled to Reese as winner of the MHSAA Division 3 District held at Millington one week earlier. They met Flint Powers Catholic in regional action and lost in heartbreaking fashion, 6-5.
FHS ends its season at 23-10-2 overall and 6-5-1 in the TVC East.
Powers went on to defeat Capac, 14-4, to win the regional crown. Powers played Madison Heights Bishop Foley at Saginaw Valley State University Tuesday afternoon (June 11).
FHS out hit the Chargers 10-8 and had just one error to their four miscues, but found themselves trailing Powers until the sixth inning. Pitcher Jordan Stainforth baffled the Chargers, striking out nine. He allowed four earned runs on five hits and three walks over seven innings of work.
FHS Coach Gordon Culver looked on as his team looked to strike first in the top of the first inning. Logan Gatza led off with a single, stole second and Stainforth reached base by an infield single. However, Gatza was thrown out trying to advance to third base. A successful pick off caught the courtesy runner off guard for the third out.
Powers grabbed a 3-0 lead in the bottom of the first inning. With one out, a mis-hit that landed in the wrong spot between the pitcher and catcher put a runner on base and a ground ball in the hole at second base was beaten out, putting runners at first and second base. After a strikeout, a flair single scored a run and another short blooper into centerfield brought two more runs in.
In the second inning, 'Muth got on the scoreboard when Hunter Gatza led off with a single, took second base on an error and third base on a wild pitch. After two consecutive strikes that looked to leave the Eagles scoreless, Jake Robinson smacked a key single to score Hunter.
FHS made the score 3-2 with a run in the third inning. Blaine Malochleb drew a two-out walk and raced to third base on a Hunter Gatza single. A wild pitch allowed Malochleb to scamper home.
After two scoreless innings, Frankenmuth took the lead in the sixth inning. Malochleb started the offense with a double and an error on a ground ball brought him home. An error by the third baseman off the bat of Robinson brought in the go-ahead run and a 4-3 lead.
Powers tied the game in the bottom the seventh inning, using a lead-off walk and a run-producing double.
The dramatics continued into extra innings. In the eighth inning Zac DeSimpelare blasted a solo home run over the left field fence and a 5-4 lead.
FHS looked to score more when Robinson singled and Aaron Krafft stole second base as a courtesy runner and he advanced to third base on an errant throw – all with one out.
"A diving play by the first baseman, who had pinched up onto the grass, kept Aaron from scoring before a fly out ended the top of the eighth inning," Culver said.
Things were looking up for the Eagles as they recorded two quick outs. Powers No. 3 and No. 4 hitters both hit long balls off Ryan Roy, who took over on the mound for Stainforth. However, Chase Kreger made two nice plays on the warning track for outs.
With one out to go, a Powers' batter drew a walk. That was followed by three consecutive singles by the 6,7 and 8 batters to score two runs and win the game.
"All three batters had two strikes on them," Culver lamented.
Culver, while disappointed in the loss, was very pleased and proud of his team.
"A game like this is going to be a tough loss for either team. But it was a great game on both sides. The kids made plays and pitches when they needed to and a hit that finds a hole here or there could have changed the game either way," Culver said. "I am proud of the way the guys played and how they kept fighting back until the very end."