Pitch clinic offered
FHS Wrestling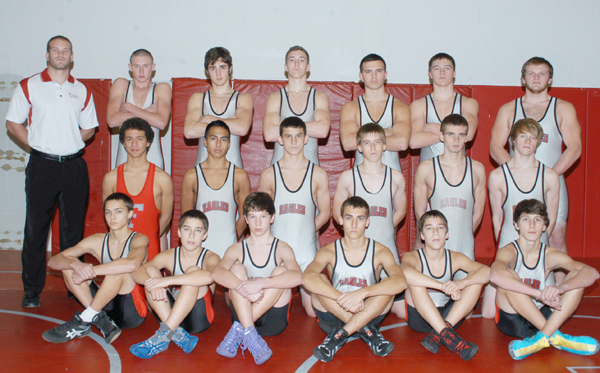 MEET THE EAGLE VARSITY GRAPPLERS: The Frankenmuth varsity wrestling team will begin its season tonight (December 5) with a home quadrangular. The team includes, front row (l-r): Cameron Helwer, Nick Rogers, Randy Khan, Mitchell Hoffmann, Jake Rogers and Conner Maurer. Middle: Manuel Lamarache, Parker Pasco, Josh Szczepanski, Austin Robishaw, Alex Helwer and Ricky Schurr. Back: Coach Cam Thomson, Christian Lambeth, Wayne Thurston, Devon Ostermiller, Jared Maurer, Anthony Schurr and Jesse Micho. Missing: Assistant Coach Brent Schurr and Ryan Keeling. (News photo)
Eagle varsity wrestlers look to seniors, freshmen
A trio of former Frankenmuth varsity wrestlers will be leading the Eagle program this season.
Cameron Thomson returns for his second season as head coach, this time without founder of the program and former head coach, Mike Stuart, not assisting mat side. This will be the 12th wrestling season at FHS.
Thomson will be joined by Brent Suhr and Quinn Hoffman, who is the Rittmueller Middle School seventh and eighth grade coach.
Last year's team finished 25-15 overall and 2-4 in the Tri-Valley Conference East division. The team lost four key grapplers to graduation, Sam Deschaine(44-11), Brennan Webb (37-9), Brennan Helwer (no record available) and Quinn Hoffman (34-14).
Overall, the team has 19 wrestlers on the roster, seven seniors, seven freshmen, three juniors and two sophomores.
"We have a lot of freshmen this year in mostly the lighter weight classes. But all have quite a bit of experience coming up through the youth program. Cam McMeans did a great job with them," Thomson said. "But we also have great seniors with a lot of leadership."
The seniors include Jesse Micho (215 pounds), Jared Maurer (171), Devon Ostermiller (160), Alex Helwer (145), Ricky Schurr (140), Ryan Keeling (152) and foreign exchange student from the Dominican Republic, Manny Camarche (140).
Maurer was 31-17 last season and Schurr was 39-10.
The juniors are Christian Lambeth (152), Wayne Thurston (160) and Mitchel Hoffman (119).
The two sophomores are Cameron Helwer (103) and Austin Robishaw (140).
Rounding out the squad are freshmen Nick Rogers (103), Jacob Rogers (103), Randy Khan (112), Parker Pasco (130), Conner Maurer (125), Josh Shapanski (135), and Anthony Schurr (189).
"These are highly-experienced freshmen with very good technical skills. They have great potential if they can see ahead to their senior seasons . . . all of them should be very successful." Thomson stated.
Micho qualified for the MHSAA Division 3 state finals last year, however, he did not place. He is expected to be among some of the area's best wrestlers at 215 pounds.
Of the freshman, Thomson singled out Anthony Schurr "as possibly being a big factor on this year's team at 189 pounds," the coach pointed out.
Thompson sees his team's strength is its willingness to listen.
"They are very coachable and open for directions and advice," Thomson noted. "But we need to work on conditioning and it is hard with our numbers being down. We are still accepting new recruits."
'Muth opens the 2012-13 season tonight (December 5) at home, with Sandusky, Hemlock and Michigan Lutheran Seminary visiting. The 10-team Eagle Invitational will begin at 9am Saturday, December 8, followed by a third home quadrangular match, Wednesday, December 12, beginning at 6pm.
The team will have seven weekend dates, including a first-time visit to the Burton-Bendle Tournament Saturday, January 5. The 'Muth Eagle Tournament is set for Saturday, January 26.
The TVC Individual Tournament will be hosted by Shepherd High School on Saturday, February 2.
The MHSAA Division 3 Team District is February 6 at Mt. Morris and the regional is February 13 at Durand. The MHSAA Individual District is February 9 at Mt. Morris and the regional is February 16 at Williamston.
The MHSAA Division 3 Team State Finals will be held at Battle Creek's Kellogg Arena February 22-23 and the Individual Finals are set for February 28-March 2 at The Palace of Auburn Hills.
"We've been practicing almost a month, we have no injuries and they've been working hard in the weight room, getting stronger and more agile," Thomson concluded.
3256