Sports Camp
'Muth Youth
FHS Spikers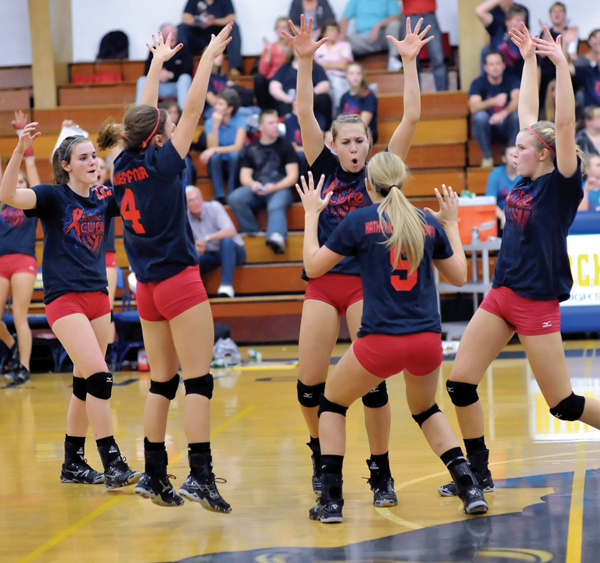 CELEBRATE! The Frankenmuth varsity volleyball team finished its TVC East Division season with a five-game victory at Birch Run Oct. 24. Above, teammates celebrate a point during the close match. (Photo courtesy/Kevin Gregory)
FHS spikers avenge two earlier losses at TVC Gold Tournament
A trip to Alma College was the perfect way to end the regular season for the Frankenmuth varsity volleyball team.
The Lady Eagles competed in the Tri-Valley Conference Gold Tournament, which features the best teams from the TVC East, Central and West Divisions.
In the end, FHS finished 3-1 overall on the day, falling in the semifinals to state-ranked St. Louis, 26-24, 25-19. Overall, 'Muth is 38-21-3.
"The best designed tournament of the year starts with a power pool where we played the two second-place finishers from the Central and West Divisions of the TVC, Valley Lutheran and Hemlock," FHS Coach Chip DeGrace explained.
Frankenmuth also finished in second place, in the East Division. 'Muth defeated Hemlock, 25-27, 25-16, 15-8 and Valley Lutheran, 25-18, 25-20.
Hemlock started the day beating Valley Lutheran and they were warmed up for the Lady Eagles' first action of the day.
"It took us a bit to get going and we dropped a nail biter. The way we handled that slow start was a sign that this team, Team 40, is comfortable with their abilities and we never lost confidence as we prepared for set two," DeGrace said.
In the quarterfinals, FHS took out Swan Valley, 25-22, 25-13, before falling to the Sharks.
"The day was a success because we avenged an earlier loss to Valley Lutheran and Swan Valley, on our way to a semifinal match up with state-ranked St. Louis. We fought hard and lost a very close match to St. Louis and I told the girls not to be surprised if the Sharks run the table and emerge as Class C state champions," the coach said.
The seniors, Maddy Mertz, Madison Mossner and Kelsey Bender, led by example. Mertz totaled 17 kills, six blocks, six assists and five aces. Mossner's 28 digs and eight aces led FHS and Bender added 26 assists and 15 digs.
The juniors were paced by Kelsey Baarck's 22 kills, eight digs and four blocks, Melissa Schoenow's 19 kills and six blocks, Claire Carter's 13 kills and 18 digs and Shelby Scharrer's all-around game of 11 kills, three blocks, six aces, five digs and four assists.
Setter Kristin Kueffner handed out 45 assists to go with 14 digs and three aces. Katie DeGrace added 20 digs and four aces, Angie Ritter registered 16 digs and Julia Bender four digs.
Sophomore Sydney Bronner collected nine kills, six blocks and three digs.
"Team 40 had an extra dose of energy, due to the addition of three players from the junior varsity team," DeGrace said.
DeGrace brought up sophomore setter Amariah Wright, and freshmen Maddie Walter (right-side hitter) and Kerri Frahm (middle hitter).
The team begin their MHSAA Class B District tournament on Monday, October 29, at Mt. Morris against the host Panthers.
4275