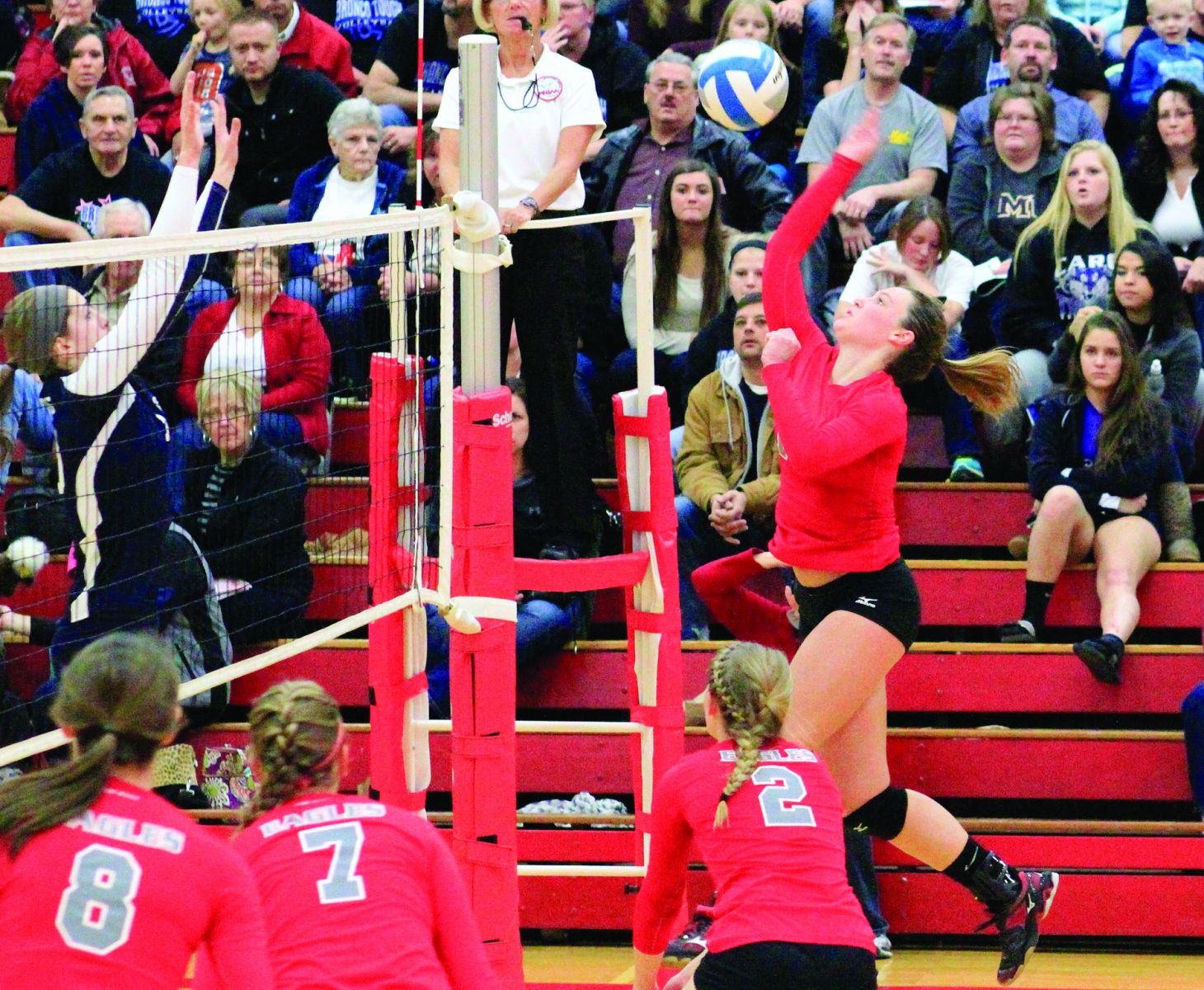 Jackie Weess . . . slams the ball over the net during last Wednesday's Class B District No. 58 home match against North Branch. (Photo credit/Susan Keyes)
NB spikers sweep 'Muth in district action
For the Frankenmuth varsity volleyball, proper preparation would be necessary to defeat North Branch in its MHSAA Class B District semifinal match on November 5.
The Lady Eagles had faced the No. 2 ranked Broncos two times earlier in the season. North Branch won the Tri-Valley Conference East Division and was seeking its 10th straight district crown.
The Broncos were not to be denied on 'Muth's home court, sweeping the Lady Eagles 25-16, 25-15, 25-20. NB went on to sweep Mt. Morris in the district championship, 25-17, 25-11, 25-15 to raise their overall record to 56-7-4.
Frankenmuth, under first-year Coach Carrie Spengler, finished with a very respectable 34-11-6 overall mark.
The team prepared well for North Branch, however, the Broncos adapted to the Lady Eagles' strategy.
"We had strategically practiced to defend and attack against what we've seen from North Branch in previous meetings, but nerves got the best of us right out of the gate, along with a different approach from them," Spengler said.
'Muth did have a hard time getting over their nerves and, coupled with making adjustments to the Broncos' offense, never got on track.
"The girls put up a good fight and refused to go down without giving it their all," Spengler added.
Sydney Bronner collected four kills, three blocks, three digs and one ace while Sarah Beulla totaled four kills, one block, 11 digs and one ace.
Jackie Weess led the kills department with eight, to go with five digs, one block and one ace. Madison Walter posted four kills, one block and one dig.
Setter Lindsey Mertz delivered 20 assists and contributed eight digs, three blocks and one kill. Kendra Keyes chipped in with eight digs, one assist and one kill. Brooke Rezmer added six digs and one block.
Coach Spengler wishes to thank the parents, family members, friends, classmates and community members for supporting the 2014 Lady Eagle team.