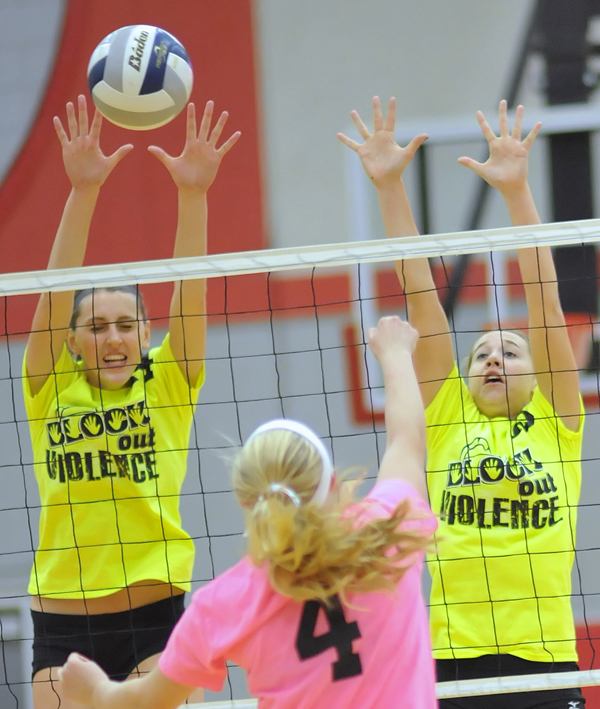 NO WHERE TO GO! Frankenmuth varsity volleyball players Sydney Bronner (left) and Kelsey Baarck leap to block a shot by a Birch Run player during last Thursday's "Block Out Violence! match to benefit the Whaley Children's Center. The event raised about $5,000 and the Lady Eagles swept the Panthers. (Photo courtesy/Kevin Gregory)
Whaley Children's Center benefits from charity match
'Muth spikers sweep Birch Run, finish 6-1 in TVC East
On Thursday, October 24, two neighboring rivals came together on the volleyball court to play for the Whaley Children's Center in Flint.
While the Frankenmuth varsity volleyball team swept Birch Run in three games, the contest had a good feeling with a carnival-like atmosphere.
The result was the Lady Eagle spikers winning 25-18, 25-14, 25-12 to close out the Tri-Valley Conference East Division season with a 6-1 mark. The lone loss was the five-game league-opening match to North Branch. The Broncos won the TVC East with a 7-0 mark.
Earlier in the fall, the FHS and BRHS volleyball captains met to choose a charity. The teams traveled to the center decided they wanted to raise awareness and raise funds for the home for severely abused and neglected children in mid-Michigan.
"Both teams took about a 90-minute tour of Whaley where they asked scores of questions and got a real insight into how Whaley helps give these abused kids, removed from their families, a second chance," FHS Coach Chip DeGrace said.
Both teams collected household items, personal items, pillows, gift cards and cash for the center's children.
"It was a huge effort by our players, especially the captains, who were already busier than any of us can imagine. They collectively put others first and gave of themselves, especially of their time, when no one thought there was any left to give," DeGrace added.
Entitled "Block Out Violence!" the match fed off the evening's itinerary, which included a bake sale, selling 50/50 tickets, the "Pie-A-Teacher" event, a Whaley video on the school's new scoreboard and music by E & J Entertainment's Jason Paetz, who is also a FHS teacher.
Senior captain and outside hitter Kelsey Baarck led the way in planning the event and on the floor as well with 10 kills, six digs, two blocks, one ace and 100-percent serving efficiency.
Shelby Scharrer also played well with five kills, one block, one assist, one ace and one dig. Lindsey Mertz totaled 17 assists eight digs, two aces and two kills. Senior captain Katie DeGrace collected a team-high 14 digs, 100-percent serve efficiency and 94-percent serve-receive effectiveness.
Claire Carter, a senior and the third team captain, racked up eight digs with 91-percent serve-receive efficiency.
"Birch Run played with high energy and confidence, especially in the first set where we traded points up to a score of 12-12. It is clear that they will be a force to reckon with as their young players mature physically and develop their game," the coach commented.
Through the Panther match, the Lady Eagles are 34-9-6 overall.
'Muth has a home, non-league quad at 5pm today (October 30), followed by the TVC Gold Tournament at Alma College on Saturday, November 2. FHS will open play after the first 9am match, with Hemlock and Valley Lutheran in the power pool.
The MHSAA Class B District No. 58 will begin on Monday, November 4, at 6pm at Caro. They will face a tough Mt. Morris team, with the winner moving on to face the winner between Millington and Flint Northwestern on Wednesday, November 6. In the other bracket, Caro and Otisville-LakeVille will square off on Monday, November 4, with the winner to face Flint Powers Catholic (bye) on November 6. The district final will be held on Thursday, November 7.
The district champion will advance to the Mt. Morris Regional, November 12 and 14.