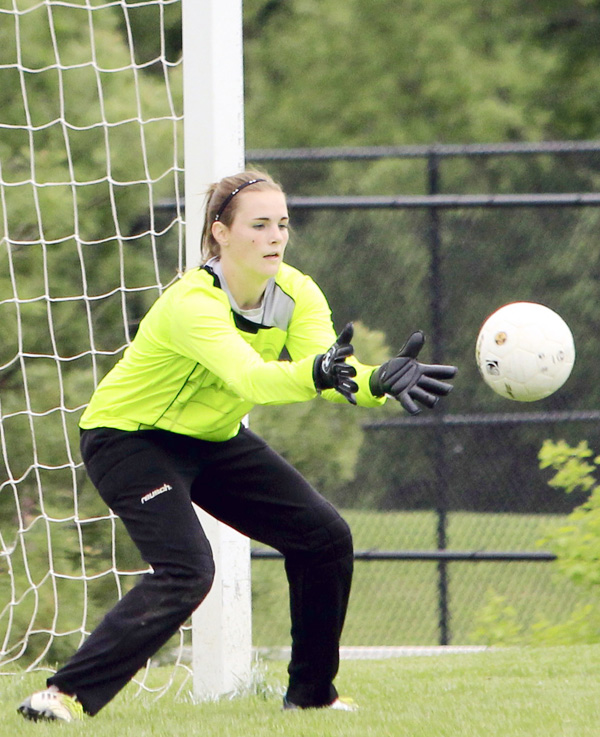 GOOD SAVE! Frankenmuth varsity girls' soccer goalkeeper Claire Carter makes a stop in recent TVC East Division action. With four shutouts over league foes, the Lady Eagles won the East Division for the fourth consecutive season and 13th time in program history. (Photo courtesy/Susan Keyes)
FHS Kickers claim TVC East championship
Frankenmuth had a series of TVC East conference games that determined the outcome of the conference championship. With shutout victories against North Branch (6-0), Millington (8-0), Birch Run (0-0) and Essexville (5-0), the Eagles claimed the Conference Title for the fourth year in a row and 13th time in the history of the program.
The Eagle defense has been outstanding this spring, as they have shutout all their conference opponents with their offense scoring 44 goals during this same stretch. This tough group of Eagle defenders is made up of All-State sweeper Kristen Kueffner, goalkeeper Claire Carter, outside fullbacks Taygen West and Elizabeth Laux, and stopper Hanna Geyer. Kelly Schiefer has rotated into many of these positions when she is not on the pitch as an attacking forward. This group hopes to finish the conference season against North Branch with another shutout to preserve an un-scored upon conference schedule.
"This is a very hardworking group that is very skilled and highly effective as a defensive unit," Head Coach Paul Stenglein said. "Their dedication to prevent dangerous attacks on goal is impressive; and the ability of Claire to stop dangerous shots has been the backbone of the Eagle team as they pursued their conference title this spring."
Frankenmuth has used a combination of direct through ball passes to the forwards as well as deep crosses to the far post of the goal to score the needed goals in this second half of their conference schedule. Shelby Scharrer and Layne Davis are two attackers that have been very effective with assisting and scoring goals. Raechel Schmidt has also been instrumental in adding to the scoring from her center-mid position. Maria Martuch has worked extremely hard as an attacking player who continues to find ways to win balls and then turn them into scoring opportunities.
The Eagles finished a very successful five game stretch with a disappointing 2-0 loss to #5 state ranked Nouvel Catholic Central. Nouvel is extremely fast and skilled, and is capable of being very dangerous.
In the first half, Frankenmuth was unable to deal with the speed and ball handling of the Nouvel attack. The Panthers opened the scoring when they capitalized on a penalty.
The Eagle kickers made adjustments at halftime, and came out to play a very solid second half. Frankenmuth had numerous excellent scoring opportunities that were stopped by the outstanding play of the Nouvel keeper. Frankenmuth will finish out their regular season with a final conference game at North Branch, and then two non-conference road games against Flint Kearsley and Clio.