Pitch clinic offered
Lady Eagle Basketball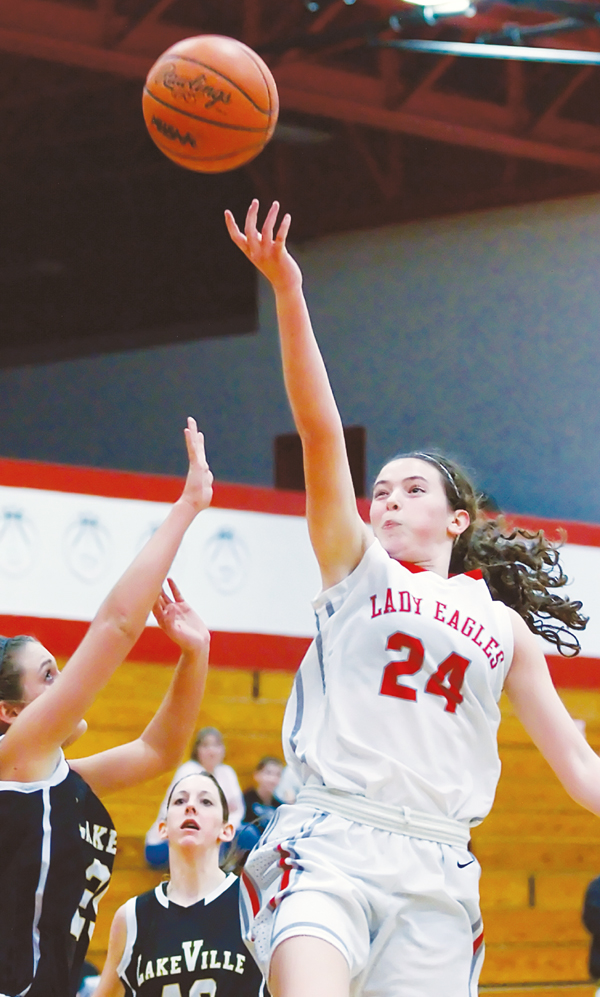 FINGER ROLL: Frankenmuth varsity girls' basketball player Madison Walter uses an underhand motion to shoot the ball during last Wednesday's MHSAA Class B District No. 58 game against Otisville-LakeVille. Walter finished with eight points and the Lady Eagles defeated the Falcons, 63-31. (Photo by Chip DeGrace)
Powers Catholic ends 'Muth's season in district finals, 36-18
Preparations were made to defeat Flint Powers Catholic in the MHSAA Class B District No. 58 final last Friday night.
Despite very good planning, the Frankenmuth varsity girls' basketball team picked a bad night to have cold shooting and fell to the Chargers, 36-18.
The Lady Eagles finished the season with a 16-7 overall mark and a perfect 12-0 record in the Tri-Valley Conference East Division.
Powers led 6-2 after one quarter of play as 'Muth missed its first 11 shots of the game. The Chargers held a 13-7 halftime lead.
"It was hard to tell if the first half was a product of great defense or poor shooting . . . maybe a little of both. Whatever the case, we missed some early opportunities," FHS Coach Tom Keller said. "However, to our credit, we really came out focused on intensity on the defensive end. I thought our girls executed our defensive game plan as well as they possibly could."
In practice Thursday, Keller labeled each player on the Powers' team as a shooter or a driver, based on his scouting report. From that, the team knew whether to contest the perimeter shot or keep them out of the paint.
"I really thought our kids did a phenomenal job of that. If it wasn't for a couple of banked in threes, it really would have been a tied game at halftime, in spite of our lackluster offensive performance," Keller said.
Powers made some halftime adjustments and outscored 'Muth 17-8 in the third quarter and 6-3 in the final quarter.
"We just weren't able to knock down any open looks at the basket. We picked a bad time to have our worst shooting night of the year and when we did attack the basket and get inside, their six-foot player was there to contest and alter our shots," Keller pointed out.
Keller was pleased with the play of his two post players. Keri Frahm posted 13 rebounds and Brayene Benner added 10 caroms.
"I thought we rebounded as well as we had all year. We were physical and tenacious going after boards and we really limited Powers second-chance opportunities, particularly in the first half," Keller said.
Frahm led the scorers with six points and two blocks. Kendra Kujat added five points and Elizabeth Laux totaled four points. Two of Frankenmuth' top scorers all season, Meghan Miller and Madison Walter, were 0 for 18 from the floor.
"I'm very proud of my girls' effort throughout the season. In spite of what others might have thought, our team believed in what we were doing, continued to work at it every single day, constantly improving and coming together as a team, and I am very pleased with the final results. No one ever wants to lose that last game, but I certainly can't be disappointed in how we went out – competing and working hard to the very end," Keller concluded.
As a team, Frankenmuth was 7 of 42 from the floor (17 percent), they were 0 for 10 from the free throw line and 4 of 9 from the free throw line (44 percent). The Lady Eagles collected 39 rebounds, 11 steals, six assists, six deflections and five blocked shots while committing 26 turnovers and 10 fouls.
4036