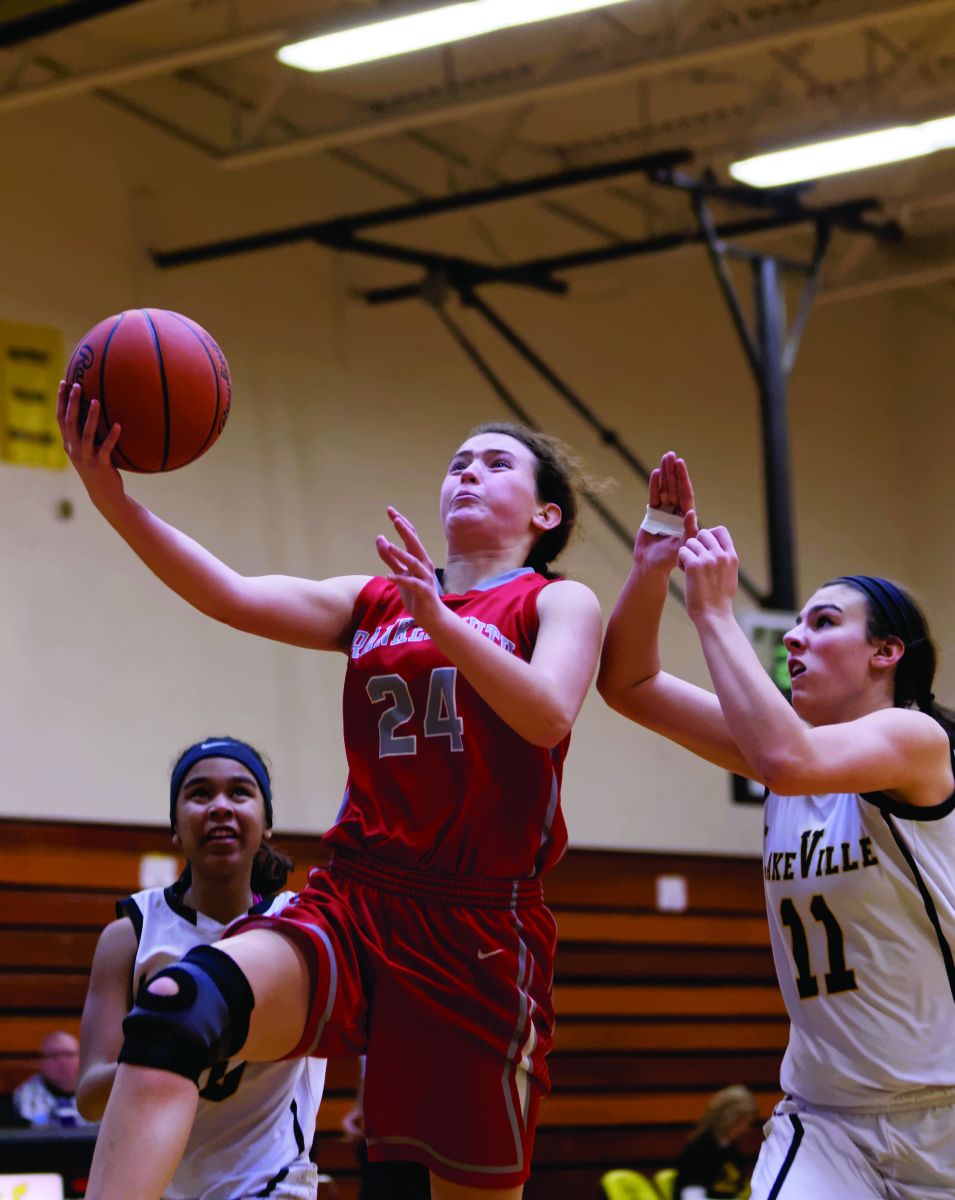 MADISON WALTER . . . splits two Otisville-LakeVille defenders during last Thursday' evening's Frankenmuth varsity girls' basketball game on the Falcons home court. The Lady Eagles won, 51-26. (Photo courtesy/Chip DeGrace)
Lady Eagles cruise to wins over Brandon, LakeVille
The Frankenmuth varsity girls' basketball team battled Midland Bullock Creek in the first and fourth quarters.
However, the undefeated and No. 2 ranked team in Class B owned the middle quarters and handed the Lady Eagles their second loss of the season, 57-40. The game was played in Midland Monday evening, January 26.
'Muth is now 11-2 overall and 8-0 in the Tri-Valley Conference East Division.
The contest was a crossover between the top team in the East, 'Muth, and the No. 1 team in the TVC Central.
Frankenmuth led 12-10 after one quarter of play and outscored the Lancers 20-16 in the final quarter. However, Bullock Creek held a 31-8 advantage in the second and third quarters.
The Creek used the outside shooting of Ellie Juengel and Halee Nieman getting to the basket to blow open the game. Juengel finished with a game-high 17 points and Nieman added 14 points. Hannah Heldt chipped in with 10 points.
"We struggled to knock down the shots we were getting early in the game and our frustration resulted in some turnovers and easy transition buckets for them," FHS Coach Tom Keller said.
Frankenmuth was led by Madison Walter and Kendra Kujat, who scored nine and seven points, respectively.
In the first meeting back on December 5, the Lancers registered a 47-34 win. Bullock Creek held an 8-1 first-quarter lead and took a 23-10 halftime advantage as the Lady Eagles really struggled to score in this game as well.