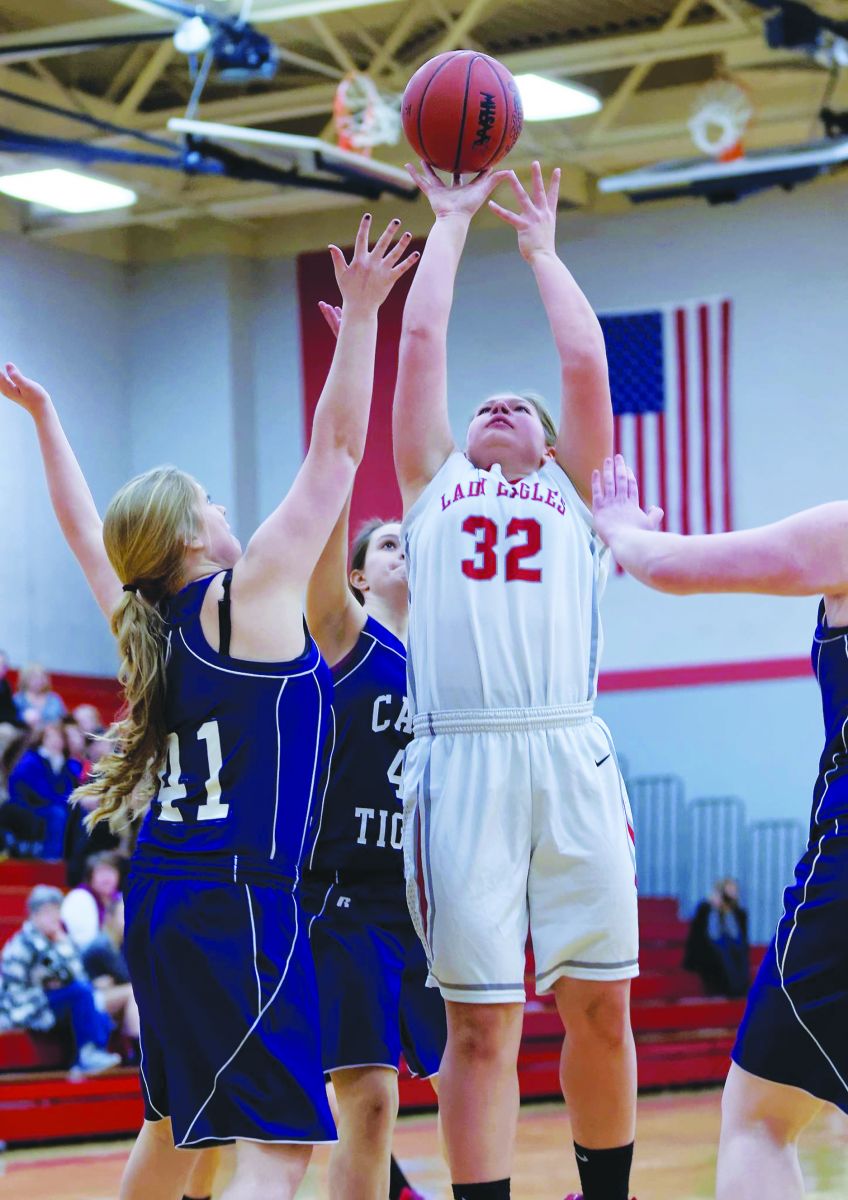 FINGERTIP CONTROL: Frankenmuth varsity girls' basketball player Alyssa Jarlock gets off this shot at home against Caro last Thursday evening. The senior and her teammates collected their 12th TVC East Division win, defeating the Tigers, 57-15. The Lady Eagles are 17-2 overall following Tuesday's (February 24) 48-25 triumph over Birch Run. (Photo courtesy/Chip DeGrace)
Lady Eagles blank Caro in two quarters, win 57-15
Pitching shutouts in quarters one and three led to an easy 57-15 victory for the Frankenmuth varsity girls' basketball team on February 19.
The Lady Eagles entertained Caro for its final home game of the season, forcing 37 Tiger turnovers and collecting 27 steals. More importantly, FHS ran its Tri-Valley Conference East Division record to 12-0 and 16-2 overall.
FHS Coach Tom Keller looked on as his team led 12-0 after one quarter of play and extended it to 22-9 by halftime.
Still, Keller kept after his team to perform better around the hoop in the second half.
"I challenged the girls at halftime to play with a little more focus and toughness around the basket and they certainly responded in the third quarter," Keller said. "We outscored them 20-0 and blew open what was a somewhat close game at the half."
'Muth closed out the game with a 15-6 final quarter.
"We played really solid defense for four quarters. We were able to turn them over often with our traps and the girls did a great job of anticipating where the pass was going to be and turn those steals into easy baskets at the other end," Keller pointed out.
If there was any concern following the game, it was shooting the ball, especially in the early going of the game.
"Offensively we didn't shoot the ball well, which is definitely a concern as we close out the regular season and head into districts. After shooting the lights out against Garber last week, it would have been nice to continue that hot streak against Caro. Unfortunately, we missed some shots earlier and started to second guess ourselves a little," Keller added.
Eight Lady Eagles scored and three finished with 11 points each, including Madison Wiskur, Kendra Kujat and Madison Walter.
Wiskur was 4 of 6 from the floor, including one three-point shot and making 2 of 4 free throws. She had three steals, four assists and a team-high four deflections.
Kujat had one trey shot and three steals and Walter canned 2 of her 5 three-point shots and added five boards.
Brayene Benner posted nine points, eight rebounds, four steals and two blocked shots.
Keller pointed to the play of Elizabeth Laux who, in addition to scoring four points, led the team with nine steals and five assists.
Beezer's nine steals continues a good stretch of aggressive and intelligent defense that she's been playing for us the last couple weeks," Keller said.
As a team, Frankenmuth was 22 of 57 from the field (39 percent), including 4 of 12 from the three-point line (33 percent) and 9 of 18 from the free throw line (50 percent). They registered 32 rebounds, 27 steals, 16 assists, 14 deflections and four blocked shots while committing 18 turnovers and 13 fouls.
The Lady Eagles took on Birch Run last night (February 24) and will travel to Millington for a 7:30pm TVC East game on Thursday, February 26. Two wins would give them a 14-0 league mark and an 18-2 overall record – with both losses coming against Class B No. 1 ranked Midland Bullock Creek.