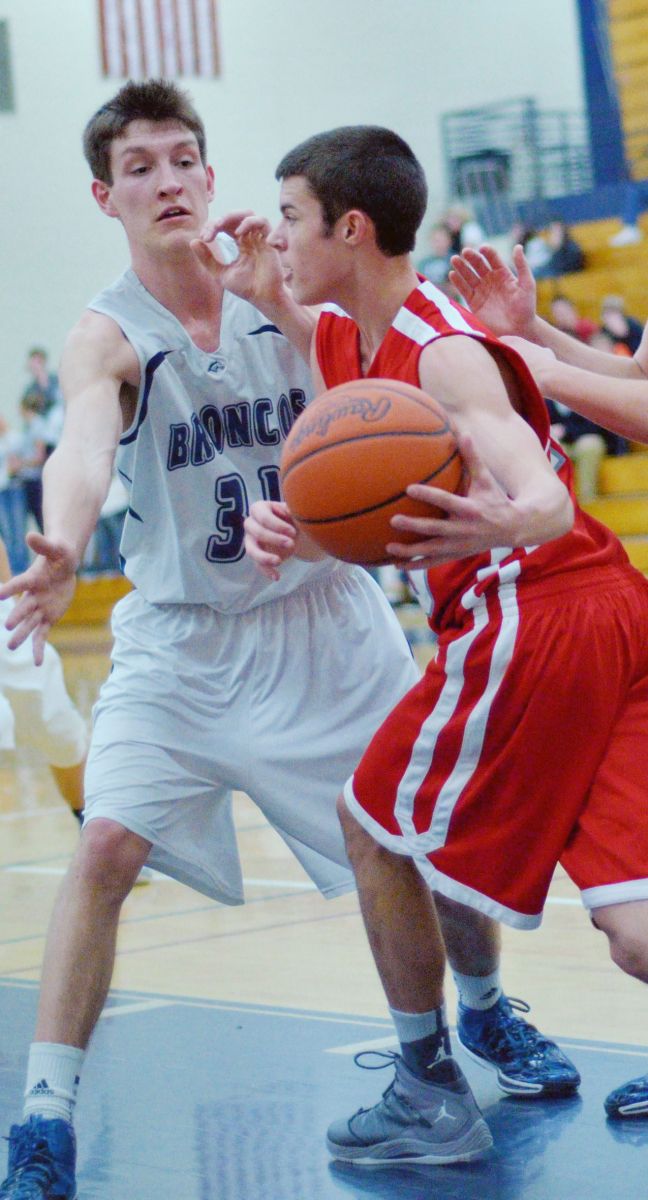 COLTON ZIMMER . . . looks for help during a recent TVC East game against North Branch. The varsity Eagles, 8-12 overall, travel to Flint Powers Catholic tonight (March 5) for a MHSAA Class B District No. 58 contest against 6-12 Flint Northwestern. The Wildcats defeated Caro Monday evening, 68-49. The title game is set for 7pm Friday, March 7, at Powers. (Photo courtesy/Chip DeGrace)
Eagles fall to BC Western, 64-46
The Frankenmuth varsity boys' basketball team opened its season with a tough nonconference home loss to Bay City Western.
Last Thursday evening, the Eagle cagers traveled to Auburn and fell to the Class A Warriors, 64-46.
'Muth finishes the regular season with an 8-12 overall record and 6-8 in the Tri-Valley Conference East Division.
FHS Coach Andy Donovan felt the game against Western came at a good time, giving them further experience for this week's MHSAA Class B District No. 58 action. The Eagles will play at Flint Powers Catholic today (March 5).
FHS held a 14-13 first quarter lead, however, the Warriors won the second quarter, 16-9, to lead 29-23 at halftime. Western outscored the Eagles 18-9 in the third quarter to put away the game.
Western used tight, on-ball defense, especially in the third quarter, to make the difference in the contest.
Junior Colton Zimmer did have a good game for Frankenmuth. Zimmer scored 15 points on 6 of 8 shooting from the floor and collected 12 rebounds.
Senior Tyler Janson posted eight points and sophomore Brady Wood scored eight points, making 2 of 4 three-point shots. Sophomore Sam Bookmyer amassed six rebounds, junior Aaron Krafft had four steals and sophomore Zac Janson handed out three assists and made two steals.
For the game, Frankenmuth was 10 of 26 from two-point range (38 percent), 6 of 17 from the three-point line (35 percent) and 8 of 14 from the free throw line (57 percent). The team registered 22 rebounds, nine steals, and seven assists while committing 18 turnovers and 19 fouls. Krafft and Wood also drew one charging call each.
Frankenmuth featured balanced scoring this season, with five cagers averaging six points or more per game. Zac Janson finished with 193 points for a 10.2 points per game average while Tyler ended with a 9.0 average. Zimmer amassed 115 rebounds and 43 assists this season to lead FHS, followed by Bookmyer with 93. Krafft was the steals leader (49) and blocked shots leader (seven). Krafft and Zac Janson had 35 assists each and Janson made 44 of 121 three-point attempts (36 percent).
As a team in the regular season, the Eagles scored 901 points, made 119 of 189 free throws, picked up 509 rebounds, 23 blocked shots, 189 steals and 180 assists to to with 237 turnovers and 278 fouls.