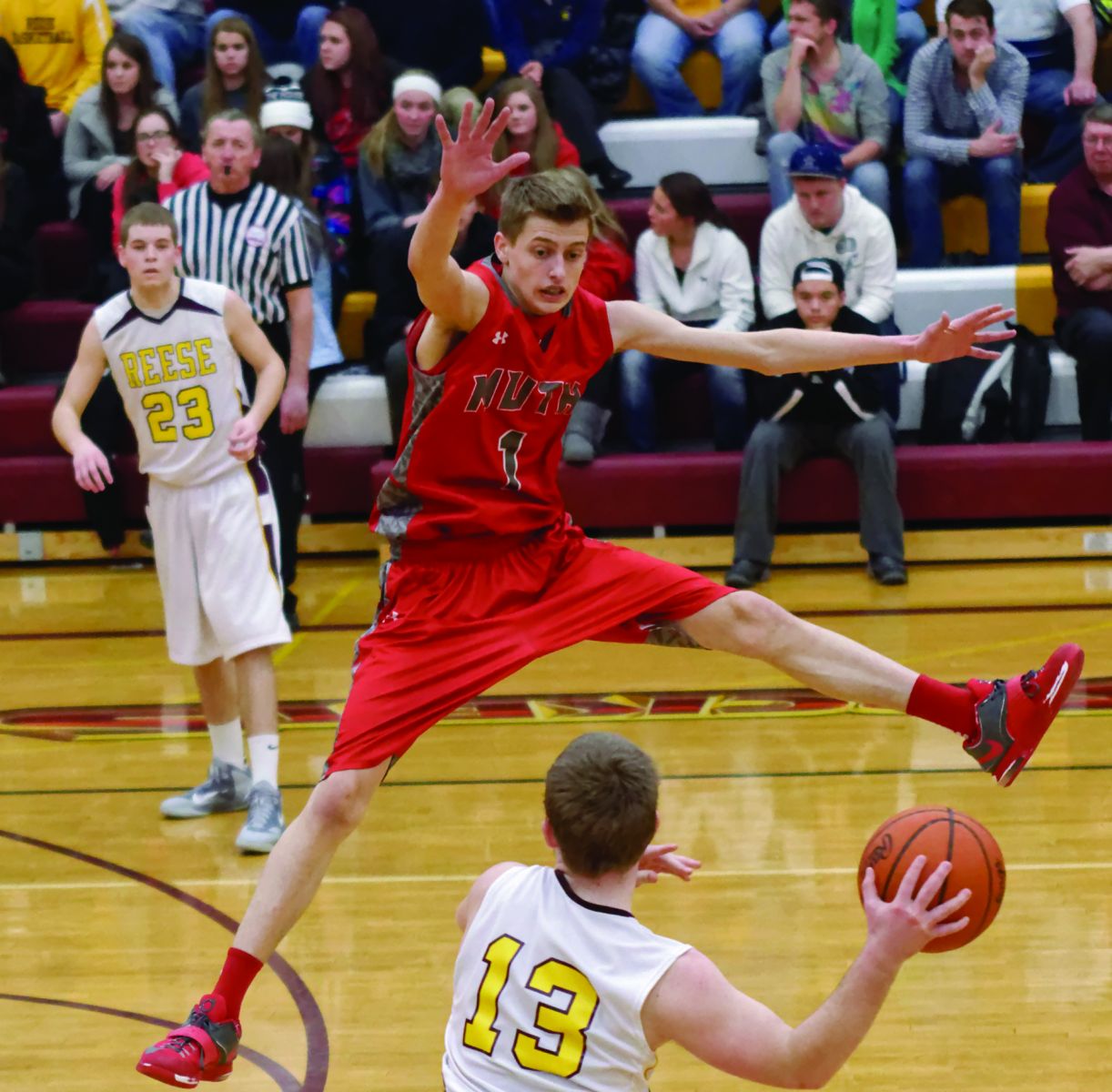 SPREAD DEFENSE: Frankenmuth varsity basketball player Grant Reene uses his height in an attempt to stop a pass against Reese player during last week's game on the Rockets' home floor. The Eagles won the nonconference contest, 82-56. (Photo courtesy/Deb Krafft)
Eagle cagers are outright TVC East champs!
FHS boys are poised for Class B District run
Teams that peak at the end of the season usually are primed for long runs in the post season.
The Frankenmuth varsity boys' basketball team is prepared for a deep run in the MHSAA Class B playoffs, beginning with tonight's (March 11) semifinal District No. 58 game at Caro.
Last week, the Eagle cagers took care of business on the road. FHS crushed a very good nonconference Reese team, 82-56 on March 3 and then sowed up sole possession of the Tri-Valley Conference East Division crown with a convincing 70-21 triumph over Otisville-LakeVille.
'Muth finishes the regular season at 16-4 overall and 12-2 in the TVC East. FHS Coach Andy Donovan, it marked the first outright title since 2006 as the Eagles shared the crown from 2010 to 2013.
The lone losses were two in the East, 58-55 to Millington and 68-60 to Essexville Garber. The nonconference defeats came in a TVC crossover against Ithaca, 65-52, and Flint Kearsley, 68-50.
The District No. 58 at Caro began on Monday. Flint Northwestern (16-3) defeated Mt Morris Monday night, 80-42 and will meet FHS (bye) at 6pm in Caro for semifinal action.
Otisville-LakeVille also had a bye and will face Caro. The Tigers bested North Branch on Monday, 69-53.
Against Reese, the Eagles led 15-12 after the first quarter, however, they red and gray went on a 22-11 run in the second quarter to take a 37-23 lead into the locker room. A 25-9 third-quarter spurt put the game out of reach at 62-32 with the final quarter to play.
Donovan has been relying on balanced offensive scoring and hard work on the defensive end. Twelve of the 13 players scored at least two points, with three netting 11 points:
Zac Janson got his 11 points on 3 of 6 shooting from the three-point line and making his lone two-point attempt. He also had four steals and four assists.
Marion Whitley totaled his 11 points on 5 of 8 shooting with a trey shot. Whitley led the team with five rebounds and added a blocked shot.
Grant Bronner's 11 points capped a perfect night. He was 5 for 5 from the field, with one shot a three-point goal. He added two steals and two assists.
Grant Reene and Sam Bookmyer also scored nine points each. Aaron Krafft led the team with five assists.
For the game, Frankenmuth was 22 of 32 from two-point range (69 percent), 10 of 20 from the three-point line (50 percent) and 8 of 11 from the free throw line (73 percent). The Eagles finished with 25 rebounds, three blocked shots, 14 steals and 26 assists while committing 14 turnovers and 11 fouls.
The regular-season finale at LakeVille saw the team not look past the Falcons, who finished 1-19 for the year and 0-14 in the TVC East. The team was hungry to own the title by themselves.
Frankenmuth jumped out to a 23-2 first quarter lead, taking advantage of Falcon turnovers and transitioning them into easy baskets. Plus, O-L was missing two players who were suspended for disciplinary reasons.
FHS extended the gap to 45-11 at halftime and wrapped up the second half outscoring LakeVille, 25-10.
Like the Reese game, it was a team effort with all 13 players scoring at least two points while 10 cagers had at least one board.
Krafft led the Eagles with 10 points, shooting 4 for 5 from the floor with a three-point shot. He led the way with six steals and added five rebounds and three assists. Colton Zimmer posted nine points, making 7 of 8 free throws. He also had five caroms and three assists.
Donovan's charges have a lot of balance, top to bottom, and have no superstar player. Several players have taken turns as a leading scorer in contests.
'Muth ended the game with its five seniors on the floor: Krafft, Zimmer, Jonny Zink, Mitchell Kischnick and Josh Szczepanski.
For the game, Frankenmuth was 16 of 27 from two-point range (59 percent), 7 of 19 from the three-point arc (37 percent) and 17 of 21 from the free throw line (81 percent). The Eagles registered 31 rebounds, three blocks, 18 steals and 16 assists while committing just nine turnovers and eight fouls.
Through 20 games, FHS has scored 1,221 points (61.1 points per game) with 678 rebounds (33.9 per contest). They are shooting 45 percent from two-point range, 32 percent from three-point range and 62 percent from the free throw line.
The team has held its opponents to 909 points (45 points per game).