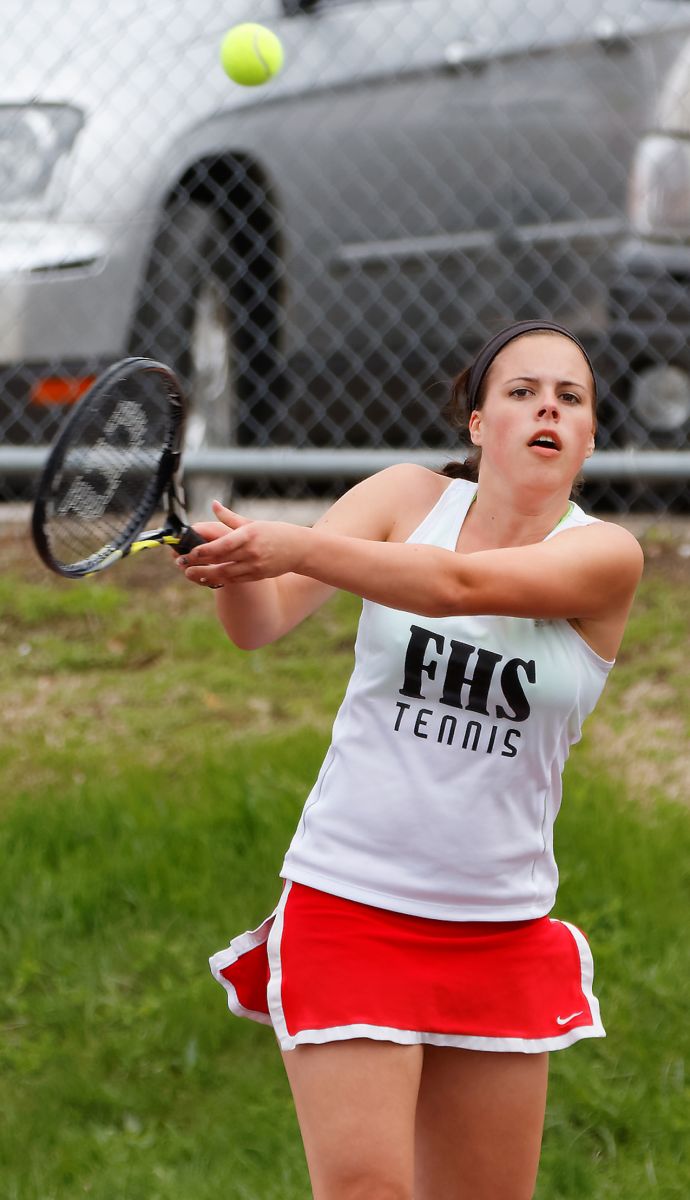 KAYLA KNOLL . . . and her Frankenmuth varsity girls' tennis team members are wrapping up a successful season – winning the TVC title and qualifying for the MHSAA state meet, to be held in Holly May 30. (Photo courtesy/Chip DeGrace)
FHS netters win TVC title; are state bound May 30
Twenty-five hours of tennis encompassing two days is a lot of tennis. The girls' tennis team played exactly that in notching a couple of achievements as they qualified for the Michigan High School Athletic Association (MHSAA) State Finals last Friday with a second place finish at the MHSAA Division 4-30 Regional and then won the Tri-Valley Conference (TVC) tournament on Monday thereby earning outright the TVC championship.
The regional contest was a slugfest as overall #1 seed Flint Powers and #2 seed Frankenmuth pounded their way through the flight brackets each knowing that every match meant critical points. Thirteen hours of tennis later, Flint Powers emerged with a razor thin one-point win over the Eagles. Flight champions for the team were Kristen Loesel (3 singles), Lindsey Mertz (2 singles), and Julie Dukovich/Rachel Welch (3 doubles). Flight runner-ups were Kayla Knoll (1 singles), Alexa VanHine/Katie Degrace (1 doubles), and Elisabeth Barrett/Megan Kueffner (2 doubles). Semi-finalists were McKenzie Freeman (4 doubles) and Kelly Cron/Haley Goodall (4 doubles).
"It was an incredibly exciting day although cold. We played superb varsity level tennis and all eight flights earned points. We knew by about 2 p.m. that we had earned enough points to qualify for the state finals and then wanted to see how far we could go. I am extremely proud of the girls. They just missed last year making the finals, and I am particularly happy for the seniors that they get to go back," stated Coach Friend.
Monday's TVC tournament was played at the Midland Tennis Center in beautiful tennis weather. Frankenmuth was the overall #1 seed with Chesaning a close second. Much like the regional, both teams understood the importance of winning across all eight flights and the winner was in doubt until late in the afternoon. Within about five minutes of each other, the #4 doubles team of Kelly Cron/Haley Goodall and the #2 doubles team of Elisabeth Barrett/Megan Kueffner earned flight championship status to expand a narrow but now insurmountable lead over Chesaning. "Coach Coulter was running through different scenarios at the point's board and told me that we had it. My count was off, and I told him that I did not think so. He turned out to be right," added Friend
Other flight champions for the Eagles were Kayla Knoll (1 singles), Lindsey Mertz (2 singles), and Julie Dukovich/Rachel Welch (3 doubles). Flight runner-up was Kristen Loesel (3 singles) and semi-finalists were Alexa VanHine/Katie Degrace (1 doubles) and McKenzie Freemen (4 singles). All eight flights earned either 1st team, 2nd team or honorable mention status.
The Eagles will travel to Holly for the MHSAA state finals on May 30th. "We're going to compete against the best in the state and I am proud to say we are right there with them," concluded Friend.