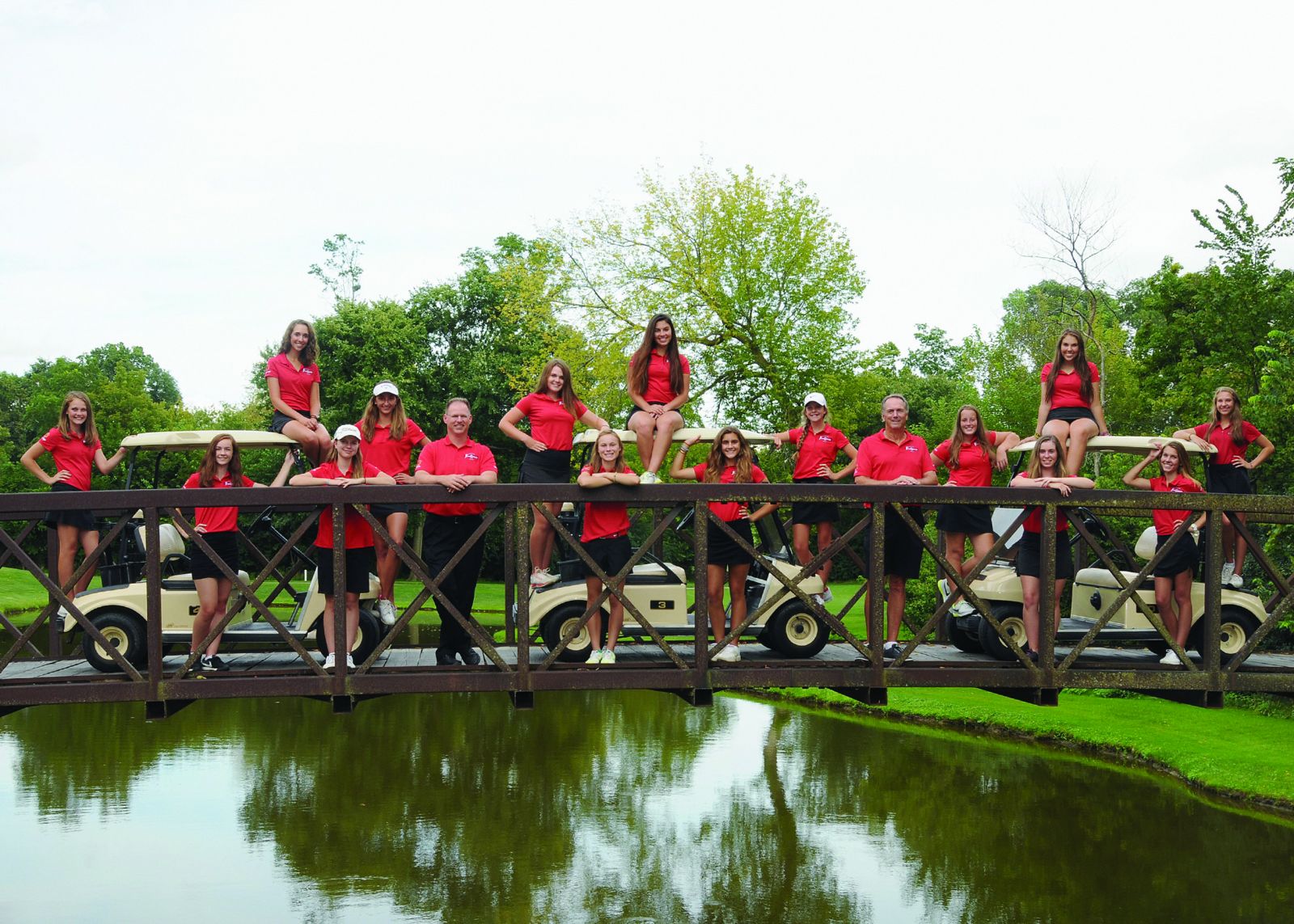 MEET THE FHS GOLF TEAM: The Frankenmuth varsity girls' golf team looks to defend their TVC title this season. Team members are, not in order, seniors Megan Watkins, Hannah Turk, Grace Smith and Alli Farago; juniors Madison Rousseu and Shelby Schneider; sophomores Angela Kane, Sophia Lee and Hannah Wenzel and; freshmen Abbey Farago, Maura Lee, Madison McKimmy, Katelyn Piesko, Margo Samson and Kendra Weber. (Photo courtesy/Rummel Studio)
'Muth golfers second at Chesaning Jamboree
The Frankenmuth varsity girls' golf team competed in its second Tri-Valley Conference Jamboree on Wednesday, September 7.
Chesaning hosted the match at Twin Brooks Golf Course. Despite being edged by Freeland by two strokes, the Lady Eagles continue to hold a three-stroke lead in the TVC standings.
"This team is driven and had high expectations for themselves. So, losing by even the smallest of margins does not sit well with them," FHS Coach Doug Schneider said. "They see how they can still be better, even with our team shooting our best-ever team score at Chesaning with a 185 and three of our players shooting personal bests for nine holes."
Over the past six years at Twin Brooks, the scores have continued to drop. 'Muth shot 202 back in 2011, and since then, carded 197, 197, 194, 190 and now 185, showing program development.
"The interesting part is that Freeland always tends to play very well at Chesaning and edge us out most of the time. Even last year, when we won the conference by a considerable margin, Freeland beat us at Twin Brooks," Schneider recalled.
Shooting personal best scores were senior Hannah Turk with a 45 (four pars), senior Grace Smith with a 50 and sophomore Sophia Lee with a 52.
"Having these three ladies showing improvement makes our team so much more consistent and threatening. This provides our players with more options when faced with tough shots," Schneider noted.
The other two golfers played solid, but scored above their averages. Senior Meg Watkins was medalist with a 39 on a scorecard that included two birdies and three pars. Junior Shelby Schneider continues to strike the ball well, coming off her 88 at the Patriot Cup match, but scored over her nine-hole average with a 51.
Freshman Katelyn Piesko continued her strong play with a 60 and got another chance to see and learn another course for her upcoming years.
The Lady Eagles travel to Caro today (September 14) for the third TVC Jamboree. They will travel to Rochester Hills for a 1:30pm match on Monday, September 19. The Fortress Golf Course will host the fourth Jamboree at 3pm Wednesday, September 21.
We're glad you took the time to check out the abbreviated version of our paper. To enjoy the Frankenmuth News in its entirety - click on the "subscribe" tab.