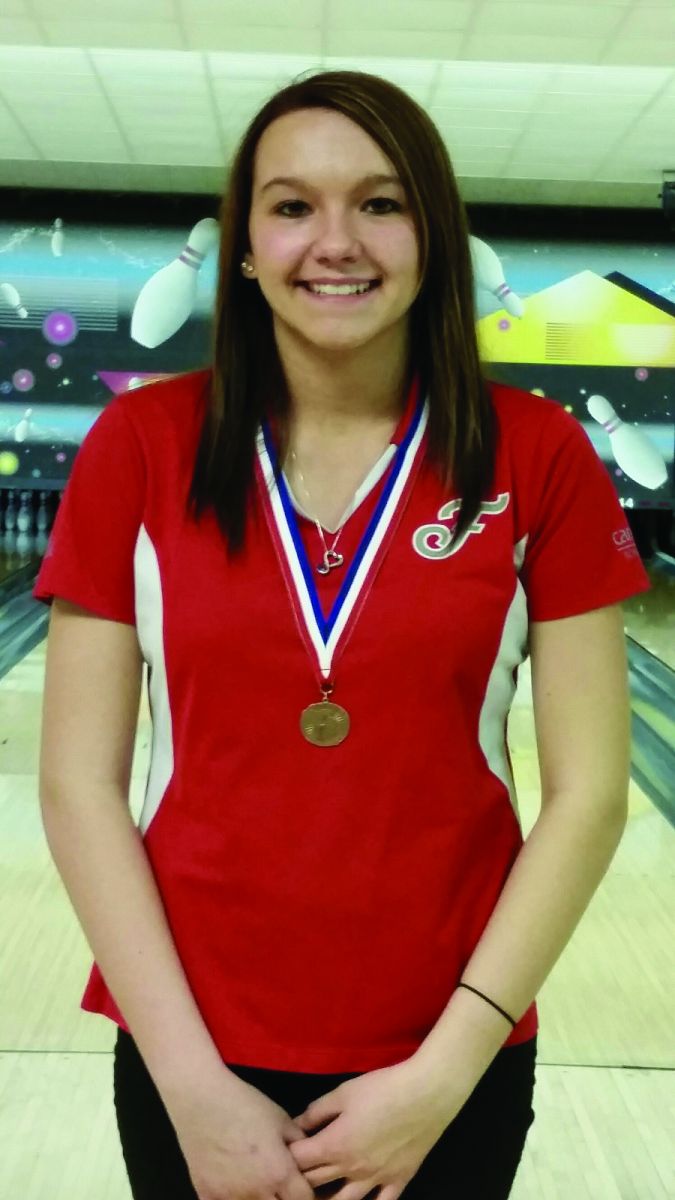 BILLIE HARRINGTON . . . took on the top 60 bowlers at the MHSAA Division 3 Individual State Finals and came away with third place.
Harrington third at state bowling tourney
Billie Harrington has been bowling for nearly a decade and last weekend, she capped off her high school senior career with a great showing at the state finals.
Harrington is a member of the Frankenmuth varsity girls' bowling team and she qualified for the MHSAA Division 3 Individual State Finals two weeks ago at Bridgeport's Candlelite Bowling Center.
Last Saturday, March 7, Harrington traveled to Jackson's Airport Lanes for the state finals. When the final pins fell, Harrington finished in third place out of 60 top bowlers in Division 3.
𠇋illie has worked very hard for this day and to finish in third place in your last trip to the state finals is an extraordinary accomplishment," FHS Coach Laurie Harrington, who is also her mother, said.
The singles tourney opened with a six-game block with only the top 16 advancing to match play. Harrington rolled games of 156, 200, 180, 200, 187 and 181 for a 1,104 pinfall total, placing her in 10th place.
Grand Rapids South Christian bowler, senior Krista VanSledright, was the top six-game block kegler with a total of 1,205 pins.
In the 16-bowler bracket, Harrington first faced Coloma's Madison Rye. Harrington collected games of 202 and 122 for a 324 total, defeating Rye, with a 298.
Match two saw Harrington take on another Coloma bowler, Sabrina Ball. The FHS player rolled scores of 201 and 188 for a 389 pinfall to best Ball, who rolled 162 and 157 for 319.
Her day ended in the semifinals against Battle Creek Pennfield's Kadee Bechman. Billie bowled 162 and 157 for a 319 total while Bechman had a 368. She went on to win the Division 3 title, registering a whopping 406 to top Dundee's Breanna Johnson with a 346. The 406 total was the highest in the 16-bowler bracket.
𠇋illie bowled very well the whole day. She got some really bad breaks in the semifinal game with quite a few pocket splits and when that happens, there is not a lot you can do," Laurie Harrington said. "She made some small adjustments but it seemed like no matter where she hit in the pocket, the pins just stood."
Billie began bowling at age 8 when she joined the USBC youth league at Candlelight. Four years later, she moved up to the scholarship league where she earned points for college.
𠇋illie has had a lot of help over the years with many coaches always giving a helping hand and she always wants to improve her game," Laurie noted.
Laurie singled out Brian Waliczek, owner of the King Pin Pro Shop inside Candlelite.
𠇍uring high school bowling, Brian is always ready to lend a helping hand to all the kids. He has spent many hours with Billie on the lanes which have definitely made her a better bowler. I want to thank everyone for giving Billie this opportunity . . . one she will never forget," Harrington concluded.