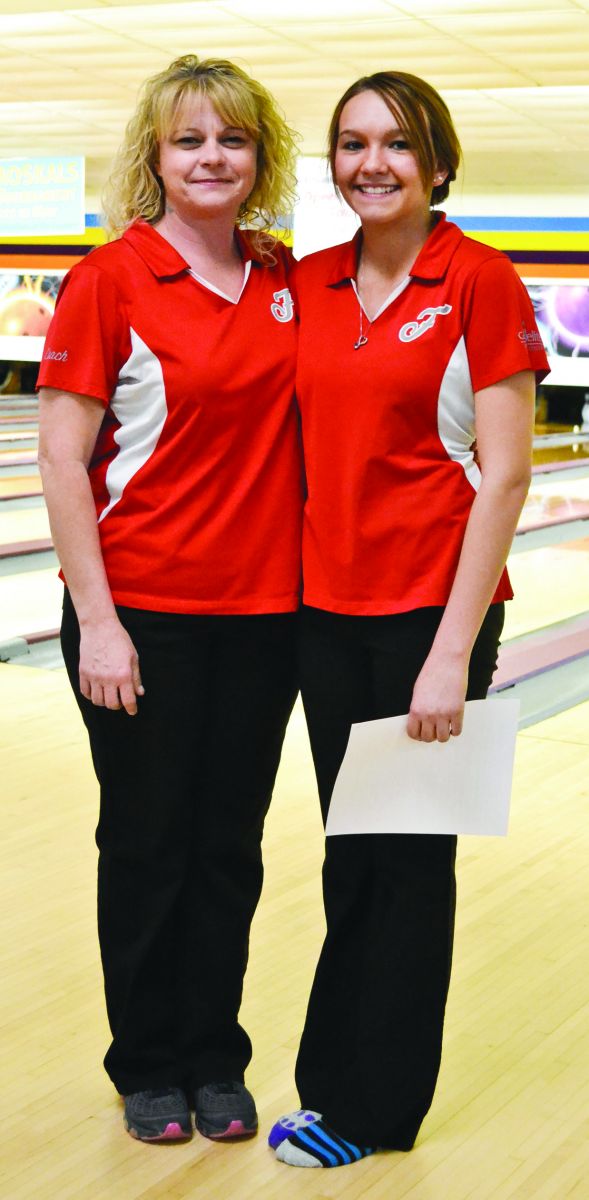 STATE BOUND: Frankenmuth varsity girls' bowling team member Billie Harrington, right, advances to the MHSAA Division 3 State Singles Finals this weekend in Jackson. At the left is Billie's coach and mother, Laurie Harrington. (News photo/Kelly Jammer)
FHS girls' bowling team takes 6th place; Harrington qualifies for state
The Frankenmuth varsity girls' bowling team performed well at the MHSAA Division 3 Regional, held at Candlelite Bowling Center in Bridgeport last weekend.
On Friday, the Lady Eagles rolled a 2,863, good for sixth place out of 15 teams. The top three schools qualify for the state finals as a team.
Birch Run won the regional with 3,081 pins, followed by Croswell-Lexington with 3,072 pins and Caro with 2,903 pins.
The regional format was six Baker games followed by three regular games.
"Our Baker games were pretty good. We had one bad game of 119 but the girls bounced back and they were bowling well," FHS Coach Laurie Harrington said.
The Lady Eagles were sitting in third place heading into the three regular games.
"It was then that the girls kind of fell apart. We were missing easy spares and they were not hitting the pocket well," Harrington added.
Saturday morning brought better news for the red and gray in singles competition. A total of 87 girls competed with the top 10 moving on to the MHSAA Division 3 State Finals at Jackson' Airport Lanes, Friday and Saturday, March 6-7.
Billie Harrington took second place and will join Birch Run's Amber Carpenter (fifth place) and Julia Flory (sixth place) in heading to the state finals.
The regional format is six games, with girls moving to a new lane after every game. The girls do not bowl as a team and are spaced out quite a bit from each other.
Harrington rolled games of 212, 178, 172, 158, 125 and 160 for a total of 1,005 pins. Alma's Kemmie Shunk was first with 1,065 pins. Shunk rolled a 207. Harrington and Shunk were the only two bowlers to crack 200 in singles competition.
"This is what you work for all season, teaching them to make their own adjustments and getting them to realize when they need to make a change," Harrington pointed out. "With the girls so spaced out, the coaching is limited with trying to keep an eye on all of them at once."
Annie Matzke finished in 18th place, missing the cut by 37 pins. Andrea Perlberg finished in 21st place, Madison Jammer in 27th place and Haley Goodall in 53rd place.