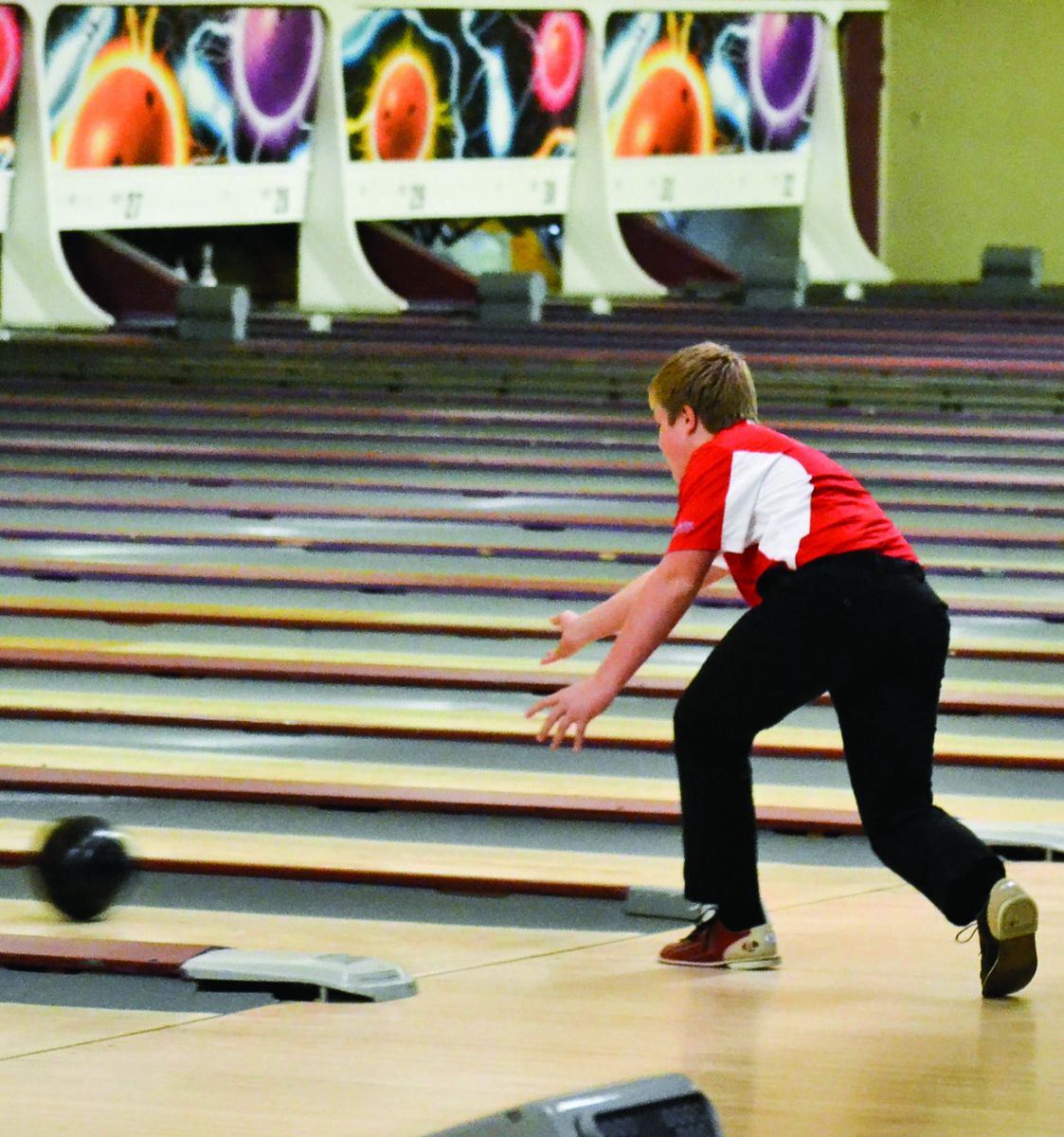 BOWLING BEGINS: The Frankenmuth varsity bowling teams began their season last Saturday against Ovid-Elsie, competing at Candlelite Bowling Center. Caleb Sims, above, and Andrea Perlberg, below, show their form during the matches. The Eagles tied O-E, 15-15, while the Lady Eagles won, 16.50-13.50. (News photos/Kelly Jammer)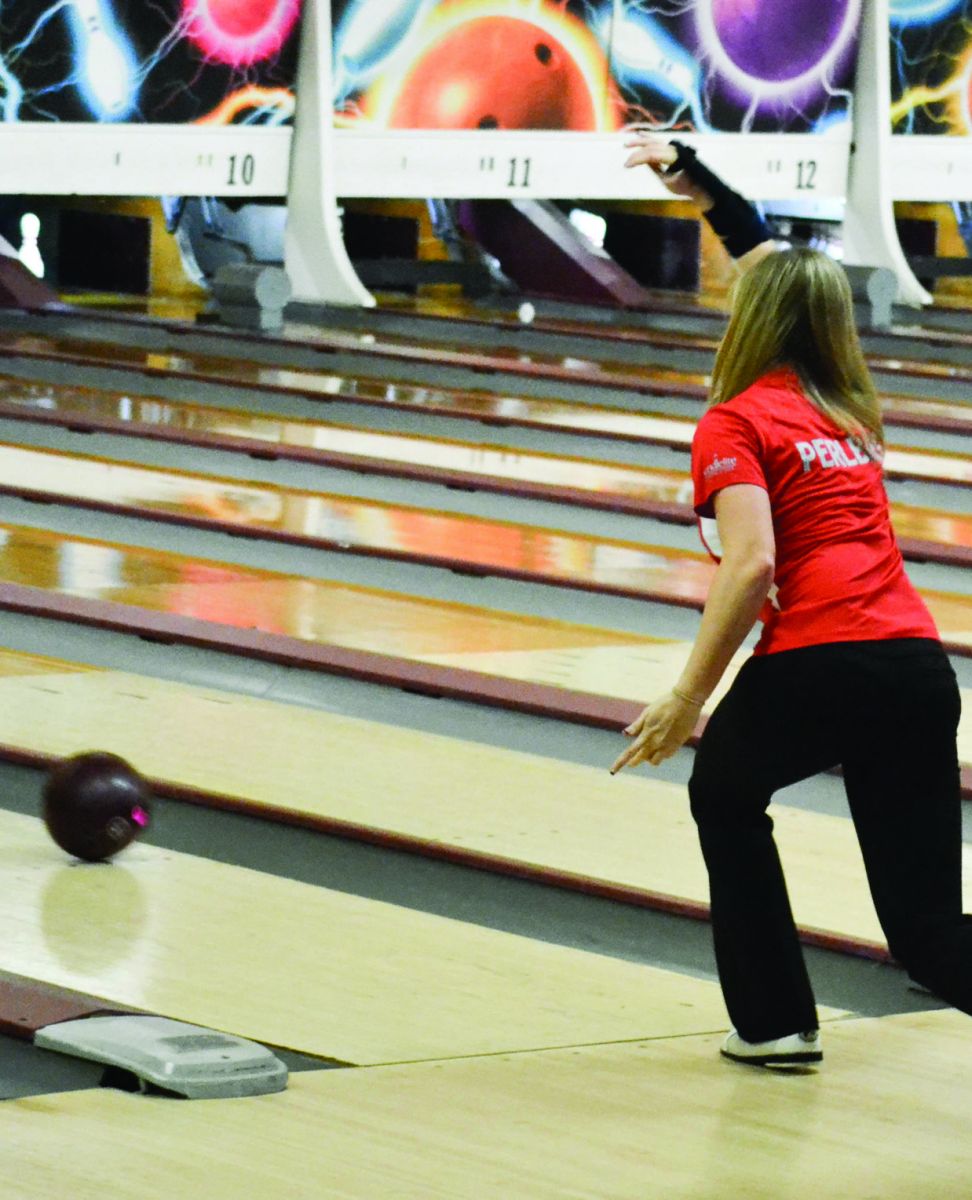 FHS bowlers begin season at Candlelite
Lady Eagle bowlers edge Marauders
The Frankenmuth varsity girls' bowling team opened its 2014-15 season with a home house win over Ovid Elsie.
The match was held at Bridgeport's Candlelite Bowl on Saturday, December 6. The Lady Eagles defeated the Marauders, 16.50 points to 13.50 points.
'Muth won their first Baker game, 170-110 but lost the second, 127-162.
In Peterson games, FHS fell in the opener by 41 pins but roared back to win the second by 92 pins.
Billie Harrington posted the high individual score for Frankenmuth, rolling a 199. Morgan Progler scored 175 and McKenzie Freeman added a 173 game.
Tri-Valley Conference East Division play will begin this Saturday, December 13, beginning at 1pm. The team will travel to Bay Lanes in Bay City and will take on Birch Run and North Branch.
Boys tie Ovid-elsie, 15-15
The Frankenmuth varsity boys' bowling team opened its 2014-15 season last Saturday afternoon at the Candlelite Bowling Center.
The Eagles squared off against Ovid-Elsie in a Tri-Valley Conference crossover match.
When the last pins fell, 'Muth and the Marauders played to a 15-15 tie. Final pin totals favored FHS, 1,631-1,619.
"I was extremely happy with our effort. Ovid Elsie is a top bowling program and we held our own with them," FHS Coach Ron Krueger said. "We still have a lot of room for improvement; we left way too many easy spares out there and that is something we will be working hard on to improve."
Frankenmuth started out strong, sweeping both Baker games and besting the Marauders by over 100 pins. Hunter Duehring and Shane Harrington led the way for FHS.
In the Peterson games, Ovid Elsie's bowlers began finding their groove, topping the Eagles by 70 pins and taking 3 of 5 individual points. The final Peterson game was extremely close all the way to the very end. Harrington, a sophomore, threw a huge game, with a 214.
"Shane showed how much hard work and a year can make. He has put in a lot of practice time and looks great . . . he was our leader that day," Krueger stated.
Duehring also made some great shots late to win his head to head match.
"The big frame of the day came when Ethan Beck was substituted in the 10th frame and stepped up and threw a strike to win that head to head match," Krueger added.
This is the second season for the varsity boy's bowling program. The Lady Eagles are beginning their third season.
Frankenmuth begins TVC East play this Saturday, December 13, with a 1pm match against Birch Run and host Essexville Garber at Bay Lanes in Bay City. A second match will take place at 3pm against North Branch.
The team resumes action in 2015 on Saturday, January 10, traveling to Richfield Lanes to take on Caro at noon and Otisville-LakeVille at 2pm.