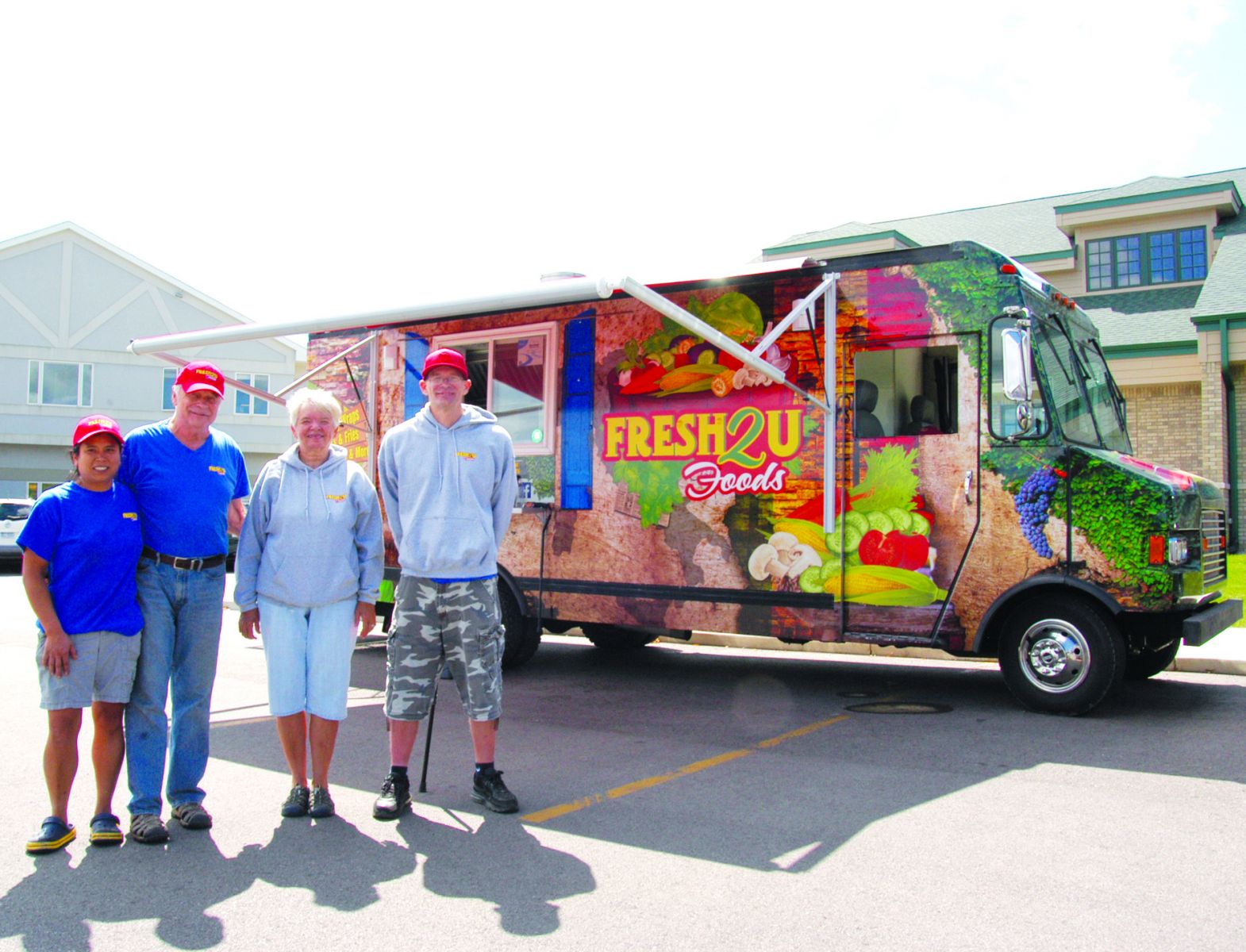 FRESH2U CREW! The Fresh2u Foods business has been in operation for one year in the Frankenmuth area. They are, from the left, Cindy Sebold, Fred and Kay Sebold and Dan Sebold. Please see the story at the left. (News photo)
Fresh2U food truck is a dream come true for Cindy, Dan Sebold
Dan and Cindy Sebold and family had a dream to bring fresh food to the Frankenmuth area on four wheels.
In September 2015, that dream came true for the Sebolds.
Fresh2U Foods was born at that time and with a winter of planning, the food truck is making appearances. Persons in town cannot miss the brightly-colored food truck which has been parked in the Frankenmuth Credit Union's front parking lot nearly every Friday, 11:30am until 1:30pm.
The truck made its debut at the Midland Farmers Market in mid-September 2015. This year, the truck has appeared at the World Expo of Beer, Genesee County Fair, Bay City Fireworks, Tall Ships and more. Fresh2U will also be a part of a Food Truck Rally during Michigan's Big Country Fest, October 21-22.
According to Cindy, the Hawaiian chicken wrap is the best-selling item on the menu. The wrap is made with marinated grilled chicken, grilled pineapple, mozzarella, romaine, Maui sauce and mayonnaise.
Other offerings include a 1/3rd pound burger on a Kaiser roll, chicken chorizo in a wrap, garden salad and a chef's choice entitled chicken salad melt made in a wrap or Kaiser bun.
All their food is locally sourced, with fresh herbs and spices.
Side dishes include macaroni and cheese or 𠇏red E Fries" which are ribbon fries cut and fried on the truck, drizzled with ranch and topped with green onions.
The sell Coca-Cola products, water and coffee for their morning locations.
The Sebolds found their food truck in Indiana where it had an Italian theme. It is a 1995, 27-foot long truck. With help from Swartz Sign Graphics, the truck became a "rolling garden."
All the food is made inside the truck in its commercial kitchen. The family mostly staffs the truck, including Dan's parents, Fred and Kay.
Fresh2U Foods also provides catering. For more information, call 989-395-2995, visit their Facebook page or email them at fresh2ufoods@gmail.com.