Business News
Police Report
New Business
2013 City Yard Waste Program
Balloons in the Sky!
New Business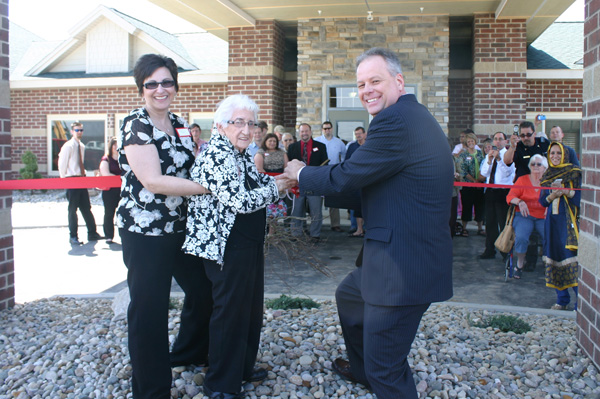 NEW FIRM OPENS NEAR BRIDGEPORT: The owners of Bavarian Comfort Care held a ribbon-cutting ceremony on May 1. From the left, Bridgeport Township Manager Rose Licht, first resident Hazel Judd and Bridgeport Chamber of Commerce President Steve Dobis took part in the ceremony. To learn more about the new facility. (Photo courtesy/Craig Nelson, Birch Run Bridgeport Herald)
Bavarian Comfort Care opens doors on Rolling Hills Drive
A new facility is about to open in Bridgeport that promises to provide value, quality care and convenience for senior citizens requiring some assistance with day-to-day living.
A formal ribbon-cutting ceremony for Bavarian Comfort Care, on Rolling Hills Drive just off Dixie Highway near Junction Road, was held last Wednesday as local officials and dignitaries gathered to celebrate the new state-of-the-art facility that will fill a need for assisted living in one wing and provide a memory care unit in a separate wing.
According to Bethany Thibault, Bavarian Comfort Care's administrator, "Bavarian Comfort Care intends to serve a population of elderly adults by addressing the physical, social, intellectual and emotional needs of its residents. Residents will be provided a safe environment and quality care with respect and compassion to enhance their lives."
The new facility will accommodate some 30 residents and offers room layouts from a 302 sq. ft. studio style to a 402 sq. ft. grand oriental layout. All apartments are equipped with private bathrooms.
"We are delighted to have Bavarian Comfort Care opt to locate here in Bridgeport," stated Bridgeport Area Chamber of Commerce President Steve Dobis at the ribbon cutting ceremony. "It promises to be a real asset to the entire community."
Bavarian Comfort Care provides personalized care plans with 24/7 assistance from certified medical personnel as well as assistance with meals (3 home cooked meals per day), medications, grooming, dietary management, housekeeping, laundry, and much more.
"Bavarian Comfort Care aspires to provide room, board, assistance, protection, supervision, and supervised personal care following the resident's service plan to persons of 60 years of age and older," Thibault explained.
The facility is offering opening all inclusive specials to the first 10 residents. For more information or to arrange a tour, call (989-502-2122).
1878