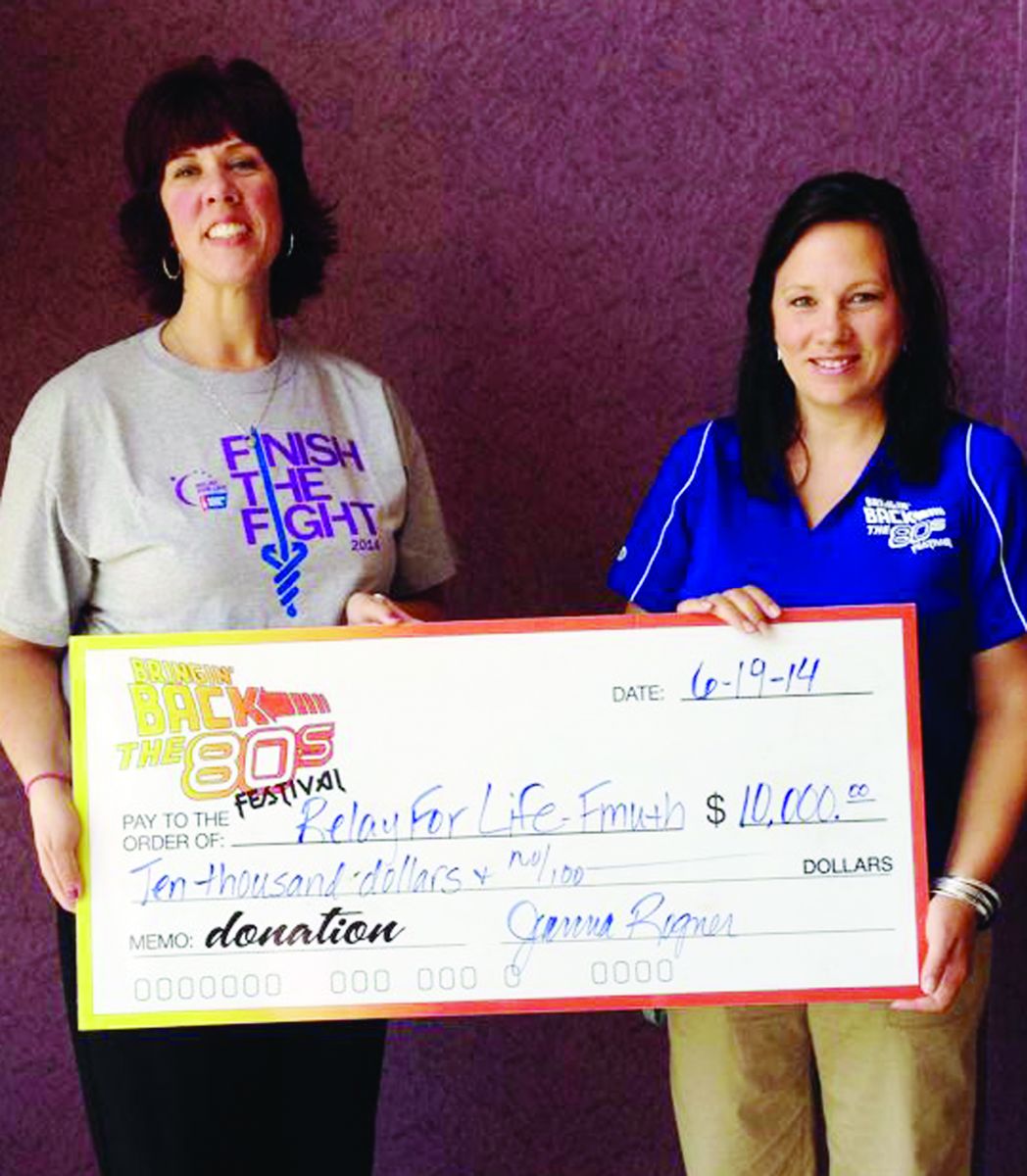 80S FEST DONATION: Bridget Cook, left, chairman of the Relay For Life of Frankenmuth, accepts a $10,000 check from Bringin' Back the 80s Fest President Jeanna Rogner a week prior to the Frankenmuth Relay. The local event was held last wekend and it raised over $56,000 to help fight cancer.
Relay For Life Frankenmuth raises over $56,000
Twenty-three teams made up of cancer survivors, families, caregivers and businesses walked 24 hours in the American Cancer Society Relay For Life of Frankenmuth on June 21-22, raising more than $56,000. This year's theme, "Superheroes", was certainly fitting considering the time and commitment given by the event committee, volunteers, teams, and participants that will help the American Cancer Society finish the fight against cancer.
Relay For Life is a community-based, volunteer-driven event that honors survivors and caregivers, remembers those lost to the disease, and fights for a world with more birthdays. Individuals and teams gathered at the Heritage Park Pavilion in Frankenmuth to walk overnight in confidence that their effort will lead to a cure. Before the event, teams organized and completed fundraisers to raise money for the cause, continuing their efforts at the event through bake sales, auctions, games and other methods. These funds bring the American Cancer Society one step closer to its goal of helping people get well and stay well by finding cures and fighting back.
Many area businesses and sponsors also helped the Relay For Life of Frankenmuth in its mission this year, including a $10,000 donation from Bringin' Back the 80s Fest and Mike Young and Schaefer & Bierlein's donation of $25 for every car sold in the month of June.
"Relay For Life allows the entire community the opportunity to do something positive when so much negative surrounds the disease", said 2014 Relay For Life event co-chair, Bridget Cook. "I am proud of Frankenmuth for coming together to support one another and help finish the fight against cancer. Thank you to our committee, team captains, participants, and sponsors who helped make this event happen."
Relay For Life of Frankenmuth is already planning for next year's event, which the committee hopes will be even bigger and better. For more information about Relay, visit www.relayforlife.org and enter 48734 into the zip code field to find the Frankenmuth event page.
For more information on the American Cancer Society, to get help, or to join the fight, call anytime, day or night, at 1-800-227-2345 or visit cancer.org.