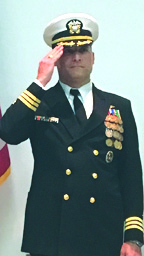 CDR CHAD LARGES

CDR Chad Larges retires from U.S. Navy following 24 years of active duty
CDR Chad Larges retired from over 24 years of active duty in the U.S. Navy in a retirement ceremony held on April 21 2017 at the Naval Research Laboratory in Washington, D.C.
CDR Larges is a native of Frankenmuth and a 1989 graduate of Frankenmuth High School. He went on to graduate from the United States Naval Academy in 1993 with a Bachelor of Science degree in Aerospace Engineering and to earn his wings as a Naval Flight Officer in 1995.
For the majority of his career, he flew in the EA-6B Prowler, a tactical electronic warfare jet, and he made multiple deployments onboard the USS Theodore Roosevelt and USS Enterprise to support Operations in Iraq, Afghanistan, and the Balklan Peninsula. He also served as the staff Electronic Warfare Officer with Commander, Carrier Group ONE in San Diego, where he trained Information Warfare Commanders of every Carrier and Expeditionary Strike Group on the west coast.
In 2009, following a tour on the Joint Staff, his career deviated from the normal path of a Naval Aviator. CDR Larges was hand-selected into the initial cohort of the Chairman's Afghanistan-Pakistan Hands Program, where he received extensive language and cultural training and made two year-long deployments to Afghanistan. His first tour in Afghanistan was as an operational advisor to the Afghan National Police at the Government of the Islamic Republic of Afghanistan's Ministry of Interior. In 2013 he returned to Afghanistan for his second tour as the Director of the National Civil-Military Operations Center for the Special Operations Joint Task Force – Afghanistan.
In addition to his many operational deployments, CDR Larges' positions ashore included serving as both a Company and Battalion Officer at the U. S. Naval Academy and as an action officer in the Global Force Management Division (J-33) on the Joint Staff. He concluded his Naval career while serving as the Military Deputy to the Director of the Naval Center for Space Technology at the Naval Research Laboratory.
Throughout his career he continued to pursue his education and received a Master's of Science degree in Leadership and Human Resource Development from the Naval Postgraduate School in 2000, as well as a Master's of Science degree in National Security Strategy from the National War College in 2012.
CDR Larges' personal awards include the Defense Meritorious Service Medal (three awards), the Meritorious Service Medal (two awards), the Strike/Flight Air Medal (four awards), the Navy and Marine Corps Commendation Medal (three awards, one with combat distinguishing device), the Joint Achievement Medal, and the Navy and Marine Corps Achievement Medal (two awards). He has accumulated over 1800 hours of flight time and over 310 arrested landings.
CDR Larges is married to the former Tammy Wheaton, Burt, MI. They have two daughters, Kylie and Olivia, ages 14 and 13, and they currently reside in Davidsonville, MD.