Top Stories
Police Report
Frankenmuth Fire Dept.
HOLIDAY HOURS
Waste Collection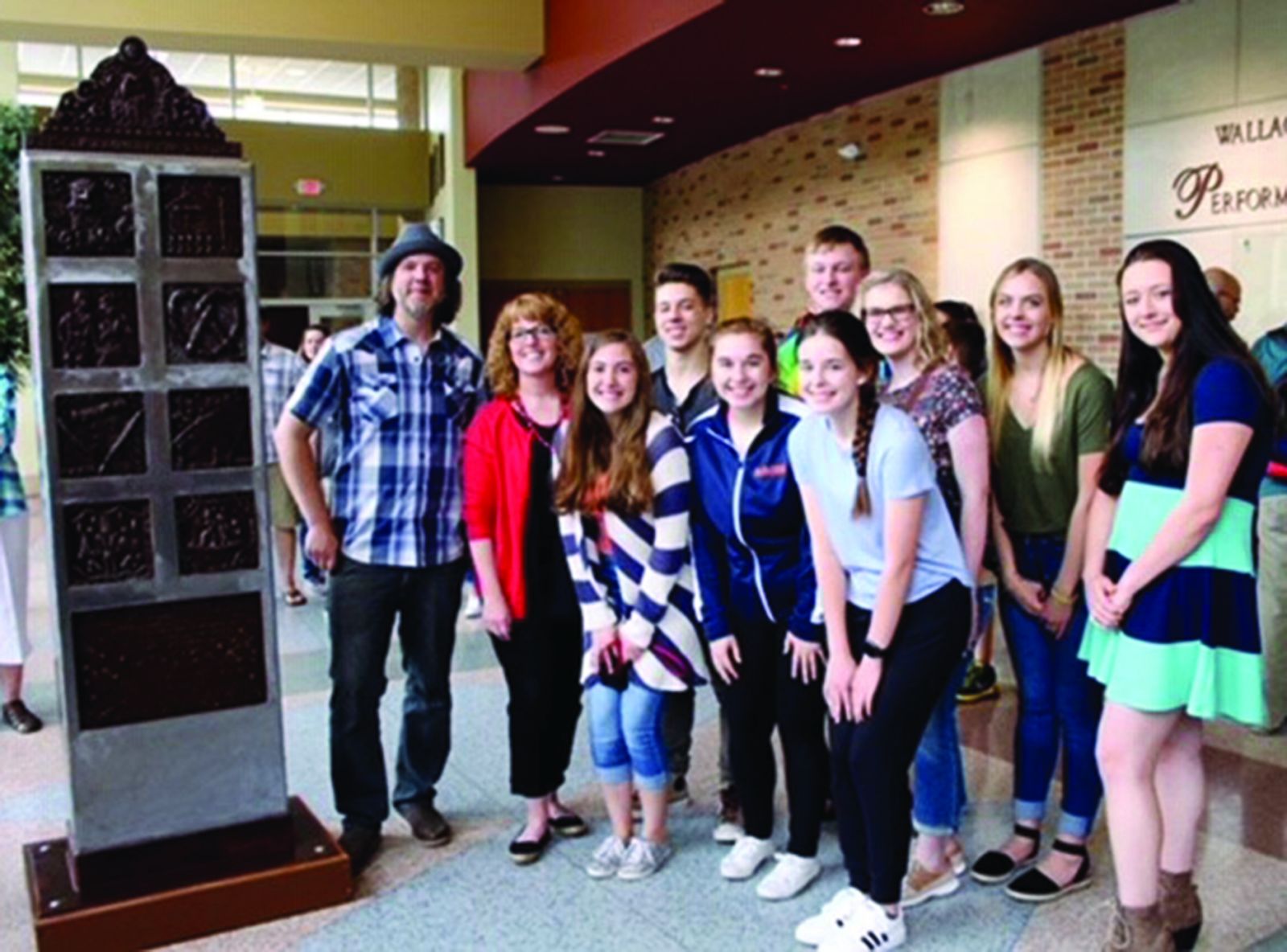 IRON SCULPTURE UNVEILED. . . a new addition to the Frankenmuth School district campus was revealed June 19 at the Bronner Performing Arts Center lobby. The iron sculpture is the result of the collaborative creative efforts of several Frankenmuth High School advanced art students, local artist Stephen Hargash and Frankenmuth art teacher Erin Warnick. The theme of the artwork is "School-Community-Heritage" and was funded through grants from the Michigan Council for Arts and Cultural Affairs (MCACA), as well as the Frankenmuth Arts Council.
Forged in fire: School, Community, Heritage
A project that began in fall 2018 was recently completed by 16 Frankenmuth High School art class students.
The sculpture unveiling took place Wednesday evening, June 19, inside the lobby of the Bronner Family Performing Arts Center at FHS. The sculpture theme was "School, Community, Heritage."
The project was led by local artist Stephen Hargash, who was assisted by another local artist Gary Gavit and FHS art teacher Erin Warnick. The finished project was a collaboration between Hargash and the 16 FHS advanced art students, including David Bender, Libby Redwanz, Madelyn Maurer, Lauren Pattok, Rebecca Kwaiser, Lauren Hochthanner, Clayton Cook, Danielle Rummel, Sydney Bickel, Emma Betz, Dane Foelker, MaKayla Knop, Madison Hoffmann, Brooklin Karwat, Allison Walz and Allison Rousseau.
"The sculpture incorporates a series of cast iron tiles crafted by students and poured at the Frankenmuth Art Council's 2018 Iron Pour," Hargash said.
The tiles portray scenes from life in the Frankenmuth area, including the Eagle logo, FHS sports, a pretzel, a boy and girl in lederhosen, agriculture, the Holzbruecke, a musical note, a chicken, an edelweiss flower and more.
The top features an ornate Eagle and the letters FHS.
The 700-pound, seven-foot tall art piece will be installed outside on the school grounds for students and area residents to view.
A grant from the Michigan Council for the Arts and Cultural Affairs supported the project as well as the Frankenmuth Arts Council.
The second annual 𠇏orged in Fire" event will take place on Friday and Saturday, August 9 and 10. The actual forging will take place at dusk on Saturday for a more dramatic look. It will take place at 245 South Main Street, near the corner of School Street, on property owned by the Star of the West Milling Company.
The event will feature glassblowing solid work by Firenation Glass Studio & Gallery, metal casting, blacksmith by 3 Drago Forging, chainsaw carving and an iron pour by Alien Iron Metal Casting.
At dusk on Saturday, the public can watch molten metal poured into molds created by community workshop participants and local artists to produce unique tile and glass pieces while the sun goes down.
The event is free, however, for a cost, attendees can immerse themselves in the arts by purchasing a workshop experience to create their own metal casting or solid glass paperweight.
For more information or to register for Forged in Fire, visit www.frankenmutharts.org.
1001661