Home
Like us on Facebook!!
Frankenmuth News
Wednesday, September 24, 2014 ~ Vol. 109 No. 12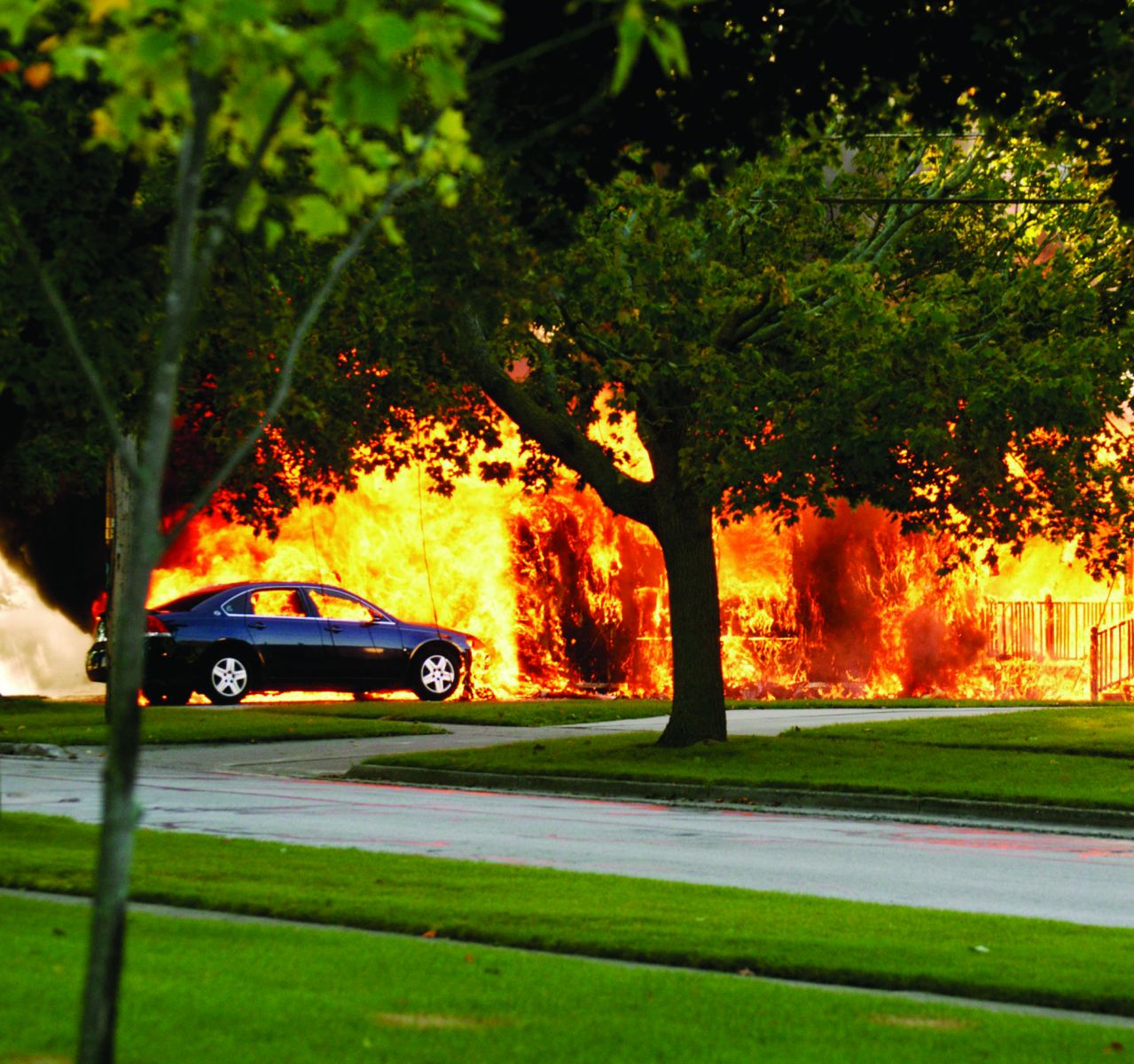 The Frankenmuth Fire Department extinguished this fire at 411 Heine Street Tuesday morning. The dwelling was a total loss. (Photo courtesy/Bill Cataline)
Heine Street house fire is under investigation
The Frankenmuth Fire Department is continuing its investigation into a rather explosive house fire that took place in the city Monday morning, September 22.
Firefighters were called to 411 Heine Street, near Beyerlein Street, at 9:08am for fully a involved house fire.
"We knew we had a working structure fire as we could see the smoke from city hall. It looked to be fully engulfed," FFD Chief John Deterding said.
The home is owned by Paul Leach. He and his wife and two daughters live in the one-story dwelling. One college-age daughter was home at the time the blaze began. She immediately called 911.
Twenty firefighters arrived at the scene and began an interior attack. A hydrant was located right at the intersection, aiding the firefighters. The fire, which appears to have started in the garage, spread to the driveway. A Chevrolet Impala parked in the driveway, near the garage, also caught fire.
Engine 2, Truck 3, Squad 4, Utility 6 and Brush 7 responded with 20 men. Deterding heard radio traffic and learned that the Birch Run Fire Department was clearing an injury accident on M-83. Using the mutual aid package, five BRFD men and an engine came to the scene to assist.
The FFD cleared the scene shortly before noon. A rekindle took place and the firefighters returned to clean up hot spots at 1:20pm. By 1:50pm, they left the scene.
"The house appears to be a total loss and is a big loss for the family. The insurance investigators will be here tomorrow (now today, September 24) to help determine the cause," Deterding noted. "We made a great stop (on the fire). We attacked it as planned."
FFD Engine Operator Mike Zehnder estimated 10,000 gallons of water and about five gallons of foam were used.
𠇏oam concentrations are probably .1 to 1 percent (when mixed with water) and only used when the fire is mostly knocked down," FFD Assistant Chief Phil Kerns said.
No one was injured and this was the 92nd call for service in 2014 for the local department.
Deterding wishes to thank 𠇊n angel" who dropped off homemade cookies, donuts and Gatorade at the scene for his men.
Kerns took time out to thank the Frankenmuth-area employers who allow their employees to serve during events that occur during the day.
"Our daytime response is awesome and that is thanks in part to our area employers who allow them to leave work and come to the aid of our citizens," Kerns said. "While every other department has so much trouble getting daytime response, we have it very good."
596035