Home
Please check us out of FACEBOOK!!!
Frankenmuth News
December 17, 2014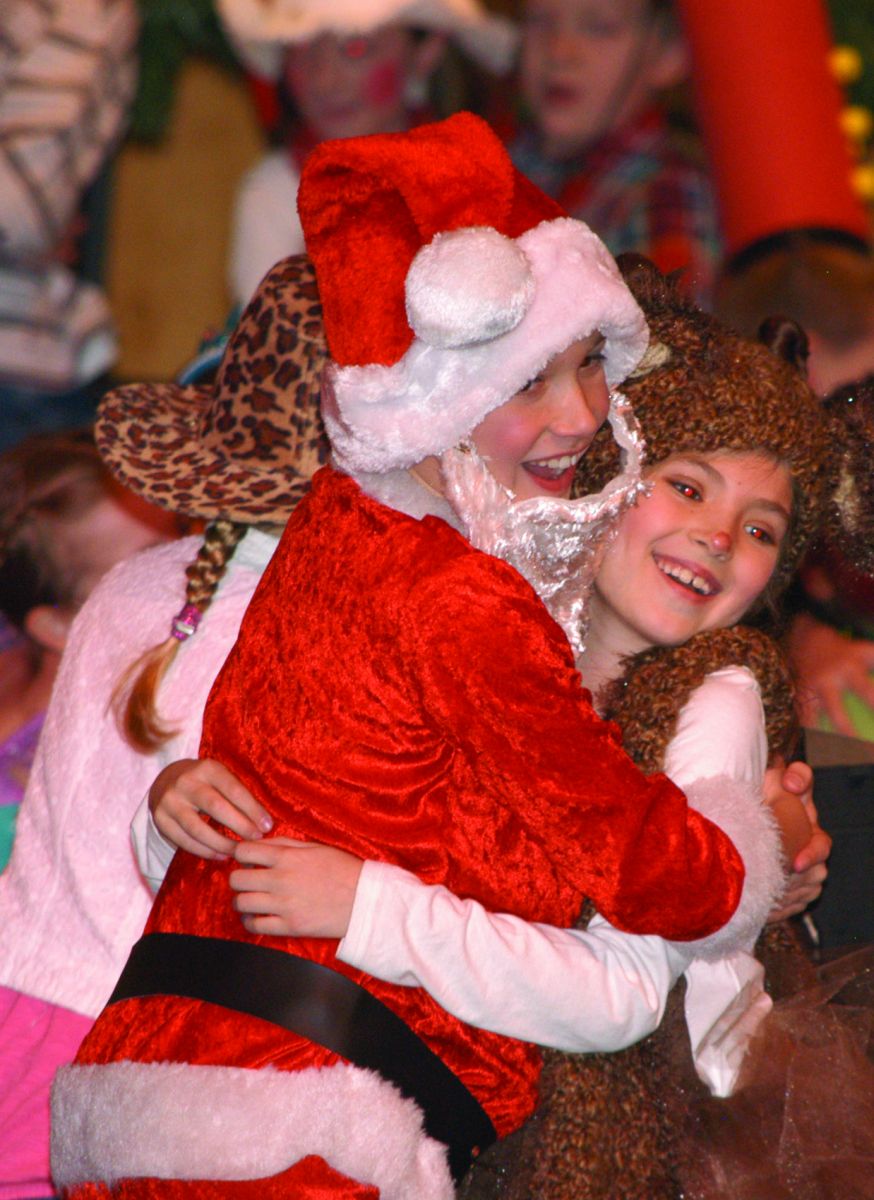 LOTS OF CHRISTMAS GLEE: The List Elementary School first and second grade students performed in a musical production entitled "Toys! The Night They Came Alive!" last Sunday afternoon. The students sang and danced before an over-capacity crowd at the Bronner Performing Arts Center. List teacher Marcy Putnam was the director. Pictured above is Cade Zimba and Mylie Jacob as they dance on stage. (News photo)
There are many layers to the Frankenmuth Police Dept.
There are many layers to the Frankenmuth Police Depart-ment.
Starting at the top with Chief Don Mawer, there are full-time and part-time officers who are part of the city and township's 24-hour, seven-days-a-week protection.
Next there is the Frankenmuth Police Reserve Unit, formerly known as the Mounted Patrol to long-time community residents. Over the past 11-plus months, reserve officers have logged 5,069.5 community service hours in various roles.
The last layers, and still fairly new, is the Police Cadet Program.
In the fall of 2008, the FPD embarked on this program, which had been under research for quite some time.
"This year's program has students which are assigned to the department as interns," Mawer said. "They report to the station daily and work in the station providing clerical support and at times, ride with officers to receive high school credit."
Denver Bonkowski and Colin Worden, Frankenmuth High School students, are this year's cadets.
The Cadet Program consists of successful applicants completing a selection process similar to a hiring process, complete with interviews, applications, resumes and a drug test.
"The candidate is recommended by the high school and requires the permission of their parent or legal guardian to participate. This program has proven very beneficial for the students and community, having an equally positive impact on the department," Mawer pointed out.
The cadets do everything from filing reports, answering the phone and redirecting calls to the appropriate officers and assisting officers or reserve officers for community events. The cadets log approximately 340 hours throughout the year.
"The Cadet Program shows the cadet real life job experiences and have proven to be an economical answer to some of our mounting clerical needs," Mawer said.
The Medical First Responder Program is also fairly new to the FPD, with the program first explored five years ago when Frankenmuth experienced increased calls for ambulances which exceeded what Mobile Medical Response (MMR) could practically assign on a permanent basis to service the area.
"The thought was if our officers had advanced medical training, we could assist in some of these calls, providing care for our service area that would be beneficial both to citizens in need and MMR," Mawer stated.
As of fall, 2013, all of the certified FPD staff and some reserve staff were certified as medical first responders. This training consisted of 104 hours of not only traditional classroom lecture-driven material, but also practical exercises and testing.
"This project has been a long process, as well as one at which the staff excelled and will be a great benefit to the community," Mawer, Frankenmuth's chief since 2003, said.
The FPD currently responds to an estimated 680 medical calls annually.
The Frankenmuth police annual budget is $1,255,900, which consists of 87 percent personnel expenses. This allocates funding for staffing at seven full-time positions and 5-7 part-time positions.
The school resource officer, Tom Daugharty, costs $41,000 in wages and $4,500 in materials on an annual basis.
"It is important to note the schools are billed $12,319 each school year - $9,901 to the Frankenmuth School District and $2,418 to St. Lorenz Lutheran School," Mawer indicated.
When the revenues are backed out of the expenses and the remainder is divided among the population, the program costs about 50 cents per month, per person (based on the 2012 census of 4,934 persons).
Maintaining the fleet of patrol vehicles takes up seven percent ($88,000) for repairs, routine and unexpected maintenance, fuel and earmarking $18,000 per year to go into a vehicle escrow. The FPD purchases a new vehicle every two years. The last vehicle sold was a 2005 Chevrolet Tahoe with more than 250,000 miles.
The operating section is five percent ($55,000) for everything from building maintenance, computers, office supplies, safety equipment, training, uniforms, medical first responder equipment and other equipment.
The service section is two percent ($24,600) for services such as attorneys, arraignments, computer support, consortium membership, Area Records Management System (ARMS), Mobile Data Terminal (MDD), replacement, building maintenance, telephone, medical service and more.
Off-setting revenues to this budget allocation include a $250,000 contract with Frankenmuth Township, festivals and events reimbursement ($14,000), donations ($8,000), school reimbursement ($12,319), Michigan Liquor Control ($14,000), vehicle sales ($6,000), and miscellaneous donations.
618731