Home
Your Best Source for Frankenmuth News
May 15, 2013 - Vol. 107, No. 45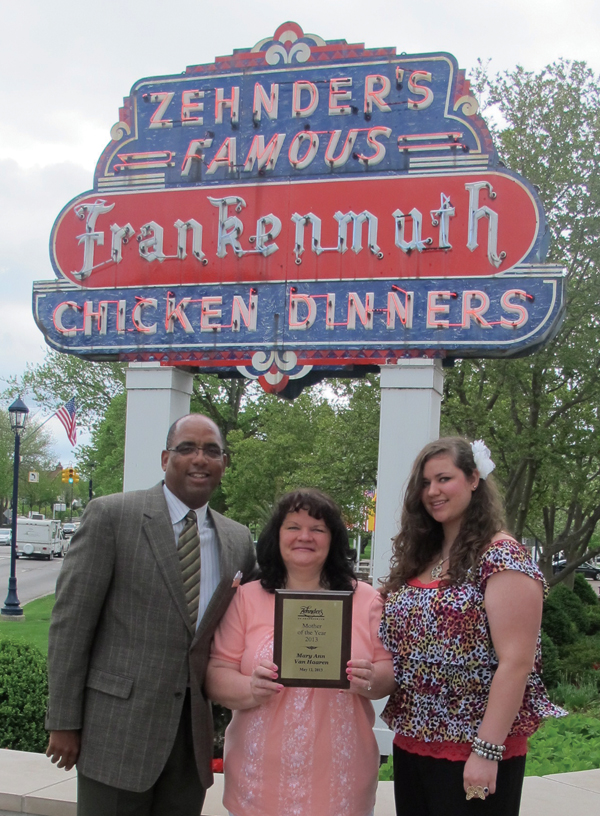 "MOTHER OF THE YEAR – 2013"
Zehnder's of Frankenmuth conducted its 22nd annual "Mother of the Year" Contest where individuals are invited to enter the contest by writing a poem of 50 words or less stating why their mother should be chosen for such an honor. Above, Zehnder's Vice-President of Marketing & Sales John Shelton congratulates the 2013 winner, Mary Ann Van Haaren and her daughter, Ashley Lynn. The winners enjoyed dinner on Mother's Day, Sunday, May 12, and were given other awards and gifts. Following is the poem Ashley Lynn submitted: "I hear her whisper, 'I love you my dear,' She pats my back, her words so clear 'I love you too' with a grin upon my face; one more hug, into her arms of grace. Once again, a love like no other; I couldn't ask for a better mother."
Hofmeister returns home to give the FHS commencement address
The Frankenmuth High School Class of 2013 will walk across the stage on Thursday, May 30, to receive their diplomas.
Commencement for 121 seniors, including foreign exchange students, will begin at 8pm in the FHS gym.
Brandon Hofmeister, a 1995 FHS graduate, will give the commencement address.
Hofmeister joined the Wayne State University Law School faculty in fall 2010. He teaches courses in energy and climate law and policy. He currently serves as a visiting professor of law at the University of Michigan Law School.
Previously, Hofmeister served as special counsel for Energy and Climate Policy to Governor Jennifer Granholm. His key duties were implementing state energy and climate law reforms, leading the governor's clean energy economic development efforts and coordinating with congress and the Obama Administration on energy and climate policies, including implementation of the Recovery Act provisions related to energy.
A graduate of Harvard College and Harvard Law School, Hofmeister also served as a law clerk for Judge John Corbett O' Meara in the Federal District Court for the Eastern District of Michigan.
The FHS class colors are red ad gray, the flower a rose and the class song is "It's Time" by Imagine Dragons. The class motto is "To accomplish great things, we must not only act, but also dream; not only plan, but also believe." – Anatole France.
The FHS Choir will sing the National Anthem and another offering, and the FHS Band will play the processional "Pomp & Circumstance" as well as pre-ceremony music.
The Roll of Graduates will be read by Student Council President Carrie Dudewicz and Senior Class Chairperson Chelsea Storms. FSD Board President Joe Cramer will confer the diplomas.
The Senior Mural, a tradition begun last year, is being painted by senior art student Alyssa Horstman. Last year's artwork was displayed above the senior lockers and this year's mural will be on display at the graduation ceremony.
464015