Home
Please check us out of FACEBOOK!!!
Frankenmuth News
December 10, 2014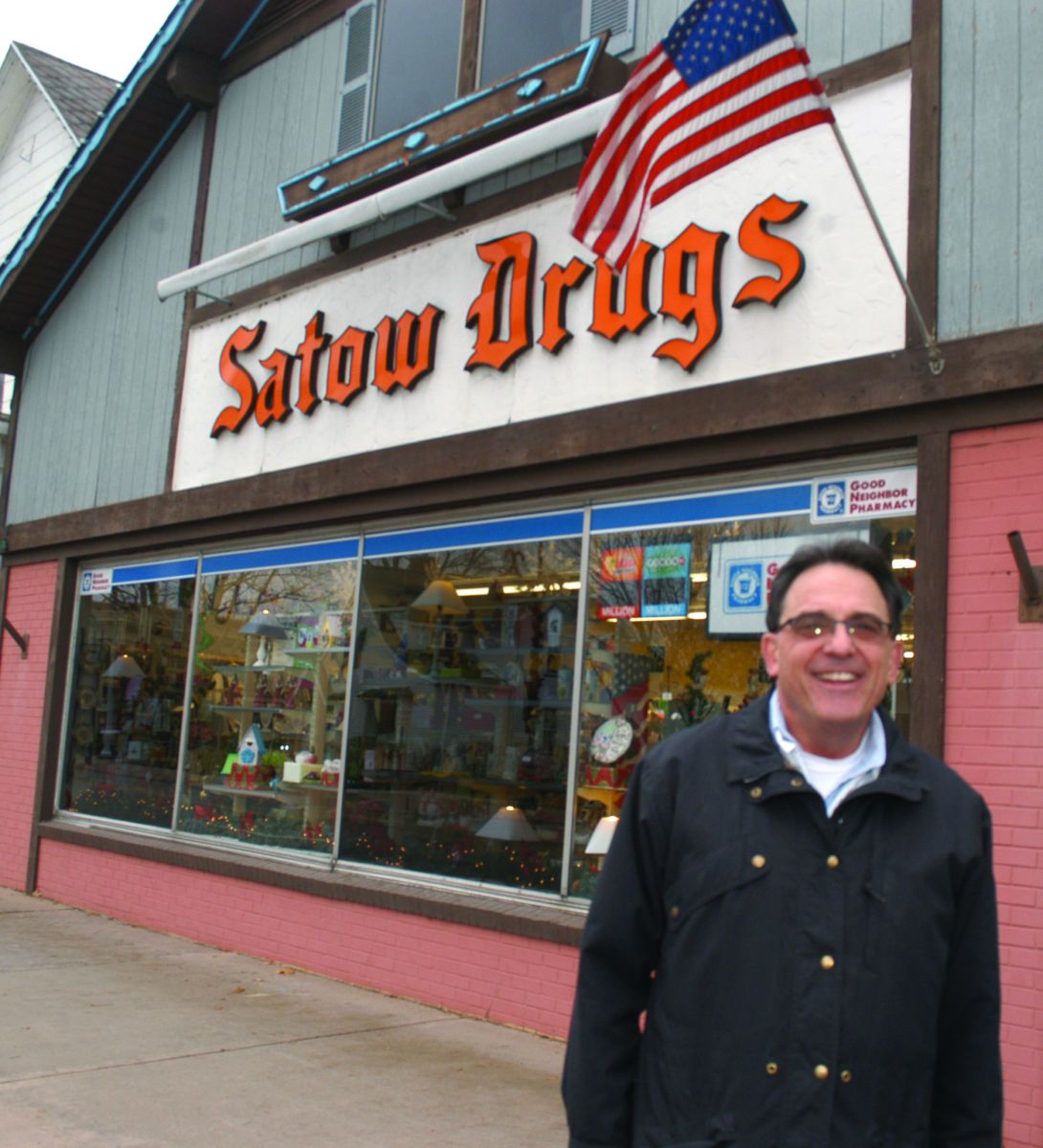 "SEE YOU AT SATOW'S" . . . is a popular line uttered by many community members over the past 77 years. Owner and pharmacist Ken Boesnecker, picture above, is selling the business and building to CVS Health (CVS Pharmacy). Die Kaffee Stube will close December 24, Satow Drugs will close January 8 and CVS will reopen and operate the firm beginning January 12. (News photo)
Community landmark, Satow Drugs, set to close
Store to reopen January 12 as CVS Pharmacy
Change in a community as tight knit as Frankenmuth is never easy. Residents get comfortable with their surroundings, schools, ways of governing and of course, their hometown businesses.
Frankenmuth will lose one of its time-honored firms when Satow Drug Store closes Thursday evening, January 8. When 308 South Main Street reopens on Monday, January 12, it will be owned by CVS Health as CVS Pharmacy.
Ken Boesnecker said he has entertained the thought of selling for about two years. He sought another business partner and looked at other options. In the end, he had to do what was best for him and his family.
"Pharmacy is one of the most regulated businesses in the United States. Back in June, medical costs shot up dramatically and my margin was shrinking . . . it was tough to pay the bills," Boesnecker said of the changing landscape of insurance companies. "I wanted to take on a partner who was the right fit for Frankenmuth but it just did not work out."
Boesnecker tried to persuade CVS officials to keep the very popular Die Kaffee Stube, which was part of the drug store's major remodel project back in the mid-1990s. He met with the fountain staff last Friday afternoon and alerted them to the fact it would be closing on Christmas Eve, Wednesday, December 24.
Satow Drugs employs about 32 persons, including Die Kaffee Stube. Manager Sandy Dietrich is one of the long-time Stube employees. She would have marked her 30th year next April. Some of the existing staff will be retained and Boesnecker will also remain behind the pharmacy counter. Pharmacist Geoff Gale will also stay on.
"We will still be filling your scrips and giving you our best service," Boesnecker said. "Some things won't change."
Ken's brother, Keith, will play Christmas songs on his piano all day on December 24 in Die Kaffee Stube.
"The decision to sell was not an easy one," Boesnecker said. "Satow's has been a mainstay of Frankenmuth and its residents for 77 years. Unique to Satow's has been Die Kaffee Stube, soda fountain, coffee shop and restaurant. It has been a community favorite since it opened its doors."
To thank the community for their patronage over the past 20 years, Die Kaffee Stube is featuring old-fashioned soda fountain specials until it closes December 24.
Satow Drugs was established in 1937 by Carl Satow at 435 South Main Street, just south of its current location. Pharmacist and Ken's father, Harry L. Boesnecker, became a partner with Carl in 1962. In February 1995, Harry sold his interest to Ken, Tom Meyer and Tim Keinath. Harry and Tom are now deceased.
"Satow's has always had a soda fountain. Dad started as a soda jerk at age 13 and went on to be a pharmacist and owner . . . it was a part of his childhood, his life," Ken stated.
Ken joined Satow Drugs as a pharmacist in 1977.
Within the last 6-12 months, CVS showed interest. Ken said low margins and increased regulations led him to do more for less.
CVS has been onsite, preparing for the take over. They will remodel the interior to fit their business model over 3-4 days. They will operate at 308 South Main Street until its new CVS pharmacy is complete on the corner of North Main and East Genesee streets (111 North Main Street), scheduled to open in 2016.
The former bank building was purchased by the Frankenmuth Credit Union earlier this year. The FCU is using the building for its teller services while a major remodel and addition project is taking place at its main branch, 580 North Main Street.
Work began in spring and is expected to continue through late summer. When completed, the credit union had no future plans for the building. The FCU recently struck a deal with CVS for the building. CVS will also expand to the east, purchasing the home next door.
What will happen to the Satow building in 2016 and beyond is unknown. There was a rumor that CVS wanted to purchase the Main Street Tavern and Willi's Sausage Company, both located immediately south of Satow Drugs, with the intent of razing all three and building the pharmacy on that site. That has remained a rumor.
Boesnecker is concerned about the five-panel mural, which is located on the north side of the drug store. The murals depict the history of pharmacy. Harry commissioned Frankenmuth native Stephen Hargash to design and paint the murals, about 20 years ago. It was Hargash's first official work in town.
Still. Boesnecker is hopeful they will be saved.
Ken recalled talking to his father about the state of the independent pharmacy before he passed away. Harry was urging him to consider selling and getting out. Ken would show Harry what the profit margins were and, coupled with the federal government's regulations, suggested the days of the independent, small-town pharmacy are nearly gone.
"Harry went through the golden age of pharmacy. I have talked to business associates recently. They told me this opportunity (to sell) may not come along again in a few years. They said do what is best for me," Ken said.
Boesnecker also owned Birch Run Drugs, 8501 Main Street, Birch Run. Harry and Meyer purchased the assets in December 1986 and last month, Ken sold it to Murali Ginjupolli. He believes it will remain an independent drug store under the Good Neighbor Pharmacy umbrella.
617217