Home
Please check us out of FACEBOOK!!!
Frankenmuth News
January 21, 2015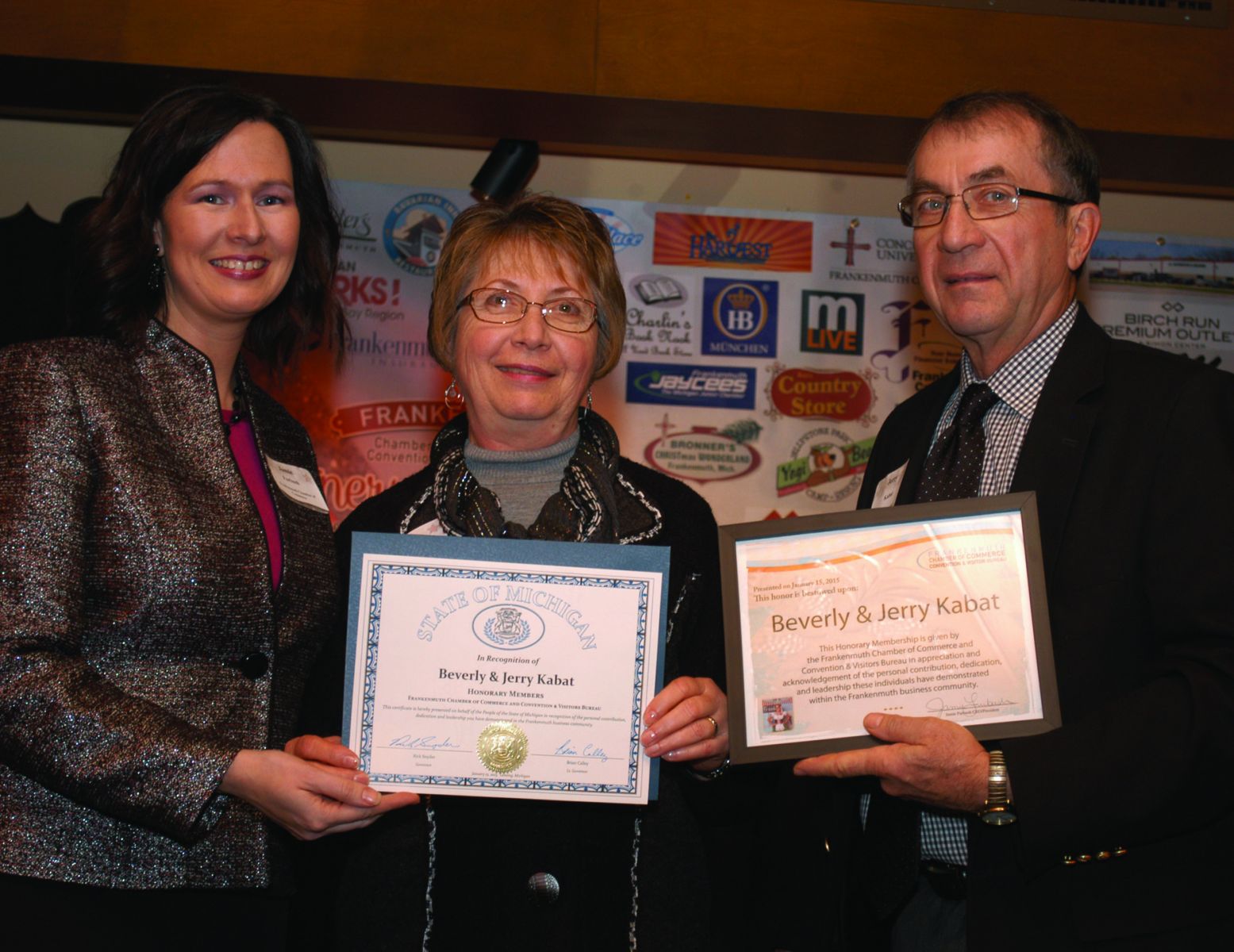 JERRY AND BEV KABAT . . . were presented with Honorary Memberships to the Frankenmuth Chamber of Commerce and Convention & Visitors Bureau at the chamber's annual dinner meeting. Chamber President/CEO Jamie Furbush made the presentation. (Photo courtesy/Rummel Studio)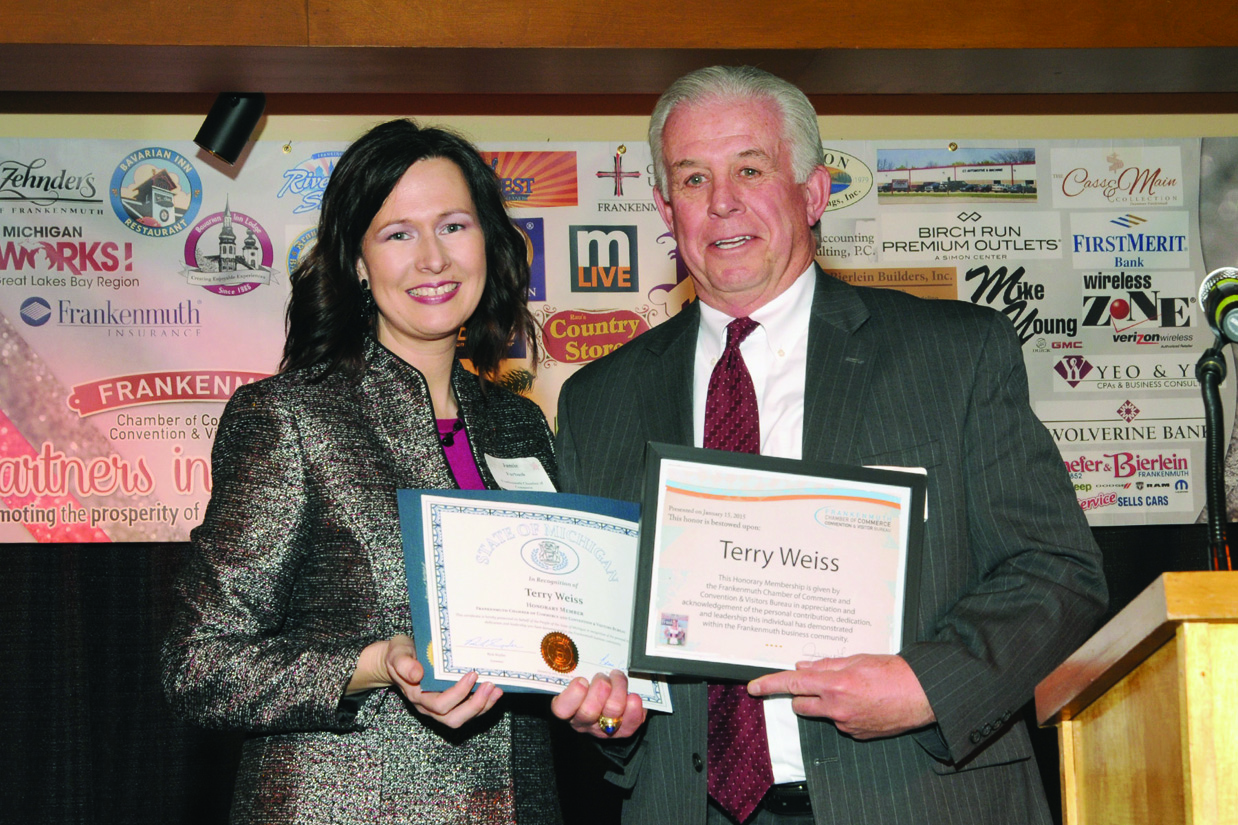 TERRY WEISS . . . was presented with an Honorary Membership to the Frankenmuth Chamber of Commerce and Convention & Visitors Bureau at the chamber's annual dinner meeting. Chamber President Jamie Furbush made the presentation. (Photo courtesy/Rummel Studio)
Chamber bestows honorary memberships to Kabats, Weiss
The Frankenmuth Chamber of Commerce and Convention & Visitors Bureau honored three persons with nautical and flight backgrounds at its annual meeting on January 15.
Each year, the Chamber bestows honorary membership awards and this year's presentation took place in front of nearly 300 person attending the annual dinner meeting at the Bavarian Inn Restaurant.
Chamber President/CEO Jamie Furbush handed out the awards to Jerry and Bev Kabat, who brought Cass River boat tours to Frankenmuth, and Terry Weiss, who has been a valuable resident, volunteer and businessman in the community. However, he started his life following high school by attending the U.S. Naval Academy in Annapolis, Maryland.
v and Jerry Kabat are a fine examples of hard working entrepreneurs. They both grew up on farms in our neighboring town of Reese. This adventurous couple started the first horse-drawn carriage service in Frankenmuth in 1982 and have been actively engaged in the business community ever since."
In 1986, they purchased property in the 500 block of South Main Street. Shortly thereafter, they fulfilled their dream of operating River Tours on the Cass River. They built their double-deck paddle-wheel riverboat in Bay City in 1987 and began featuring daily tours, evening entertainment and Riverview Café.
In 1994, they sold the business to establish a commercial elk herd on their farm in Pinconning.
"However, they could not stay away from Frankenmuth. They really love it here and really feel a part of the business community so they returned in 2006 to the place they affectionately called home," Furbush said. 𠇋y 2008, they returned to the river featuring small electric tour boats and aqua cycles, along with wine and chocolate pairings."
The new venture was called Frankenmuth FunShips and it continues its seasonal operation under new owners.
"Those of you that are familiar with what it looked like at that site along the river before they built FunShips can attest to all the hard work and elbow grease they put into that property. It is now truly a gem for our whole community and visitors to enjoy," Furbush stated.
Their design and work earned the Kabats a 2001 Keep Michigan Beautiful Award.
The Kabats continue to be active in Frankenmuth and with the Chamber. Jerry was on the CVB Board in the 90s and just completed his term on the Chamber Board of Directors. He is currently on the Frankenmuth City Beautification Committee and they have been active with St. Lorenz Lutheran School and Valley Lutheran High School when their two children were young.
"They are a fun, spirited and visionary couple that has given our community many of the fun attractions that draw people to Frankenmuth and keep our community fresh," Furbush added.
Terry Weiss served his country before he served his community. Weiss graduated as a second lieutenant in the U.S. Marine Corps. He was a helicopter pilot, flying the CH-46 helicopter (the double-rotor copters) earning the rank of captain.
Terry, like Jerry, married his high school sweetheart, Ruthie, and they have 43 years of marriage. They lived in Virginia, Florida, California and Hawaii and returned home in 1978 to work in the family business, Weiss Equipment.
In 1986, Weiss worked for The Equitable Insurance Company as a financial adviser and salesman and since 1994, he has been employed as general manager of Mike Young Buick GMC.
Weiss has been involved with St. Lorenz Lutheran, as chairman of the board of education, board of stewardship and a church council member. He was the Chamber's vice-president in 1985 and just completed another term on the Chamber board of directors.
Outside Frankenmuth, Weiss was a member of the St. Mary's Foundation Board and president and a charter member of the Saginaw County 100 Club.
Back in town, Weiss served on the Frankenmuth City Council, 1998-2005 and has been an Economic Development Corporation member since that time. A long-time Rotarian, Terry was a past president of the Frankenmuth Noon Rotary Club.
Terry and Ruthie have two children, Randy and Chris, and five grandchildren.
Weiss is preparing for retirement this summer.
"Terry will surely be missed around the board room table, but those of use that have had the pleasure of working with him know we can find him at the Saginaw Bay Ice Arena (watching his grandson play hockey) or at The Fortress perfecting his golf game when we need him in the future," Furbish said.
628511