Home
Frankenmuth News
Wednesday, March 25 2015
Vol. 109 No. 38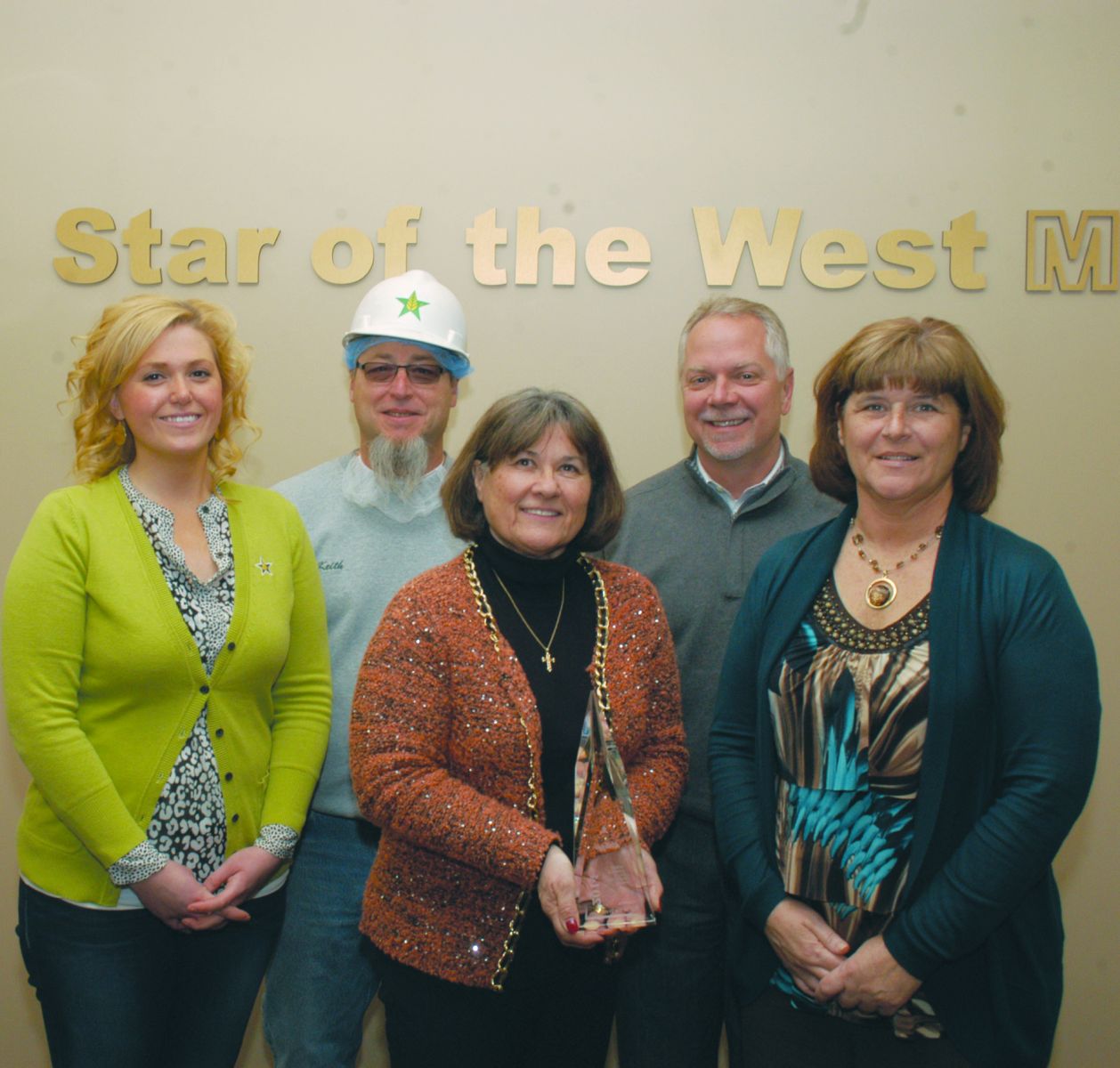 KELLOGG'S HONORS STAR: The Star of the West Milling Company was recently presented with the 2014 Kellogg North American Supplier Collaboration Award. Pictured above are some of key employees behind the honor. They are, from the left, Technical Director Karina Spencer, Mill Superintendent Keith Weber, Customer Service Manager Janice Weiss, Vice-President Flour Milling Division Michael Fassezke and Sales Manager Mary Kern.
Star earns award from Kellogg's
The Star of the West Milling Company and Kellogg's Company has been two major businesses in Michigan for many decades.
The Battle Creek-based firm recently honored Star, headquartered in Frankenmuth, with its 2014 Kellogg North American Supplier Collaboration Award.
"Star of the West is a diverse, agri-business home based in Frankenmuth with business units in wheat flour milling, grain merchandising, grower retail services and dry edible bean processing," Dave Harder, director of strategic sourcing for Kellogg's, said.
The award was presented on Wednesday, March 18, at Kellogg's annual Supplier Day in Battle Creek. Star's Customer Service Manager Janice Weiss and Technical Director Karin Spencer accepted the award at the event.
Star currently has 17 operations in five states, five of which are flour milling facilities with over 2.5 million pounds of flour manufacturing capacity per day. Star was founded in 1870 as Star of the West Roller Mills and has maintained its original identity for over 145 years. Flour milling was their original focus in 1870 and remains their largest business unit today.
Being a full-service provider to the Michigan farmer, Star has encouraged the growth of soft white wheat in the Thumb and today the company processes over half the soft white wheat grown in Michigan.
Much of this wheat crop finds its way into many of the wheat-based cereal products produced by the Kellogg Company.
"While Star has always collaborated with Kellogg, 2014 was a standout year. Star collaborated with Kellogg in four major categories in 2014, which were responsible sourcing, grower engagement, network projects and supplier diversity," Harder said.
In the responsible sourcing arena, Star was instrumental in partnering with the Nature Conservancy to develop a program to reduce nitrogen run off in the Saginaw Bay Watershed. Star has also partnered with Kellogg's Wheat Technical Circle to pilot a Kellogg Premier Grower Program that is seeking out methods to grow more wheat while optimizing inputs.
"Star's relationship with the grower bases makes this all possible," Harder pointed out.
In terms of grower engagement, Star has been a leader in the space of bringing Kellogg and the growers together through programs mentioned earlier which require roots in the ground engagement.
"Star has done this through multiple grower meetings, educating the growers on such programs and selling the mutual benefit," Harder added. "We would not be where we are today without Star's help in this space."
Star of the West has also collaborated with Kellogg in the area of network optimization and plant trials. Star spent a large amount of time and effort to help Kellogg run a test on sized wheat in one of their plants.
"What was initially thought of as an easy test it proved to be an expensive and complicated test in which Star did whatever it took to help us run the test, including ordering special custom-made screens and having them shipped from Europe to run our test," Harder explained.
Finally, Star has stepped up in supplier diversity space in 2014. The wheat milling industry is an industry in whichdiversity is difficult to find.
"Star was able to find several second-tier suppliers and really leaned into the concept in 2014 to drive significant change in this area," Harder said.
W.K. Kellogg opened the Battle Creek Toasted Corn Flake Company in 1906 and hired its first 44 employees.
"We want to thank Star for their continued support and propagation of the soft white wheat industry, which is essential to our cereal business. Star's leadership in this area is greatly appreciated and highly valued," Harder concluded.
644242