Home
Frankenmuth News
Wednesday, March 4, 2015
Vol. 109 No. 35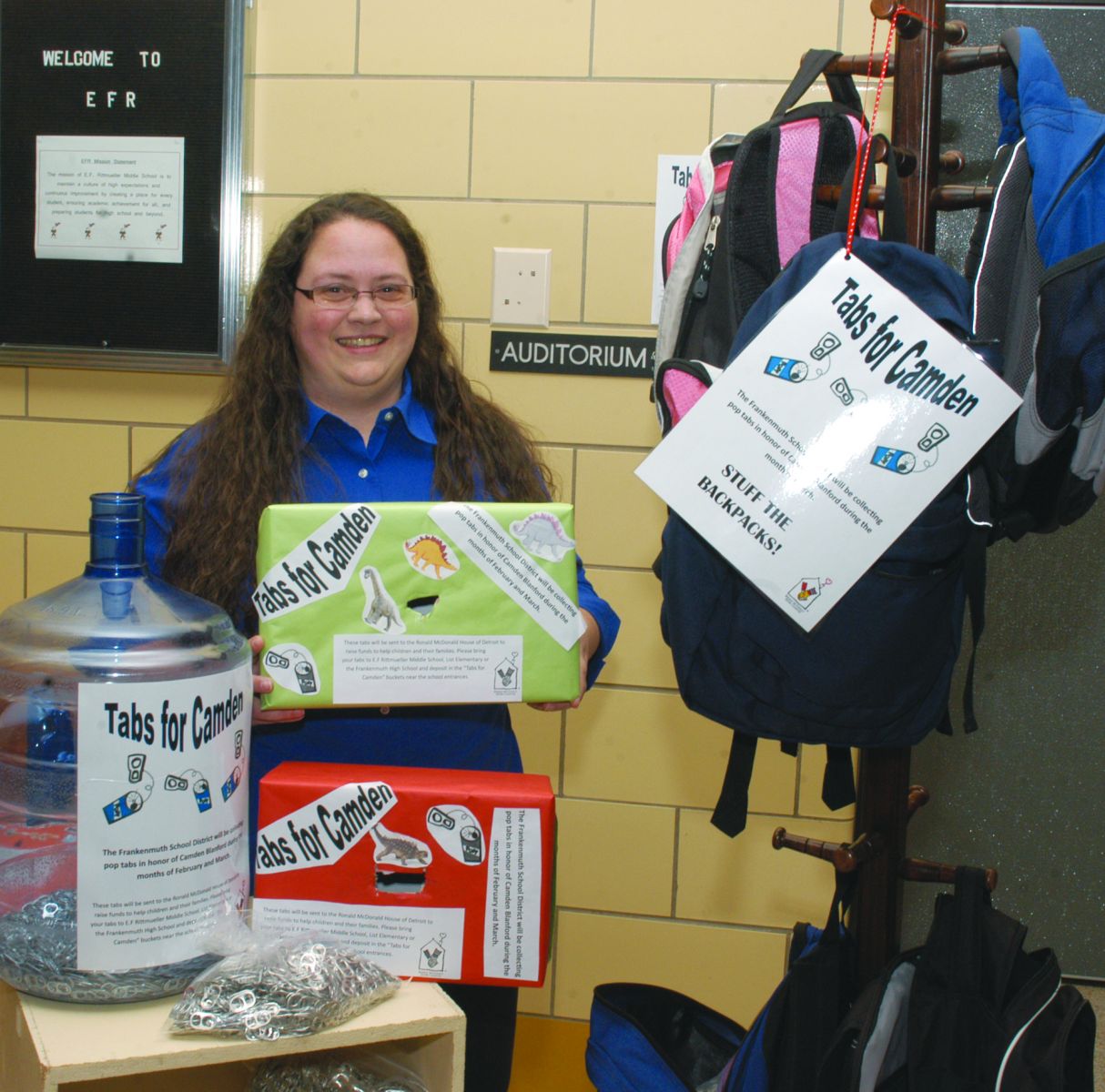 THE TABS FOR CAMDEN DRIVE . . . is underway and being held throughout the month of March. Camden Blanford was a seventh grade student at E.F. Rittmueller School when he suddenly passed away January 30. Above, Camden's mother, Tonya, stands in front the school's pop tab collection site. Please see the story above. (News photo)
Camden Blanford left this world way too early, leaving behind his family, friends and classmates at E.F. Rittmueller Middle School.
Camden, a seventh grade student with a great outlook on life despite enduring numerous surgeries, unexpected collapsed in the hallway between classes on Friday, January 30. The school staff handled the situation until MMR Ambulance personnel arrived. He was pronounced dead at Covenant HealthCare Hospital later that day.
Camden's legacy will live in the form of a special effort called "Tabs for Camden." The Frankenmuth School District will be collecting aluminum can tabs in honor of Camden Blanford during March . . . and hopefully beyond. The tabs will be sent to the Ronald McDonald House of Detroit, where Camden spent most of his first 3-1/2 years of life after being born with a complex heart condition that required multiple surgeries to help his heart function as best as it could.
Tonya Blanford, Camden's mother, along with her mother Daylene, began collecting the tabs when he was nine months old, around 2002.
"We just started collecting them ourselves. Soon, he saw the tabs, understood what it meant (to collect them) and it has stuck ever since," Tonya said.
Ronald McDonald Houses provide affordable housing for families who must stay with their children while they are hospitalized. They are "home away from home" for the families. The collected tabs are used for upkeep, maintenance and utility costs of the houses.
Family functions, especially at Christmas time, often began with family members bringing in bags of aluminum tabs. When Camden had a medical appointment in Detroit, he would take them and donate them to the hospital.
Frankenmuth has a history with Ronald McDonald Houses, especially the one in Grand Rapids. Frankenmuth McDonald's owners/operators Tony and Geri Dnna have been part of the Frankenmuth Country Street Machines annual Auto Fest since the mid 1980s. At that time, most of the funds raised at the show benefited the Ronald McDonald House in Grand Rapids.
One of the conditions Camden lived with is called L-Transportation of the great arteries, meaning his ventricles were switched and on the wrong side and the great arteries (aorta and pulmonary artery) were also switched. He was also born with a ventricular septal defect which is a hole in between the ventricles or bottom chambers.
Additionally, Camden's tricuspid valve was very insufficient, causing blood to often backflow through the valve. He was preparing to have a third pacemaker installed.
As a frequent patient at the Children's Hospital of Michigan, Camden and his family often stayed at the Detroit Ronald McDonald House. It got to the point where Camden called it "his hospital and in a way, it was," Tonya said. "We were there three months at a time, at one point."
After Camden learned about the Ronald McDonald House Charities and their tab drives, it became his mission to participate," EFR Principal Kristen Hecht said. "It was his way of giving back and making a difference."
The EFR students and staff are making it their mission to take this idea that was etched in the traditions of Camden's family and orchestrate a month-long can tab drive.
A "Tabs for Camden" kick off was held February 27 and the response that day was overwhelming. That afternoon, EFR parent David Hildner dropped off a large container full of tabs, donated by his co-worker, Saginaw resident Dave Forbes.
"Dave (Forbes) has been collecting can tabs for 25 years and he wanted to donate them to the Tabs for Camden drive," Hecht said.
Hecht has a tab drive display near the entrance of the school, with the goal to fill as many book-bags as possible with Ziploc bags filled with the tabs. As of Monday afternoon, the drive was well underway with several bags filled with the tabs.
EFR organizers Cora Schaeff, Joanne Mahnke, Emily Spaulding and Hecht are hoping local families and businesses will collect tabs and drop them off at the school before the end of March. Shoe boxes were decorated by seventh and eighth grade students, with a slot in the top, to collect the tabs. Businesses with boxes include Diversified Physical Therapy, Frankenmuth Family Foot Care, Stevens Worldwide Van Lines, St. Mary's Hospital, Nexteer Automotive, Memtron, Bavarian Inn Lodge, Region 7 Area Agency on Aging, Frankenmuth Insurance and the Frankenmuth Motel.
More locations are encouraged. Please contact EFR at 652-6119 to obtain a box. Tonya and Daylene will transport the tabs to Detroit this spring.
"The tabs will translate into money to go towards housing and other needs for families whose members are facing health challenges," Hecht noted.
Tabs may also be mailed to E.F. Rittmueller Middle School, 965 East Genesee Street, Frankenmuth, MI. 48734.
638532