Home
Like us on Facebook!!
Frankenmuth News
Wednesday, September 17, 2014 ~ Vol. 109 No. 11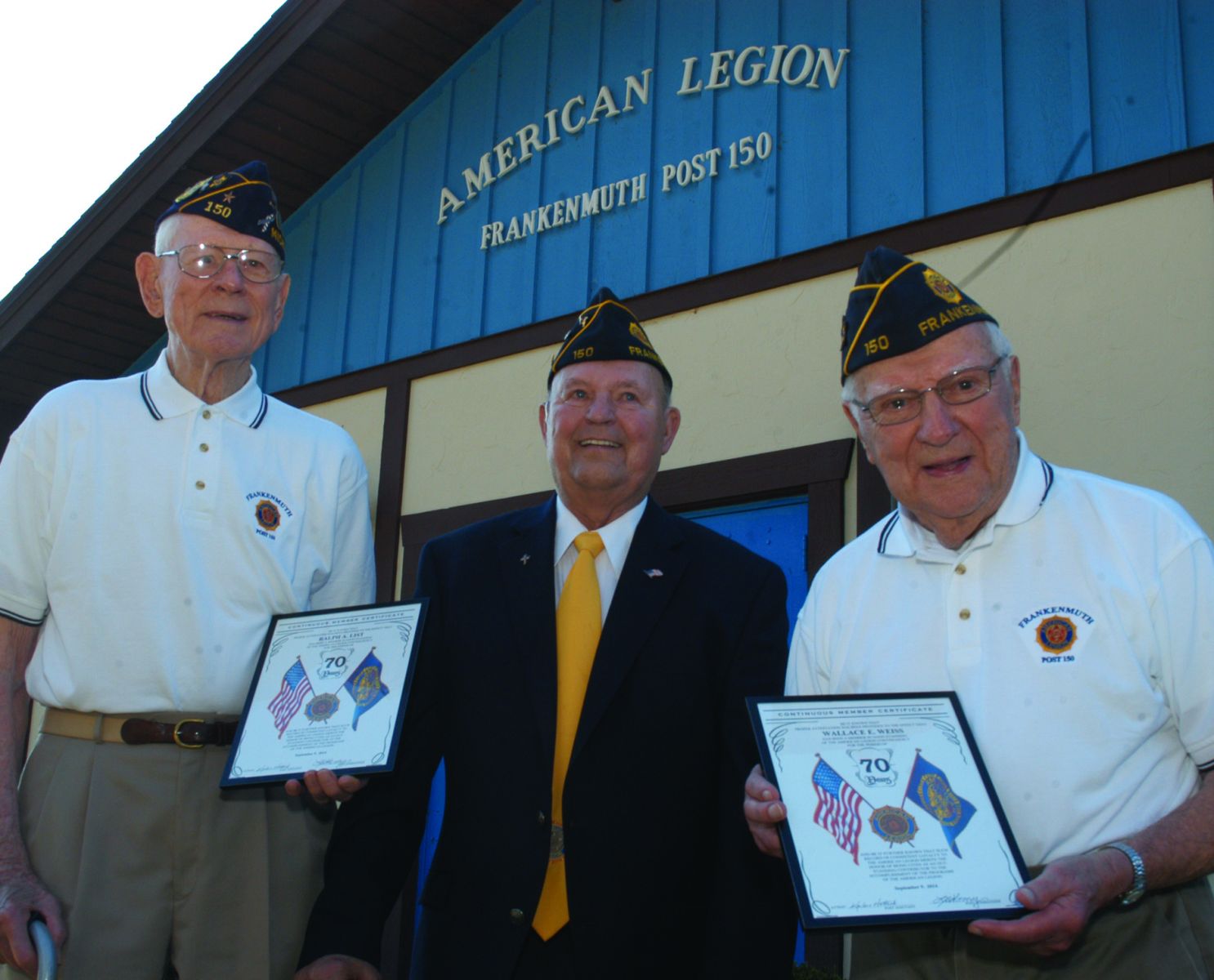 SEVENTY YEARS OF SERVICE! Frankenmuth American Legion Post #150 members Ralph List, left, and Wallace E. Weiss, right, were recently presented continuous member certificates by the American Legion for 70 years of service. The honor is quite rare, according to Post Commander Larry Henry, center. The honor was bestowed at the Legion's monthly meeting, held Tuesday, September 9. List and Weiss were both in the United States Army during World War II. (News photo)
Commissions seek input for land use northeast of city
The Community of Franken-muth is looking to the future of land located northeast of the city.
The Frankenmuth City Planning Commission and the Frankenmuth Township Planning Commission will conduct a joint public meeting on Tuesday, September 30, beginning at 7pm. The meeting will be held in the Frankenmuth City & Township Government Center, 240 West Genesee Street, second floor.
The two planning commissions are seeking input and comments for a future land use plan for the area east of Gera Road (M-83), and south of Roedel Road. The commission has been working with assistance from professional planner Larry Nix, with the firm of Williams and Works, Inc. in Grand Rapids.
The draft plan contains some different options for consideration. The public is invited to attend this meeting and to offer comments and considerations on the proposed plan.
The draft planning document may be examined during normal business hours, Monday through Friday, at the Government Center. The document is also accessible on the city website, www.frankenmuthcity.com.
Document is 28 pages and goes into great detail to provide a myriad of uses. The document is under Muth News on the city's home page.
For questions or more information, contact City Manager Charlie Graham at 652-9901 or Township Planning Commission Chairman Dean Haubenstricker, 652-4824.
593421