Home
Like us on Facebook!!
Frankenmuth News
Wednesday, September 10, 2014 ~ Vol. 109 No. 10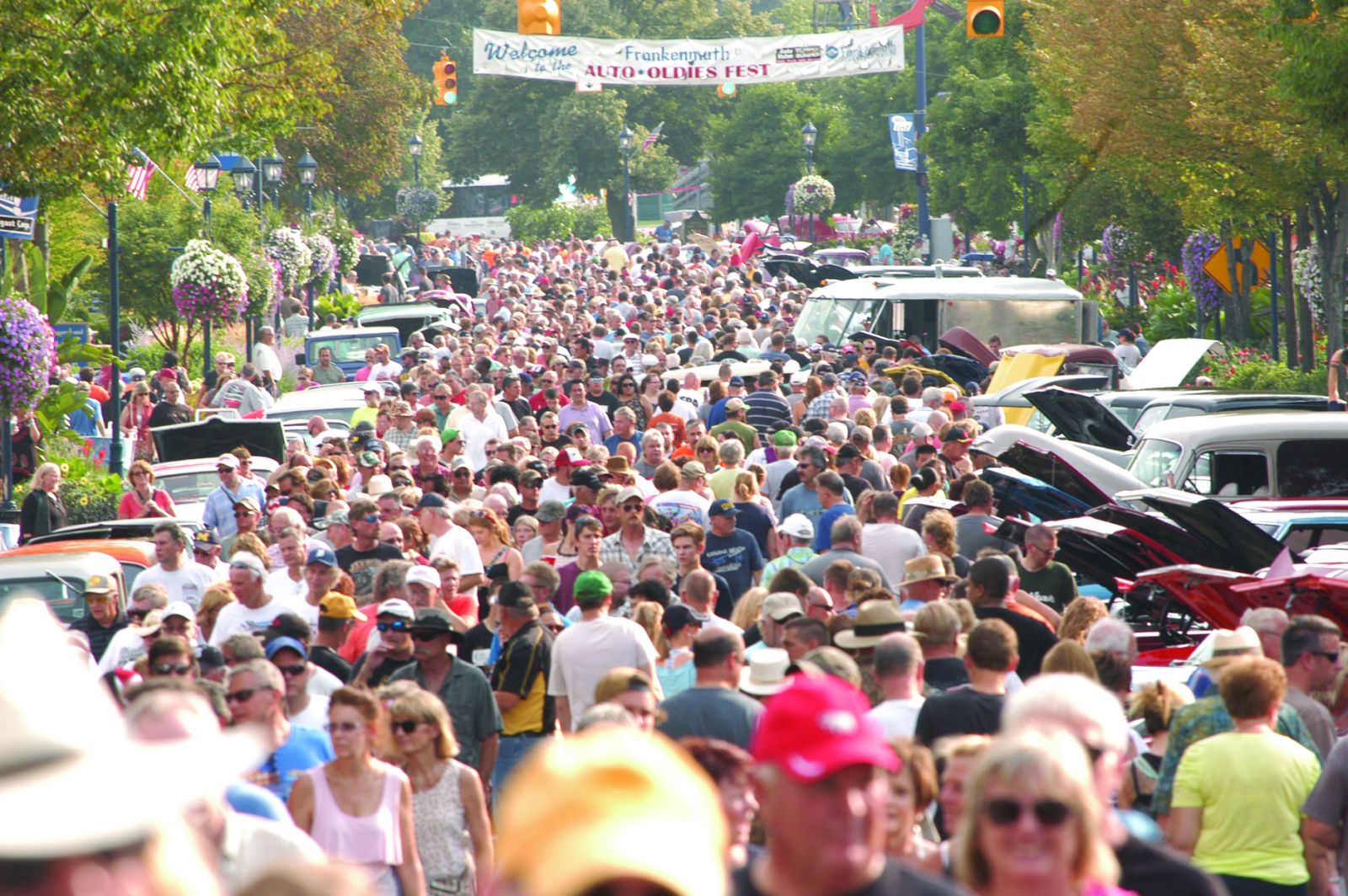 MAIN STREET MOBBED! The 31st annual Frankenmuth Auto Fest kicked off with Friday evening's Big Block Party. Over 1,600 of the 2,300 registered vehicles were parked on Main Street, between Genesee and Jefferson streets. Thousands of people were in town through Sunday afternoon, enjoying the show. (News photo)
VVRRROOM!
Some 2,300 vehicles register for Auto Fest; one volunteer injured in Heritage Park
The 31st annual Frankenmuth Auto Fest brought 1,000s of people and over 2,600 registered vehicles to downtown Frankenmuth and Heritage Park last week.
Don Mawer, the Frankenmuth Police Department chief, was pleased on how the event was run, how the drivers were cautious and how the pedestrians behaved over the weekend.
𠇏rom our perspective, things went really, really well. We had heavy pedestrian traffic and for the amount of people who were here, we were pleased," Mawer said.
The show started with the 𠇋ig Block Party" Friday evening. Auto Fest volunteers and the FPD closed down the street beginning at 4:15pm and by 5pm everything was secured.
The Block Party was just that, a big party, until lighting and subsequent rain shortened the evening, with most folks looking for shelter by 8:30-9pm.
Mawer said even the rain did not cause any problems when Main Street reopened.
There were two injury accidents that did put a damper on the fest, one involving a volunteer.
Shortly after 9am Saturday, September 9, officers were called to the 600 block of Weiss Street for a report of an Auto Fest volunteer struck by a vehicle.
Mawer said a 43-year-old Lennon man was northbound on Weiss Street, heading to check into the park. The driver told officers his brakes malfunctioned and with the grade of the hill, he was unable to stop.
The driver, in order to avoid striking the vehicles in front of him, moved over in the southbound lane to slow down. That is when a 43-year-old Saginaw man stepped out in an attempt to stop him.
"The volunteer thought he was trying to go around the check-in lane when in reality he was trying to stop," Mawer said. "It was an unfortunate set of circumstances."
The volunteer was struck and was knocked unconscious. He was transported by MMR Ambulance Service to a Saginaw-area hospital, where he is recovering.
A subsequent check of the vehicle determined the brakes did fail. The incident remains under investigation.
At 5pm Saturday, September 6, Main Street was one cruiser parking lot, with many classic cars motoring up and down the street and auto enthusiasts lining the sidewalks.
Shortly after 5pm, officers were called to South Main and Flint streets for a pedestrian struck.
Mawer said a 53-year-old Harbor Beach woman was heading southbound. Her passenger was a 63-year-old Curran Hills, Australia man.
A 42-year-old Attica man was on Main Street, attempting to direct traffic and assist a motorist with an overheated engine. The driver slowed down to avoid him but ran over his foot.
He sought his own medical treatment at MedExpress. No tickets were issued.
592085