Home
Your Best Source for Frankenmuth News
May 22, 2013 - Vol. 107, No. 46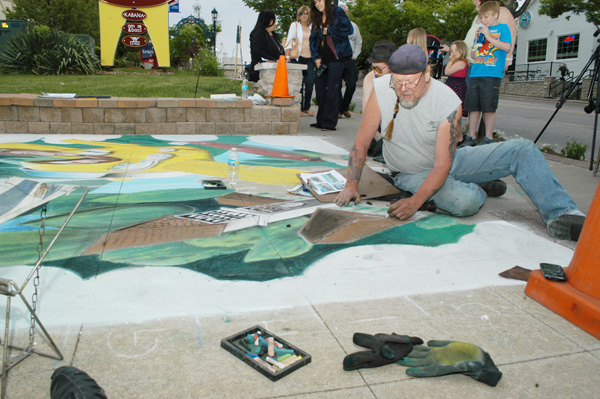 CHALK ART . . . was part of last week's Friday Fun Nights in downtown Frankenmuth. Above, Mark Mishler works on his creation near Dave Lawrence Jewelers on South Main Street. The weather cooperated for this free Frankenmuth Chamber of Commerce event, which will run through September every Friday, 6-8pm, weather permitting. This week's line up is as follows: da Frankenmuda Fratzn on the Chamber Platz, solo musician Dave Burke as the corner of Cass and Main streets, country music artist Kelsey Hathaway at the Gunzenhausen Fountain near Zehnder's of Frankenmuth, painter Ariana Hadjimarkos between Rau's Country Story and Rapunzels, and the Woodcarvers Guild of Frankenmuth, just north of Dave Lawrence Jewelers, giving woodcarving demonstrations. Please visit http://www.myfrankenmuth.org/ for more information. (News photo)
Bikes, Barks & Balloons weekend!
Area residents should make Frankenmuth their Memorial Day weekend destination.
"Michigan's Little Bavaria" will play host to the annual Dog Bowl May 25-26, the Balloons Over Bavaria May 23-27 and the Tour de Frankenmuth bicycling races between 7am and noon on Saturday, May 25.
Of course, the reason for the weekend, to recall the country's fallen veterans, will be marked by the 10am Memorial Day Parade on Main Street Monday, May 27, followed by the Memorial Day Service in the Frankenmuth High School gym following the parade.
Dog Bowl will take place 9am until 6:30pm Saturday and Sunday, at Frankenmuth River Place Shops.
The sporting and fun activities are open to champion canines and coach potatoes alike. Spectators are invited to attend and visit the 40 exhibitors offering pet-related products and services.
Activities include Wiener Dog Races, National Dock Dogs Competition, border collie sheep herding demonstrations, disc dog contests, a canine cruise, pet parade, best canine costume contest, silly pet tricks Rock-n-Roll K-9s Performance Team and more.
Please visit their web site, http://www.dogbowlfun.com/ for more information.
The sixth annual Balloons Over Bavaria will feature 31 hot air balloons soaring over the area. Flights will take place, weather permitting Saturday, Sunday and Monday mornings and Friday Saturday and Sunday evenings. Balloon Glows will be held at 9pm at the River Place field each evening.
The competitions are also interesting to watch.
"These skilled pilots represent four Midwest states. Many of these expert pilots rank among the top 100 in North American and they are guaranteed to put on a great show," Bavarian inn Lodge COO and Event Chairman Jim Engel said.
Spectators can meet and great the pilots during the Balloon Glows.
Persons living within a 10-mile radius of Frankenmuth who would like a balloon to land on their property should place a white sheet on the spot beginning Friday morning through Monday afternoon.
For a complete schedule, visit frankenmuthriverplace.com and follow to the link balloons.
The Tour de Frankenmuth covers a 15-mile course, beginning and ending on South Main Street near Zehnder's of Frankenmuth and extending through Frankenmuth Township. The race route is new this year, placing the route west of Main Street.
The course starts south to Jefferson Street, west on Curtis, north on Dehmel Road, then west on West Tuscola Road. At Maple Road, the course turns north for a long stretch, to King Road, and then east on King and back to Dehmel Road where proceeds south.
The course then jogs west on Baker Road, south on Beyer Road, back east on Roedel Road, then back to southbound Dehmel Road. The final leg has cyclists traveling east on Tuscola Road and then back to Main Street and the finish line.
The U.S. Cycling Federation sanctions the racing action, which is divided into eight groups by skill level and age. The least skilled and youngest will complete one, 15-mile lap, which most skilled pedaling five laps or 75 miles.
The southbound lanes on Main Street will be closed between Flint and Tuscola streets, however, Main Street will be open.
The Frankenmuth Police Department is working with race marshals and volunteers to handle vehicular traffic. Critical intersections will be Tuscola and Dehmel, Maple and Genesee/Junction, and Dehmel and Genesee/Junction, among others.
The racing is sponsored by Revolution Racing and Zehnder's is a primary sponsor.
For more information, contact Frankenmuth Downtown Development Authority Director Sheila Stamiris at 652-3430, extension 120.
464683