Home
Like us on Facebook!!
Frankenmuth News
Wednesday, April 23, 2014 ~ Vol. 108 No. 42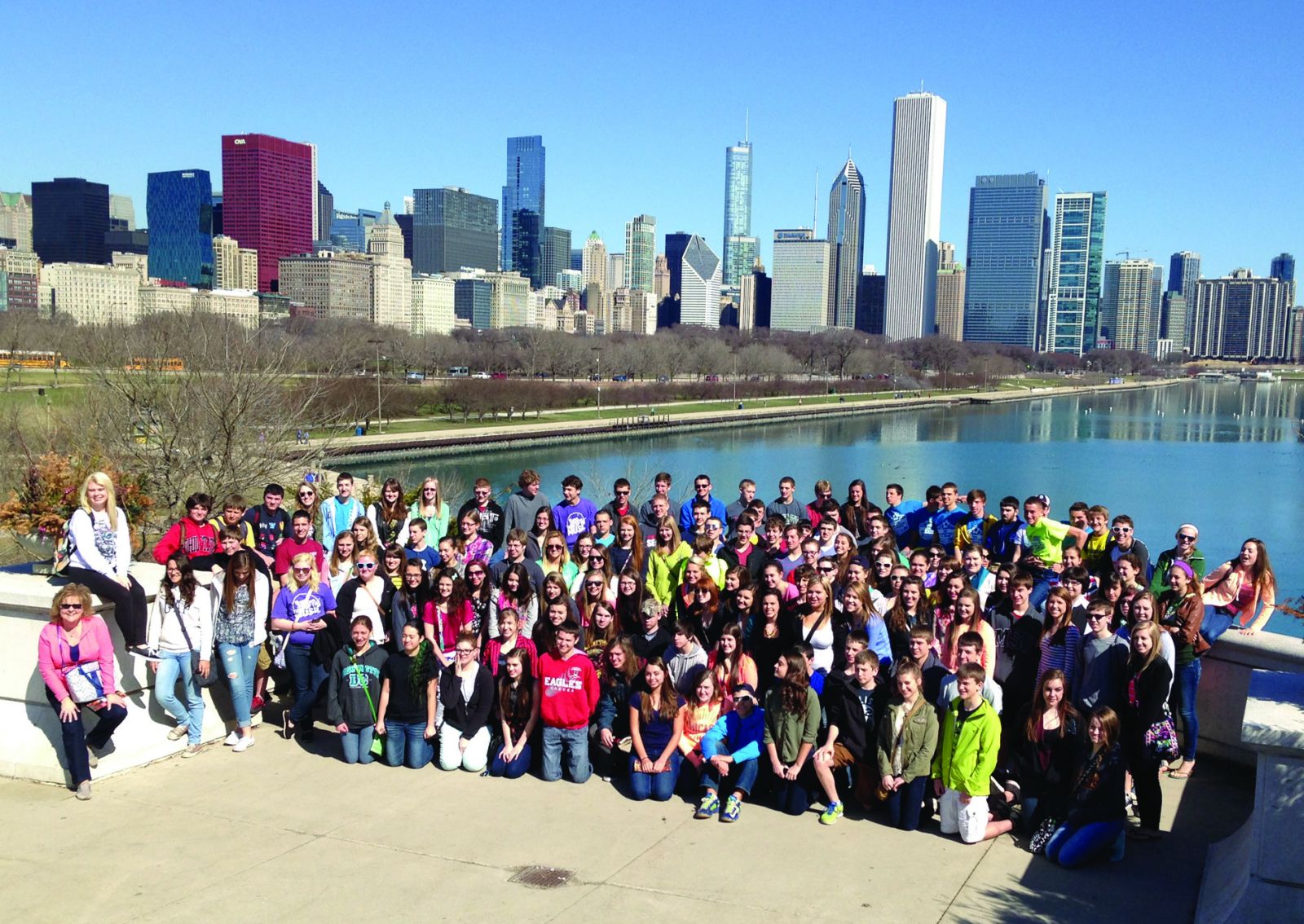 AWARD-WINNING TRIP: The Frankenmuth High School Band and Choir traveled to Chicago April 10-13 to compete in the Heritage World Strides Festival. The Wind Symphony Band and the Symphony Band both earned gold ratings and the Jazz Band and Show Choir both collected silver ratings. The entire music department took home the Spirit of Chicago Award for their stellar behavior and conduct while competing in the festival.
FHS Band earns honors in Chicago
by Carlie Lachman, FHS Senior
Frankenmuth High School music students embarked on yet another journey to the Heritage World Strides Festival for the school's annual music trip, which was held in Chicago this year. The trip was full of sight-seeing and visiting some of the most popular locations in Chicago.
The first day, Thursday, April 10th, was kicked off with a visit to the Magnificent Mile, where the students were able to shop and eat at some very unique locations. Following that, they headed all the way up to the top of the Willis Tower- 103 stories! After that, they were treated to a wonderful dinner theater presentation of Les Miserables at the Drury Lane Dinner Theater just outside of Chicago.
Day two was started at the largest aquarium in the country, the Shedd Aquarium. The beautiful weather that day allowed for a walk down the Navy Pier and around Millennium Park. The group also paid a visit to the Chicago Art Institute and wrapped the day up with dinner at Gino's East Pizza.
On Saturday, the third and final day of the trip, the band and choir performances took place and each group did a terrific job. The Wind Symphony Band (upperclassmen) and the Symphony band (lower classmen) both received a gold rating, and the Jazz Band and Show Choir were each awarded with a silver rating. As a whole, the group was also presented with the Spirit of Chicago Award, meaning that they were a group of students who conducted themselves very professionally and acted as a role model for other bands.
The trip was extremely successful for all and enjoyed by the whole group. With beautiful weather, outstanding performances, and a wonderful city full of activities to take part in.
549810