Home
Like us on Facebook!!
Frankenmuth News
Wednesday, April 9, 2014 ~ Vol. 108 No. 40
The News office will close at 12pm on Good Friday, April 18.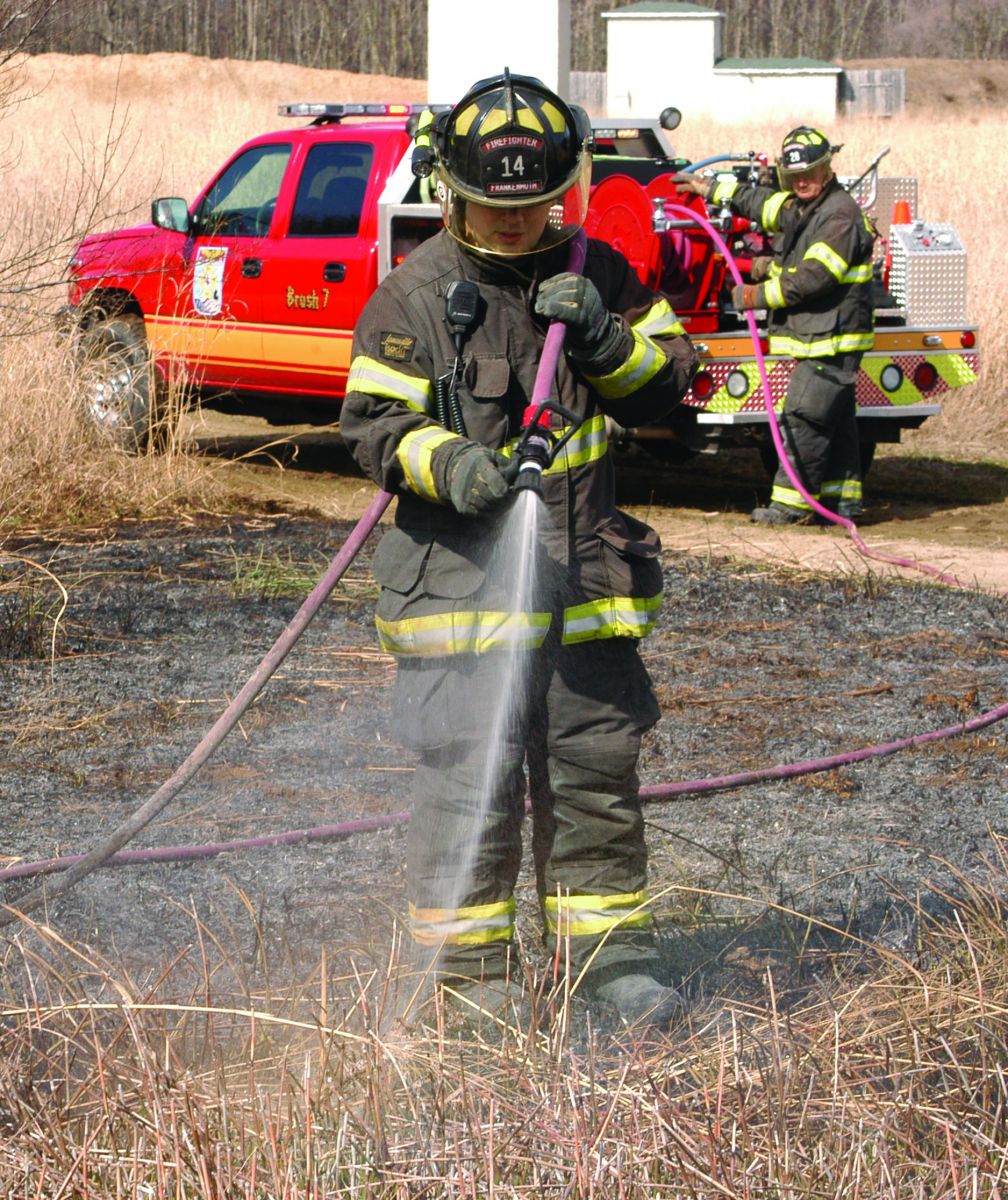 FIELD FIRE NEAR FCC: The Frankenmuth Fire Department was called to 8415 East Curtis Road, the address of the Frankenmuth Conservation Club, to extinguish a field a ditch fire last Tuesday afternoon. The fire burned along the road, traveling west, and into a grassy field just west of the clubhouse parking lot. Above, firefighter Ethan Crichton (foreground) and fireman Mike Zehnder work to douse the flames. (News photo)
Air Advantage chosen one of the state's best small firms
A Frankenmuth-based firm is one of 12 companies statewide that has been selected to receive the Michigan Small Business Development Center's (MI-SBDC) Best Small Business Award.
Air Advantage, 465 North Franklin Street, was one of the dozen chosen from over 5,500 small businesses that the MI-SBDC provided with confidential counseling and training in 2013.
The Best Small Business award recipients were identified based on their success in creating jobs, increasing sales, improving their business strategy and their involvement with the MI-SBDC. These recipients will be honored at the Michigan Celebrates Small Business awards ceremony on May 6.
Air Advantage Co-Owner Scott Zimmer has been breaking down barriers and connecting rural America to urban opportunities for the past 14 years.
Zimmer founded Air Advantage in 2002 as a high-speed internet service provider in the state's rural Thumb area. Upon opening, Air Advantage installed networked internet towers on five grain silos between Pigeon and Frankenmuth, serving a market of about 2,000 people. Consumer demand quickly drove the business's growth from that point.
"Studies have shown there is greater migration into areas that have a strong broadband presence and just the opposite where broadband is lacking," Zimmer said. "We want to eliminate those barriers and give rural communities the same opportunities as the urban areas."
The early motivation was to offer better internet service to the Thumb communities, especially the farmers who were more frequently using online portals and emails to communicate with their suppliers and customers. Soon, it became evident that others could benefit from this resource, including schools, libraries and businesses.
Zimmer and his wife Dawn, who is also a co-owner, looked for additional support to achieve their goal of bringing broadband cover to the Thumb. First, the Air Advantage team reached out to the Huron County Economic Development Corporation, who introduced them to the U.S. Department of Agriculture's Rural Utility Service, which provided them with their first two, low-interest loans to bring broadband to Thumb communities and add 55 towers.
The Zimmers also reached out to the Michigan Economic Development Corporation (MEDC) for assistance.
In 2010, the MEDC was instrumental in helping Air Advantage receive an American Recovery and Reinvestment Act (ARRA) award of $64 million to expand broadband covered to 13 un-served and underserved rural communities across southeast Lower Michigan.
This measure allows them to increase their network to 180 towers, add 450 miles of fiber, almost triple their staff size, double the number of subscribers and connect 26 educational institutions with other schools across Michigan.
"It amazes me to think that I'm making a living in an industry that did not exist when I graduated from high school," Zimmer stated. "I want to build a foundation which gives that same opportunity to our youth and to keep them here in the Thumb or whatever small town they are from."
The applications for this technology are unlimited. Farmers are using it in planting and fertilizing their fields, small town businesses are increasing their revenue through online sales, medical institutions are using it to instantly communicate patient information and much more.
Technology has changed considerably over the past 12 years and more and more people require reliable internet service. Zimmer and Aid Advantage responded to that need and currently there are over 180 internet towers serving over 8,000 customers.
While many traditional internet service providers neglected this region of Michigan, Zimmer, a Thumb area native, knew how much of an impact this sort of service could have on the area.
"Each day we're connecting rural schools, hospitals, farms, homes and businesses to a vital internet service that previously wasn't available," Zimmer said, "We're making sure that individuals in this area have reliable internet access."
Air Advantage began working with the Great Lakes Bay region SBDC after becoming involved in some projects with the Federal government. The local SBDC became a liaison between Air Advantage and the government. However, Air Advantage soon transitioned to working with the SBDC on a regular basis. The SBDC helped Zimmer and his team develop a growth strategy, put together marketing plans and explore new customer bases.
Air Advantage currently employs 45 people in the Great Lakes Bay Region. The Zimmers' business partners are Leroy Koglin Jr. and David Simmet.
"The Michigan SBDC works with thousands of small businesses each year," MI-SBDC State Director Carol Lopucki said. "The Best Small Business Award provides an opportunity to acknowledge 12 of the most exceptional small businesses who have made great strides in accomplishing their goals and growing Michigan's economy. We are excited to celebrate their successes."
The Michigan SBDC state headquarters is located at the Grand Valley State University, Seidman College of Business, in Allendale.
547621