Home
Article Name
We hope you enjoy this abbreviated version of the
Frankenmuth News
Serving Frankenmuth Since 1906
Vol. 112 No. 11 In our 112th year!
Wednesday, September 20, 2017
-----------------------------------------------------------------------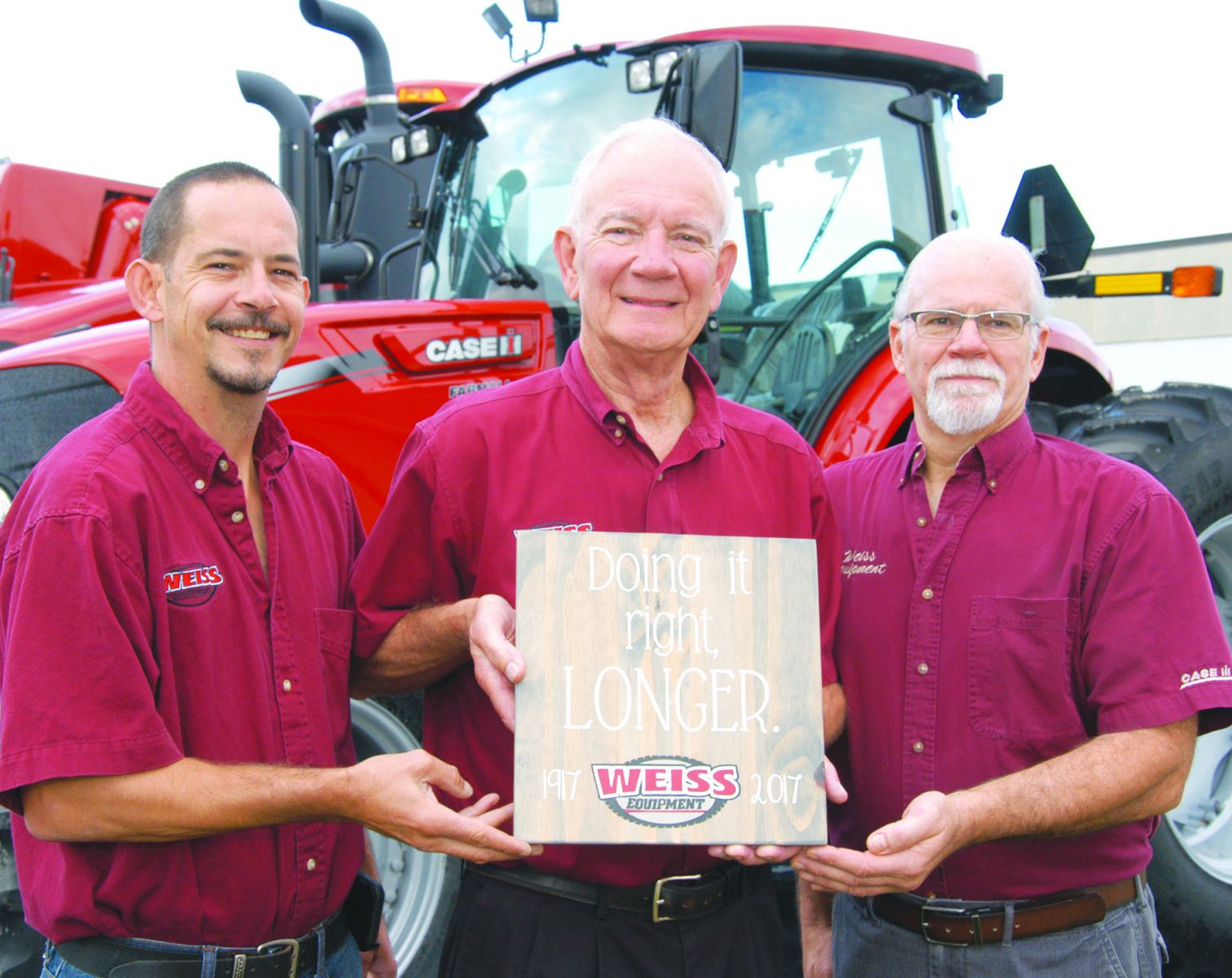 "DOING IT RIGHT LONGER" is the motto of Weiss Equipment as the owners and employees are marking the firm's 100th anniversary this year. Pictured above and from the left is Power Equipment Manager Brent Weiss, President Al Weiss and Vice-President Rodney Weiss. They also have a dealership in Cass City. (News Photo)
Weiss Equipment marks 100 years of service to local agriculture
Frankenmuth was founded 172 years ago with agriculture its primary source of living.
Today, Frankenmuth remains a community in the heart of farm country, with its rich soils being tended to by farmers using new and modern machinery and implements.
Weiss Equipment has been a farmers' friend for the past 100 years, as well as serving the needs of the small gardener, home owners with lawn mowers and snow blowers, and outdoorsmen with ATV and quad runners.
President Al Weiss, his brother, Vice-President Rodney Weiss and Al's son, Power Equipment Manager Brent Weiss, celebrated their family's century in business this past August with a Frankenmuth Chamber of Commerce and Convention & Visitors Bureau After Hours event.
Much has changed over 10 decades, from horse-drawn equipment and grain binder days to diesel-power tractors, GPS systems and modern planters and harvest equipment.
Today, Weiss has dealerships at 450 North Main Street and 6533 Cass City Road in Cass City. They sell snowmobiles, generators, have a top-of-the-line service and parts department and the business is very active in the community, lend equipment and volunteers to the many festivals and events every year.
Weiss Equipment was founded on May 26, 1917, when George Leonard Ferdinand Weiss purchased 50 percent of the business and stock from his partner, Otto Roth, to acquire sole ownership of their farm implement business.
On August 30, 1917, Ferd sold his first tractor, a 10-horse Titan 10-20, to his brother Jacob Weiss.
Weiss' main suppliers were the International Harvester Company, the James Manufacturing Company and the New Idea Farm Equipment Company. In addition to fencing, fertilizer and horse-drawn equipment, Weiss Equipment served as the local Maxwell and Studebaker auto dealer.
In 1928, having purchased the property at 127 South Main Street from Ed Fechter, Ferd built the block building which is now St. Julian Winery.
Ferd's sons, Ray and Gib, were around in the early years but in 1945-46, both served in the U.S. Army. At this time, machinery was hard to get because of the war.
In 1946, Weiss added a wash and paint room to the east end of the 1937 addition. In 1948, they constructed a steel warehouse on North Main Street. In 1955, the entire workforce included Carl Bierlein, Ray Weiss, Arnie Kern Ferd Weiss, Glen Reinbold, Ralph Weiss, Anita Rau and Gilbert Weiss.
In 1962, the lawn and garden department was started. Two years later, Ferd passed away at age 74.
Ray's son, Al Weiss, started his career at Weiss Equipment as a high school co-op student in 1967. After attending Delta College and getting a business administration degree from Central Michigan University, Al was part of the 1975 major expansion when the Ed Trinklein Farm was annexed to the City of Frankenmuth.
In fall 1979, work began on the present building at 450 North Main Street. During this time, Ray's son Rodney completed his service in the U.S. Navy and joined the dealership. Rod took over the service manager's position in 1984.
In 1982, the business expanded into the Thumb to Cass City.
In 1984, a purchase agreement was drawn up and Al and Rod purchased the business from Ray and Gib.
Over the past 25 years, Al's son Brent has become an important member of the team, as Weiss Equipment embraces the modern farmer.
944336