Home
We hope you enjoy this abbreviated version of the
Frankenmuth News
Serving Frankenmuth Since 1906
Vol. 114 No. 10 - In our 114th year!
Wednesday, September 11, 2019
* * * * * * * * * * *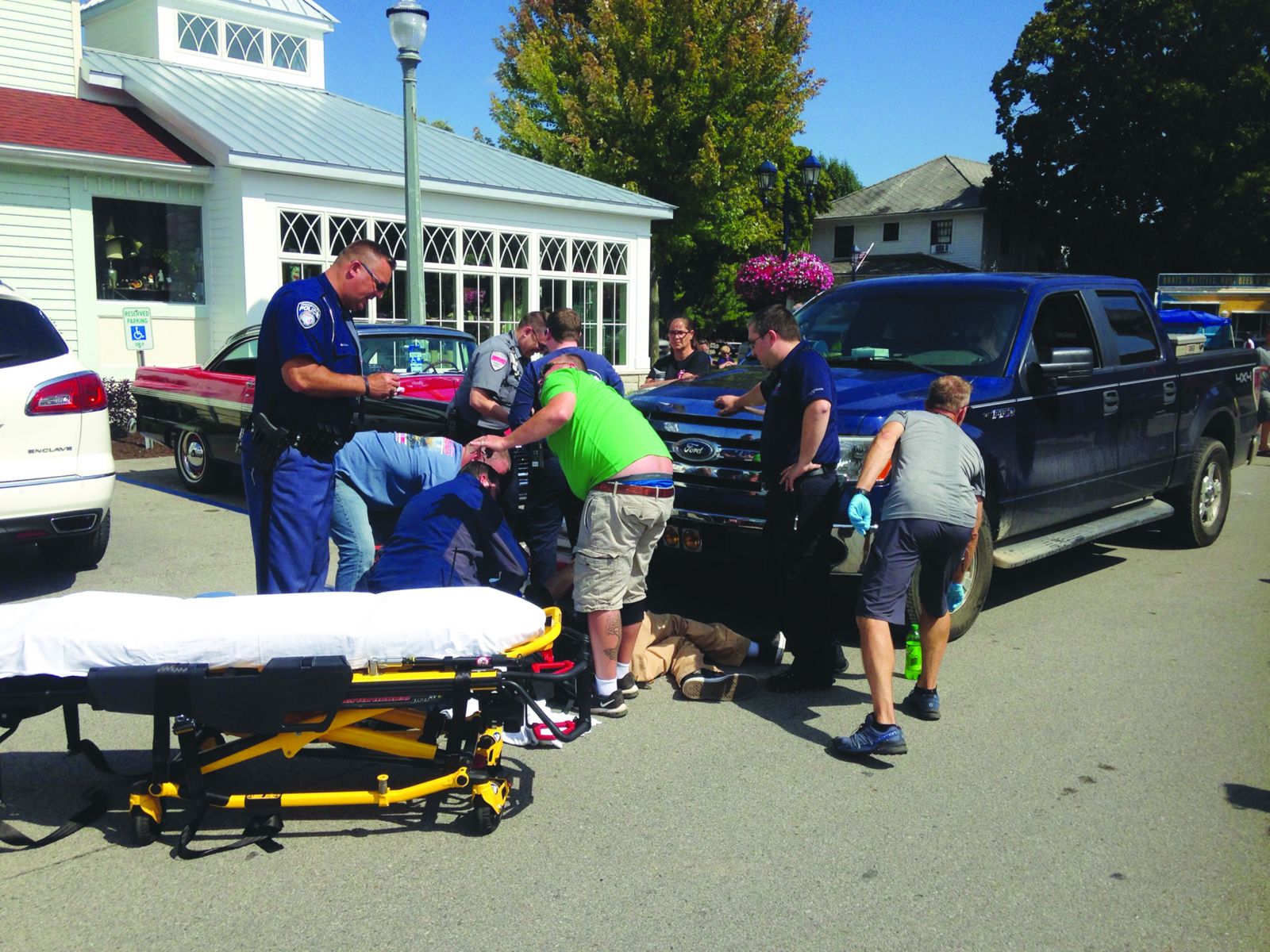 QUICK ACTION ... by witnesses freed a 31-year-old Mount Clemens man who was struck by a pickup truck Saturday afternoon. The incident took place in the parking lot between Zehnder's of Frankenmuth and Rapunzel's Boutique.
Pedestrian struck in downtown parking lot
A 31-year-old Mount Clemens man remains hospitalized following a pickup truck-pedestrian accident last Saturday afternoon.
The mishap took place at 1:43pm Saturday, September 7, as the 36th annual Frankenmuth Auto Fest was taking place in Heritage Park. Vehicular and pedestrian traffic was extremely heavy in all parts of town.
Frankenmuth Police Chief Don Mawer said the accident took place in the parking lot between Zehnder's of Frankenmuth and Rapunzel's Boutique.
The Mount Clemens man was crouched down on one knee, taking a photograph of a vehicle. While he was in that position, a 69-year-old Gladwin woman waited for foot traffic to clear, found a gap in the people, and turned off South Main Street into the parking lot. She was driving a 2010 Ford F-150 pickup truck.
"She did not see him kneeling down and struck him on his side," Mawer said. "depending on what witness you talk to, he was dragged about 4-6 feet under the truck."
Witnesses got the driver's attention and stopped the pickup. He was trapped under the vehicle, however, there were enough witnesses in the area who lifted the truck off him and pulled him out.
"He was freed when we arrived. The fire department was initially activated to bring air bags to lift the truck," Mawer said.
FPD officers provided care until a Mobile Medical Response ambulance arrived at the scene where he was transported to an area hospital "with serious injuries."
Mawer heard that the man suffered a broken wrist and ankle and had severe back injury.
"There were a lot of people there . . . I bet central dispatch received over 100 calls on this incident," Mawer noted.
The accident remains under investigation. Mawer said alcohol was not a factor in the accident.
In other FPD news, officers are investigating a breaking and entering case a T Dub's Pizzeria and Pub, 565 South Main Street.
The B&E took place between 9pm Sunday, September 8 and 5:55am Monday, September 9.
Employees found damage to the rear door of the building. Officers swept the building and found the safe open. An undisclosed amount of cash was taken from the safe.
Mawer said officers are combing surveillance cameras from area businesses for leads. The case remains under investigation.
1256687