Home
Serving Frankenmuth since 1906
Frankenmuth News
Vol. 110 No. 47 In our 110th year!
Wednesday, May 25, 2016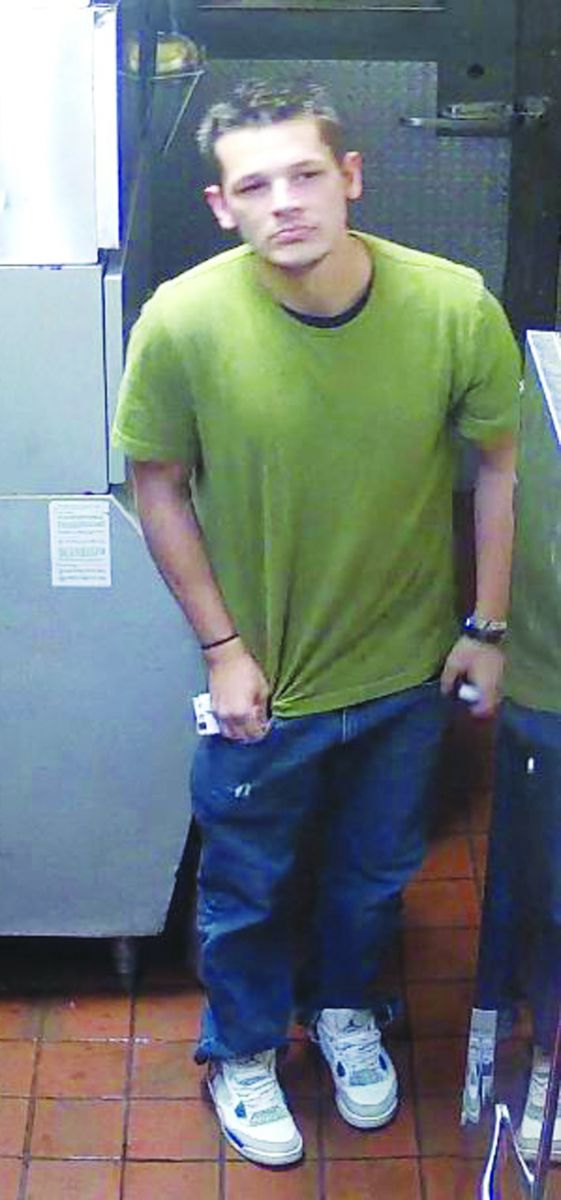 Busted!
Local police prepare to arrest man caught on camera stealing pickup
Technology, social media and acquaintances are all working against a 25-year-old suspect who stole a vehicle in Frankenmuth last weekend.
Frankenmuth Police Chief Don Mawer said it is just a matter of time until this suspect, with a lengthy criminal history, will be back behind bars.
The case began around 7:30pm on Sunday, May 22, at Tiffany's Food & Spirits, 656 South Main Street. A 20-year-old female employee went back to the establishment's break room to discover her coat has been gone through and her wallet and keys to her 2005 Dodge Dakota four-door (red in color) pickup truck was missing. The license plate is Michigan CHK 0734.
The employee immediately notified management of what transpired. Fortunately for the employee and management, the owners just recently installed a new security system with internal and external cameras.
"The cameras gave us crystal clear images of an unknown male, caught on the video, rummaging through the coat, and removing the keys and wallet," Mawer said. "Once outside, the video picked up the male walking around the parking lot with the clicker, trying to find out what vehicle he had. Once determined, he entered the Dakota and drove off."
A short time later, the subject was caught on video at the Frankenmuth Seven-11 store, using the stolen credit card to purchase gas and later purchase groceries.
Mawer and investigators are going over the Seven-11 imagery as well.
"We got the video from Tiffany's, created still images and placed them on Facebook early May 23. As of Tuesday morning, the page has had 83,676 hits, well over 3,000 shares and 120 comments," Mawer listed.
The FPD has enlisted the Michigan State Police in the investigation, using their Bio-Metrix system. Biometrics is a facial recognition software system that sees the traits and structure of human faces.
"It is not an exact science but it narrows down the field and gives us a person of interest to look into . . . it's really a good lead," Mawer explained.
Due to the excellent photo quality, MSP was able to make quick work, literally scanning millions of photos and they got back one very good hit. The software runs all photos of arrested people in county jails, department of corrections, cross-checks Secretary of State driver's licenses, personal identification cards and those arrested by the FBI.
"It's not DNA or fingerprints, but it still is extremely helpful," Mawer said, noting fingerprints were not obtained at the scene.
The subject appears to be 25-year-old and from the Grand Blanc area. The positive hit came in around 5pm Monday evening. By 9pm Monday night, the acquaintances that were with him Sunday night came to the FPD station and positively identified the suspect.
Mawer said the suspect had an argument with the acquaintances and took off. Others have come forward as well.
"He is a parole absconder with an extensive criminal history. He is on felony probation out of Oakland County, on five felony charges for larceny and identify theft," Mawer listed.
The charges include larceny from a building, failure to show for sentencing, probation violation, abuse of a computer and financial transaction and device abuse (stealing).
Mawer said likely charges from the FPD include unlawful driving away of an automobile (UDAA), larceny from a building, two financial device transaction abuses and habitual offender felony.
From the FPD's Facebook page: "It takes a community to solve crimes like these and this is a case where social media, community members, law enforcement and members of the press worked together to identify this suspect. In keeping with the intent of the FPD Facebook delivery system, there were many positive tips and comments and look forward to continue working with the community in the future."
Mawer feels for the victim.
"This is girl who is working two jobs to put herself through college and this idiot takes advantage. This is a total disregard for the working class," Mawer stated.
Persons with further information are asked to call the Frankenmuth Police Department at 652-8371, extension 155.
752845