Home
Your Best Source for Frankenmuth News
November 27, 2013 - Vol. 108, No. 21
The Frankenmuth News Staff wish you a Happy Thanksgiving!
The News office will be closed on Thursday, November 28 through Sunday, December 1!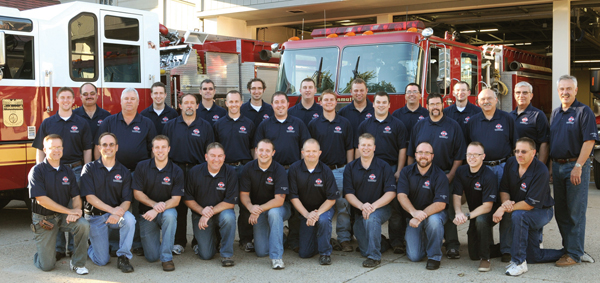 MEET FFD VOLUNTEERS: The Frankenmuth Fire Department has 28 active members serving the community. The are, front row (l-r): Dan Wortman, Dan Schneirla, Adam Palmer, Jeff Kribs, Brandon Cataline, Ken Wilson, Doug VanWormer, Matt Vasicek, Phil Halverson and Phil Haubenstricker. Back: Brad Thompson, Mike Zehnder, Mike Reinert, Nicolas Winiarski, Jamison Zehnder, Phil Kerns, Daren Kaschinske, Adam Weiss, Eric MacKinnon, Jeff Weiss, Jason Maurer, Brandon Schmitzer, Ethan Crichton, Chris Pickelmann, Wil Wescoat, Dan Sebold, Rev. Gary Bender, Wayne Nuechterlein and Chief John Deterding.
FFD personnel dedicated to serving the community
In the event of fires, accidents, weather-related incidents and more, the Frankenmuth community is blessed to have a dedicated volunteer fire department.
The Frankenmuth Fire Department organized in 1904 has been serving the greater area for nearly 110 years. Currently, the FFD has 28 active members, with one new recruit scheduled to attend the fire academy. They are 100-percent volunteer.
"We have an excellent group who are hard working and dedicated. We need active volunteers involved in fire service, not just a name on the roster, and recruitment is a continuous effort," FFD Chief John Deterding said. "Being involved on the fire department with all the trainings is a major commitment to the community."
The FFD personnel have a combined 305 years of service, led by Deterding who has 31 years of service. Wayne Nuechterlein has the most service as the former engineer on the department has been answering the call for 33 years.
The command stat includes 25-year veteran and Deputy Chief Michael Reinert and 16-year member, Assistant Chief Phillip Kerns. The rest of the staff includes Captains Phillip Haubenstricker and Doug VanWormer, Lieutenants Dan Schneirla and Jeff Kribs, Safety Officer Jamison Zehnder, Crew Leaders Matt Vasicek, Jeff Weiss and Adam Weiss and Chaplain Gary Bender of St. Lorenz Lutheran Church.
The department has eight emergency responding units, including a 2012 Polaris ATV (Utility 6) which was donated to the FFD by Weiss Equipment this past year. The department also placed an order for a new Engine 1 from Rosenbauer. A fall 2014 delivery is expected and it will replace the 1993 unit, which is the second most utilized rig behind the 2002 Engine 2.
The other equipment includes Aerial 3 (1997), Tender 5 (1997), Brush 7 (2010), Squad 4 (2008), and Marine 9, a 2009, 14-foot inflatable boat with a 25-horse motor.
The Frankenmuth City-Township Commission has an established equipment replacement reserve which offsets any major swings in budget requirements.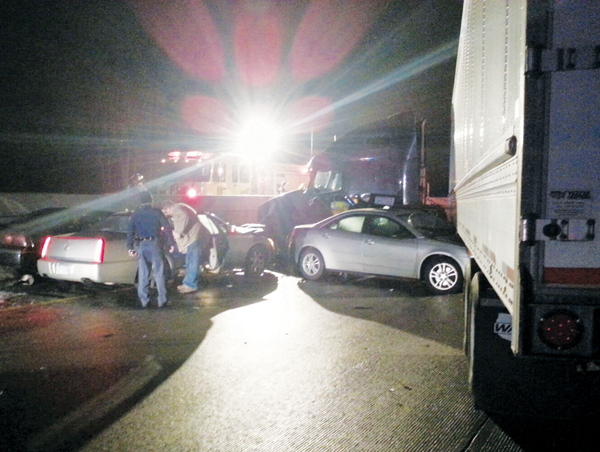 FFD ASSIST WITH NEIGHBORING DEPARTMENTS: The icy road conditions Monday night and early Tuesday morning drew 103 Saginaw County responses from 6pm until midnight. The Frankenmuth Fire Department assisted Birch Run and Bridgeport firefighters on northbound I-75 at Exit 144, from 10:26pm until 1:30am, including a jack-knifed semi-trcuk and a four-car pile up just south of Dixie Highway.
The 28 men have a 42-square mile coverage area, which includes Frankenmuth City, Township and six-square miles of Tuscola Township. The coverage population area is 8,400 residents.
To date, nearly 100 runs have been made, with well over $300,000 in loss. The FFD also totaled 13 mutual aid calls. Over 60 percent of the runs are between 11am and 8pm, with Tuesday and Saturday, respectively, the busiest days.
Notable responses for 2013 include house fires on Townline Road (two), Maple Road, Ayre Lane and a barn fire on Gera Road (M-83). They also responded to a minor airplane crash and a person trapped in a sump crock.
Deterding, who presented the 2013 annual report to the Frankenmuth City Council earlier this month, listed 18 items of importance this year. Among them were:
Completing a training tower project at the Frankenmuth Waste Water Treatment Plant. The $30,000 project was paid for by donations and Kerns spearheaded the project.
The FFD purchased five sets of turnout gear, brush truck front bumper nozzles and equipment for the new Polaris ATV.
The FFD completed a mutual response area agreement with the Birch Run Fire Department. This includes properties north of Rathbun Road in Birch Run Township. They are also working with the Blumfield Fire Department for a similar agreement, which would make for potential insurance savings.
They acquired the 1951 Frankenmuth Ford fire truck from Kentucky.
Saginaw County installed a new CAD system which will assist with dispatching equipment and resources in a more timely and efficient manner.
When it comes to training, the firefighters are continuously learning, with at least two monthly trainings.
Deterding listed 50 training activities undertaken over the past 12 months, from brush fire, hose line, CPD and AED, care fire and accident training to lightweight home construction techniques, foam operations, confined space, hazmat awareness, severe weather, truck checks and Saginaw County Emergency exercise.
"We have many opportunities to work with the Frankenmuth Police Department and I believe we have a good working relationship and compliment each other's efforts," Deterding said.
Seven current firefighters are medical first responders or EMTs, licensed through the Frankenmuth Police Department to provide needed medical treatment when necessary.
With Frankenmuth's many festivals and events, the FFD personnel are very active in many roles. Among those are four fireworks display stand bys, Bavarian Festival parades and Fest Olympics, Volkslaufe and Brueckelaufe aid stations, the Antique Fire Truck Muster, Frankenmuth Auto Fest stand by and the Rotary Club's Halloween Bonfire. The firefighters offer fire prevention and education programs at the public and parochial schools, participate in Safety Days and many more.
Over recent years, the FFD has conducted July vehicle washes at the station, using FFD equipment. This past July, $2,600 was raised, plus a Thrivent grant match of $1,800. That money benefited the ATV project.
"My first responsibility as chief is life safety of our firefighters who protect this community. At a fire scene, it is all about risk versus reward. At the end of the day, everyone goes home safely," Deterding stated. "We are called to respond when people are having one of the worst days of their life. We attempt to make it better and mitigate the situation. Quality customer service is our goal."
The rest of the FFD's roster includes Brandon Schmitzer, Dan Sebold (who is currently on a medical leave of absence), Wil Wescoat, Jason Maurer, Phil Halverson, Brad Thompson, Ethan Crichton, Eric MacKinnon, Daren Kaschinske, Brandon Cataline, Mike Zehnder, Dan Wortman, Adam Palmer, Ken Wilson, Nicolas Winiarski and Chris Pickelmann. Brian Schmitzer retired earlier this year following 25 years of service.
"I am proud of this department and extremely proud to be a part of this organization; it is an honor for me to serve as chief. We are committed to continue to make Frankenmuth the great place it is to live, work, worship and raise our families," Deterding concluded.
512254