Home
We hope you enjoy this abbreviated version of the
Frankenmuth News
Serving Frankenmuth Since 1906
Vol. 115 No. 43- In our 115th year!
Wednesday, May 5, 2021
------------------------------------------------------------------------------------------------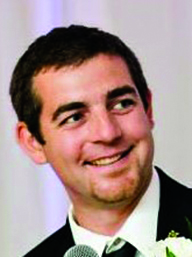 DAN HOPP
Hopp chosen to replace Stamiris as DDA director
Dan Hopp will become even more involved in the City of Frankenmuth's infrastructure by the end of the month.
Hopp, the city's greenspace manager for the past eight years, will trade in his landscaping and flower growing duties to become the new Downtown Development Authority's (DDA) executive director. He follows Sheila Stamiris, who became the city's first full-time DDA director in May 2000. Hopp will begin his work on Monday, May 31 and Stamiris is set to retire on Wednesday, June 30.
Hopp has been instrumental in Frankenmuth's downtown visual appearance through seasonal displays and floral landscapes. Hopp was selected from a field of 30-plus applicants because of his experience, his working knowledge of the city's infrastructure and his passion for Frankenmuth.
"I am honored to join the DDA as their executive director," Hopp stated. "I have had the privilege to live, work, and play in Frankenmuth most of my life and have developed a deep appreciation for what makes Frankenmuth's downtown so special. I believe Frankenmuth has some great opportunities ahead and I am looking forward to leading our DDA."
Hopp is a Michigan State University graduate and has worked on a wide variety of community projects, including the development of the Frankenmuth Jaycees Spray Park in Memorial Park, opened in summer 2019. Dan is married to Ashley and the couple have two younger children, Miles and Sage. Hopp also recently graduated from Leadership Saginaw, is active in the Frankenmuth Jaycees (served as a president) and he has taken on other leadership roles.
Working within the City of Frankenmuth was a bonus, according to DDA Chairman Wayne Bronner.
"Dan has a unique perspective learned from working on community initiatives while working as a city employee. He comes to the job with solid experience, knowing what is important to the business community, local government and our residents," Bronner said. "We are pleased he is joining our team as our new director."
Frankenmuth City Manager Bridget Smith echoed Bronner's sentiments.
"Dan is a very talented manager who shows his commitment to his job and community on a daily basis. The city appreciates his many talents and is pleased that he can grow into this new role beginning from a strong foundation," Smith said.
The position of DDA director is unique in the city as the appointee reports directly to the DDA Board of Directors. While the DDA is independent in its authority to manage its business, the mayor and city council appoint the members of the DDA board and approve its budget.
A core philosophy of the DDA is to promote partnerships wherever possible.
Hopp will replace Stamiris, who served 21 years here. She came from a similar role in Bay City. During Stamiris' tenure here, the DDA grew from the group that funded streetscape improvements to a leadership organization that has positively impacted the community's economy and quality of life. Annually, the DDA maintains the streetscape improvements and reimburses the city for any costs expensed by the local government for work done on its behalf.
The DDA not only completed the city's plan for nearly $12 million in streetscape improvements on Main and Weiss streets, but improved infrastructure services within the DDA district with grant-assisted projects that expanded water service, building improved reliability along the city's southern service area and increased sanitary sewer and storm water capacity. Infrastructure improvements enabled local businesses to expand, investing millions of dollars in new facilities and creating hundreds of new jobs.
Using tools enabled by state legislation, the DDA was able to provide matching funds to attract more than $5 million in grant funding to assist with beneficial projects from installing new energy-efficient LED street lights to the construction of the pedestrian bridge, the fish passage project at the former Cass River dam site and the Cass River Levee Improvement Project, among others.
Most recently, the DDA partnered with the city and properties impacted by the proposed change to the flood maps by committing to pay for 50 percent of the cost of the new levee and 100 percent of the cost to construct the new Downtown Riverwalk and its future maintenance.
Stamiris is pleased that the levee project will be complete when she leaves.
"This was an extraordinary opportunity to improve the levee and remove the flood plain designation by leveraging the DDA's resources. Years ago, the National Main Street Center sponsored a promotion called 'This Place Matters.' After 21 years here in Frankenmuth, I wholeheartedly agree that 'This Place Matters,'" Stamiris stated.
While the DDA has accomplished much in the past 21 years, more work is on the horizon for new director Hopp to tackle.
The DDA will begin traffic management planning for Main Street and Weiss Street as it looks to enhance the corridors with Complete Streets improvements and develop better traffic management for festivals and events.
Additionally, the DDA will look at options for a second pedestrian bridge linking Main Street to Heritage Park, to facilitate development at the Frankenmuth Sports Complex proposed for Weiss Street, parking improvements and continued investment to keep the district "visually stunning."
2049612