Home
We hope you enjoy this abbreviated version of the
Frankenmuth News
Serving Frankenmuth Since 1906
Vol. 114 No. 01 - In our 114th year!
Wednesday, July 10, 2019
* * * * * * * * * * *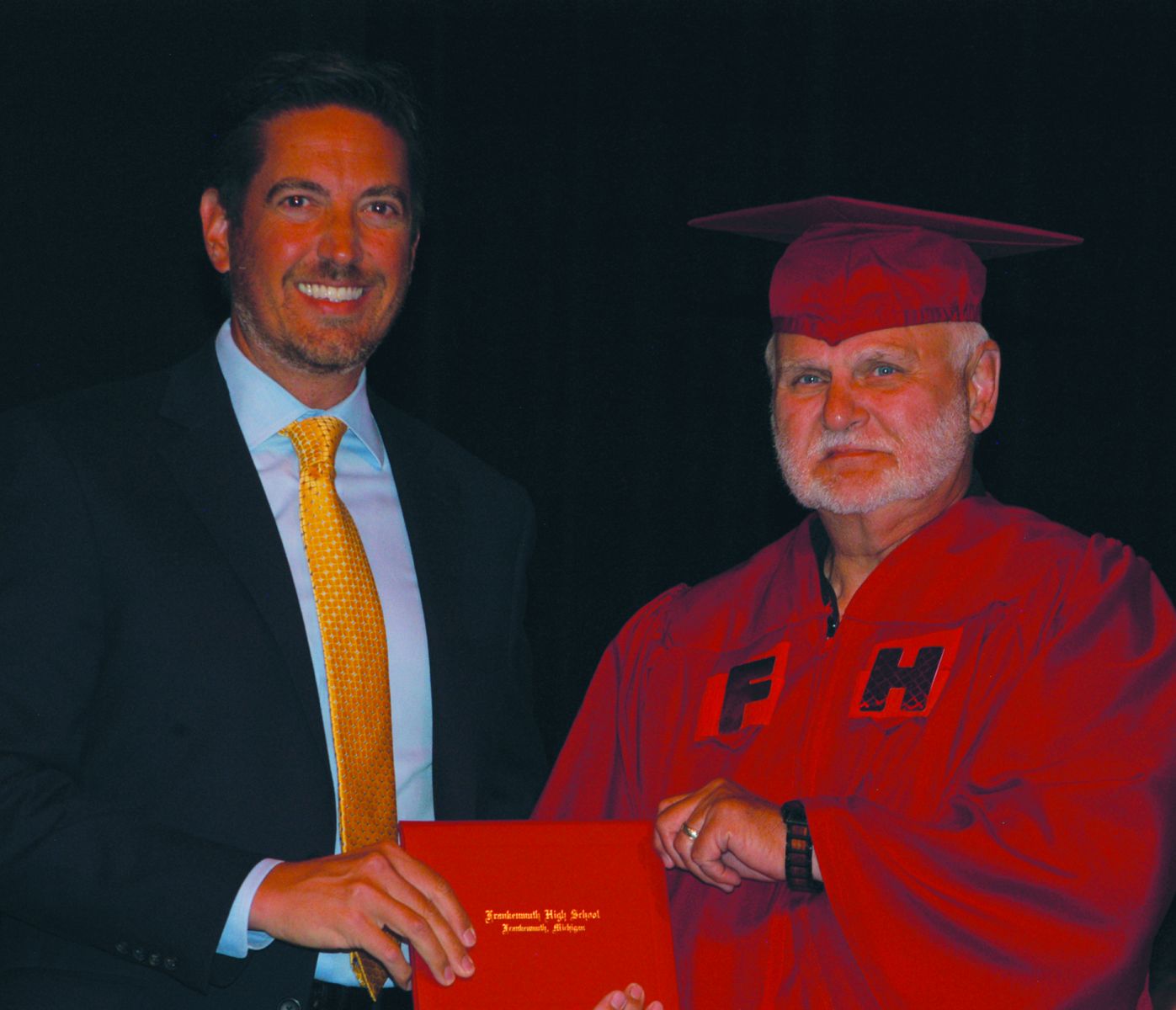 WILLIAM SCHAARD . . . at right, was conferred an honorary diploma from Frankenmuth High School from Frankenmuth School District President Brandon Muller. The ceremony took place Monday afternoon inside the Bronner Performing Arts Center at FHS. (News photo)
Vet Bill Schaard gets diploma 52 years later
Fifty-two years later, William ill" Schaard is officially a graduate of Frankenmuth High School.
The Frankenmuth School District Board of Education conducted a brief special meeting Monday afternoon to officially confer Schaard with an honorary diploma from the district.
Many family, friends and fellow veterans were on hand at the Bronner Performing Arts Center to honor Schaard. In addition to the diploma, Frankenmuth American Legion Post #150 Commander Paul DeSander also recognized Schaard, who is a U.S. Marine Corps veteran.
Bill's sister, Debbie Baker, set up a display of photos and other items from his years in the military. She also had a special graduation cake made. Schaard was also able to wear a red graduation gown and mortar board, borrowed from Baker's son, Matthew, who is a Saginaw Valley State University graduate. She added a block " and "H" to the front of the gown.
School Board President Brandon Muller called the meeting to order at 5:30pm and FSD Superintendent Adele Martin read Schaard's biography, chronicling the reason he was unable to graduate with this FHS Class of 1967.
On the surface, Schaard's childhood seemed to reflect the early days of any number of Frankenmuth natives. His grandparents emigrated from Germany. He had five sisters and two surviving brothers. He attended Frankenmuth schools, where he played several sports. He was a member of St. John's Lutheran Church. Bill worked typical childhood jobs, delivering newspapers, mowing lawns, working on the farm and bussing tables at the Bavarian Inn Restaurant.
Unfortunately, the image of an idyllic childhood here diverges from Bill's reality. His family was poor. The son of a disabled World War II veteran, Bill had to move to Bridgeport when his family lost their house. And while he attended Bridgeport High School for the 11th and 12th grades, he didn't really have a home.
Tired of being abused by his father, Bill left school his senior year and joined the U.S. Marine Corps.
Being a young man in the military in 1967 nearly guaranteed a tour in Vietnam, and Bill was no exception. Before receiving those orders, however, Bill attended Aviation Electronics School in San Diego and was selected as a model Marine, being chosen for Embassy Training School.
Unfortunately, those plans changed and he was stationed in Dan Nang, Vietnam, before his training would begin. In Da Nang, Bill worked as a radio operator and Tactical Air Command Center crew chief, and like many veterans, he endured constant, terrifying attacks: rockets, mortars, tear gas and suicide bombers. Schaard weathered five campaigns in Vietnam, eventually being promoted to sergeant in charge of his command.
One anecdote about Vietnam does and still brings a smile to Bill's face. He and some other Bills did the twist on stage with singer Connie Stevens in 1969. The song they danced to was "Wedding Bell Blues" by the Fifth Dimension. Remember the tune "Won't you marry me, Bill?"
"While Bill isn't normally a man to kiss and tell, he isn't ashamed to admit that Ms. Stevens kissed him on stage in front of 7,000 service men and women, and that he was invited to see her again when she performed in Saginaw two years ago," Martin said.
After 20 months in Vietnam, Schaard returned to Saginaw and the workforce, hired by General Motors in July, 1970. Early on in Bill's working life, his sister Debbie, who worked at WNEM TV-5, introduced him to his future wife, Penny, and they married in 1973. They have three daughters and 10 grandchildren, plus a grandson they adopted into their family.
After working 37 years as a salaried computer operator and a production maintenance supervisor, Schaard retired . . . for a bit. In 1999, Bill attended Delta College, completing a program called IFOC, the International Fellowship of Chaplains, which led to his ordainment as a chaplain.
Soon, Schaard was in great demand. Southern Care Hospice, who needed a chaplain, hired Bill the day of his interview, and worked as a hospice chaplain for two years. He served as chaplain for the Trinity Riders of Bay City, a Christian motorcycle association, for 12 years. Schaard and some of his motorcycling friends founded another chapter in Saginaw called Faith Riders, of which he is currently president. He was also the chaplain and vice-president.
This year alone, Faith Riders has raised $15,000 for missions around the world. He still officiates weddings and funerals. Never forgetting his days as a Marine, Bill is also a member of the Saginaw Marine Corps League, becoming vice-commander in 2017. In 2018, he was honored as Marine of the Year.
"It is clear that Bill Schaard has lived a life of service to his country, his faith and his community, but one regret has always been that he was not able to graduate from Frankenmuth High School. The Class of 1967 considers him one of their own, and invites him to their reunions. I am proud to make Bill official by presenting him with an honorary diploma from Frankenmuth School District," Martin stated.
1235429