Home
We hope you enjoy this abbreviated version of the
Frankenmuth News
Serving Frankenmuth Since 1906
Vol. 114 No. 39 - In our 114th year!
Wednesday, April 01, 2020
* * * * * * * * * *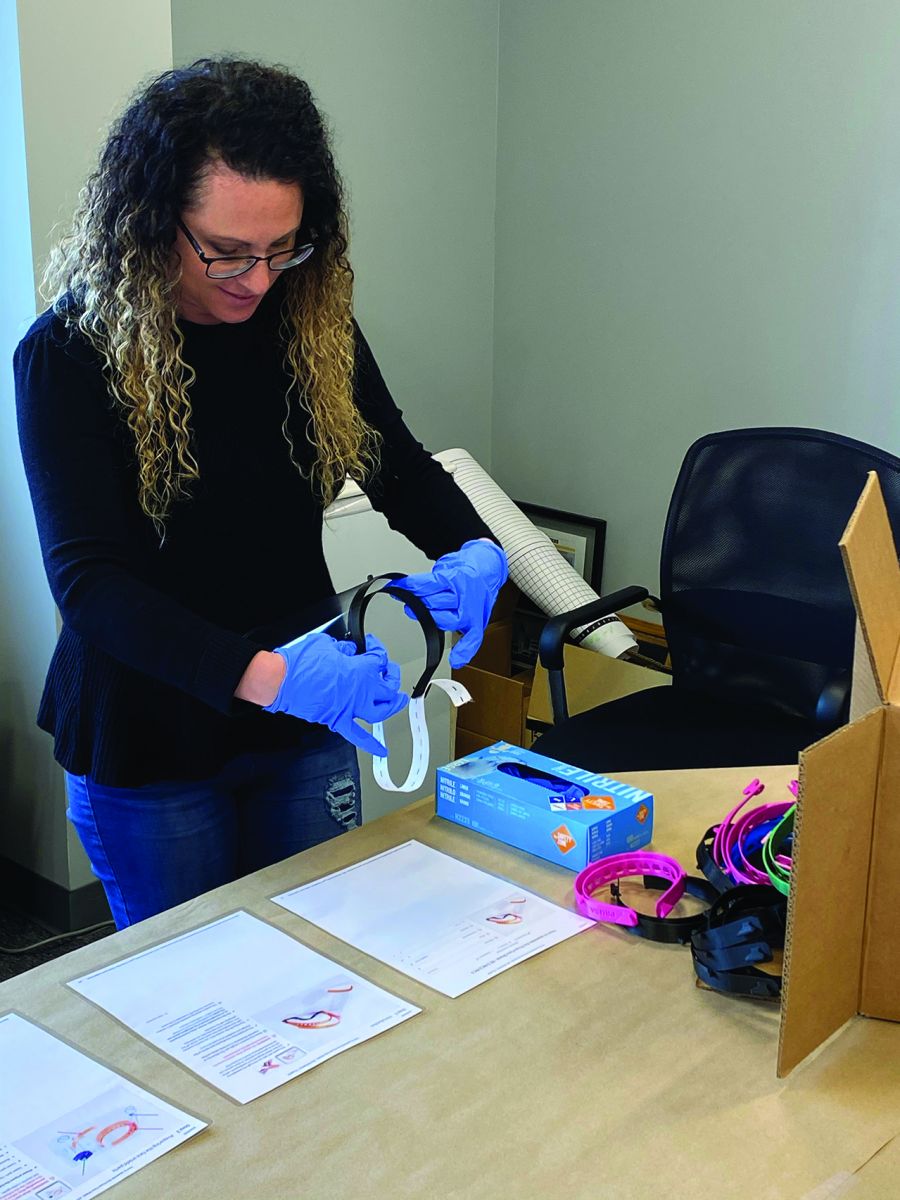 HELPING THE MEDIAL FIELD: Terri Tomlinson, with quality control at Kremin Inc., assembles a face shield. Kremin owner Mike Grossi hopes to be in full production today (April 1) as the country combats the coronavirus.
Two firms convert to making facial shields
A pair of Frankenmuth businesses have outfitted their firms to assemble face shields and visors in the wake of the COVID-19 pandemic.
Mike Grossi, owner of Kremin, Inc., and Scott Zimmer, owner of Air Advantage, have switched over their production to help out the medical field in need of supplies such as masks, ventilators, gowns, face masks and shields for doctors, nurses, first responders and more as the coronavirus continues its assault across the United States and the world.
At Kremin, 235 Keystone Way, the staff has converted 3D (three dimensional) printers to make face shields and set up an assembly room to build them. The shields will be donated to local hospitals.
"We are in the early stage of ramping up to assemble face shields. There are literally thousands of people around the country printing face shields. We found open source designs from a 3D printer company called Prusa," Grossi explained.
Kremin, Inc. was established in 1983, Grossi, a 1994 Frankenmuth High School and a 1998 University of Michigan graduate, acquired the firm in 2010 and he moved his operations from Saginaw to Frankenmuth in December, 2014, constructing a new building in the Frankenmuth Industrial Park off M-83 (North Main Street).
"Between our printers, and printers that our employees have, we will have eight printers making head bands, about 100-150 per day. The dilemma we are facing, like everyone trying to make these, is that the clear plastic used for the front portion is sold out across the country," Grossi said.
Grossi does not have an exact number of employees on the job as of press time, but plans on putting 2-6 on it at any given time when fully operational and staffed in two shifts.
"The bulk of our resources have been from our engineers getting the processes worked out and the face shield plastic to work. The team is currently building a die in-house to punch the holes in the plastic. It's a fluid process right now," Grossi said.
Last Friday, Kremin received enough 4 x 8-foot sheets to allow them to make 1,000 face shields. Grossi is actively looking to procure more because 1,000 face shields are not enough.
"We have converted our conference room over to start assembling and we should be putting face shields together today (April 1). If printing becomes a bottleneck, there is another version that uses a foam head band we can switch to, but I believe the face shield material will be the limiting source that holds things up," Grossi said.
In fact, Kremin has produced its first prototypes, as they finish the die for hole punching.
"We should be ready (April 1) and we can start a real assembly test to get times and throughput figured out," Grossi noted.
Everything being made will stay in mid-Michigan right now. Grossi has contacted Covenant HealthCare to set up delivery.
"We anticipate continuing to make them as long as necessary, assuming we can get the raw materials. That will be the limit to how many we can build right now," he added.
It takes a village to raise a child and Grossi acknowledges he is getting plenty of help.
"We are not doing this all on our own. Two of our engineers, Trevor Perry and Corey Draper, are running printers at their house. Jacob Dohrmann from Reese Schools and the Rove Program are printing for us at home. We are getting plastic from Vantage Plastic in Standish. Don Agans is letting us use some of his equipment to rough-cut sheets . . . there are lots of people helping," Grossi stated.
Kremin was established as a machining source specializing in precision wear details, fixture and gage assemblies, and small machines. They serve customers in the aerospace, defense, energy, transportation, dimensional stone and other industries.
Today, Kremin focuses on prototype and production contract manufacturing opportunities requiring precision machining and a superior quality system.
Air Advantage, 465 North Franklin Street, has begun its visor manufacturing this week.
"Don Doyle, an IT guy we've known for over 20 years and have worked with on several projects within the past three years, contacted us with this idea. Don grew up in Bridgeport and is very familiar with the area," Zimmer said.
Doyle and his wife Amy traveled to MicroCenter in Novi and purchased 10 3-D printers to set up in Ann Arbor offices. He obtained the visor design from an open source web design.
"We reached out to a family doctor friend after printing a prototype and got it approved for use," Zimmer added.
In a short period of time – seven hours to set up 10 printers – the operation was able to print two visors per printer.
"One job took about five hours initially; we have pared that down to three hours," Zimmer said. "We can change design remotely if needed."
Right now, it's pretty much Zimmer handling the production. He said it takes less than a minute to take the visors off the printer and start another print job.
"New jobs can be done remotely, but you still have to clear the print table. Each print job takes about four hours so I'll come up late at night, start another print job, and then start another in the morning. The process takes less than 10 minutes for 10 printers," Zimmer said.
Amy Doyle started a Facebook page regarding the visor production and as of Monday, it garnered a lot of interest – requests for about 3,000 in a little under an hour – from various hospitals and medical facilities.
"We are working on getting 500-1,000 to the Detroit Veterans Administration Hospital this week," Zimmer pointed out. Detroit has been among the hardest hit cities by the coronavirus – not just in Michigan, but nationwide. "We have printers running around the clock. We are working with the VA because most of the others involved in this group are veterans and they live the VA. We are donating all this equipment and hope that we can make a difference for some people."
For mask requests email Scott at szimmer@airadvantage.net.
With practice comes better production of the visors. The staff is getting pretty good at this work.
"Set up time has been reduced to about five minutes before we can start another job, with very efficient work and good quality," Zimmer noted. "We are working on similar designs to speed up build time and reduce assembly time, when adding the shield and plastic to the current model."
Zimmer is not experiencing trouble in getting the raw materials.
"Not at this time. When we set up the printers, we had enough filament to do what we estimated would be 1,000 masks. So far, we are printing 80 per day and we haven't had to change the first spool yet," he noted.
Zimmer added that Don is working with other groups, including Ford Motor Company, to build similar face masks and ventilator filters.
"We are very thankful that we are able to keep our employees working and our employees are thankful as well. We have lots of challenges ahead in bringing good, reliable bandwidth to rural areas in need. While the situation we currently face is very concerning, one silver lining it that our elected officials in Lansing and Washington, DC are finally realizing just how important it is to have good internet infrastructure throughout the country," Zimmer commented.
At this date and time, Zimmer is pleased to play a part in this pandemic.
"We are proud to be able to help in this small way that is a little different than our normal operation. We are adding a drop of water to the ocean, but what we hear from those who are getting equipment is that they are very grateful," Zimmer concluded.
_________________________________________________________________
THE FRANKENMUTH NEWS
will modify its hours through April 10.
Our office hours will be
8am-5pm on Monday and Tuesday,
8am-4pm on Wednesday and
Thursday and Friday open limited hours
and CLOSED Saturday and Sunday.
Stay Home! Stay Safe! Save Lives!
1337024