Obituaries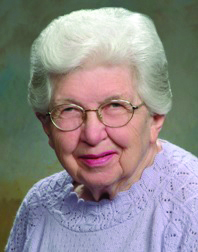 Florence Bergman, 92
Florence Mary Bergman, 92, of Frankenmuth passed away on July 22, 2015. Her faith in the Lord was strong and we are certain she is enjoying the long awaited reunion with her heavenly family. We are thankful to the Lord for protecting us always through our joys and sorrows.
Florence was born on March 2, 1923 to August and Mary (Reisinger) Volz, in Sebewaing, MI. Being the eldest of six children, Florence finished her education at Immanuel Lutheran School, Sebewaing at 8th grade. She helped on the family farm and worked in Sebewaing, until she met Ed Bergman. They married on April 29, 1944, living at the farm on the corner of Campbell and Maxwell Road, Pigeon. This is where they raised their seven children and enjoyed spoiling their 16 grandchildren. Together they farmed, raised cattle and chickens, and also owned The Country Thrift Shop. During their retirement years they enjoyed visiting their children in Florida and spending the winter months there. Ed passed in 2001, and a year later Florence relocated to Frankenmuth. They were faithful members of Cross Lutheran Church, Pigeon, and Florence was a member at St. John's Lutheran of Frankenmuth. Florence spent her final days at Covenant Glen of Frankenmuth. The family would like to thank their staff and that of Covenant Visiting Nurse Association, for being so caring during her stay.
Surviving are her children: Edward Jr (Deb) Bergman, Vassar; Lorna Bergman, Millington; Norma (Roger) Hartwick, Millington; James (Brenda) Bergman, Gainesville, FL; John (Julie) Bergman, Cass City; Nancy (Rick) Mallory, Cass City, and a very special caring friend, Rose Irish; sisters Lilly Huiskens, Hannah Williams, Irene (Dave) Gehring; sister-in-law Ruth Volz; grandchildren Kevin (Heidi) Bergman, Chris (Amber) Bergman, Tonya (David) Karpovich, Cory (Tequita) Mays, Renee Heston, Bryan (Linda) Rucker, Robert (Robin) Rucker, Jeff (Renee) Hartwick, Angie (Kenny) Sebert, Kristy (Doug) Fairbanks, Carrie (Dennis) Smeaton, Jason (Amy) Bergman, Missy (Neal) Howard, Danny (Dawn) Bergman, Tony (Roxane) Bergman, and Scott (Alice) Bergman, along with 37 great grandchildren and nine great great grandchildren.
She is preceded by her husband, Edward Sr., as well as children Mary (Ken) Rucker, Lake City, FL and Roger Bergman, Millington; grandchildren Amanda Rucker, Darrin Heckroth and Miranda Heckroth; brother Howard Volz; sister Alma Volz; sisters-in-law: Edna Bergman, Luetta Voss and Mary Lou Bergman.
Memorial services will take place Saturday, August 1, 2015 at noon at St. John's Lutheran Church, 1200 E. Genesee, Frankenmuth, MI under the care of Cederberg Funeral Home of Frankenmuth. The Rev. Jeff Luplow will officiate with burial in Cross Lutheran Cemetery in Pigeon, MI under the care of Champagne Funeral Home. Florence's family will receive visitors at the church from 10am until the time of service. Those planning an expression of sympathy may wish to consider memorials to Frankenmuth Wickson Library or St. John's Media Ministry. Please sign the guest book or share an online condolence with the family at www.cederbergfh.com.
200077