Obituaries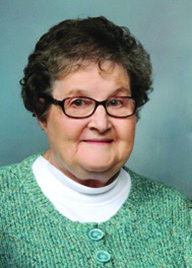 Ruth I. Ehrlinger, 79
Ruth I. Ehrlinger, loving wife, mother, grandmother and great-grandmother went home with her Lord on Monday, February 12, 2018. Ruth passed away at Wellspring Lutheran Home of Frankenmuth after a lengthy illness; age 79 years.
Ruth Gugel was born on February 17, 1938 in Tuscola, MI to the late Albert and Lottie Gugel. She married her loving husband Melvin Ehrlinger on June 7, 1958 at St. Lorenz Lutheran Church.
Over the years, Ruth worked at Bronner's CHRISTmas Wonderland and Sanitary Mattress Co. Ruth belonged to Immanuel Lutheran Church, Frankentrost and was involved in the choir and Ladies Aid. Her hobbies included sewing and quilting.
Surviving besides her husband of 59 years are four daughters: Rhonda Walker, Saginaw, MI; Brenda (Ray) Paquette, Saginaw, MI; Lana (Steve) Altscheffel, Midland, MI; and Pamela (Mark) Mossner, Frankenmuth; Grandchildren: Benjamin (Megan) Walker; Brian Walker; Michael, Adam and Alexander Webber; Rachel, Hannah and Jacob Altscheffel; Jennifer, Eric, Michelle and Amanda Mossner; one great-grandchild: Caleb Walker; two sisters: Gladys (Dennis) Kaul and Lenchen (Don) Techentien; sisters-in-law and brothers-in-law: Dorothy Bierlein, Arnold Ehrlinger, Edwin (Marion) Ehrlinger and Bernice Auernhammer.
Ruth was preceded in death by one granddaughter: Sarah Walker; two brothers: Ray Gugel and Fred (Leona) Gugel; and two sisters: Marie (Art) Bull and Luella Ehrlinger and one brother-in-law: Roy Auernhammer.
Funeral services will take place Friday, February 16, 2018 at 11am at Immanuel Lutheran Church, 8220 Holland Rd., Frankentrost, MI. The Rev. Mark Loest will officiate with burial in Eastlawn Memorial Gardens, Saginaw.
Ruth's family will receive visitors at Cederberg Funeral Home of Frankenmuth, 590 N. Franklin St. on Thursday from 2-8pm and on Friday at the church from 10am until the time of service. In lieu of flowers, those planning an expression of sympathy may wish to consider memorials to Immanuel Lutheran Church or Wellspring Lutheran Services.
Please sign the guest book or share an online condolence with the family at www.cederbergfh.com.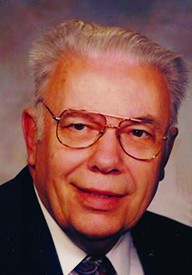 Ivan E. Haubenstricker, 89
Ivan E. Haubenstricker passed away Saturday February 10, 2018, at Wellspring Lutheran Home of Frankenmuth; age 89 years. Ivan was born on October 26,1928, in Birch Run, MI to the late Erwin and Cecilia (Scharrer) Haubenstricker. He was married to Margaret Bauer on June 11, 1955. Margaret predeceased Ivan on February 22, 2013. Ivan was a lifelong member of St. Lorenz Lutheran Church where he was very involved as a Deacon and a Greeter. He served on the Finance Committee, he also worked with the Funeral Usher Program. Ivan was a chauffeur for Pastor Kaiser as he made personal member visits.
Ivan worked 42 years for Buick as a skilled tradesman. After he retired he worked 15 years at Mike Young Dealership. Ivan enjoyed bowling, serving 35 years as the secretary to the bowling league, and 30 years as the association treasurer. He ran the mixed doubles Frankenmuth Tournament. Ivan was also an elected Lifetime Member of the Frankenmuth-Vassar Bowling Hall of Fame. Ivan also was a founding member of the Calico Twirlers Square Dance Club.
Ivan volunteered at the Information Booth at the Frankenmuth Bavarian Festival. He was also an avid farmer and worked on farms most of his life. He enjoyed watching his sons farm. Ivan enjoyed gardening and he was especially proud of his gladiolus. Ivan loved to travel and had visited 49 different states. Ivan also loved to spend time with his grandchildren and attended many of their activities.
Surviving are four sons: Paul (Connie), Edward (Cathy), Mark (Monica) and Philip (Luanne); nine grandchildren: David (Kate), Heather, Jonathon, Brad, Taylor (Spencer) DeVries, Kraig, Andrew, Aaron and Beth; one great-grandchild Jesse; one sister Leona Reinert and many nieces and nephews.
Funeral services took place on Tuesday, February 13, 2018, at Cederberg Funeral Home of Frankenmuth and at St. Lorenz Lutheran Church. The Rev. Joel Kaiser officiated with burial between services in St. Lorenz Cemetery. Those planning an expression of sympathy may wish to consider memorials to St. Lorenz Media Ministry, The Lutheran Hour or a charity of donor's choice.
Please sign the guest book or share an online condolence with the family at
284058