Top Stories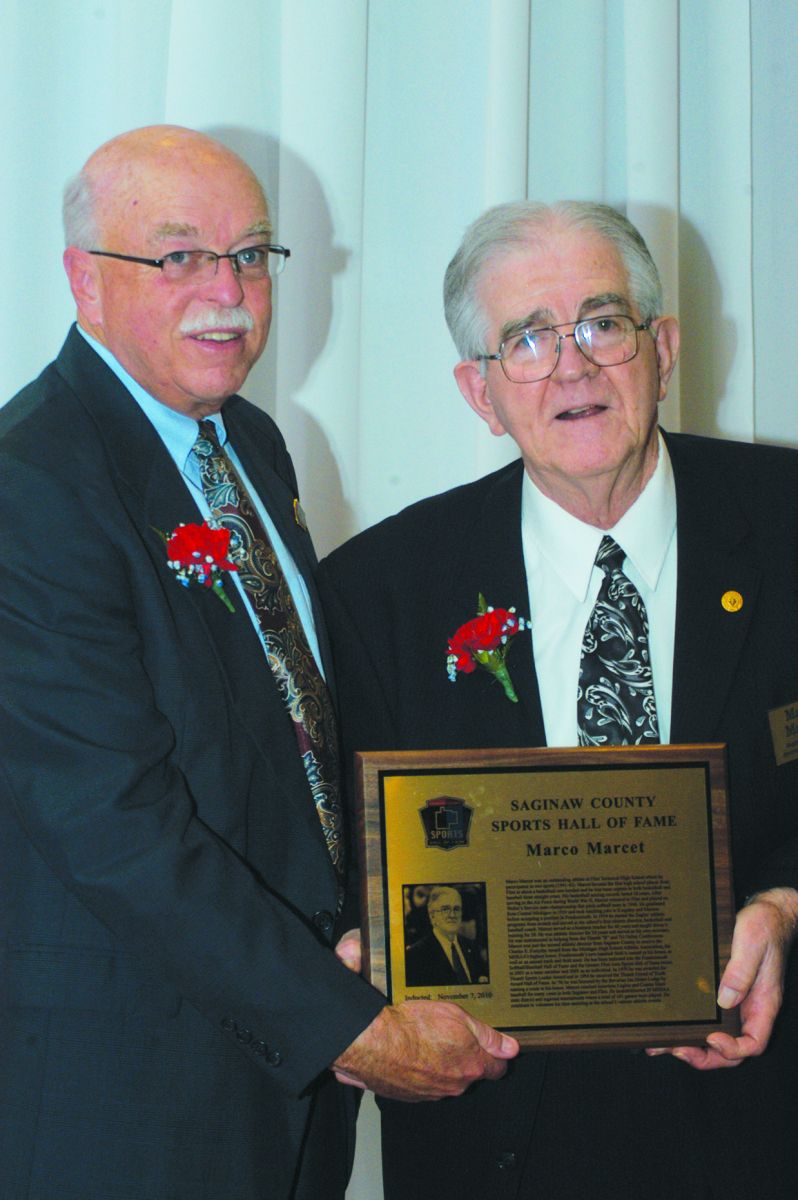 MARCO MARCET . . . received many honors for his work in the educational and coaching fields, including being inducted into the Saginaw County Sports Hall of Fame in 2010. Above and left, good friend, Frankenmuth resident and Hall of Fame Vice-President Jim Petteys, presents Marcet with his induction plaque in 2010. (News file photo)
Founder of FHS athletics Marco Marcet passes away
The Father of Frankenmuth High School athletics, Marco C. Marcet, has passed away.
Marcet passed away Monday, December 17, at Covenant Healthcare Cooper, at age 94.
Marcet was the founder of the athletic department and one of the first teachers hired when the Frankenmuth School District chose to become a four-year high school in 1954.
Today, 64 years later, Marco's presence is still seen, heard and played out on the Eagles' track and field, football fields, baseball diamonds and more. You know a person has become well renowned when you mention the person's first name only and people know him – there was only one Marco in the Frankenmuth community.
Marco even coined the name "Muth" as a way to shorten the long German name, thus saving letters that ran all the way across a jersey or varsity jacket. "Let's Go 'Muth!" became a popular cheer.
His stellar play on the field and as a 34-year athletic director earned him honor for over 30 years, from the 1979 Thumb Sports Leader Award at the Thumb Meet of Champions to being recognized by the Michigan High School Athletic Association's Charles Forsythe Award in 2004 to his final honor, being inducted into the Saginaw County Sports Hall of Fame in 2010.
Being a typing and business teacher, Marco kept meticulous typed statistics, especially in baseball and basketball. This News editor was given the Frankenmuth varsity boys' basketball statistics from 1954 until 2001. He felt it was safer here at the News office when the high school went through a purge of old materials.
Marcet was an outstanding athlete at Flint Technical High School, participating in two sports from 1941-43. One of his claims to fame was that he became the first high school player from Flint to shoot a basketball one handed. He captained both the baseball and basketball teams three straight years. His basketball scoring records lasted a decade.
After serving his country in the U.S. Air Force during World War II, he returned to Flint and played on the Weller's Service 1946 state fastpitch championship team.
Marco attended Central Michigan University under the GI bill and graduated in 1950. During his sophomore year, Marco married his high school sweetheart, Sophie Cuz, in Flint. Sophie was a para-professional elementary librarian at List Elementary School for 18 years. She passed away in November 2017 at age 91.
After CMU graduation, Marco taught at Kingsley and Manton school districts. Marcet accepted a teaching position at FHS in 1954, where he was a teacher, the first athletic director and coached baseball and basketball. Overall, Marcet taught business 40 years and driver's training for 20 years. He taught typing, accounting, shorthand, geography and physical education. He was also the community's recreation director.
When FHS became a ninth through 12th grade school, the FSD administration had no doubt that varsity football would be added. Much of the support for football came from then FSD Superintendent James Matteson. That led to the hiring of Harry Kaczynski, who from 1956 to 1965 was 64-12-4.
Vern Little, a 1972 FHS graduate and varsity football player, recalled Marcet had a small closet filled with football cleats. When a player did not have cleats, Marcet would direct them to the closet to try on a pair.
Former FSD Superintendent Mary Anne Ackerman wrote a congratulatory letter on behalf of Marcet when he was inducted into the Saginaw County Sports Hall of Fame eight years ago. In the letter, she spoke of the FHS mascot.
"The legend has it that during the transition period, Frankenmuth High School teams needed a mascot. The student body was asked to submit some suggestions, and with Frankenmuth in those days being well known for beer and chicken dinners, a surprising number suggested names such as Chickens or the Brewers," Ackerman said. "The superintendent and his team of coaches met to make the decision, discarding the Brewers without a second thought; they were further of the opinion that the only time a chicken could be considered noble was on a Sunday table roasted. Coach Marco's alma mater had been the Eagles, and his suggestion was selected."
Being a CMU graduate, the Chippewa fight song music was also chosen, with lyrics written to fit FHS.
The first high school track was carved out of the soil by Marcet, by hand, with help from the late Don Voorheis, an FHS student who still holds sprinting records at FHS. Today, the Marco Marcet Invitational is held every April.
Not only did Marcet choose the school colors, mascot and pep song, he also was instrumental in forming the league FHS played in, from the Thumb B Association founded in 1959 to the Tri-Valley Conference in 1979.
Marco coached the varsity baseball team for 16 years, compiling a 100-49 record. When the high school built its new baseball complex, it was named Marco Marcet Field in May 2005. He also came up with the concept of holding baseball doubleheaders for league action.
Back in the 1950s and early 60s, varsity girls' sports teams were not around. Marcet began scheduling informal girls' games with area schools, eventually leading to varsity status, most notably basketball, softball and track and field.
In 2004, Marcet became just the second athletic director from Saginaw County to receive the MHSAA's top honor, the Charles E. Forsythe Award, in 2004. The award is based on an individual with outstanding contributions to the interscholastic athletics in their community.
Other honors include induction into the Frankenmuth Softball Association's Hall of Fame in 1992, being inducted into the Great Flint Area Sports Hall of Fame twice; in 2003 as a team member and in 2005 as an individual, and in 1994 Marco received the Thumb Friend of Youth Award.
In 1996, the Bavarian Inn Lodge honored the Marcet Family with a room in their name.
Marco and FHS also hosted and directed 29 MHSAA state district and regional tournaments, where a total of 101 games were contested.
Outside FHS, Marcet also coached American Legion and Connie Mack baseball for many years, in Saginaw and Flint.
Marcet retired as athletic director in 1988, turning over the reins to Gary Bruns.
Until recent years, Marco would substitute teach at least one day a school year at FHS and he also could be found assisting at home Eagle football and basketball games.
943930