Top Stories
Business News
City Council Meeting Agenda
Police Report
Friday Fun Nights
Hog Rally
2014 Auto Fest
U.S. Bike Route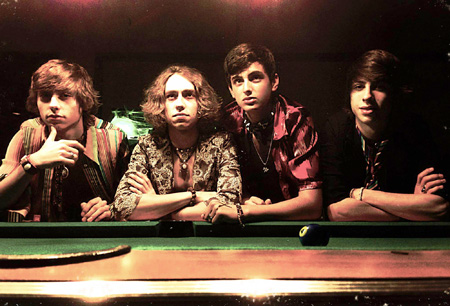 Greta Van Fleet California bound
Local rock 'n roll band Greta Van Fleet has been wowing area fans for the past couple years.
Now the four-member group will be California bound next month to perform in a prestigious five-day festival.
Vocalist Josh Kiszka, age 18, guitarist Jacob Kiszka, age 18, bass and keyboard player Sam Kiszka, age 15 and drummer Daniel Wagner, age 15, will perform at the 18th annual Temecula Valley International Film and Music Festival.
The five-day event will run September 17-21, with music of all genres performed September 18-19. Greta Van Fleet's big moment will come at 5:50pm Saturday.
Greta Van Fleet (GVF) will play before an All Star Band takes the stage. The All-Star Band will consist of members from Pink Floyd, the Steve Miller Band, Elton John, Stevie Wonder, John Lennon band, the Rolling Stones and more.
Up and coming, unsigned music artists representing all genres of music are showcased, such a GVF, before an international audience of music industry professionals and music loving fans.
The band is in a fundraising mode for their trip. They will perform Friday evening during the Frankenmuth Auto Fest 𠇋ig Block Party" at Fischer Hall, beginning at 5pm. Due to demand, they added Saturday night. Friday is a free night, with Saturday's cover charge $10 per person.
Some 8,000 bands nationwide applied to perform at Temecula, GVF Manager Michael Barbee said. He saw the press kit and submitted the information in June this year. Ten bands were chosen for the Saturday evening action.
Greta Van Fleet could be chosen a fan favorite, based on their play Saturday night. The top three fan favorites will be asked to play at Sunday night's Closing Night Black Tie Gala and Awards Ceremony.
There will be plenty of Hollywood royalty strolling about the five days, Josh said. Temecula is located between Los Angeles and San Diego. Opening Night will feature a true Red Carpet treatment
Barbee and the band's goal are to build relationships in the music industry and to gain key contacts when it comes to booking agents and recording labels.
"It is a privilege to perform at a festival like this and represent Frankenmuth," Jacob added.
Greta Van Fleet made its first performance at Auto Fest in 2012. At that time, the band did not have a name. The name is actually a name of a Frankenmuth resident, Gretna Van Fleet, who was a drummer. With help from former drummer, Kyle Hauck, the name was established, but not before dropping the "n" in Greta.
Josh is also a film maker, so he could have a dual purpose heading out to California. However, the band is the vehicle that will take Greta Van Fleet to its future success.
The festival was established to be a true advocate and accessible home for independent film and music artists. The fest organizers do not cater to one particular genre, as long as the film tells a good story and the music tugs at the heart of their audience.
For more information, visit Greta Van Fleet's Facebook page.
459870