Top Stories
Police Report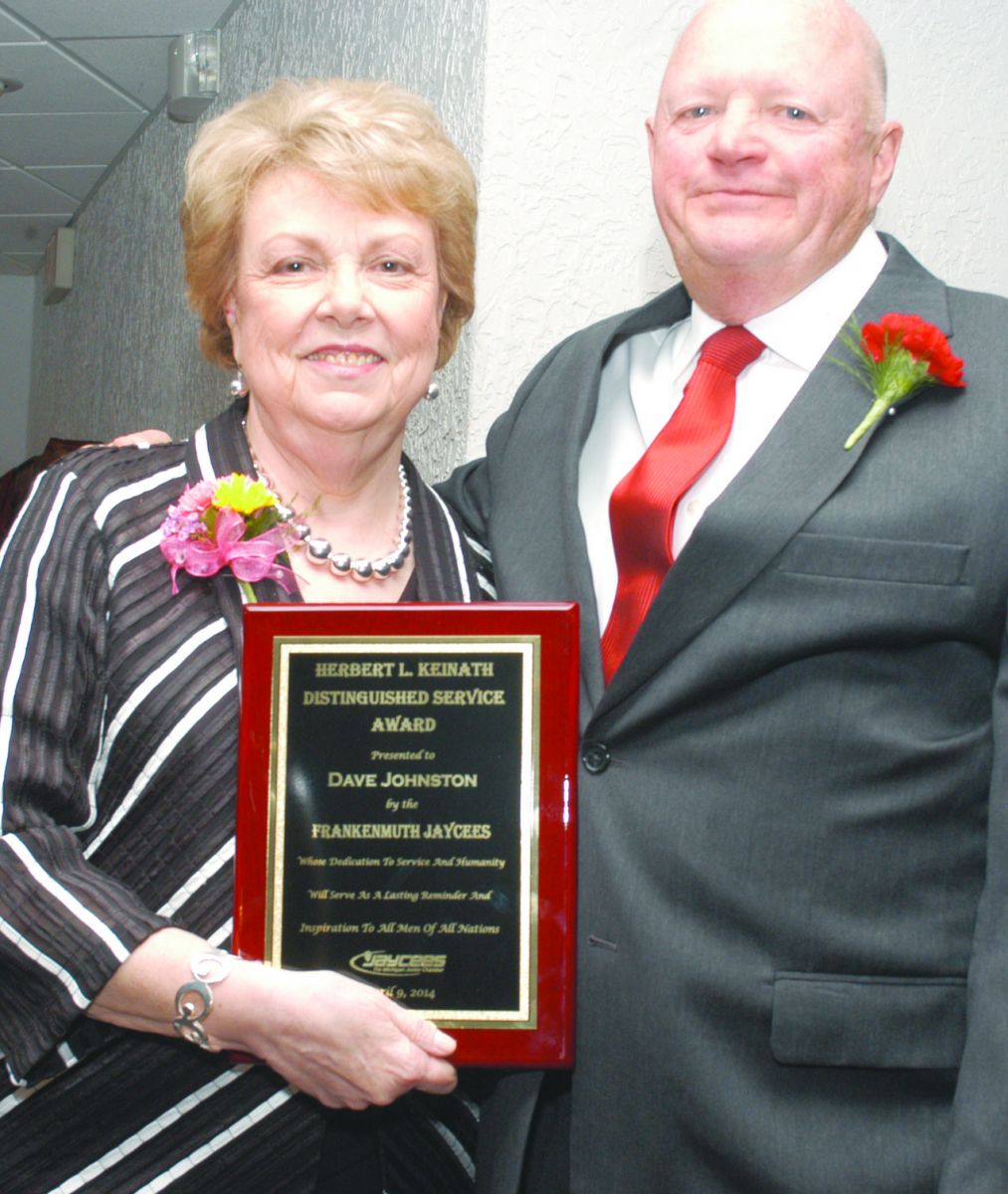 DAVID JOHNSTON...was presented the 48th annual Herbert L. Keinath Distinguished Service Award April 9 at the Bavarian Inn Lodge. Lodge President and good friend Judy Zehnder Keller made the presentation. (News photo)
Johnston presented Jaycees' HLK Award
The Frankenmuth Jaycees recognized three people last Wednesday night who have made a difference in the community.
The 48th annual Herbert L. Keinath Distinguished Service Award Banquet was held in the Bavarian Inn Lodge's Composer Rooms.
The well-attended event was founded by the Jaycees as the Distinguished Service Award, given annually to a community member who has given of his or her time and talents unselfishly in an effort to serve the community of Frankenmuth and its people.
The award was presented to the late William "Tiny" Zehnder in 1967. In 1968, it was presented to the late Herbert L, Keinath, Frankenmuth's first city manager. Upon his death, the award was renamed in his honor.
The 2014 recipient was David Johnston and Judy Zehnder Keller, president of the Lodge and a good friend of Johnston, presented the honor to him. The Frankenmuth Noon Rotary Club nominated Johnston for the award.
Three other persons were also recognized prior to Johnston.
Frankenmuth Township's Jacob Laux was presented the "Outstanding Young Farmer Award" by fellow farmer and city department of public works employee Mel Braeutigam.
Frankenmuth Chamber of Commerce and Convention & Visitors Bureau President and CEO Jamie Furbush was accorded the "B"B"oss of the Year Award" by Christie Bierlein.
Jeff Titsworth was chosen the 2013 "Jaycee of the Year" for his work with the local chapter. Frankenmuth Jaycee Chairman of the Board Lucas Hart presented Titsworth with the award.
Johnston has served Frankenmuth in many capacities, but for the last 30 years, he has been president of Michigan's Own, Inc. Military and Space Museum.
Fifty years ago, Johnston served in the United States Army, 1963-65, which likely fueled his desire to honor Michigan's men and women in the military.
"I never served in the military and so I have a layman's understanding of this, but I believe Dave's biggest mark with the military has been his tremendous leadership contribution with Michigan's Own Military and Space Museum," Zehnder Keller stated. "Stan and Lou Bozich developed the concept and managed it all these years. Over the years, Dave has been able to see the value of this museum for Frankenmuth as a community. More important, he has helped us all appreciate the freedoms we all have as a result of the sacrifices our veterans have made."
Johnston's infantry company was attached to the Infantry School at Fort Benning, Georgia. He was active with the Aggressor Forces at the Florida Ranger Camp at Elgin Air Force Base and the Aggressor Forces at North Georgia Ranger School. He was nominated for Battalion Soldier of the Year.
Johnston has been a Frankenmuth resident most of his life, attending Frankenmuth High School and Valparaiso University. He is a member of the St. Lorenz Lutheran Church, serving six years on its school board and as a member of the congregation's Finance Committee during its multi-million dollar expansion and a St. Lorenz Real Estate member.
Following his military service, Johnston worked as a credit manager and branch manager with General Electric Credit Corporation, 1965-72.
After 1972, Johnston joined his father T.W. Johnston as a partner and officer in T.W. Johnston's of Bridgeport, VIGA Corporation and president of Ben Franklin of Holly. He helped operate grocery stores, variety stores and craft stores, including the Frankenmuth IGA Foodliner and Ben Franklin. He was a partner in MCJ#1, a limited liability corporation and also Johnston Reality Corporation. He has been on the Frankenmuth Insurance Company board of directors since 1996.
"Dave was good at business and still is. The brother team of Dave and Tom was also successful and they expanded their business by acquiring other stores," Zehnder Keller said.
Johnston has donated countless volunteer hours to many civic organizations. He was a Frankenmuth Jaycee and was on its board of directors; with the Frankenmuth Area United Fund (United Way) and its president in 1974-75; Frankenmuth Convention & Visitors Bureau president (1990-093); Frankenmuth Chamber of Commerce president (1982-84 and 1999-2000); Frankenmuth Noon Rotary Club president (1992-93), Frankenmuth Downtown Development Authority founder and board member since 1983 (past secretary and current treasurer) and more.
David and his wife Carol have two sons: Mark and his wife Margaret and their daughter Anna; and Chris and his wife Sarah and their two children, Mya and Owen.
422116