Top Stories
Holiday Waste Collection
Stan Bozich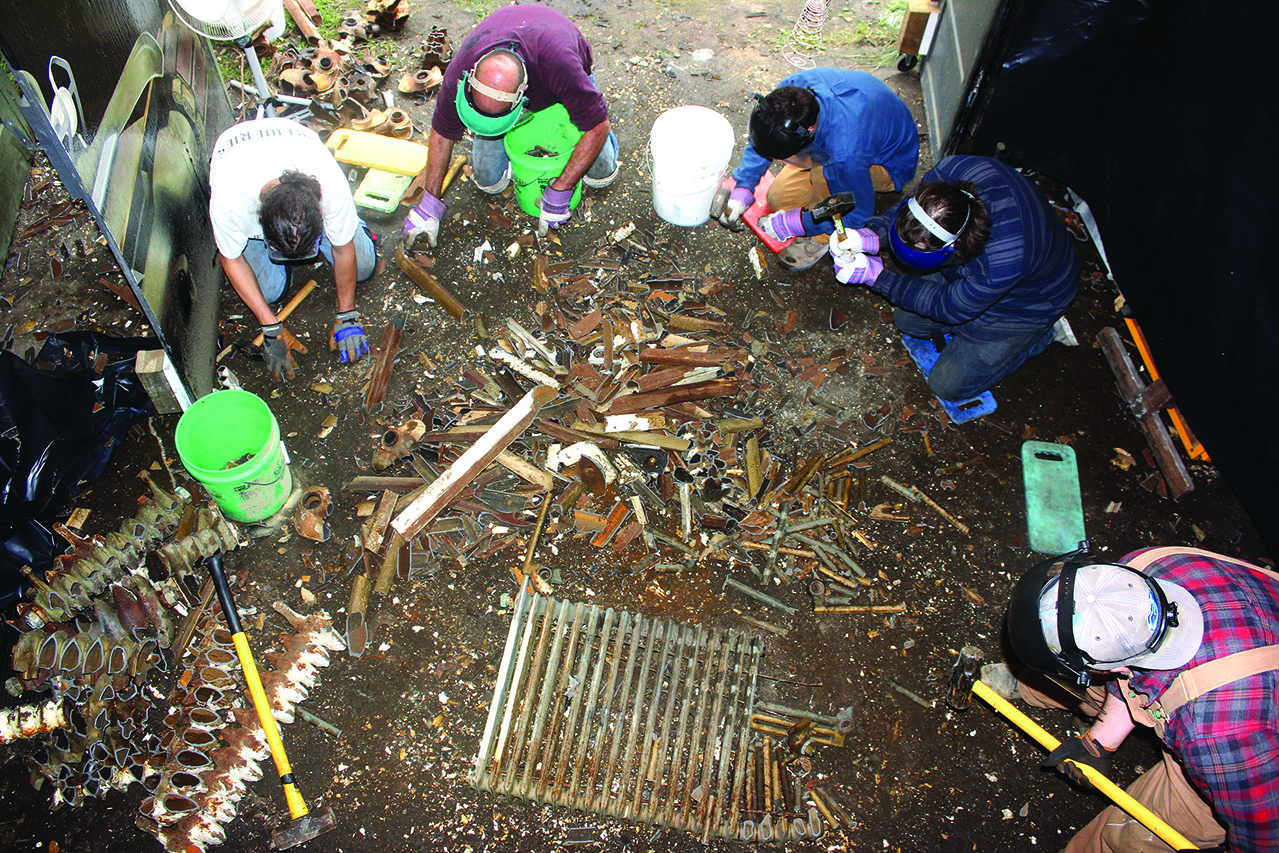 OVER 2,500 POUNDS . . . of cast iron radiators were smashed into small pieces for this weekend's Frankenmuth Iron Pour in Heritage Park
Art Council's Iron Pour to heat up Michigan's Big Country Festival
Things are going to heat up at Michigan's Big Country Fest this weekend.
The Frankenmuth Arts Council will be conducting a pair of iron pour demonstrations in Heritage Park on Friday and Saturday, October 19-20. The pours will begin at approximately 6pm and end around 9:30pm. The event is free to the public.
Several Frankenmuth-area artists are excited for the event and began preparation for the pour earlier this month, breaking iron. The artists involved include Stephen Hargash, Billy Budd, Gary Gavit, Mitch Hoffman, Matt Helsius, John Martinez, Mark Adams, Russ Roessle, Sean Gallagher and more.
The artists gathered at the Martinez Art Studio in Bridgeport to break up approximately 2,500 pounds of cast iron radiators into small pieces which will be melted down and recycled into a sculpture at the Frankenmuth Iron Pour.
The basic premise of an iron pour is the recycling of cast iron. In this process, scrap cast iron is repurposed by first being broken into small fragments and heated until molten.
The molten metal is them poured into a hardened sand mold which has been custom-carved by an iron pour participant. Once the metal has safely cooled, the resultant artwork can then be removed; a process not unlike soap or candy making.
"It is a spectacular event to witness as the furnace is fired up and the molten metal is poured into many molds created by community participants and local artists," Hargash said.
On Friday and Saturday morning in Heritage Park, scratch tile workshops will be held for participants who have registered for the events. The workshops will be held 9am until 2pm both days.
"They will learn how to create custom molds for the casting process," Hargash added.
Suggested uses for custom-made cast iron art pieces are stepping stones, a name or address plaque, or any fun item to display.
The cost to design a mold is $65 and doing so does not require an art degree to make scratch tile. Space is limited. Persons should visit the Arts Council website, www.frankenmutharts.org to register or for more information.
The Arts Council also recognizes and thanks the Frankenmuth Women's Club and the Saginaw Arts and Enrichment Commission for their support in bringing the Iron Pour to the community.
925226