Top Stories
Police Report
Frankenmuth Farmer's Market
Frankenmuth Fire Dept.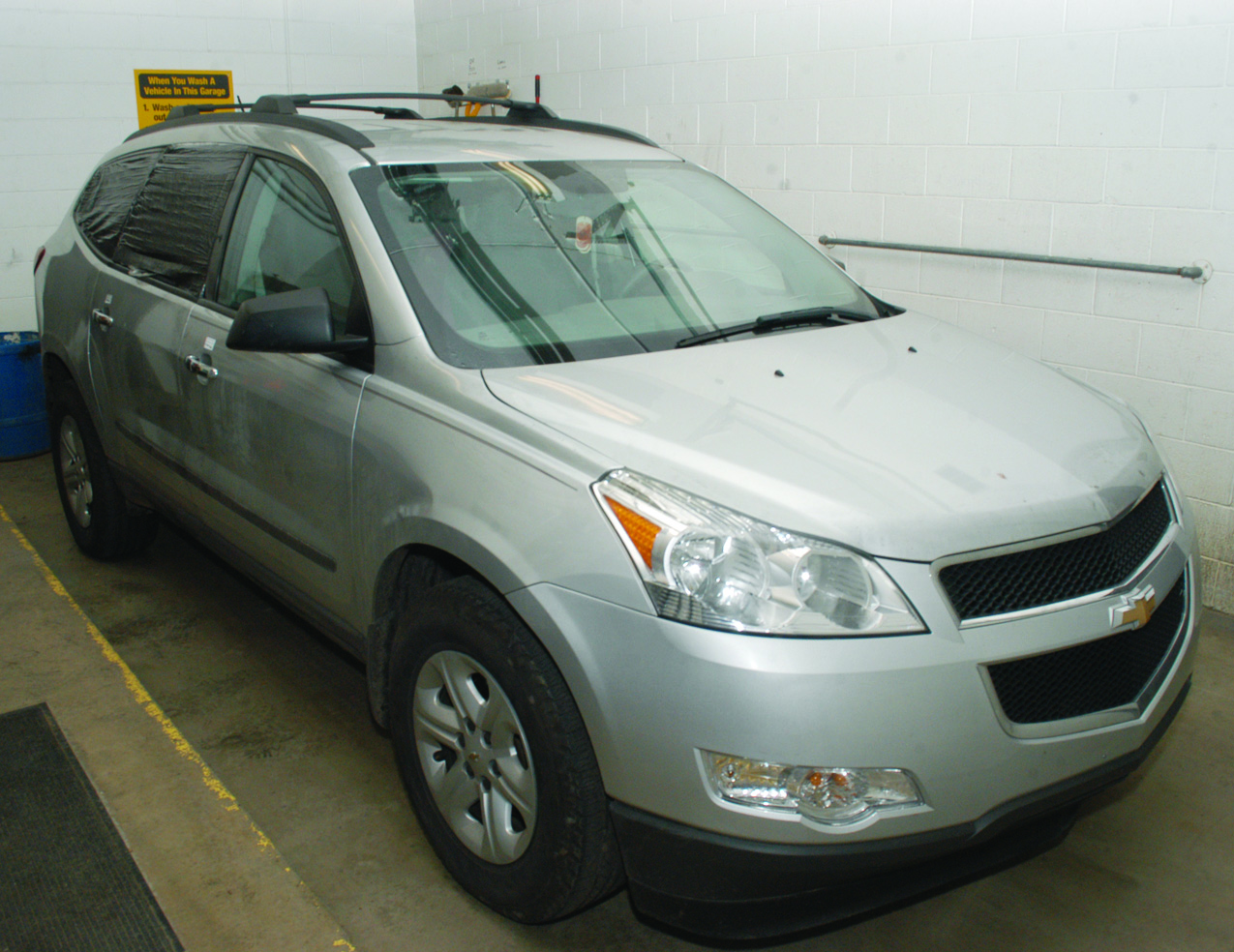 FPD END LARCENY RING: The Frankenmuth Police Department, working in cooperation with Saginaw, Thomas and Tittabawassee townships and their police departments, ended a string of vehicle break-in larcenies that have been taking place in their respective jurisdictions since September. When the larcenies began in Frankenmuth on Friday, December 5, the four agencies formed a task force, set up surveillance and rounded up four Saginaw men early Sunday morning for their roles in 17 larcenies here as well as other locations in western Saginaw County. Above, the FPD is in possession of a silver Chevrolet Traverse, which was used to commit the crimes. The vehicle is beat up, with the passenger side windows broken. The vehicle is being processed as evidence. (News photo)
FPD round up four suspects in area vehicle larcenies
Four Saginaw men are now in the Saginaw County Jail following their involvement in vehicle larcenies in the Frankenmuth area.
Beginning at 8am Friday, December 5 and wrapping up early on Sunday morning, December 7, Frankenmuth experienced 17 known larcenies over that period of time.
On Friday, vehicles in the Dehmel and Tuscola roads area were entered. Early Saturday morning, Frankenmuth Police Department officers received calls from vehicle owners in the Beyer and Warnick road areas and on Sunday morning, the foursome entered cars and trucks in the Kingsbrook subdivision.
These four men are believed to be the same suspects who committed similar crimes in the Saginaw, Thomas and Tittabawassee townships as far back as September, 2014.
"This began coming to fruition over the past months. All the detectives in the county meet once a week at the prosecutor's office to discuss the hot topics in their areas," FPD Chief Don Mawer said. "This has been one of the hot button topics for a while."
As they began their investigation, they developed a person of interest and formed a task force made up of Frankenmuth, Saginaw and Tittabawassee township officers.
The task force gathered and surveillance began at 1am Sunday, December 7. The officers tailed the person of interest from Bond Street in Saginaw, following them to Genesee and Block roads in Frankenmuth where they parked in the St. John's Lutheran Church parking lot. The four left on foot and law enforcement continued to follow their moves.
"Their vehicle was a beat-up silver Chevrolet Traverse, with black plastic taped across the back window. We wanted to pick our spot to stop them because we learned they may be in possession of a stolen hand gun," Mawer explained.
Officers followed their vehicle to Dixie Highway where they made a stop at the Speedway gas station in Bridgeport. At that point, all four men got out of the car, giving officers confirmation of how many persons were in the vehicle.
They got back in the vehicle and officers stopped them on Dixie Highway, near the I-75 overpass. Just before making contact with them, a hand gun was tossed out the window.
All four suspects were arrested and taken into custody. They remain lodged in the Saginaw County Jail and will face multiple charges. All have a long list of prior convictions.
The suspects, all Saginaw city residents, are ages 25, 17, 16 and 15. Ironically, the 16-year-old turned 17 on Monday; he may be waived to face charges as an adult, Mawer noted.
The stolen property from the Frankenmuth larcenies was recovered from the vehicle.
By 4:30am, with search warrants in hand, officers searched one suspect's home on the west side of Saginaw. Recovered was another stolen hand gun, laptop computers, Ipads, GPS units, televisions, purses, wallets – all which link the suspects to additional larcenies and burglaries in the aforementioned townships.
"Searches of the other three suspects' homes also resulted in stolen items being seized. In addition to these larcenies, the suspects were involved in stealing mail from mailboxes, primarily looking for Christmas cards with gift cards and also credit cards," Mawer said.
Most of the vehicles were unlocked, however, Mawer said some were broken into.
"We had some vehicle owners' call and tell us someone went through their vehicle's interior but did not take anything," Mawer noted.
Saginaw County law enforcement agencies remind citizens to remove valuable items from their vehicles and lock them up. Agencies also encourage citizens who see suspicious activity in their neighborhoods to call 911 so officers can respond.
"They were here on Friday and we were aware of the activity on Saturday. They just got greedy and came back Sunday," Mawer concluded.
489877