Home
Thank you for reading our abbreviated version of the
Frankenmuth News
In our 110th year!
VOL. 110 No. 9
Wednesday, September 2, 2015
------------------------------------------------------------------------------------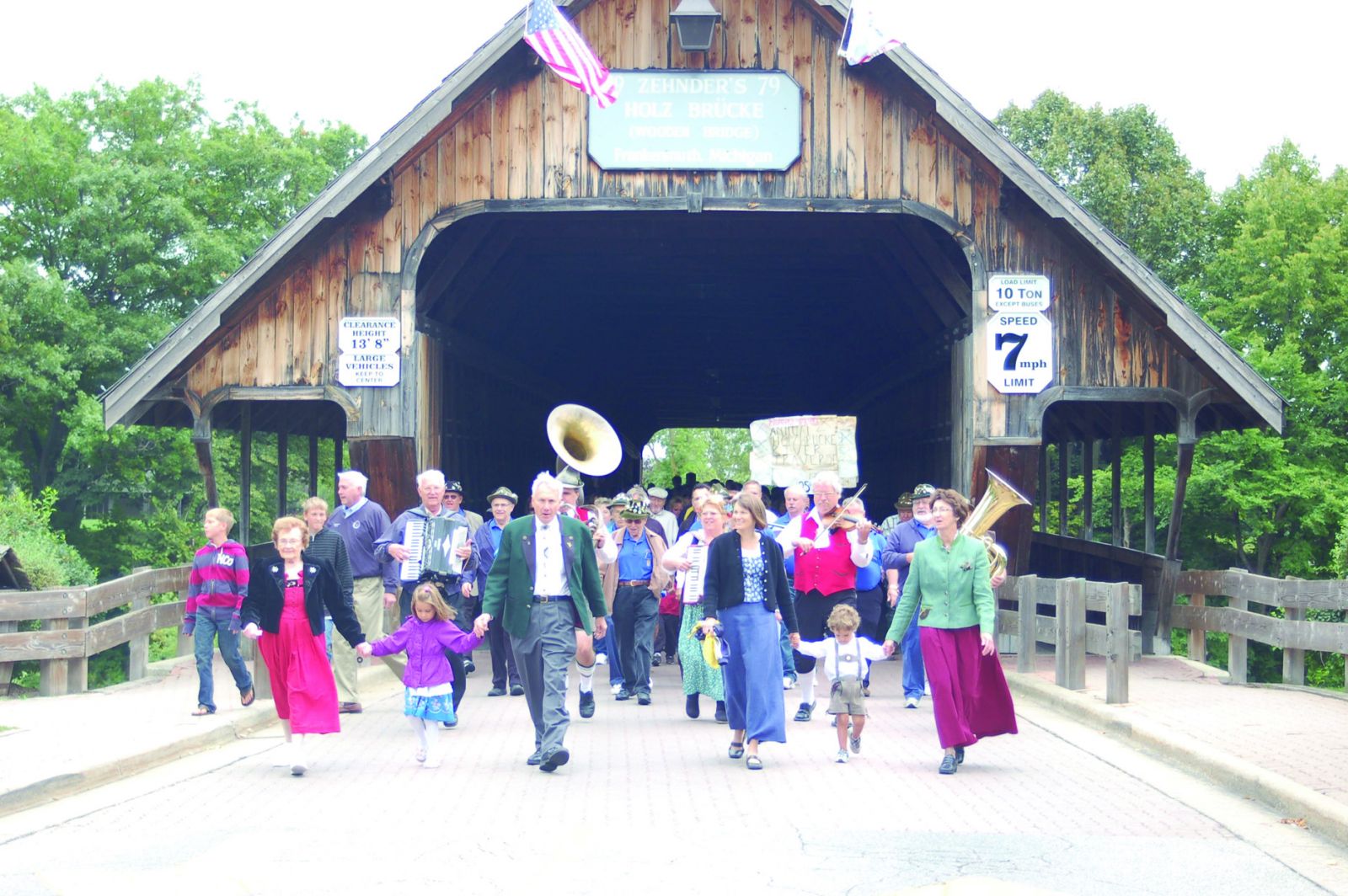 Holzbrucke Traverse founders to be honored by Bavarian Inn family
Twenty-eight years ago, Al and Louise Schneider, their children and close friends gathered at their East Tuscola Road home and created Frankenmuth's own Labor Day Walk.
In 1986, the Schneiders created the first annual Holzbrücke Traverse, complete with a leader sign and Louise's first-aid kit – a cooler filled with Black Label beer.
The 29th annual Holzbrücke Traverse will take place at high noon on Monday, September 7. In past years, as many as 300 Frankenmuth-area residents and guests have gathered on the east side of the wooden bridge around 11:30am.
As legend has it, Al and Louise were at home, chatting and the topic of Labor Day and the annual Mackinac Bridge Walk came up. Al and Louise decided that since Frankenmuth had its own iconic bridge, that they should start their own bridge walking tradition.
The walk grew in numbers over the years. Today, the Bavarian Inn Restaurant's Zehnder family helps promote the walk over the recently-refurbished, 35-year-old wooden span.
The Schneider family still leads the pack, with the Zehnder family, Bavarian Inn's own Linda Lee on accordion and the 28-year-old Frankenmuth Gemütlichkeit Club adding instrumental and vocal music.
The walk takes about five minutes, as the crowd crosses the Cass River from east to west and spills into the Inn's south parking lot and settle in at the Fischer Platz. Many of the walkers stick around to quench their thirst, grab a bite to eat and to enjoy the singing and playing by Linda Lee and the Gemütlichkeit Club.
This year's walk will be specially dedicated to Al and Louise. Louise, a Frankenmuth School District teacher, passed away in August 2000. Al passed away in May of this year at age 88.
l was an active member of the community who had a knack for bringing people together for parties, dances and other activities," Bavarian Inn President Bill Zehnder said. "His bringing people together for that first bridge walk in 1986 has now become one of Frankenmuth's most popular events of the year."
Zehnder said special recognition will be given to the Schneider family in the form of a plaque presentation.
All are invited to attend, rain or shine, to enjoy the unofficial end of the summer holiday.
C L O S E D FRIDAY!
The Frankenmuth News office will be closed on Friday Sept. 4, to observe Labor Day. We will be open 8am-5pm on Labor Day - Monday Sept. 7.
The advertising and editorial deadline will remain as Monday at 5pm.
683514