Home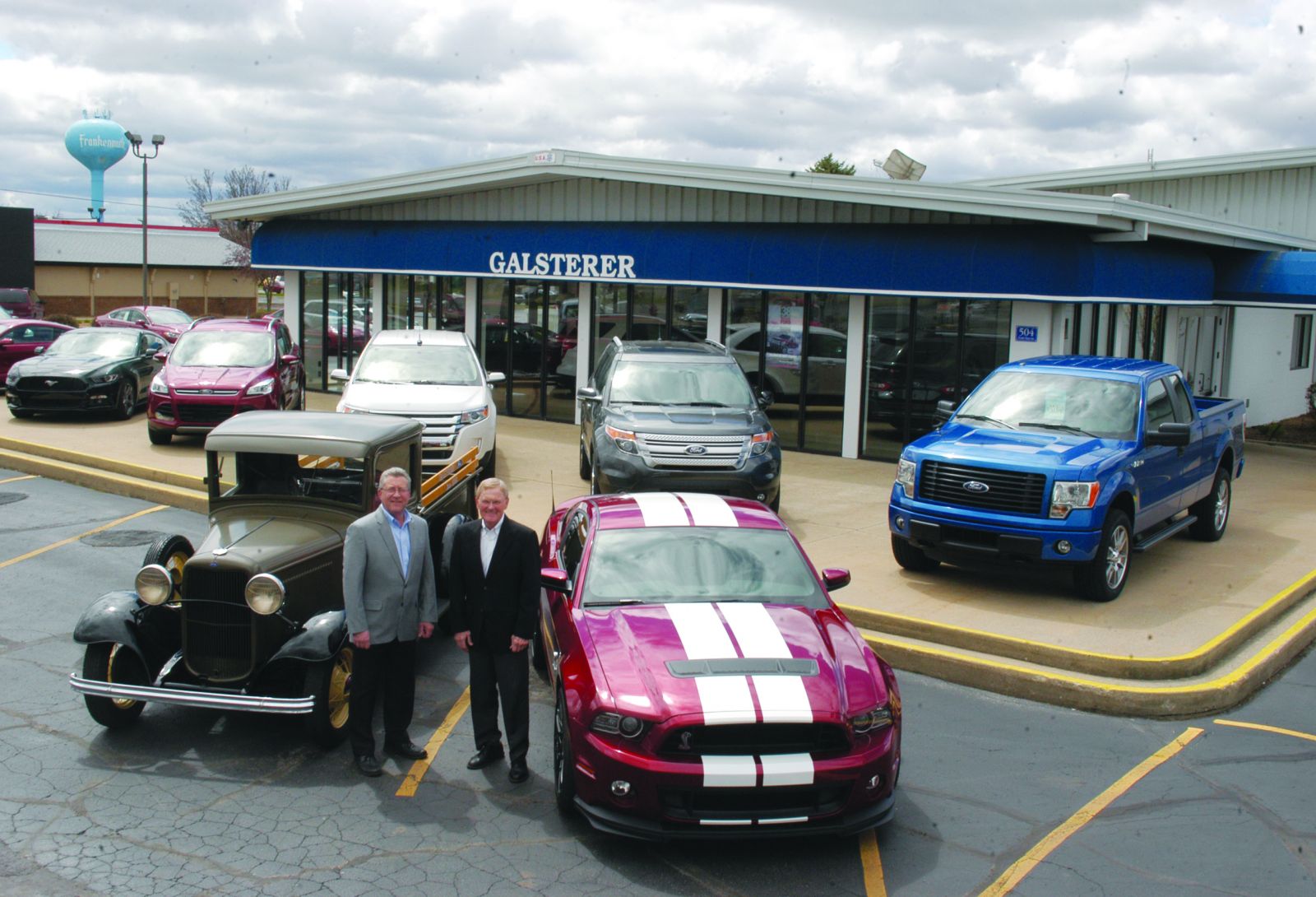 GALSTERER BROTHERS PREPARE FOR SALE: Robert and Mike Galsterer, pictured above, are selling Galsterer Motor Sales, with the LaFontaine Automotive Group purchasing the dealership. The deal will be official on Friday, May 1 and the new name will be LaFontaine Ford of Frankenmuth. (News photo)
Galsterer Ford ends its 97-year history
LaFontaine Automotive Group to take over the dealership on May 1
For nearly 100 years, the Galsterer Ford dealership has been a very large part of the Frankenmuth community.
Taking care of their customers, employees and being good stewards in town were important to the three-generation family.
With that in mind, brothers Mike and Robert Galsterer searched for the proper 𠇏it" as they prepared to turn over the family firm to new owners.
LaFontaine Automotive Group, based in Highland, will officially purchase and take over Galsterer Motor Sales, Inc., 504 North Main Street, on Friday, May 1.
While Mike will retire that day, Bob will stay on for the next three years, working in sales and assisting in marketing the dealership to the community.
"I've been considering retirement for the last three years, but I just was not ready yet," Mike said.
Over that time, the Galsterers were approached by a number of dealers in the state. They𠆝 tell Mike and Bob that when they were interested in selling the store to let them know.
With none of their next generation interested in the car business, finding the right 𠇏it" was very critical to Mike and Bob.
"The most important thing in this process was to sell the dealership to someone who will take care of our employees, our customers and believe in the legacy built in this town. We have a wonderful city and I believe it to be important to continue that legacy here in Frankenmuth."
Mike, age 66, plans to enjoy his retirement with his wife, Carolyn, and visit his daughter Victoria and her family in California, especially over the winter months. He'll likely hit the golf course a few more times as well.
Bob, age 62, will assist the owners, Mike LaFontaine Sr. and his wife, Maureen, and their son, Ryan LaFontaine, who is the firm's chief executive officer. The trio will be here Friday to officially sign the ownership papers.
"We interviewed a number of interested dealers and we knew we needed the right fit. We feel they are the best to carry on our business and be a good match for our community," Mike noted.
LaFontaine Ford of Frankenmuth will be the official new name of the dealership. They will only sell the blue oval models. Mike pointed out the Mercury line has been gone for a while and the Lincoln nameplate will not be a part of their line.
The LaFontaine Automotive Group was founded nearly 40 years ago and currently has 19 franchises in nine locations across southeast Michigan, employing over 1,000 people. According to their web site, "The 'LaFontaine Family Deal' offers a customer more than the best price on a new or pre-owned vehicle. It is the attitude and approach to business developed and nurtured by the LaFontaine family."
The store locations include Highland, Fenton, Dearborn, Commerce Township, Dexter, Saline, Ann Arbor, Lansing and Gladwin.
Mike said that all the staff is staying on and that is the way the LaFontaine family wanted it, as well as the Galsterers.
"That was important to me and to them. I did not want them to come in and wipe out the staff. They will add staff only as growth continues," Galsterer added.
LaFontaine is buying all the property and inventory. Area residents should look for a quick influx of new and used cars and trucks arriving early next month.
"The five-month process began back in December and they have an aggressive plan. They want to take it to the next level in sales and increasing inventory," Mike said. "Their mantra is to take care of the customer, get in on repeat business and be involved in every community in which they have a dealership."
The family visited Frankenmuth and they told the Galsterers "they are impressed with this city and it was one of the reasons they chose to come here."
The LaFontaines also have expansion and remodel plans for the location in the near future.
"It has been one heckuva ride. I've enjoyed every day here and this has been my home. Running a small business is a hands-on operation. I was very fortunate to have wonderful parents and work along side my dad and brother Bob," Galsterer concluded.
653110