Eagles Sports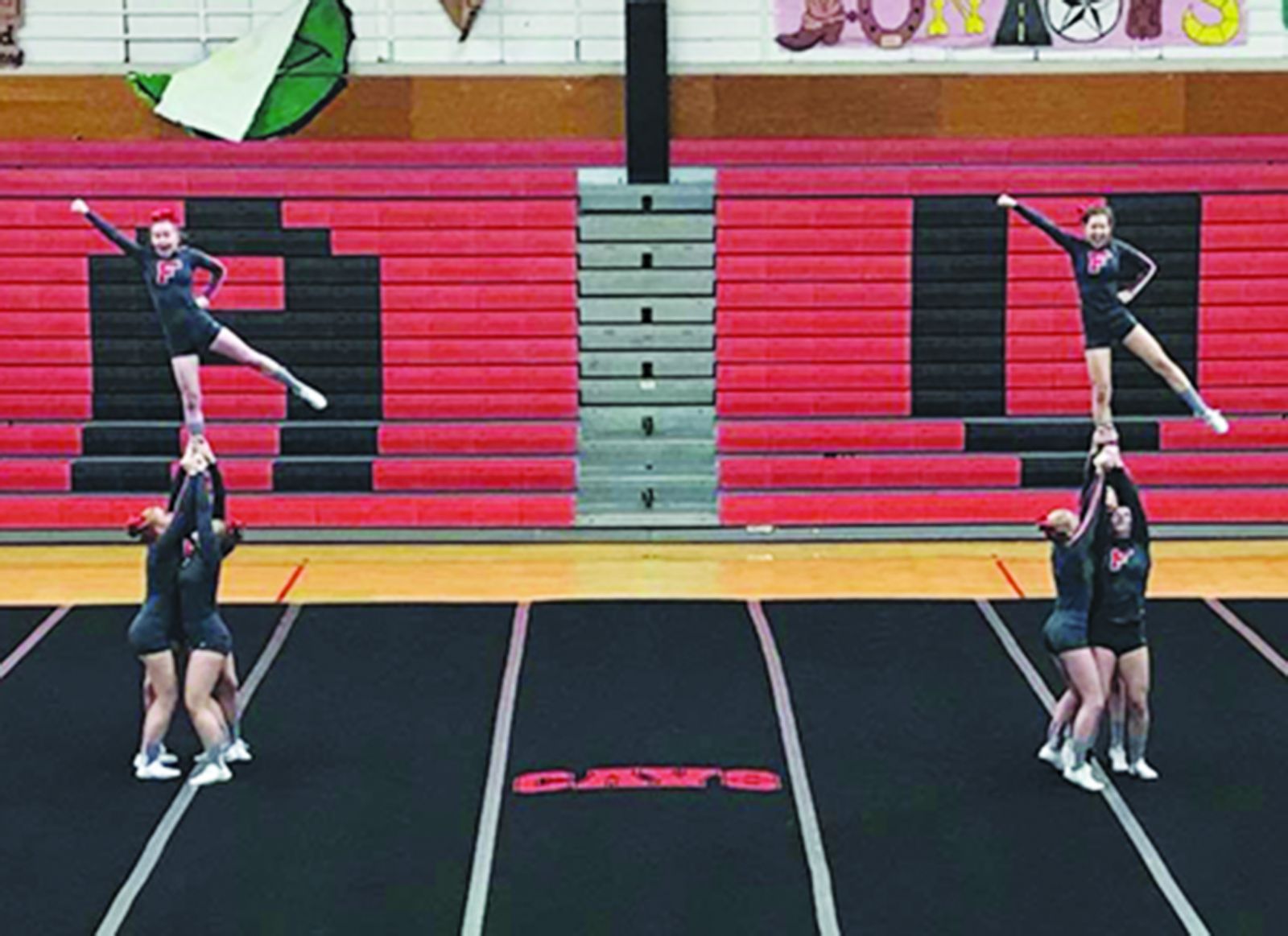 RECORD-SETTING DAY: The Frankenmuth varsity competitive cheer team competed well at the Fenton Invitational, taking third overall at the event and setting school records for scoring on the day.
FHS cheer team sets school record; district this weekend
The Frankenmuth varsity competitive cheerleading team recently wrapped up its regular season, celebrating some success over the recent weeks.
The team traveled to the Fenton Invitational and they set school records each round, including their overall score.
"We raised our round one score to 217.8, our second round to 188.7 and our third round to 292.5, bringing our overall total to 698.9. This score landed us third overall at the invite, while securing second in our division behind Lake Fenton," FHS Coach Brianna McKenna said.
The momentum from Fenton should carry over for the upcoming district.
"Our Fenton Invite was a pivotal moment for Frankenmuth competitive cheer. AS a team, we made changes to help increase our performance and overall score," McKenna explained. "Our hard work and dedication has paid off. With this new record under our belt and small changes being made this week, the Lady Eagles show great promise for this weekend at districts. If we stay focused and utilize practice time, we are hoping to secure a spot at the regional."
The Lady Eagles will travel to Shepherd this Saturday, February 17, for MHSAA Division 3 District No. 17. The meet will begin at 4pm.
Competing schools include Alma, Birch Run, Carrollton, Escanaba, Frankenmuth, Freeland, Gladstone, Kingsley, Midland Bullock Creek, Remus-Chippewa Hills, Shepherd and Tawas.
A win at Shepherd will send them to the MHSAA Division 3 Regional No. 6 at Rockford at 6pm.
The Division 3 State Finals will be held at 6pm Saturday, March 3 at the Delta Plex in Grand Rapids.
We're glad you took the time to check out the abbreviated version of our paper. To read more, you can find The Frankenmuth News at local news stands or click on the "subscribe" tab.
166263