Eagles Sports
Lady Eagle Basketball
FHS Boys Bowling
Winter softball pitching clinic
FHS Girls Bowling
"Battle of the Fans V"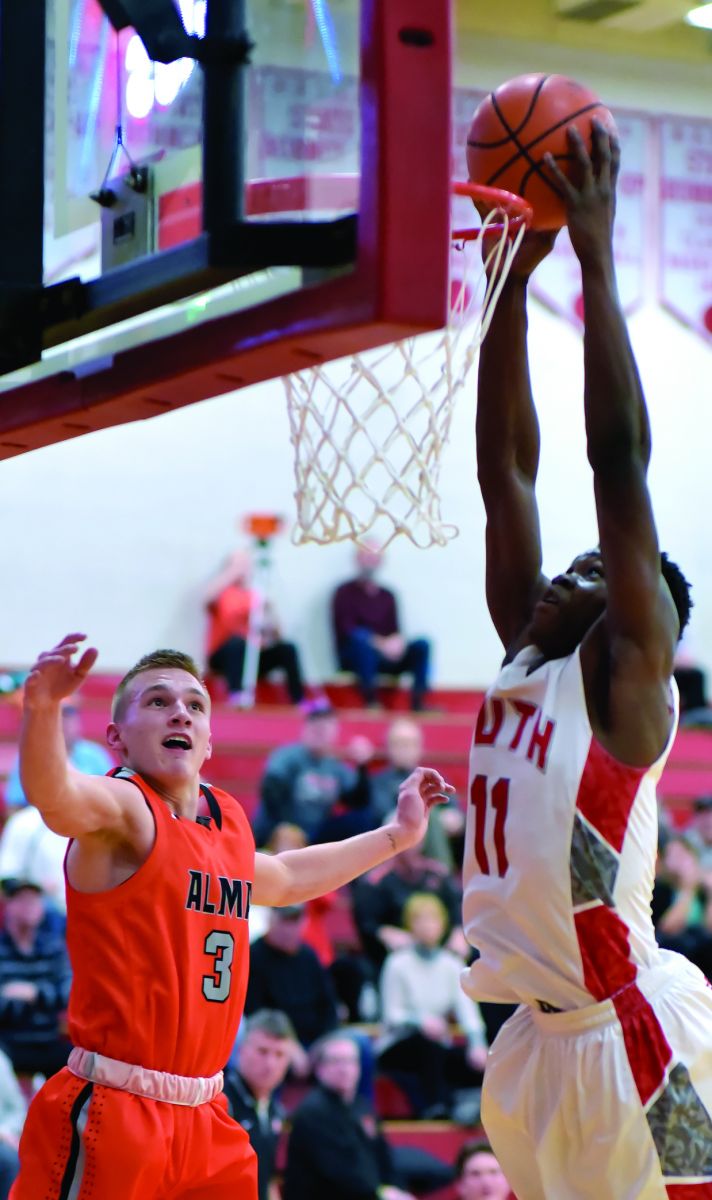 SUPER MARIO! Frankenmuth varsity boys' basketball player Mario Whitley goes up for a dunk against Alma during last Thursday evening's TVC East-Central Divisions crossover contest. The host Eagles defeated the Panthers, 67-57. (Photo courtesy/Kevin Gregory)
Tops in the TVC!
Eagle cagers sweep league crossover tilts
The Frankenmuth varsity boys' basketball team is on top of the 24-team Tri-Valley Conference this season.
The Eagle cagers took on the top teams from the West and Central divisions last week and the East Division leader came out with wins.
On Monday, January 25, 'Muth traveled to West leader Ithaca and stung the Yellowjackets, 64-42. On Thursday, January 28, the Eagles fended off Alma from the Central Division, 67-57.
Frankenmuth is 11-0 and will resume TVC East play on Friday, February 5, when North Branch comes to town. A road showdown with Bridgeport is set for Wednesday, February 10, followed by FHS Comehoming on Friday, February 12, when Essexville Garber visits.
Against Ithaca, Frankenmuth started slowly with a 10-9 first-quarter lead before running off a 22-9 second quarter for a 32-18 lead heading into halftime.
The lead was extended to 22 points a 19-11 third-quarter scoring spurt.
Ten Eagles scored and 11 had at least one rebound in the contest. Mario Whitley paced 'Muth with 18 points and nine boards. He was 7 for 11 from the floor, made his lone three-point attempt and was 3 for 3 at the free throw line.
Zac Janson poured in 11 points, including a trio of three-point shots. His well-rounded game included five rebounds, two steals and two assists. Aaron Haubenstricker also netted 11 points on 4 for 6 shooting and a 2 for 2 performance at the free throw line. He also pulled in five caroms.
Grant Reene scored six points, had a team-high four steals and dished four assists. Grant Bronner handed out four assists.
For the game, FHS was 19 of 42 from two-point range (45 percent), 6 of 22 from the three-point line (27 percent) and 8 of 10 from the free throw line (80 percent). 'Muth registered 40 boards, two blocked shots, 14 steals, and 16 assists while committing just eight turnovers and seven fouls.
Alma visited FHS and the pesky Panthers were always making runs at Frankenmuth throughout the game.
The Eagles led 19-10 after one quarter of play and stretched it to 34-21 at halftime. The game remained close, with FHS owning the third quarter, 17-16, and then looked on as Alma made a fourth-quarter surge, 20-16.
Balanced offense saw three players in double figures and one just missing that plateau. Whitley scored 22 points on 9 for 12 shooting from the floor, including a trey shot and 3 for 4 free throw shooting. The sophomore also made it a double-double evening with 11 boards to go with five steals and four assists.
Reene amassed 13 points, shooting 6 for 8 from the floor with a three-point shot. He joined Whitley with five steals. Janson was only 1 from the field but the one made shot was a trey and he was near perfect at the free throw line, going 8 for 9 from the charity stripe. Haubenstricker chipped in with eight points.
Sam Bookmyer finished with eight boards and took one charging call.
For the game, Frankenmuth was 21 of 35 from two-point range (60 percent), 4 for 11 from the three-point line (36 percent) and 13 for 17 from the free throw line (76 percent). The team collected 30 rebounds, 12 steals and 16 assists while committing 17 turnovers and 15 fouls.
On January 22, the 'Muth cagers wrapped up the first half of TVC East action with a 68-34 win over Otisville-LakeVille.
While the game story was printed, the official statistics were being finalized.
Frankenmuth was 22 of 37 from two-point range (59 percent), 1 of 11 from the three-point line (nine percent) and 21 of 38 from the free throw line (55 percent). The team collected 34 rebounds, three blocked shots, 15 steals, 12 deflections and 15 assists while committing 14 turnovers and 16 fouls.
To enjoy the Frankenmuth News in its entirety - click on the "subscribe" tab
121411