Eagles Sports
Eagle Kickers
FHS Ladies Golf
Eagle Season Passes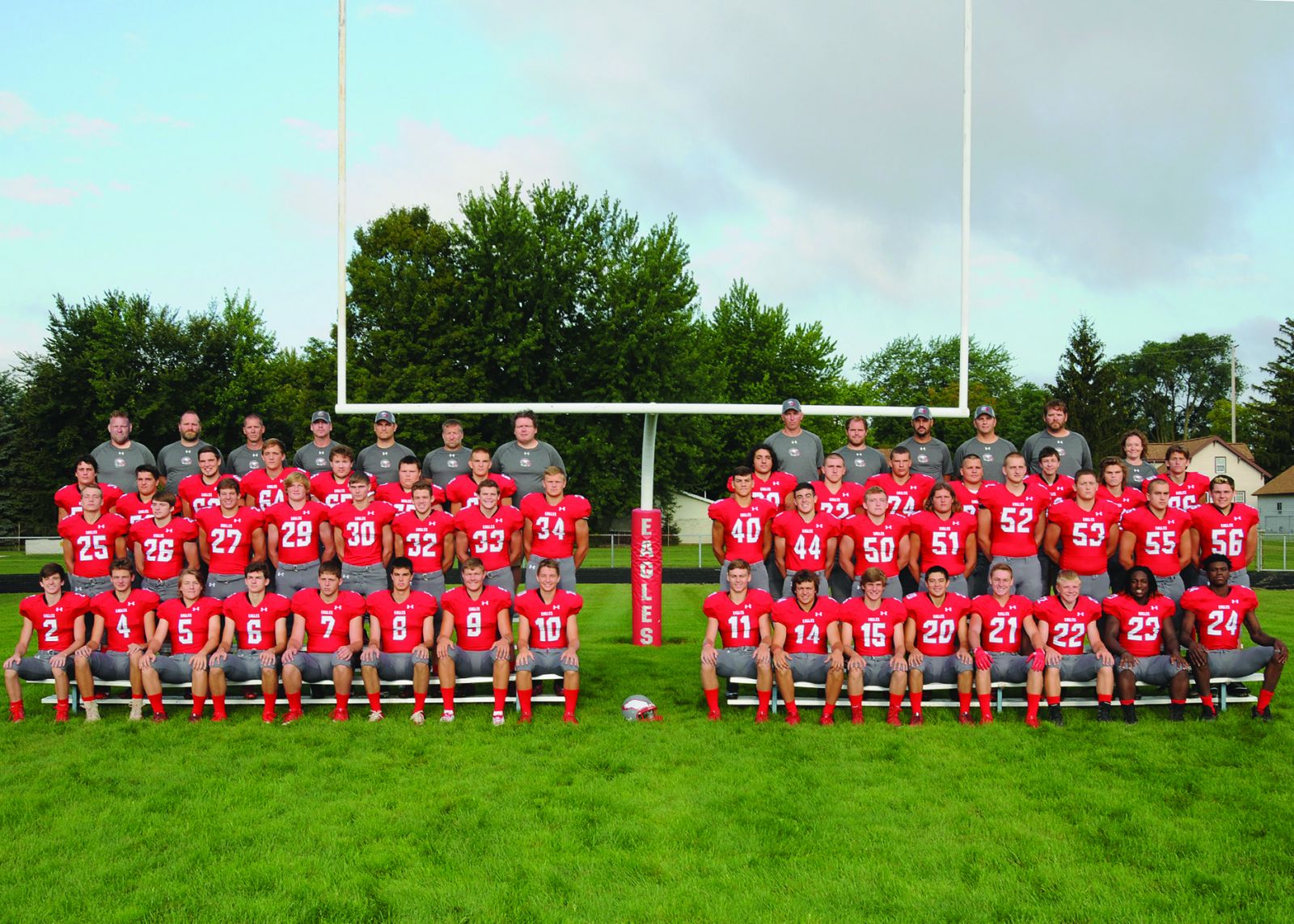 THE 2017 FRANKENMUTH VARSITY FOOTBALL TEAM . . . will kick off the season at Bay City Central on Thursday, August 24. (Photo courtesy/Rummel Studio)
"One More" is the motto of the Eagle football program
For over 60 years, Frankenmuth varsity football has been a tradition of excellence.
Among the top programs in the state since the mid-50s, the Eagles are eyeing a sixth consecutive Tri-Valley Conference East Division title this October and a continued run into the MHSAA playoffs.
The 2016 team finished 11-2 overall, falling in the MHSAA Division 5 state semifinal to Upper Peninsula power Menominee, 23-20, in their backyard.
The team does lose 16 seniors who were a big part of the past two years. Gone are Jared Davis, Daniel Mills, Jack Lee, Grant Bronner, Adam Schneirla, Dillon Bullock, Kris Roche, Michael Crary, Dan Stone, Coreyon Chandler, Collin Anderson, Jack Gilmour, Nathaniel Lambeth, AJ Horonzy, Joe German and Aaron Haubenstricker.
Davis and Roche are continuing their collegiate careers at the University of Michigan and Mount Union College, respectively. Germain is also college football bound. Stone is on the Michigan State University track and field team and Lee was a perfect 45 for 45 on extra points last season and is heading to a service academy.
"It happens every year in high school football. Kids graduate and move on. They are not free agents and we can't resign them," fifth-year FHS Head Coach Phil Martin said. "That's one of the best parts of our tradition. The leaders of last year teach the leaders of this year."
The entire program has approximately 100 kids, with the varsity numbering 46 seniors and juniors. During the summer, well over 60 participated in conditioning and other community-related activities, including set up and tear down of the Frankenmudder and performing indoor and outdoor maintenance at the American Legion Post #150.
Martin and the coaches also organized an early June golf outing at The Fortress and a Schaefer & Bierlein test drive fundraiser. The staff used those funds to purchase four tackle rings, pop-up sleds and new shoulder pads.
"We've had some very competitive, intense practices this August and the new equipment is helping out with technique and tackling angles," Martin said.
Martin credits the freshmen and junior varsity coaches for preparing the kids for the varsity level. This year's junior has never lost a regular-season game.
"Lower level football is there to teach what we do at the varsity level. When they reach the varsity, that is the time when execution and performance are expected," Martin stated.
Last week, the Eagles traveled to Goodrich to take on the Martians, Detroit Cody, Flint Powers Catholic, Swartz Creek and Ortonville-Brandon in a scrimmage.
"We were the smallest school there but we competed and played well," Martin said.
Martin cites roster depth and overall team speed has team strengths. He even singled out the offensive and defensive lines for their quickness.
"Our overall team speed is better than last year, plus we still have pretty good size, thanks to the hard work the players put in during the summer," Martin added.
As for any perceived weaknesses, Martin said the staff and players are focusing on the little things from game preparation to technique on the field.
Frankenmuth will continue to be an option-based offense with an aggressive odd-front defensive scheme.
"Our kids play hard and they compete," Martin said.
Senior Zach Jacobs will be the starting quarterback, taking the reins from 2016 signal caller, Jared Davis. The left side of the offensive line returns, including seniors Evan Geyer and Ben Schuler. Hunter Schluckebier and Ryan Kahn will be primary receivers.
Defensively, Garrett Rezmer returns from injury at middle linebacker. Luke Scharrer has moved to defensive end, Khan and Schluckebier are in the secondary and Ethan Yatsevich is also back on the defensive line.
"We have a whole bunch of juniors who played quite a bit last year who are really ready to fill in and help the team," Martin noted. "Plus, this group of seniors has been a part of five extra games due to the playoffs while the juniors got quite an orientation during last year's playoffs."
Kevin Heinzman will handle the kickoffs, field goals and extra points while Nate Stone is the punter.
Rezmer, Khan, Schluckebier and Schuler are the 2017 team captains. The team motto is "One More."
FHS opens with two away games, including game one at Class A Bay City Central. The Wolves have over 1,150 students and the team was 6-3 last year. They have one of the best running backs in the area, if not the state, in Dequez Weathers. Martin says his defense cannot allow Weathers to continue to get yards after contact.
"They were a young team last year so they return quite a few starters both on offense and defense," Martin said. "This will be a playoff type game, playing in a historic site, Elmer Engel Stadium, which was voted one of the top 10 stadiums in the state of Michigan."
Game two will be at North Branch and their Wing-T, trap style offense. Game three is finally home, on Auto Fest weekend, against always stout Essexville Garber.
A trip to nonconference Tawas is September 15, a team 'Muth played twice in the early 1990s and were victorious both times. The Braves replace Otisville-LakeVille who left the TVC East after last season.
Bridgeport and their second-year coach visit here September 22. Martin said their skill players are getting better and they are starting to put it together.
FHS travels to Birch Run and for the first time in many years, Coach Chris Gilliam will not be on the sideline. The Panther game is September 29.
The TVC schedule makers left the 'Muth-Millington showdown until October 6. The Eagles visit the Cardinals this season and as usual, the East title will likely be on the line.
FHS finishes with two home games, against Caro October 13 and Freeland October 20.
Caro is Homecoming and will be the last time they will meet for the foreseeable future. The Tigers and North Branch are both leaving the TVC East after this school year. Carrollton will join the East next season.
The Falcons have become quite a season-ending rival over the past three years. Overall, Frankenmuth is 3-3 lifetime but 1-4 over the past two years – facing them in the 2015 and 2016 playoffs.
𠇏reeland brings great competition. We have a lot of respect for each other and we look forward to getting back at it against them this year," Martin said.
Logan Raymond is the lone addition to the coaching staff, joining as a JV assistant. The rest of the staff includes Kyle Bierlein, Dave Compau, Marcus Cornelius, Jerry Drake, Kraig Houthoofd, Brent Lynch, Todd Sprowl, Marc Stasik, Jaime Tackabury and Joseph Uebler.
Julie Felten returns as the athletic trainer.
Team members are, seniors Daniel Szczepanski, Stanley Trombley, Zach Jacobs, Austin Johnson, Luke Scharrer, Hunter Schluckebier, Karrington Riggins, Mario Whitley, Ryan Khan, Kevin Heinzman, Garrett Rezmer, Ethan Yatsevich, Evan Geyer, Kyle Robinson, Josh Moore, Brady Storm, Ben Schuler, Tyler McDonald, Sean Reider and Adam Ragan.
The juniors are Zach Padgett, Joby Ostrofsky, Tyler Somerville, Conner Campbell, Nick Hartman, Drew Martin, Jacob Brownell, Ben Stephens, Hunter Zsolzai, Ronald Mandeville, Gavin Bierlein, Alec Yagiela, Nate Stone, Rodrigo Dominguez, Jackson Bauer, Ross Berkobien, Logan Smith, Josh Vanderhaar, Willie Keinath, Josh Hauck, Bryant Klemmer, Andrew Harris, Sergio Llamas, Christopher Trevino, and Austin Haubenstricker.
We're glad you took the time to check out the abbreviated version of our paper. To enjoy the Frankenmuth News in its entirety - click on the "subscribe" tab.
155473