Eagles Sports
Sports Registrations
Sports Physicals Offered
Lady Eagle Tracksters
FHS Golf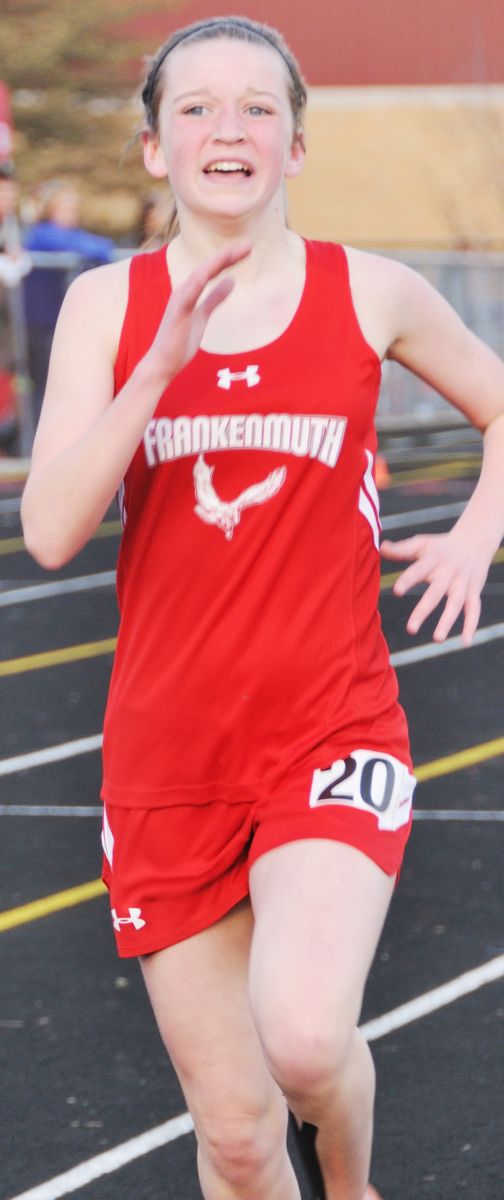 AUTUMN GENTNER . . . competes in the 1600-meter run at the Marco Marcet Invitational. (Photo courtesy/Kriss Olgren)
Lady Eagle track team on track for state crown run
'Muth takes 2nd pace at 14-school Marcet Invite
The Frankenmuth varsity girls' track and field team demonstrated last Thursday that they will be making a serious run at MHSAA and MITCA state titles this season.
The Lady Eagles hosted the 14-school Marco Marcet Invitational April 17 and, competing well, took second place to last year's MHSAA Division 3 state champs, Pewamo-Westphalia.
The Pirates scored 102 points to 'Muth's 90 points. Flushing was third with 73.50 points, followed by Midland High with 73 points.
The meet was much closer than the 12-point margin. Frankenmuth was disqualified in the 800-meter relay and FHS Coach Mike Snyder believes his foursome would have won the event if not for it.
"Winning that relay would have given us 10 points and pushed PW back two points, which would have resulted in a tie meet," Snyder pointed out.
"It was a great competition and we are glad that so many strong teams came to compete, including Division 1, 2 and 3 teams. It was a good benchmark to see where we stood with Pewamo-Westphalia and we feel pretty good about what we saw," Snyder said. "We know we did not win this meet, but we know we are strong and will finish the season stronger. The state finals will be exciting this year."
Senior Angie Ritter led the way for the Lady Eagle thinclads, including a season-best in the 200m dash. She took second place finish at :25.87, just .43 from her personal best time.
Ritter also won the 400m dash (58.51) and was the anchor runner in the 1600m relay which took second place at 4:18.61. Both times were season-best marks. Midland won the 1600m relay and PW was third.
"It was great to see all the girls hit their split goals with Angie clocking a 57-second split. Angie has already met the top TVC, regional and state standards in the 100m, 200m, 400m, 800m relay, 1600m relay and high jump in TVC and regional," Snyder pointed out.
Freshman Emily Janson led off the 1600m relay and was joined by Rebekah Barger and Cadi Palmreuter.
Junior Sydney Bronner placed second in the 100m hurdles (:16.04) and took second in the 300m hurdles (:46.97).
"Sydney is coming along in the low hurdles as she is learning to stay lower over the hurdle and when she takes that next step, uses her speed between hurdles . . . I don't think anyone will be able to touch her in that event," Snyder stated.
The 100m school record is held by current University of Michigan trackster Emily Wee with a :15.12. The :46.97 is a personal record for Bronner.
Bronner was third in the high jump with a 5-foot-0 leap.
Junior Sarah Beulla placed second in the 100m dash with a personal-best time of :12.64 – smashing her old mark of :13.27.
"Sarah had a great race and we can only see her getting faster. She is looking very strong and has a great work ethic in practice," the coach said.
Beulla also placed third in the 200m dash with a season-best :26.87 and was a member of the 400m relay team, with a fourth-place clocking of :53.26 – a season best. Beulla was joined by Barger, Palmreuter and Stephanie Lambeth in the relay.
Other medal winners who were among the top six included sophomore Keri Frahm with a personal record in the discus (110-11) and Barger and Palmreuter as a member of the 400m relay team and second place 1600m relay team. Palmreuter ran a :14.18 in the 100m dash.
Lambeth also placed third in the pole vault at 9-6 and fifth place in the long jump at 15-8.
Lady Eagles with personal or season best marks included junior Sarah Janson in the shot put (34-02) and in the discus (83-9).
"This is a great accomplishment for Sarah and she is heading in the right direction," Snyder said.
Senior Melissa Olgren had a personal-best time in the 3200m run with a 13:45.24, senior Emilie Schmitt set a season-best time in the 300m hurdles with a :55.5. Sophomore Kylie Ostrofsky had her season-best time in the 3200m run with a 15:04.99, and freshman Autumn Gentner took 16 seconds off her season-best time of 6:10.47 in the 1600m run.
Sophomore Makenzie Walter set a personal record in the 1600m run with a 6:12.29 and first-time runner, sophomore Katelynn Harris, broke the three-minute barrier in the 800m run with a personal best 2:54.91 – 18 seconds faster than her last race. Freshman Carissa Schurr is proving to be a strong 800m runner with a personal-best mark of 2:43.84.
𠇌oach Rob Hayes is doing a great job with the distance runners, showing them that they can all be strong runners and hit marks that they have only thought about," Snyder noted.
The Lady Eagles will host TVC East Division newcomer Otisville-LakeVille today (April 23) at 4pm. They will travel to the Clare Invitational at 4:30pm Friday, April 25, the junior varsity will compete at Saginaw Michigan Lutheran Seminary at 4pm Monday, April 28 and then head to Essexville-Garber for a 4pm league meet on Wednesday, April 30.
90948