Eagles Sports
FHS Spikers
FHS Cross Country
FHS Netters
1989 Football team to be honored
First Year Success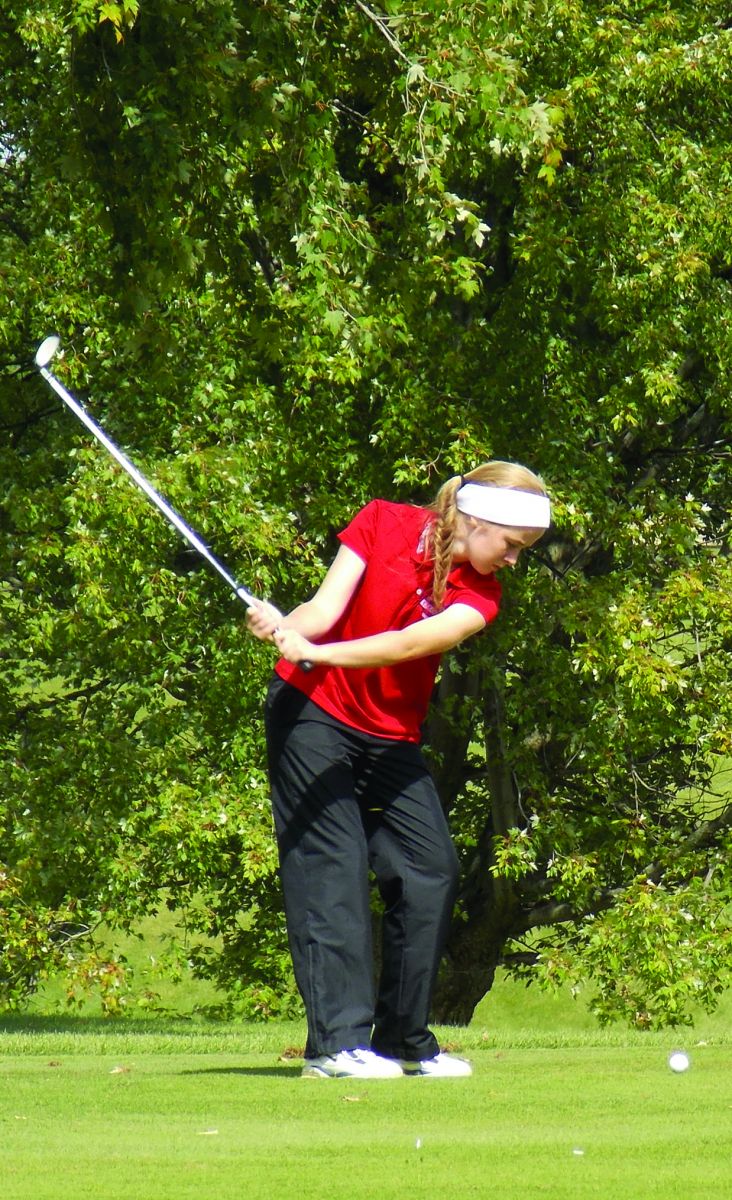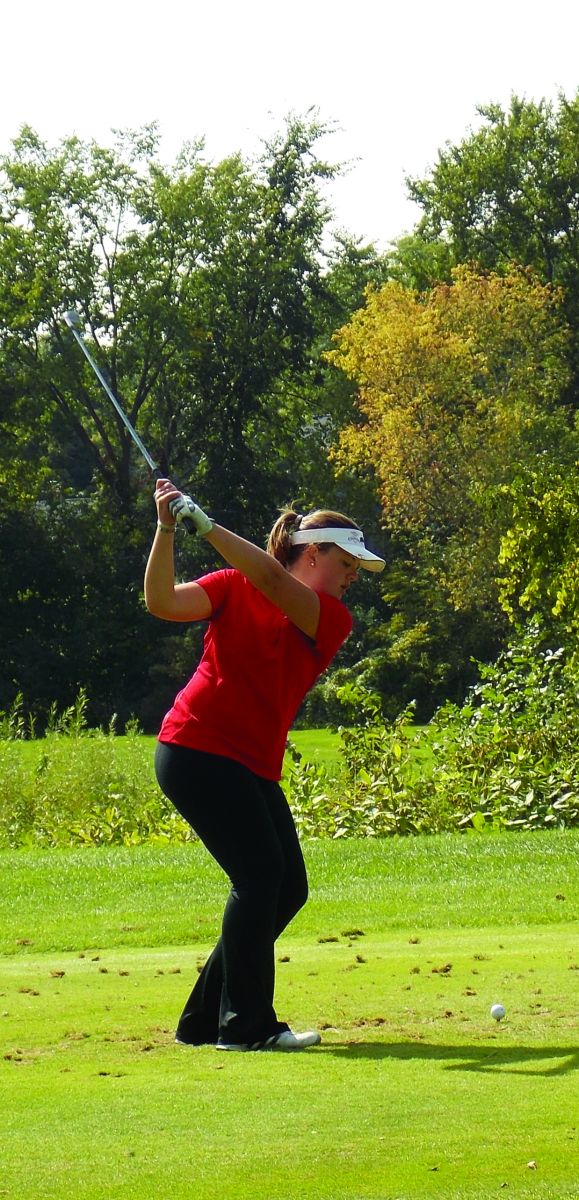 DAVISON INVITATIONAL: Frankenmuth varsity girls' golf team members Laurin Keyes (left) and Abby Vaughn (right) compete at the Davison Invitational September 19. FHS finished second at the Sept. 22 TVC Jamboree at Alma.
FHS golfers win third Jamboree
The Frankenmuth varsity girls' golf team played its busiest week of the season and remains in the hunt for the Tri-Valley Conference title.
FHS played three TVC Jamborees in four days and once the strokes were counted, the Lady Eagles are just two strokes behind Freeland, 1,578 to 1,580.
The Lady Eagles began the week with a match at the Pine River Country Club, hosted by Alma on September 22.
Playing without Meg Watkins, who was ill, the 'Muth linksters took second place with a score of 212. Freeland, winners of the past six league titles, was first with a 192.
Junior Shayna Schneider tied for match medalist, firing a 45. Senior Carly McMartin carded a 55, Senior Abby Vaughn and junior Ann Curtis each shot 56, freshman Shelby Schneider came in with a 60 and junior Audrey Blegen posted a personal best 64.
In exhibition play, freshman Olivia Lipe and Meghan Leach and sophomore Alli Farago played well, with Lipe shooting a personal best 61.
Two days later, FHS hosted their Jamboree and played like they knew the course, taking first place with a 193. Freeland was second at 208.
"The team's collective strength was staying away from the troubling parts of the course. We played the more technically difficult back nine and I was particularly happy how the team made it through some of the more tricky holes," FHS Coach Matt Vaughn said.
Watkins returned to the line up and despite opening with two bogies and a triple bogy in the first four holes, recovered to par the last five for a 41.
"It was great to see her recover and finish of the round in such a consistent fashion," Vaughn stated.
Shayna Schneider shot 47, playing mostly trouble-free golf. On hole No. 17, she needed to hit a left-handed shot as the ball was next to a tree.
Abby Vaughn shot a personal course low at 49.
𠇊lthough this isn't her best score ever, it may just be her best round because of the relative difficulty of The Fortress," Vaughn said. "She played mostly bogy golf which is a reflection of her improved course decision making."
McMartin opened the day in good shape but faltered slightly toward the end of the round, on one hole in particular, and shot 56.
"If not for that hole, she would have had a score very close to her personal best on this course," the coach noted.
Shelby Schneider came in the clubhouse with a 59. Vaughn said she found difficulty early but settled in to finish with consistency.
𠇊 strength for her at The Fortress was her putting," Vaughn said.
Ann Curtis shot a 58 and has been called Miss Consistency this year as she is rarely 2-3 strokes away from her average.
"Her putting and ball striking continue to improve and we are excited to see what she does in the future," the coach said of the junior player.
Frankenmuth followed a day later with another TVC Jamboree triumph, this time at Hidden Oaks Golf Course, hosted by St. Louis.
Playing a course most of the team had never seen, the Lady Eagles registered a school record score for nine holes at 183. Freeland was second at 195, leaving the Falcons two strokes in the lead with the final match set for Freeland's Twin Oaks Golf Course on Thursday, October 2.
Shayne Schneider was medalist with her personal best score of 38.
Shayna started out six over par for the first three holes but turned it around with an eagle on the par-5 sixth hole which started a run to go the rest of the round four under par.
"Shayna carded just 11 putts for the round," Vaughn pointed out.
Watkins fired a 42. She was two-over par after six holes when she literally lost a ball in a tree which triggered a short rough patch of play. Still, Watkins score was just one stroke off her average.
Abby Vaughn collected her third, sub-50 round of the week. Her chipping was key to the scoring, including two chip-in shots.
McMartin posted a 58, finding a bit of trouble in the middle of the round. Her putting was solid, Vaughn noted.
Shelby Schneider's 54 was highlighted by holing out a 50-yard shot on No. 7, which brought on a strong finish.
Sophomore Hannah Turk, who a week later shot a personal best 48 at the Pleasant View Golf Course, fired a 59.
"Hannah got off to a rocky start but showed resolve in the end to go two-over par the last three holes," Vaughn said.
The current TVC team scores heading into the final Jamboree are as follows:
Freeland – 1,578
Frankenmuth – 1,580
Ithaca – 1,744
Chesaning – 1,811
Alma – 1,889
St. Louis – 1,964
Valley Lutheran – 2,159
Caro – 2,238
Garber – No score given.
Shayna Schneider and Freeland's Tori Argyle are in a tight race for first place for the All-TVC first-team honors. Argyle is averaging 44.43 strokes per Jamboree and Schneider is at 44.83. Watkins is not eligible due missing two Jamborees and one invite.
The team's final regular season action is the Midland Invitational, set for Friday, October 3.
97954