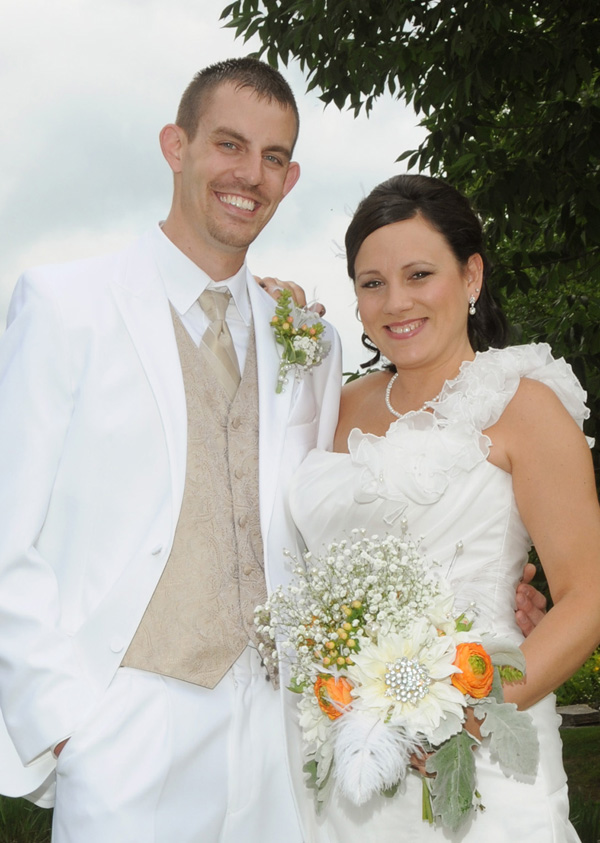 Mr. and Mrs. Timothy H. Rogner
Jeanna Marie Zehnder became the bride of Timothy Howard Rogner on June 29, 2013. The beautiful secluded east corner of Heritage Park, Frankenmuth was the site for their wedding. Jeanna is the daughter of Jonathan (Kathy) Zehnder, Frankenmuth, and the late Jill Zehnder. Timothy is the son of Fredrick and Diane Rogner, Frankenmuth. Pastor Caleb Adams of St. Lorenz Lutheran Church performed the ceremony. Trumpeters were Michael Reinbold and Jacob Hecht.
Juli Cleary, sister of the bride, and Jodi Reinert, sister of the bride, served as matrons of honor. Bridesmaids were Shelley Mixter, cousin of the bride, Stephanie Rogner, sister of the groom, Amy (Borek) Kohlmann, Lora Swifney, Julie Palm, and Janelle Kolhagen, all friends of the bride. Hostess was Erica Cunningham, friend of the bride. Flower girls were Brooke Cleary, niece and goddaughter of the bride and Annabelle Kohlmann, goddaughter of the bride.
Timothy Nuechterlein, friend of the groom, served as best man. Groomsmen were Andrew Rogner, brother of the groom, Zak Sova, friend of the groom, Josh Cunningham, friend of the groom, Adam Weiss, friend of the groom and Jeffrey Lauman, friend of the groom.
The bride wore a Maggie Sottero, diamond white, A-line satin gown with an asymmetrical pleated chiffon overlay that swept across to the side waist, one shoulder strap of Swarovski crystal embellished flowers, with a corset back closure. She carried a tied bouquet designed by Tracie Kuck of orange ranunculus, babies breath, succulents, white Dahlias enhanced with vintage brooches, pearl and rhinestone sprays and white ostrich feathers.
The bridesmaids wore different styles, all in coordinating shimmery champagne color, knee-length with neutral shoes. They carried tied bouquets of orange ranunculus, succulents, baby's breath, pearl sprays and white feathers.
The ceremony included an aisle of rose petals, lined with flowers in bottle vases, attached to stakes along the aisle. Along the river was an arbor with flowing fabric and flowers. The guests seating was straw bales covered in linens.
A dinner reception was held for 325 guests in Heritage Park. Tent decorations included flowing white fabric from the tent poles, a ceiling of twinkling lights, white tables and chair covers with champagne colored accents and hundreds of candles.
The couple honeymooned in Houghton Lake and are now living in the Frankenmuth area.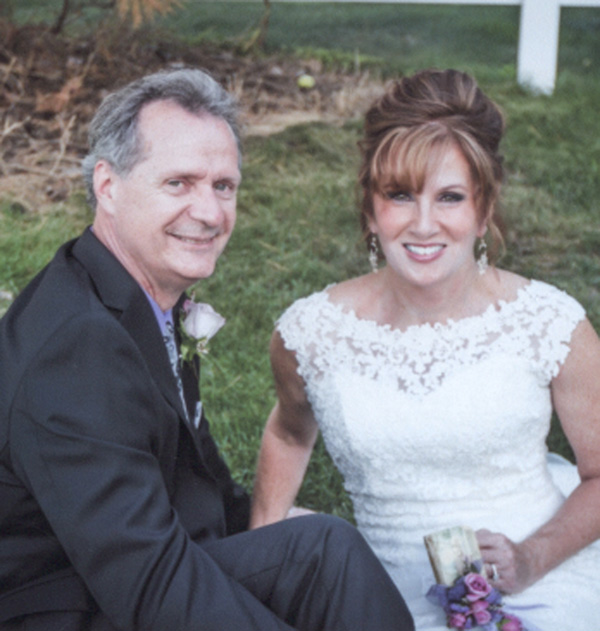 Mr. and Mrs. Anthony Pavlicek
M. J. Coughlin became the bride of Anthony R. Pavlicek on August 24, 2013 at the Apple Mountain Chapel in Freeland. Tony is the son of George and Kate Pavlicek, Birch Run. Elder Aaron Benkert officiated the ceremony. Corey Holland played keyboard, Ivy Holland played keyboard and was soloist and Steve Franko played flute and saxophone.
Matron of honor was Dianne Albaugh, sister of the bride.
Best man was Justin Pavlicek, son of the groom.
The bride wore an elegant, full length, sleeveless, ivory satin gown. It featured a sweetheart neckline with lace overlay accentuated with a deep V laced back extending into a chapel length train. She carried her mother's bridal prayer book adorned with cascading miniature pink roses, intertwined in the bouquet was her father's prayer rosary.
The matron of honor wore a shimmering satin, full-length, taupe colored dress with a matching three-quarter length sleeved jacket. She carried a bouquet of lavender alstromeria with her and the bride's mother's prayer rosary cascading from the arrangement.
A unity candle arrangement of lavender roses and white and purple daisies were placed on the chapel altar. Attached to the pews were ivory tulle bows accented with lavender sprigs. The reception table center pieces were lighted, vintage blue mason jars filled with miniature pink and white blossoms sitting on mirrored tiles surrounded by silver, mercury glass votives. An outdoor dinner and reception was held at the Apple Mountain pavilion in Freeland. Music was provided by the "Bromantics".
The couple took a short trip to the east coast and will honeymoon at a later date. They are now living in Birch Run.