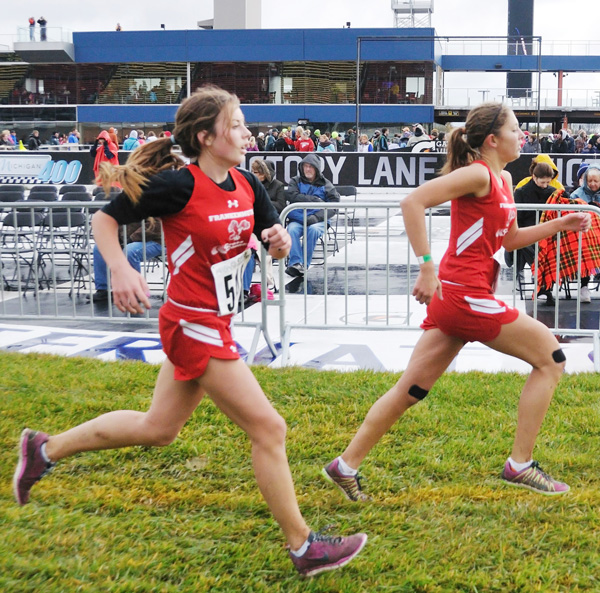 DOWN THE STRAIGHTAWAY: Frankenmuth varsity cross country runners Abi Samson and Abbie Wiles dash down the Michigan International Speedway during last Saturday's MHSAA Division 3 state finals in Brooklyn. The Lady Eagles took 21st place overall and were led by Emily Sievert's 16th place time (19:21). (Photo courtesy/Kriss Olgren)
Lady Eagle cross country team takes 21st place at state finals
The Frankenmuth varsity girls' cross country team traveled to the MHSAA's largest yearly tournament and came away with a pretty good performance.
The Lady Eagles competed in the MHSAA Division 3 state finals at Brooklyn's Michigan International Speedway on Saturday, November 2. All four divisions and eight total races -four boys and four girls – compete in the same venue.
'Muth finished in 21st place with 560 points. The last time the Lady Eagles qualified for the state finals was 2006 when they finished in 23rd place.
"Our girls had a great experience and ran well considering the cold, windy, rainy and muddy conditions of the course," FHS Coach Mike Snyder. "The 5K course starts in the middle of MIS, exits the speedway over a dirt pathway on the track, traverses outside of the speedway and finally re-enters the speedway back over the track with about three-quarters of a mile to go in the 3.1 mile race."
Shepherd won the Division 3 title with 120 points, followed by Benzie Central with 186 points. Caro was fifth with 230 points. Other area schools in the top 25 included Ithaca in 10th place with 260 points, Freeland in 23rd place with 571 points and Reese in 25th place with 611 points.
Senior Emily Sievert led the way for the Lady Eagles with her 16th place time of 19:21. A Division 3 regional champion a week earlier, Sievert competed with 239 runners and earned All-State honors as she finished among the top 30 harriers.
"Emily gave absolutely everything she had as she collapsed and needed assistance at the end of the race," Snyder said. "There were seven girls within three seconds of Emily's time as she pushed all the way through, crushing her last year's placement of 95th place."
The finish at MIS is a bit crazy as the final three-quarter mile is basically a race around the speedway curve into the straight-a-way which is at least one-quarter mile long.
"Coach (Fred Fitch) and I are very happy with Emily's performance. There are only a handful of girls from Frankenmuth that have the distinction of being an All-State cross country runner and Emily has joined that group," Snyder stated.
Sievert finished her cross country career as the second-fastest girls' runner in FHS history with her 18:59.8 personal record.
Senior Carly Hammond competed for the fourth time at the state finals and finished with a time of 21:47, good for 155th place.
"We are glad Carly was able to finish her cross country career at the state finals since she has experienced it three other times. Not too many girls from any school can say they qualified for the state finals all four years of high school," the coach noted.
Sophomore Mackenzie Walter clocked a 22:28 for 187th place.
"This was a great experience for Mackenzie even though the running conditions were less than ideal. Mackenzie has a great heart for running and it certainly came out as she out-kicked several girls at the end of the race. She has great determination and focus when she runs and those are attributes runners need to be successful," Snyder pointed out.
Sophomore Elisabeth Barrett was next for 'Muth, running a 22:50 for 195th place.
"Elisabeth will be back next season much stronger than she is now and this experience will certainly help her compete at a higher level that she is capable of," Snyder said. "Elisabeth has a lot of potential as a runner and we look forward to seeing her over the summer so she can get a great start of next season."
Senior Melissa Olgren finished 201st with a 23:08.
"We are glad Melissa could close out her final year of high school cross country at the state finals. She worked hard this season and deserved this experience before she graduated," Snyder stated.
Senior Abbie Wiles was 218th with a time of 22:54.
"Abbie had several injury challenges this year so Coach Fitch and I were very happy to see her come on strong at the end of the season and compete in the state finals. This is something she will remember long after she graduates," Snyder said.
Sophomore Abi Samson was right behind Wiles, taking 219th place with a 22:55 clocking.
"Abi has a lot of potential left in her and we can see it coming out as she runs over the summer in preparation for next season. Abi finished the season strong with several personal records set over the last few meets. The experience of running in the state finals will only help her next season," Snyder commented.
"It's an exhilarating experience for coaches and parents as the crowds lined up and cheer for the runners all the way around the 3.1 mile course. The runners' general comment after the race is that they did not hear anything as they are so focused on the task at hand, but the crowd noise has to lift them up in that final stretch," Snyder said. "We are losing four of our top seven runners to graduation but the positive side of this is that the other three girls that ran are sophomores and those four open spots will give other girls opportunity next season to experience the state finals."