FHS Track & Field
Youth Sports
FHS Ladies Golf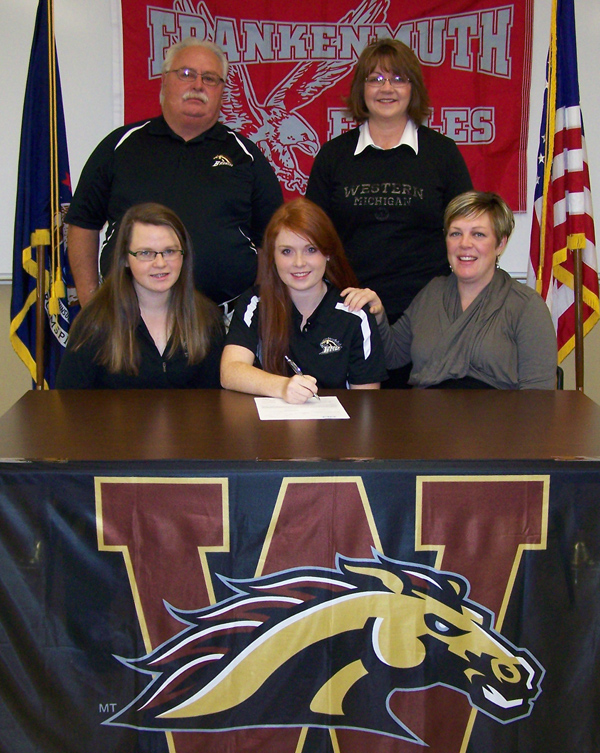 WATKINS BOUND FOR WMU: Frankenmuth High School senior Kaitlyn Watkins, seated in the center signed a letter of intent early Wednesday morning (November 14) to play collegiate women's golf for Western Michigan University next season. Watkins was a four-year club golf player for the Lady Eagles, leading them to a second-place finish in the TVC Jamborees in 2012 and a ninth place finish in the MHSAA Division 4 state finals. Seated to left is Kaitlyn's sister, Megan, and to the right, FHS Coach Kelly Kuhlman. Standing in the back is Kaitlyn's parents, Scott and Rosien Watkins. (News photo)
Lady Eagle golfers earn academic honors; Watkins signs with WMU
The Frankenmuth girls' club golf team enjoyed a good year on and off the course this past fall.
The Lady Eagles finished second in the Tri-Valley Conference to Freeland, took second place at the MHSAA Division 4 regional held at Perry's Greenbrier Golf Course and ended up in ninth place at the MHSAA state finals held in East Lansing on the Forest Akers West Golf Course.
Academically, the girls who played in the regional action earned All-State Academic honors from the Michigan Interscholastic Golf Coaches Association (MIGCA).
The players were Kaitlyn Watkins, Carly McMartin, Abby Vaughn, Samantha Przybylski and Shayna Schneider.
"I cannot say how very proud I am of this whole team," FHS Coach Kelly Kuhlman said. "They all accomplished so much this season and have so much to look forward to in the future, both in the classroom and on the golf course."
Additionally, Watkins received Academic All-State honorable mention for her work in the classroom and through her ACT score.
Watkins, the leading scorer in the TVC this season, also received All-State honors. She was honorable mention All-State her freshman year and this marks her third consecutive season as an All-State golfer.
Early this morning (November 14), Watkins signed her letter of intent to play golf at Western Michigan University next season. Cindy Trout is the Bronco's head coach.
Kaitlyn is the daughter of Scott and Rosien Watkins of Frankenmuth.
2561