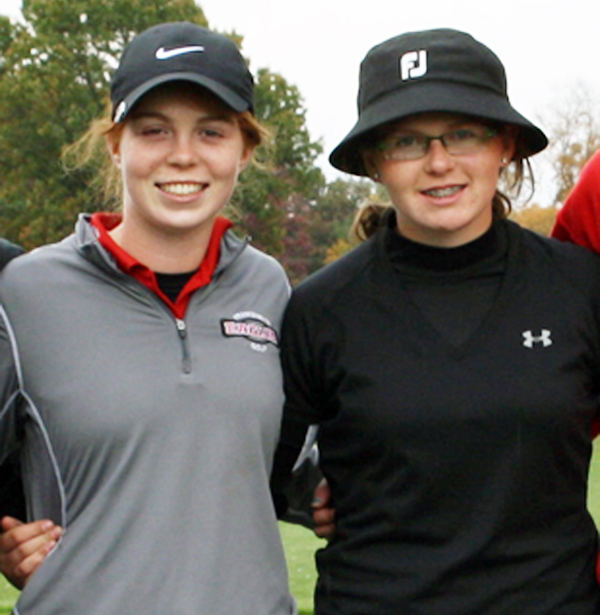 SHAYNA SCHNEIDER and MEGAN WATKINS took sixth and 17th place at the MHSAA Division 4 state golf finals Oct18-19 at Battle Creek's Bedford Valley Gold Course.
Freshman Meg Watkins 6th at MHSAA state golf finals
Frankenmuth varsity girls' golfers Megan Watkins and Shayna Schneider competed well at last weekend's MHSAA Division 4 state finals.
The two-day, 36-hole tournament was held at Battle Creek's Bedford Valley Golf Course.
Watkins, a freshman, and Schneider, a sophomore, qualified individually by finishing in the top three individual slots at the October 10 regional tournament.
Watkins shot a first-round 81 and a second-round 88 for a 169 total score, good for a sixth place individual finish.
Schneider opened with a 96 but an 86 on Saturday gave her two-day total of 182, good for 17th place.
On day one, both golfers started out strong and were in the mix to finish the day near the top. However, the last few holes served somewhat as a stumbling block for Schneider as she slipped to a position in the high 20s, in the field of 20 golfers, with a 96.
"Shayna qualified with an 87 to get into the tournament so she knew she was capable of better golf," FHS Coach Matt Vaughn said.
Watkins finished her first 18-hole round strong and raised some eyebrows in the clubhouse by carding an 81 as a freshman.
"Meg went to bed that night in second place and only four strokes behind the historically dominant senior Jacqueline Setas," Vaughn pointed out.
Setas, from Lansing Catholic Central, ended up winning the individual title with a 150. Grosse Ile won the team title with a 716.
Day two brought decidedly worse weather conditions. Shayna played a consistently strong game and it was moving day for her with her 86, improving her standing to 17th place.
"It was impressive to watch Shayna put it all together and score better on the second, more challenging day," Vaughn said.
Watkins started with a tight, accurate front nine that had her on pace to stay in the top three. She faltered slightly on the back nine but still surpassed her goal of finishing in the top 10.
"It was a good tournament and excellent showing by these young players. The state finals can be an emotional pressure cooker for a young player. I look for some exciting scores from both Meg and Shayna over the next few years. The outlook for the team's future is bright as we lose just one senior, Sara Farago, and we have several strong prospects and developing players in the pipeline," Vaughn concluded.
FHS finished its Tri-Valley Conference season in second place behind Freeland. The Falcons were the only other area team competing in Division 4. Freeland took ninth place with a 780.