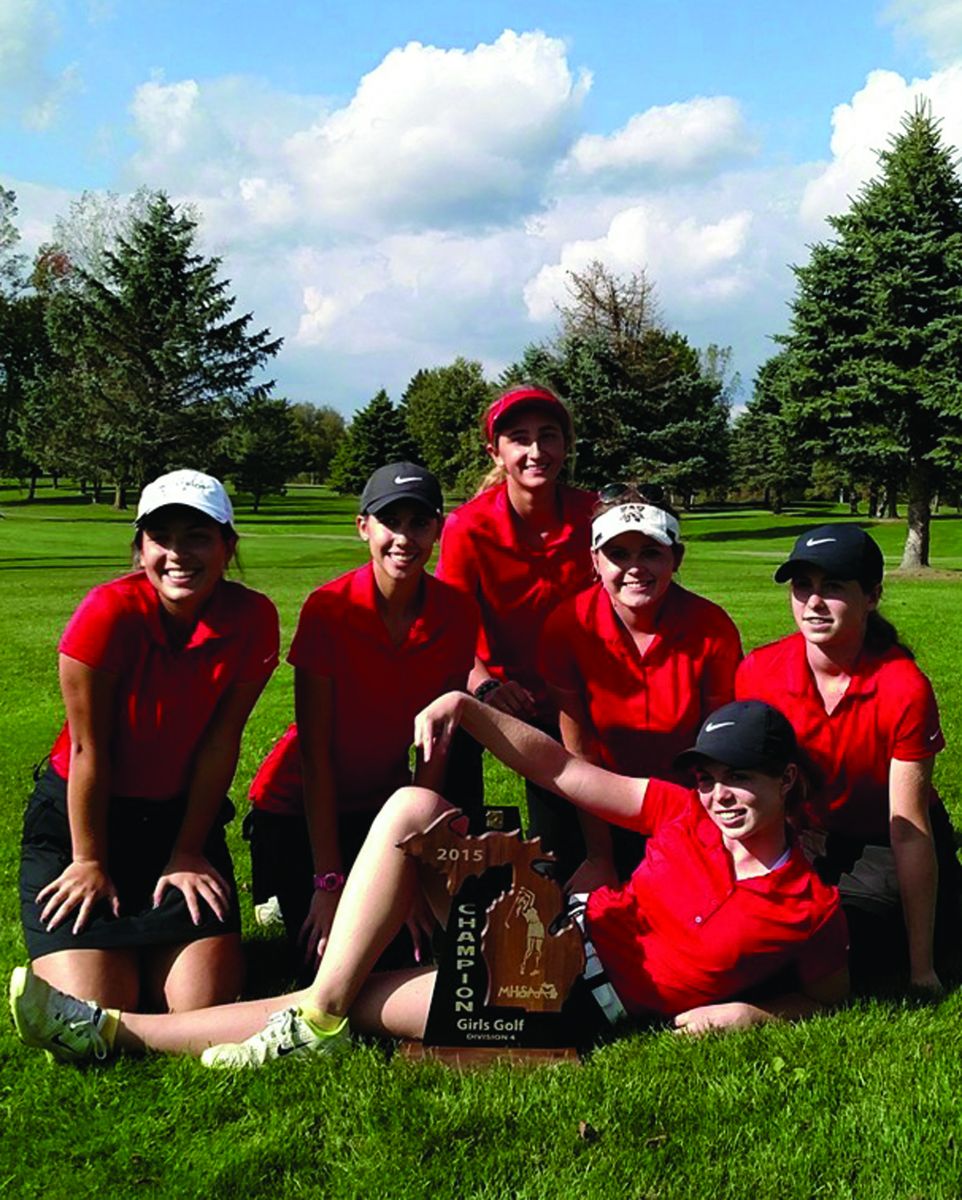 FIRST-TIME REGIONAL CHAMPS! The Frankenmuth varsity girls' golf team won its first-ever regional championship, held at Glenbrier Golf Course in Perry. Celebrating with the trophy are, from the left, Grace Smith, Hannah Turk, Sophia Lee, Meg Watkins, Shayna Schneider and Shelby Schneider.
Lady Eagle golfers win first-ever regional crown
FHS tops Almont by 11 strokes to advance to state finals
The Frankenmuth varsity girls' golf team continues to add more hardware during this impressive fall season.
The Lady Eagles have been a goal-oriented team this season as FHS won its first-ever MHSAA regional crown, capturing the Division 4, Regional No. 18 tournament. The 15-school, 18-hole match was held at Perry's Glenbrier Golf Course on Wednesday, October 7.
Frankenmuth scored 376 strokes, followed by Almont with 387 strokes and Freeland with 392 strokes. The top three teams in the region move on to the MHSAA Division 4 State Final, which will be held on October 16-17. The 36-hole event will be held at East Lansing's Forest Akers East Golf Course.
Only 12 players broke 100 on the day.
"We have talked about this goal for a couple of years. Their belief in them being able to win the regional tournament this year was so strong that it would have been a bit of a shock to them if they had not won," FHS Coach Matt Vaughn said. "I need to temper that a little so that it didn't drift towards arrogance but their mental programming and relentless preparation was able to net them a 376, an 11-stroke victory over Almont."
Junior Meg Watkins, for the second straight season, was the regional medalist, firing a 78 on the par-72 layout.
"It is a big deal to finish the end of the season tournaments with strong showings. It really helps when it comes to post-season awards and recognition," Vaughn stated.
Watkins reputation has been preceding her over the past two seasons increasing expectations.
"Meg came into the tourney as the statistical favorite. That can sometimes be a tough place to play from but she has handled it well. She had really good ball-striking and told me she had a game plan and she stuck to it," Vaughn noted. "That helped me. Meg needed to stick to her game plan because her putting was off. The rest of her game had to be solid."
Senior Shayna Schneider made it a 1-2 finish, taking second overall with an 84.
"Shayna had another solid day with only two real blemishes as she played her last regional tournament. Her putting was strong as she delivered the fewest putts on the team with 36," Vaughn said.
A couple of Shayna's highlights included a near tap-in birdie on the par-3 No, 14 hole and getting up and down to save par from 40 yards out on hole No. 2.
Sophomore Shelby Schneider carded a 105 and she told the coach she was hoping for a better performance.
"This course is a bit of a target-specific course. When your accuracy is off, it makes you pay quickly. On a slightly more open course, Shelby's score would have been much better," the coach said.
Shelby's highlights include sinking a challenging putt on hole No. 10, which was an 18-foot, slippery downhill breaking putt.
"The ball rolled in like it was simply going home for the night . . . it was a fun putt to watch," Vaughn added.
Junior Hannah Turk entered the clubhouse with a 109. She, too, felt she could have scored better but she gave up 5-6 strokes on the greens and another half dozen in the main body of the course.
"The greens ended up being slower than I expected," Turk said. "Over the span of 18 holes, that is pretty easy to do. That's one of the weird things about golf. Rarely is it one giant mistake that nets a player a poor round . . . it's usually several small things over the day that snake bites them."
Vaughn did not seem concerned as the state finals approach.
"The good news is, Hannah is very solid and capable player and could easily produce good numbers this week at the state finals," Vaughn stated.
Junior Grace Smith came in 26th overall as she beat her average by 10 strokes with a 110 in her first regional tourney.
"Grace said that her 'putting was horrible' but her efforts netted her a personal-best 18-hole score at the most pressure-packed tournament she has ever played in. Grace is a very mature player. I'm looking forward to see what she does in the future," Vaughn said.
A total of 15 schools will compete in the MHSAA Division 4 State Finals. The schools are, in alphabetical order, Adrian Madison, Almont, Frankenmuth, Freeland, Grand Rapids NorthPointe Christian, Harbor Springs, Jackson Lumen Christi, Kalamazoo Hackett, Lansing Catholic, Livonia Ladywood, Macomb Lutheran North, Manistee, Napoleon and North Muskegon. Kalamazoo Hackett had the lowest qualifying score at 324.