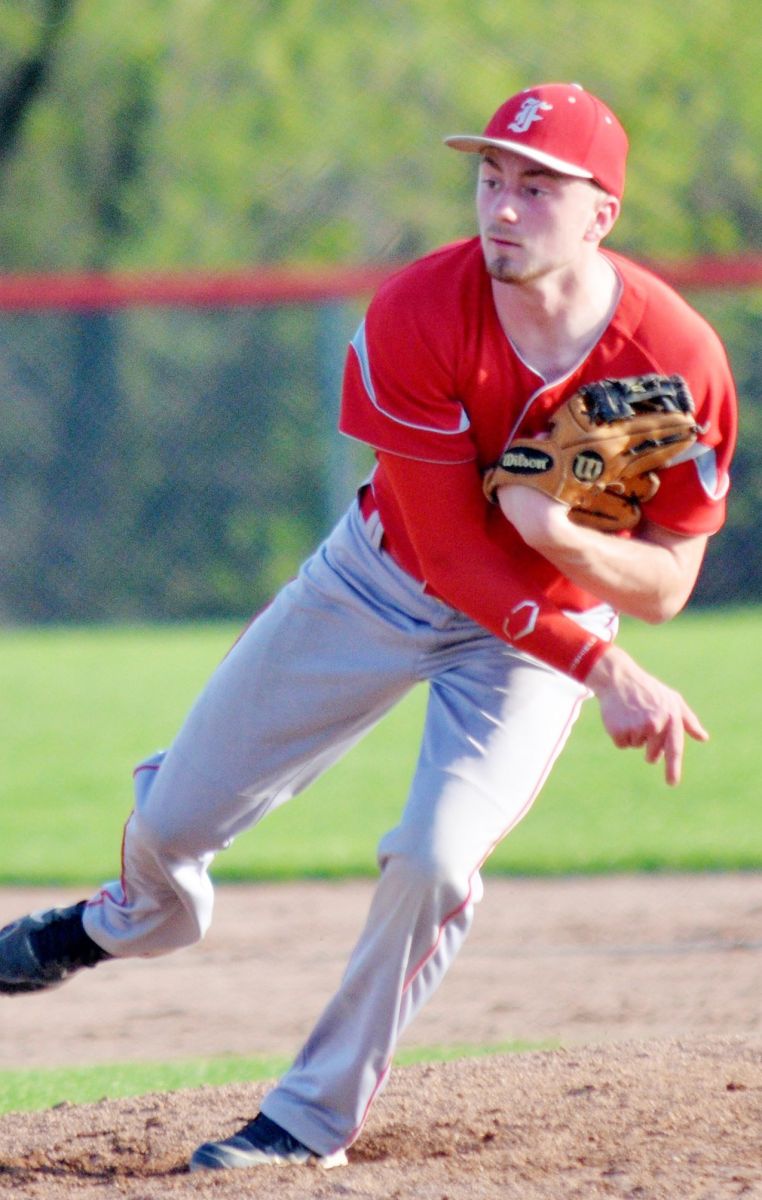 JOSH STANGE . . . fires the ball toward home plate during a recent Frankenmuth varsity baseball team. The Eagle pitcher and his teammates are riding a nine-game win streak and recently swept Birch Run, 10-0 and 8-0. (Photo courtesy/Deb Krafft)
FHS '9' riding nine-game win streak, sweep Panthers
The Frankenmuth varsity baseball team entertained neighboring rival Birch Run May 8, with league implications for both teams which added to the rivalry.
In the end, the Eagle 𠆉' came away with not only a sweep, but a pair of shutout victories, 10-0 and 8-0.
In game one, FHS scored a single run in the bottom of the first inning. Doyle Webb led off with a five-pitch walk, moved to second on a wild pitch and Josh Stange delivered a RBI single for a 1-0 lead.
'Muth plated seven runs in the third inning. Webb drew his second walk and scampered to third base on a Brady Wood double. Webb raced home on a wild pitch. Jack Tagget and Stange were issued walks to load the bases for Nick Szczepanski, who posted a RBI walk. Colton Zimmer was hit by a pitch, forcing Stange home for a 4-0 advantage.
The scoring barrage continued when Aaron Krafft bombed a triple down the right field line, scoring Tagget, Szczepanski and Zimmer. Webb's third walk of the game was followed by Wood whose single brought home Krafft.
FHS finished off the Panthers in the fifth inning. Zimmer singled, moved to second on a Krafft walk and two wild pitches moved up the runners and allowed Zimmer to score. Webb walked again and Wood's singled plated Krafft for the mercy-rule win.
Tagget earned the triumph, pitching five-innings, allowing just two hits and no walks and fanning five Panthers. Wood was 3 for 4 with two RBIs, Stange was 2 for 2 with a walk and Webb collected four walks.
In game two, Stange toed the rubber to square off against Birch Run's ace, Tom Fortney. Just one run was scored through five innings when 'Muth managed a run in the top of the second inning.
In that inning, with two outs, Bryce Gasper struck out, but the catcher got crossed up on the pitch and ball deflected off the umpire, allowing Gasper to safely reach first base. Zimmer was hit by a pitch and Krafft singled to centerfield. Gasper made a test book diving slide to avoid the tag and score.
Meanwhile, Stange allowed no hits and no walks through six innings. 'Muth continued to run up the pitch count on Fortney and he left the game in the sixth inning, which was the break the Eagles needed.
In the sixth inning, Krafft drew a two-out walk and stole second base. Webb singled in Krafft and advanced all the way to third base on the throw home. Wood and Jake Robinson walked to load the bases. Stange was hit by a pitch to bring in Webb. Tagget battled back for a 0-2 count to walk to bring in Wood for the third run of the inning.
In the top of the seventh inning, Zimmer walked, stole second and took third base on a Krafft single. Krafft stole second and a balk by the Birch Run pitcher allowed Zimmer to score. Webb asked for, and executed, a suicide squeeze bunt and beat out the throw to first base. Wood singled and both he and Webb advanced a base on a second Panther pitcher balk.
Webb scampered home on a wild pitch and Robinson's single scored Wood for the 8-0 lead.
Stange put his no-hit effort on the line in the bottom of the seventh inning. He fanned the first Panther batter but then two consecutive singles broke up the attempt at a perfect game. A great defensive play by Krafft assisted Stange and helped keep the shutout intact.
Stange threw 76 pitches, 58 for strikes, and finished with no walks and five strikeouts. Webb led all FHS hitters, going 3 for 4 with two runs scored and two RBIs.
"The win completes a huge week for the Eagles who finished 6-0 and now riding a seven-game winning streak," FHS Coach Gordon Culver said.
Frankenmuth is 13-7 overall and 6-2 in the Tri-Valley Conference East Division. They are within striking distance of Essexville Garber, at 6-1-1.
"I can't say enough of how proud I am of these kids. They have really embraced a team attitude. They are cheering when we do the little things right like laying down a good bunt or a sacrifice fly to score a run," Culver stated.
Several TVC East teams have tried to throw their best pitchers in the second game, trying to steal at least one win. That has not worked well.
"Our guys have taken that on as a challenge and Josh and Nathan (Worden) have done a marvelous job pitching against some of the league's best," Culver said. "Jack has been stellar with a .840 ERA through seven starts."
In the past six games, 'Muth has outscored its opponents, 70-7.
FHS will travel to Caro at 4pm Thursday, May 15, for a TVC East twinbill and then head to nonconference Beal City for a tournament on Saturday, May 17, beginning at 10am.
The final three doubleheaders are at home and all begin at 4pm. The Eagles will welcome TVC East North Branch on Monday, May 19, bring in Flint Kearsley on Thursday, May 22 and then welcome Carrollton on Tuesday, May 27.
The MHSAA Division 2 No. 38 District will be hosted by Garber, May 27-31. The competing schools are Bay City John Glenn, Birch Run, Garber, Frankenmuth, Saginaw High and Arthur Hill.
A win will advance them back home as FHS will host the MHSAA Division 2 No. 10 Regional on Saturday, June 7.