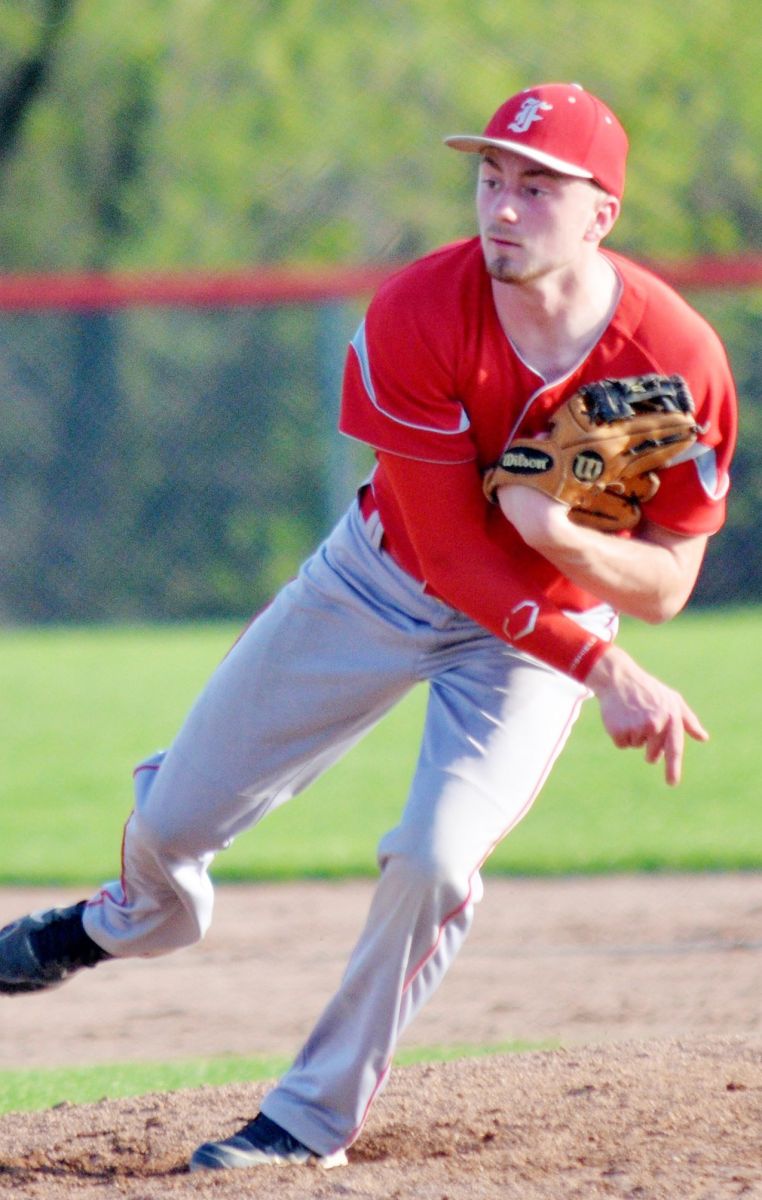 PITCHING AND DEFENSE . . . were a big part of the Frankenmuth varsity baseball team's success this past season. Above, Josh Stange delivers a pitch. (News file photo)
Eagle varsity baseball team shares TVC East title
The Frankenmuth varsity baseball team wrapped up its third consecutive 20-plus win season this past spring.
Eagle varsity Coach Gordon Culver and his players also took home a share of the Tri-Valley Conference East Division title. 'Muth finished 23-12 overall and 12-2 in the TVC East. Essexville Garber shared the crown with an 11-1-2 mark.
"When the season ended, I think everyone's expectations had been exceeded, despite the tough loss in the district," Culver said.
"This was a fun team to coach," Culver continued. "We talked about it at several points and the guys took it personally that most people expected us to be down after losing 7-8 starters from last year's team. They realized early in the season that good defense was the key and they took pride in it."
Several players earned All-TVC East honors. Pitcher Jack Tagget, infielder Brady Wood and outfielder Aaron Krafft were first-team selections. Pitcher Nathan Worden and infielder Doyle Webb were second-team picks while Jake Robinson, Colton Zimmer and Josh Stange earned honorable mention status.
Frankenmuth also moved up from MHSAA Division 3 to Division 2 this year, pitting them against some area powerhouse squads, such as Mt. Pleasant, Bay City John Glenn, Bullock Creek and others. Despite the competition, Wood, Tagget, Robinson and Krafft all earned All-District honors.
Worden, Zimmer and Mitchell Kischnick also collected Academic All-District kudos.
Following are Coach Culver's comments on the players this season.
Sophomore Brady Wood "had a great season with us. He hit .424 with 18 walks and most impressively no strikeouts in 118 plate appearances. Brady is silky smooth on the dirt and made some huge plays for us defensively at shortstop with great range and hands. He also has phenomenal instincts on the bases, breaking the school record with 32 steals this season."
Senior Doyle Webb "was one of the few kids coming up that had gotten any kind of regular playing time in the 2013 season, and he used that experience to lead the team," Culver noted. 𠇍oyle sparked the offense from the lead-off spot, hitting .349 with an on-base percentage over .500. Doyle was often the loudest guy in the dugout and the rest of the team always responded, which is probably why he led the team in hit by pitch, nearly breaking the team record with 12."
Junior Mitchell Kischnick "started the season struggling to find regular playing time, but turned out to be the perfect example of how to earn playing time. Mitchell showed up to give 100 percent every day and got hits when he had the chance and eventually earned a starting spot in the outfield. Mitchell knocked a .312 batting average this year with a .386 on base percentage."
Junior Colton Zimmer "was a true jack of all trades for us, with an inning at first base in our final game of the season. Colton accomplished playing at least one inning in all nine positions on the field, and played them well with a 95.2 percent fielding rate. At the plate, Colton was a menace on the bases with the third most steals on the team and with a .375 on base percentage, he was able to move around and score often from the middle of the line up."
Senior Randon Trinklein "started the season with a bang, going deep in the first game of the season for his first hit against Pinconning. Randon also did a great job in center field for us. Unfortunately, Randon suffered a knee injury that kept him out much of the season."
Senior Nathan Worden "was one of those guys who stepped up big time for us, when we lost both pitchers Jordy and Ryan. Nathan threw the second most innings for us this season with a 2.77 ERA. He struck out 27 batters and walked only 20 in his 40-plus innings of work," Culver said.
Junior Aaron Krafft "isn't a stranger to the varsity club having come up to finish off the season both his freshman and sophomore years. He did not take long to find his stride as an everyday player and make an impact. Aaron hit .365 out of the nine spot and set the table for the top of the line up. His 15 stolen bases tied him for second on the team. Aaron also worked himself into some quality innings on the mound with a 2.8 ERA in 12 innings."
Sophomore Jack Tagget "was one of the few returnees that saw significant playing time last year and had the daunting task of stepping into the No. 1 pitching role, which he filled nicely. Jack had a nine-win season, coming up one win short of Nathan Jammer's 10-win record. He ended with a 1.04 ERA, but was under one run per game until the final week of the season. He struck out 61 batters while walking only 20 in 60 innings of work. Jack also put in a ton of extra work and improved immensely, becoming a solid third baseman and a tough clean-up hitter."
Senior Josh Stange "was one of those players who has all the tools, and the coaches were just waiting for him to put it together and have a break-out season. This was the season for Josh. He did a great job defensively at third base and he was an offensive threat in the middle of the order with a .270 average and a .457 on base percentage. On the mound was where Josh shined. Josh threw 26 innings for us with a 1.08 ERA, including a gem of a performance against Birch Run at home where he was two outs away from throwing a no hitter while allowing a mere three batters to reach base," Culver stated.
Junior Jake Robinson "was our most game-experienced returnee, having caught most of the 2013 season. He had big expectations for himself this year. Defensively, Jake grew up a lot, becoming a leader behind the plate and guiding his pitchers through the season. A lot of our pitching success had to do with the relationship with Jake. Offensively, he was one of the team's best in a number of categories – doubles, on base percentage, batting average, etc. but probably the biggest contribution to the team's success was his 25 RBIs, many coming in key situations to give us late leads or put the game away with an insurance run or two.
Junior Nick Szczepanski "jumped into the first base position this season and while he gave up an inch or two to last year's starter, he made up for it with his glove. Nick made several run-saving scoops to end innings and turn double plays. Nick was a great anchor to the infield that kept the defense rolling. On the offensive side of the ball, Nick started the season on a tear and ended with a very respectable .253 average with 13 RBIs and three doubles.
Senior Lucas Daenzer "is a great example of what hard work can do for you. This past off-season, Lucas did a ton of work to get ready for his senior season, competed with Nick and Bryce (Gasper) for first base duties and to become an integral part of the pitching rotation. After some bumps at the beginning of the season, Lucas kept at it and was one of our top four pitchers, throwing 23 innings and ended the season strong by throwing well against eventual Division 1 state champion Bay City Western," Culver pointed out.
Junior Bryce Gasper "is one of the kids you love to have on your team because he loves to compete, loves the game and is a fun guy to be around. Bryce did a little bit of everything for us this season. He was a big target with a steady glove at first base, covered a ton of ground in the outfield, and was one of our key hitters at times with a .280 average and a .462 on base percentage. Bryce was an aggressive base runner, crossing home plate 17 times – fifth most on the team."
Junior Cam West 𠇊lso played a variety of roles for us, but mostly as an outfielder. Cam has a great sense of the strike zone, drawing a walk on almost half of his plate appearances. He was also able to knock RBIs and pick up his first varsity double when he laced one down the first base line against Cass City."
Sophomore Josh Szczepanski "was brought up when Randon was injured. That left our small team in an unusual position of not having many options for subs. Josh was recommended by our junior varsity coach, Todd Sprowl, for his hustle in practice and outfielding skill. He definitely made the most of his opportunities, picking up his first varsity hit in his first plate appearance against Swan Valley and playing great defense at all three outfield positions," Culver noted.
"It was a great season statistically, but also one where a lot of guys had the chance to learn what it takes to be successful, which ultimately holds true outside the diamond. I hope, for the seniors especially, that being part of a special team will influence them for a long time," Culver concluded.