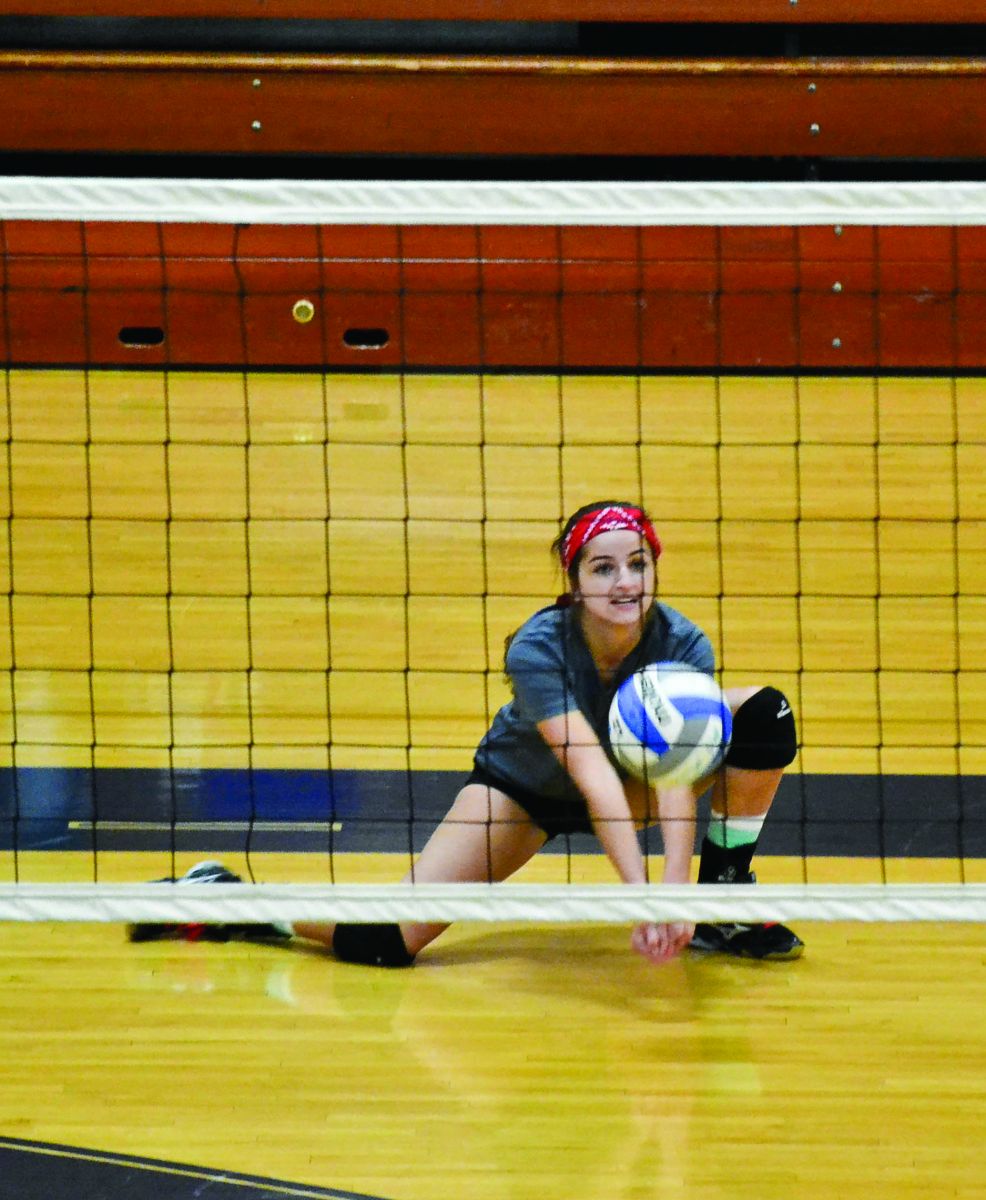 RAQUEL ROY . . . goes low for a dig during the action at the Mt. Morris Invitational last Saturday. The Frankenmuth varsity volleyball team finished second in pool play but was bounced in playoff action by Notre Dame Prep. (News photo/Kelly Jammer)
FHS Volleyball team faces tough teams at Mt. Morris
The Frankenmuth varsity volleyball team traveled to Mt. Morris last Saturday and met strong competition at the 12-team invitational.
Despite finishing second in pool play, the Lady Eagles were sidelined in the first match of tournament play, falling to Pontiac Notre Dame Prep, 16-25, 25-17, 6-15.
𠇏ive of the 12 teams involved in the tournament were ranked in Class A and B, including our team, ranked No. 10 in Class B," FHS Coach Carrie Spengler said.
FHS opened play against Class B No. 2 ranked Cadillac. The Lady Eagles were able to string together some great plays and put up a fight but ended up losing to the Vikings, 16-25, 17-25.
Match two saw Frankenmuth split with North Farmington, winning the opener 25-21 but dropping set two, 17-25.
FHS was strong in their third match, besting Grosse Ile, 25-11, 25-15, to take second place in the their pool.
Lady Eagle captains Lindsey Mertz and Keri Frahm paced the red and gray. Mertz collected three aces, seven kills, two blocks, 82 assists and 24 digs while Frahm tallied one ace, 14 kills, eight blocks and six digs.
Jackie Weess chipped in with a team-high 24 kills to go with two blocks, three assists and 34 digs. Hannah Karwat worked the backcourt, finishing with 26 digs, five aces, three kills and one assist. Madison Wiskur and Mikayla smacked 16 and 14 kills, respectively.
As a team, FHS totaled 18 aces, 87 kills, 11 blocks, 87 assists and 123 digs.
The varsity spikers will travel to TVC East Division school Millington today (October 21) and will compete in the Fenton Invitational on Saturday, October 24.
Last Sunday, the team visited the Mustard Seed Shelter in Saginaw, meeting with the women and children who are currently in the shelter. They enjoyed cider and donuts, painting pumpkins and played games with the children.
On Wednesday, October 28, the women and children from the shelter will attend a home match against TVC East school Birch Run, which will be a dual charity match. FHS will raise funds for the Mustard Seed Shelter and Birch Run's charity is the Wounded Warrior Project.
"We invite all family, friends and community members to attend the game and help the teams support these two wonderful organizations," Spengler said.