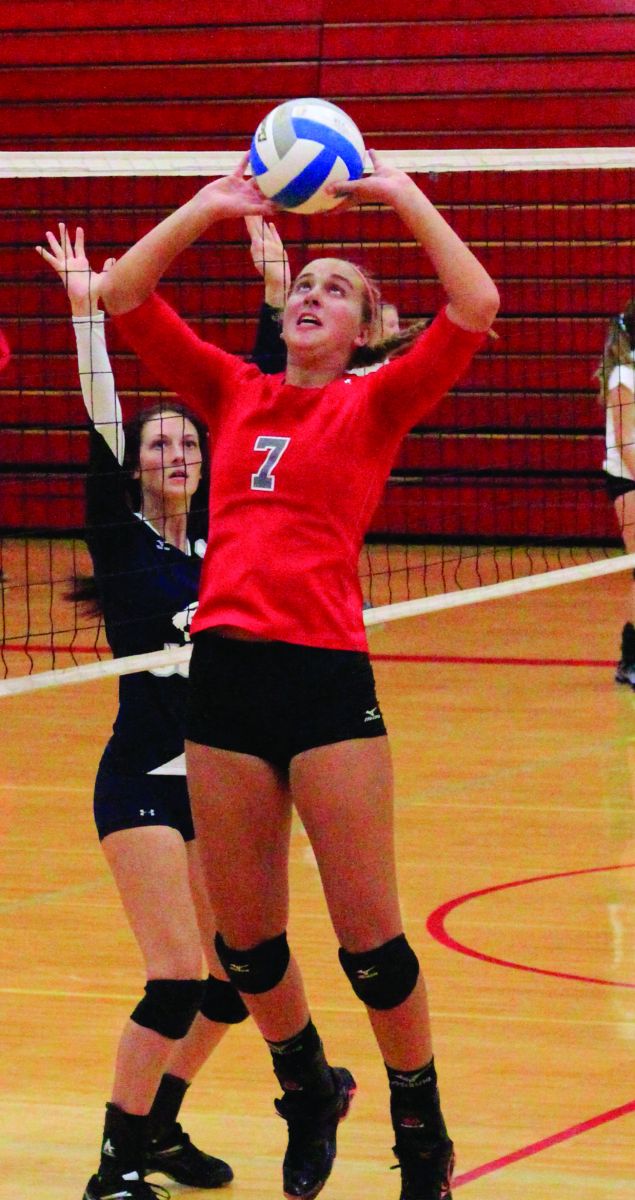 LINDSEY MERTZ . . . prepares to set a teammate during home action against Otisville-LakeVille September 24. The Lady Eagles wept the Falcons and are 3-0 in the TVC East Division. (Photo courtesy/Susan Keyes)
FHS spikers sweep O-L; fare well at own invite
The Frankenmuth varsity volleyball team ran its Tri-Valley Conference East Division record to 3-0 with a sweep of Otisville-LakeVille September 24.
The host Lady Eagles fashioned scores of 25-11, 25-14, 25-5 for the victory.
spite some injuries, we were able to shift the lineup and be successful. The team worked well together, playing with a great amount of control," FHS Coach Carrie Spengler said.
Serving was key for the 'Muth spikers as the team compiled a 97.3 percent serving accuracy mark. Sarah Beulla, Sydney Bronner, Madison Wiskur, Lindsey Mertz, Kenzie Piesko and Jackie Weess all chipped in with a perfect night of serving.
The team's offense was solid, scoring 35 kills in three games. Beulla led the way with 13 kills, followed by Bronner with 11 kills and Weess with six kills. Mertz contributed 33 assists in the win.
Weess paced the ace attack with seven, followed by Mertz with four aces. Bronner posted seven blocks and Kendra Keyes registered six digs.
Spengler was also pleased by the fan support by the students, family and friends.
Three days later, FHS hosted its Eagle Varsity Invitational, bringing in seven schools for an eight-team tourney.
Riverview Gabriel Richard, North Branch, Midland Dow, Essexville Garber, Bloomfield Hills, Bay City John Glenn and Freeland joined the Lady Eagles in the day-long play.
Frankenmuth had a very productive day, finishing 4-1-1. Seeding for the single-elimination portion of the tournament was based on wins and losses throughout the day. Half of the teams were 5-1 on their individual sets, including FHS, North Branch, Midland Dow and Bloomfield Hills.
North Branch ended the Lady Eagles' day in the semifinals, a 1-2 loss. A perennial TVC East power, FHS travels to play the Broncos today (October 1).
FHS came out with strong blocks against the Broncos, winning the first set, 25-22, before falling sets two and three.
Other results from the day include victories of Freeland in pool play (25-23, 25-14) and in single elimination (25-22, 25-15); a pool play win over John Glenn (25-13, 25-8); and a split with Bloomfield Hills (no complete score given).
Bronner had a busy day at the net with 38 kills, 16 blocks, 15 digs and three aces. Setter Mertz put up 91 assists to go with her 33 digs, seven aces, seven kills and one block. Weess amassed 25 digs, 18 kills, a team-high 12 aces and six blocks while Keyes collected 28 digs, eight aces and one assist.
Madison Walter registered 16 kills, seven blocks and three digs while Brooke Rezmer contributed 20 digs, five blocks, four aces and three kills.
Frankenmuth will return home to host a nonconference quadrangular beginning at 5pm, October 6. 'Muth will entertain Reese, Troy and Goodrich. The team will host TVC East school Garber at 7pm Tuesday, October 7 and then travel to Bay City John Glenn on Monday, October 13, for a 7pm non-league contest.