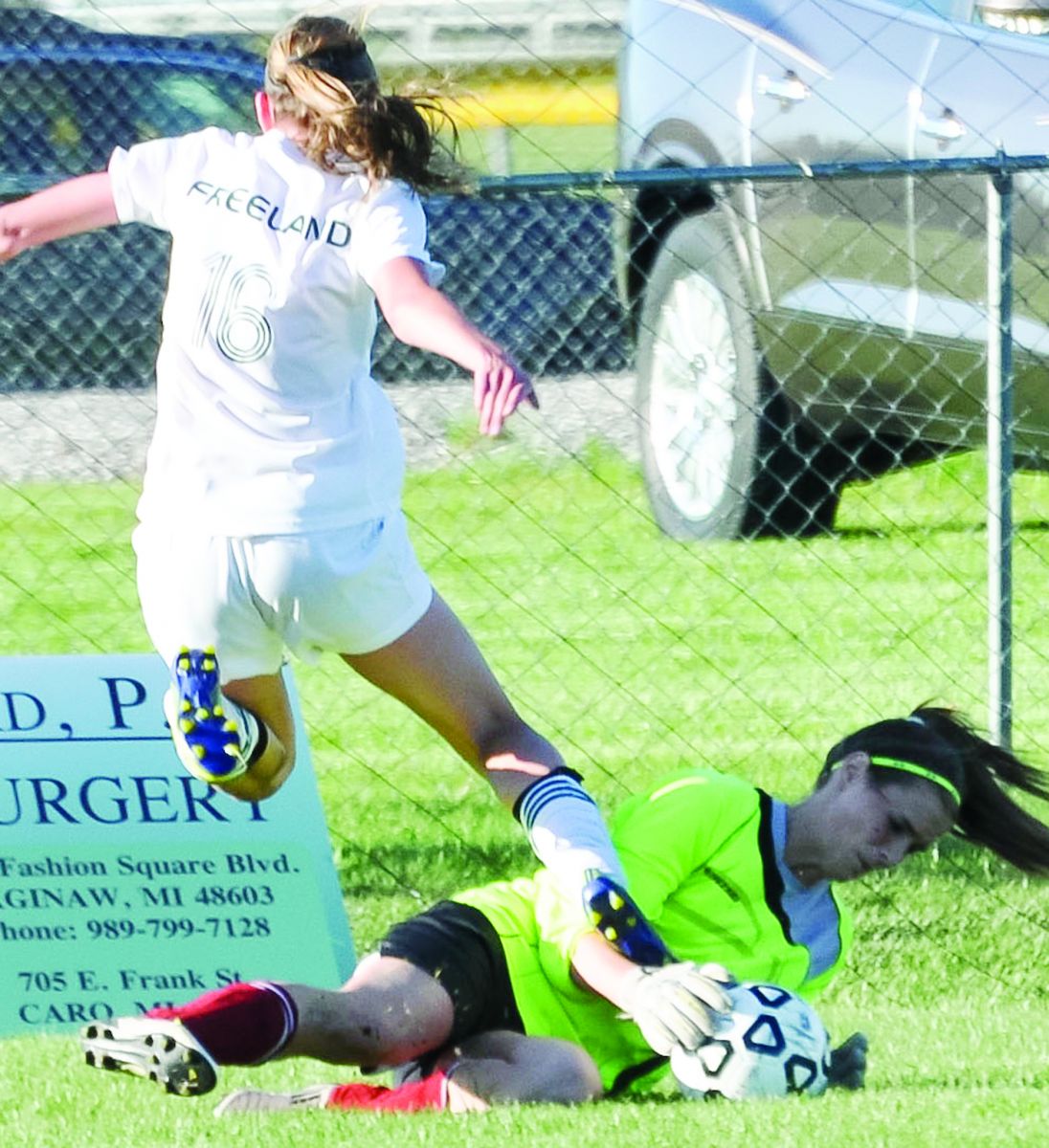 TRAPPED! Frankenmuth varsity girls' soccer goal keeper Claire Carter makes a key save during last week's contest against state-ranked Freeland. The Lady Eagles finished the regular season 14-2-3 overall and 9-0-1 in the TVC as the team tied the Falcons, 0-0. (Photo courtesy/Vicki Stenglein)
Carter makes big saves in defenseive battle vs. Falcons
The #7 D3 State Ranked Eagles had a busy week with two quality opponents. The team did not give up a goal against these formidable opponents. This was a calculated plan by Coach Stenglein; that wants to see how his team can do defensively against strong offensive pressure. Frankenmuth has done everything they can to prepare for a challenging District run; that most likely includes a rematch against a talented and dangerous #9 D3 State Ranked Birch Run Panther squad.
Frankenmuth vs Valley Lutheran
Final Score: Frankenmuth – 3 Valley Lutheran – 0 Halftime: 1 – 0 Frankenmuth
Shots on Goal: Frankenmuth – 8 Valley Lutheran – 2
Frankenmuth Scores: Kelly Schiefer – 1, Rachel Schmidt – 1, Kendra Thompson – 1
Frankenmuth Assists: Raechel Schmidt – 1
Goalie: Claire Carter – 2 saves
Record: 14 – 2 – 2 (9 – 0 – 1 Conference)
Highlights / Coach's Comments:
"I enjoy having a quality game against our cross-town rivial Valley Lutheran. Coach Guenther is a dear friend, and I enjoy the times we can meet on the field again."
"Our team defense continues to be a real strength of this year's squad. The whole team has embraced the concept and strategy that we need to be a tight marking, highly compressive cohesive team when we are on defense, and are trying to win back the ball."
"We were able to play a number of different attacking groups, and this will be very valuable as we head into District play."
Frankenmuth was now heading into collision course with the top female soccer team in the area.
Frankenmuth vs Freeland
Final Score: Frankenmuth – 0 Freeland – 0 Halftime: 0 – 0
Shots on Goal: Frankenmuth – 9 Freeland – 20
Frankenmuth Scores: None
Frankenmuth Assists: None
Goalie: Claire Carter – 20 saves
Record: 14 – 2 – 3 (9 – 0 – 1 Conference)
Highlights / Coach's Comments:
"This was a great way to end our regular season, with a game against another state ranked opponent. If this did not get us prepared for Districts, I'm not sure what would."
The visiting #7 D3 Eagles could expect an epic battle against the #6 D3 Falcons. Freeland has a highly powerful offense that has dominated most of its opponents this year. They developed a very tough schedule that would have frightened most programs. This was the type of team that the Eagles wanted to face before Districts, to see how they would match up.
"I was a little apprehensive with some key players sitting out this game due to injuries. I knew that everyone would need to step up and play their best, and some new players would need to play at a level that they have not experienced prior to this game".
"I was extremely pleased with the effort of this team…..they faced heavy offensive pressure in the second half of the game. This was a true test of our ability to deal with tremendous pressure, and still not collapse".
Claire Carter made some acrobatic saves to help her defensive squad preserve the shutout.
"This was the best game of the season for Claire……she dominated her box, and came up huge on some dangerous Falcon attacks.
"We are ready for a very challenging District tournament; that will most likely bring the two state ranked TVC Conference opponents into an exciting battle in the District Semi-Final".
Birch Run and Frankenmuth have been waiting for this rematch ever since the two met in Frankenmuth for the deciding game for the TVC East championship; that the Eagles won 2-0.