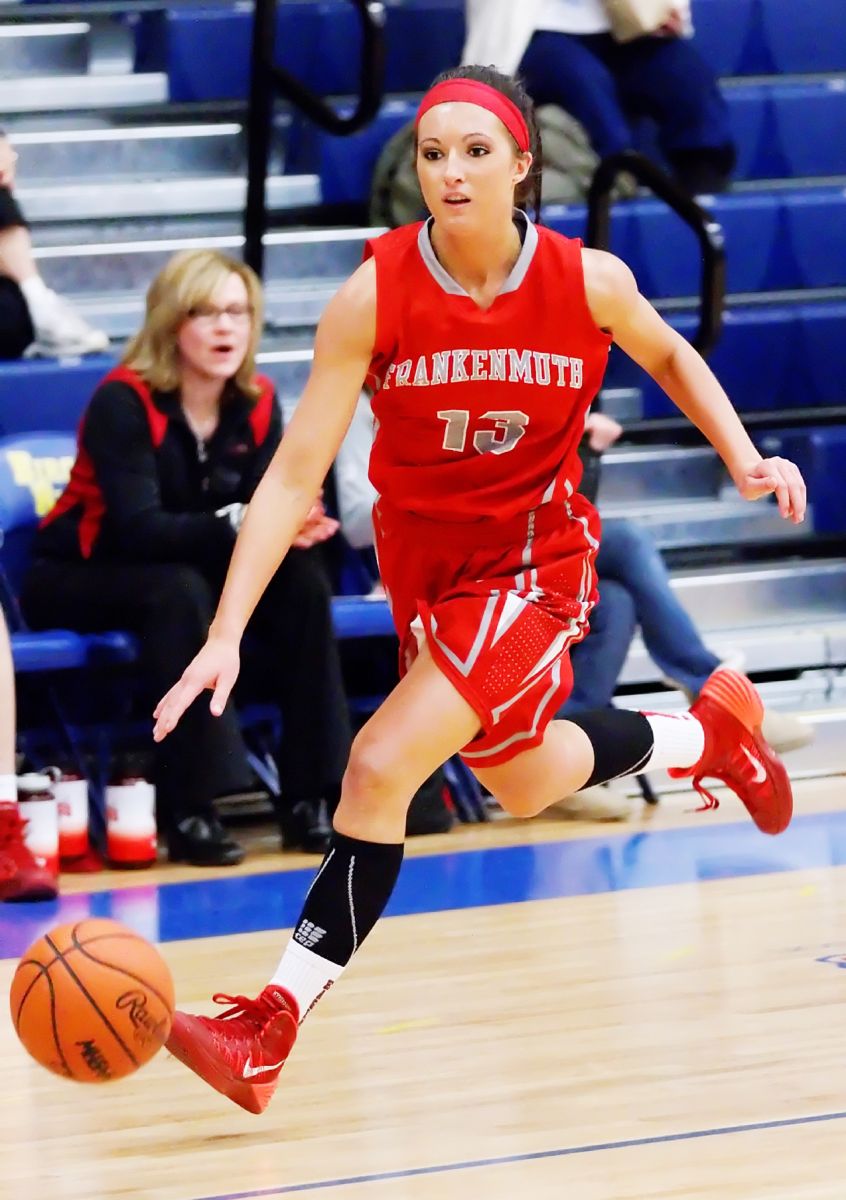 MADISON WISKUR . . . races up court during one of the three road games the Frankenmuth varsity girls' basketball team played last week. Tuesday night, FHS defeated Millington, 64-30. (Photo courtesy/Chip DeGrace)
Road Warriors:
Lady Eagles win three straight, aim for another perfect TVC East season
A road-weary Frankenmuth varsity girls' basketball team returned home last Thursday night, satisfied with three consecutive nights of victories.
In addition to defeating Caro February 11, the Lady Eagles stopped St. Louis on their floor, 45-32 on February 12 and then got back to Tri-Valley Conference East Division action on February 13, dominating Essexville-Garber, 49-18.
'Muth has not lost since December 27 when it fell to Class A Williamston in a holiday tournament. Since that contest, FHS has won 11 straight games and also extended its TVC East winning streak to 65.
With wins at Millington yesterday (February 18) and at home against North Branch on Thursday, February 20, FHS will be perfect again in league.
Currently, 'Muth is 15-3 overall and 12-0 in the East.
At St. Louis, Frankenmuth was completing its TVC crossover season against a two-loss Sharks' team.
"This is the first time since I've been coaching the girls that we have been able to sweep the top crossover games in a season," FHS Coach Tom Keller said. "We've had some pretty good clubs over the last eight years, but this is the first group to pull it off."
FHS also defeated Hemlock for the Central and West sweep.
Frankenmuth led 12-10 after one quarter of action and moved it to 27-21 at halftime. A 15-6 third quarter put the game away, giving the Lady Eagles a 42-27 advantage heading into the final quarter.
"We had an inconsistent first half, with seven first-quarter turnovers but only two in the second quarter. We shot only 7 of 22 from the floor in the first half, but Maddie Wiskur knocked down a big three at the end of the half to give us some momentum going into the locker room," Keller explained.
Keller was surprised his team was unable to pressure the Sharks, as St. Louis handled the press and got layups.
"We switched up defenses right at the end of the half and that made a huge impact in the second half," Keller said.
Frankenmuth came out in the second half with a match-up zone to stifle St. Louis' offense.
"It's a tough defense to play against if you're not used to seeing it, as it looks like a zone, but behaves more like man defense, at least the way we play it," Keller stated.
FHS opened the third quarter on a 7-0 run to stretch the lead to double figures.
Keller had his team direct a deliberate offense in the fourth quarter, With four minutes left to play, Keller put in his main three ball handlers – Elizabeth Laux, Kendra Kujat and Kelsie Kujat – to play keep-away for the rest of the game.
"We don't usually milk the clock that early, but I just sensed we were getting a little tired and needed to finish the game as quickly as possible," the coach noted.
Wiskur finished with 11 points, canning 3 of 5 three-point shots and making both free throw attempts. Keri Frahm added 10 points, made both free throw attempts, grabbed nine boards and had three deflections. Kendra Kujat scored nine points and made 5 of 6 free throws.
Madison Walter collected six rebounds, and Brayene Benner added five rebounds.
For the game, FHS was 15 of 49 from the floor (31 percent), including 5 of 12 from the three-point line (48 percent) and 10 of 13 from the free throw line (77 percent). The Lady Eagles registered 30 rebounds, 10 steals, eight assists, eight deflections and four blocks while committing 19 turnovers and 11 fouls.
Against the Dukes, FHS shot out to a 13-2 lead, moved it to 26-6 at halftime and by the end of the third quarter, led 31-14. But an 18-4 fourth quarter gave them a comfortable triumph.
"Survive . . . was the word that we were hoping for with three road games on consecutive days. Fortunately, we've got some tough girls – physically and mentally –who were able to make enough plays to earn three wins this week," Keller praised. 𠇎ven though we struggled to shoot, our defense remained pretty solid, again holding the opposition to single digits in each quarter."
The win clinched at least a share of the TVC East crown for the past nine seasons.
Frahm and Kendra Kujat each scored 12 points. Frahm made it a double-double with 10 rebounds. Kelsie Kujat added seven points.
Other individual stats included Benner with eight rebounds and two blocked shots, Kelsie Kujat with four steals and three assists, Laux with five assists and Wiskur with five deflections.
For the game, the Lady Eagles were 16 of 63 from the floor (25 percent), including 3 of 18 from three-point line (17 percent) and 14 for 24 from the free throw line (58 percent). FHS amassed 45 rebounds, 21 steals, 15 assists, 19 deflections and two blocked shots while committing 17 turnovers and 10 fouls.
MHSAA Class B District No. 58 action will begin at home on Monday, February 24, against Flint Northwestern. Although Caro is technically the host school, there are seven teams in the district, giving FHS a home game.
The other teams, in addition to Caro, FHS and Northwestern, are Flint Powers Catholic, Millington, Mt. Morris and Otisville-LakeVille.
A 'Muth win will move them into semifinal action at Caro on Wednesday, February 26 and the finals are set for Friday, February 28.
The district winner will travel to Goodrich for the MHSAA Regional No. 14, March 4 and 6.