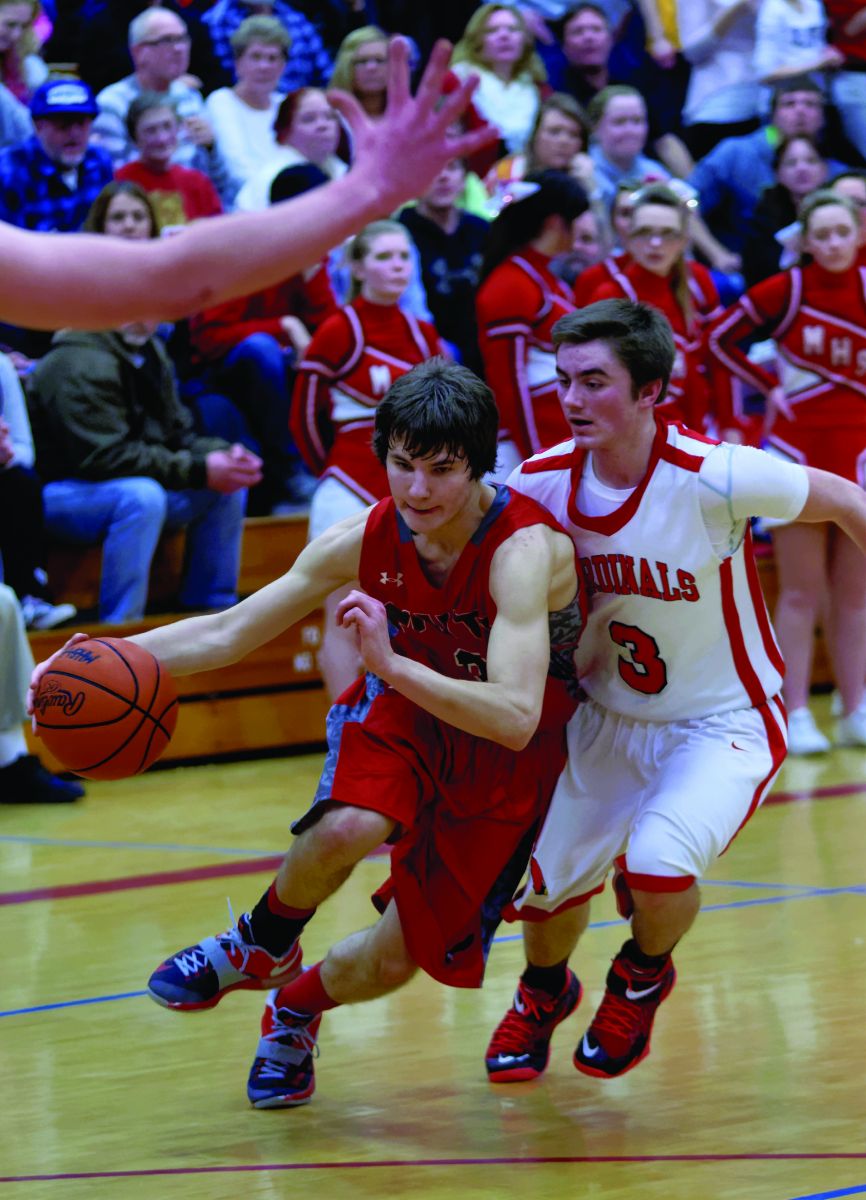 DRIVING ALONG: Frankenmuth varsity boys' basketball player Zac Janson drives past a Millington defender during last Friday's game on the Cardinals' court. The team's battled all four quarters; however, Millington edged the Eagles, 58-55. (Photo courtesy/Chip DeGrace)
Eagles bounce Panthers, suffer close loss to Cards
The Frankenmuth varsity boys' basketball team hit the road last week for a pair of Tri-Valley Conference East Division contests.
The Eagles entered the week 5-0 overall and finished with a win over Birch Run, 46-25, but a tough three-point loss to state-ranked Millington, 58-55, on Friday.
FHS, 6-1, is an honorable mention squad in the Michigan Associated Press rankings while the 9-0 Cardinals are ranked No. 4 in Class C.
At Birch Run, both teams struggled to score, with 'Muth leading 7-5 after one quarter of play and taking a 13-11 halftime advantage.
nsively, we played phenomenally. To hold them to 11 points in a half was great. We were able to close out their shooters as they have a strong inside game," FHS Coach Andy Donovan said.
An 18-5 third-quarter scoring spurt gave Frankenmuth a 31-16 edge and they finished strong with a 15-9 final quarter for the 21-point margin of victory.
"We made a few adjustments, of the 𠆊ssert your will variety'. We started to get better shots and we started to attack the rim. That enabled us to get our and get easier buckets," Donovan pointed out.
Brady Wood led the way for the Eagles with 10 points. He was 4 of 8 from the floor and had two steals. Mario Whitley and Aaron Krafft each chipped in with eight points. Whitley was 4 of 6 from the floor and had five boards and Krafft totaled four steals.
Colton Zimmer dished six assists and Zac Janson added four while Aaron Haubenstricker posted a team-high six rebounds.
As a team, FHS was 13 of 24 from two-point range (54 percent), 4 of 16 from the three-point line (25 percent) and 8 of 20 from the free throw line (40 percent). The Eagles amassed 33 rebounds, one blocked shot (Grant Reene), 12 steals and 13 assists while committing 15 turnovers and 16 fouls.
At Millington, the FHS cagers grabbed a 13-8 first-quarter lead before Millington turned in a 17-9 second-quarter advantage to lead 25-22.
Both teams would match point totals in the third quarter (13-13) and the high-scoring fourth quarter (20-20) to give the host Cards a three-point triumph.
"I could not have been more pleased on how we played in terms of out-rebounding them by 11 points, winning the turnover battle and making five, 3-point shots to their one. But we needed to knock down our free throws. It was our seventh game of the year and will learn from it," Donovan said.
Eight of nine Eagles scored as least two points and all nine hauled in at least one rebound.
Wood and Whitley pace 'Muth with 12 points each. Wood made 4 of 8 free throws as the Eagles struggled from the charity stripe, making just 10 of 28 attempts (36 percent). Conversely, the Cards canned 27 of 37 free throws (73 percent). Whitley made 3 of 4 free throws, snagged 15 rebounds and had three steals.
Zimmer finished with eight boards, three steals and three assists while Sam Bookmyer posted seven rebounds.
Millington was led by Austin Levan with 32 points as he surpassed the 1,500 point mark for his career. He made 13 of his 14 free throws.
"We held them to 15-20 points under their average this season . . . they are used to scoring in the 70s. We gave tremendous effort but in a big game, I𠆝 like to think 18 free throws would matter," Donovan noted.
Frankenmuth was 15 of 36 from two-point range (42 percent) and 5 of 22 from the three-point line. The team totaled 42 rebounds, two blocked shots, eight steals and eight assists while committing 10 turnovers and 29 fouls.
The Eagles have two back-to-back games this weekend. 'Muth entertains TVC East school Otisville-LakeVille at 7:30pm Friday, January 23 and welcomes Flint Powers Catholic for a 3pm Saturday, January 24 game. Note: Saturday is also Zehnder's Snowfest. (Fans should be prepared for heavier traffic in the city). The freshman game tips off at noon.
FHS hits to road to face a TVC Central Division foe on Tuesday, January 27, and then travels to league school North Branch on Friday, January 30. Both games will tip around 7:30pm.