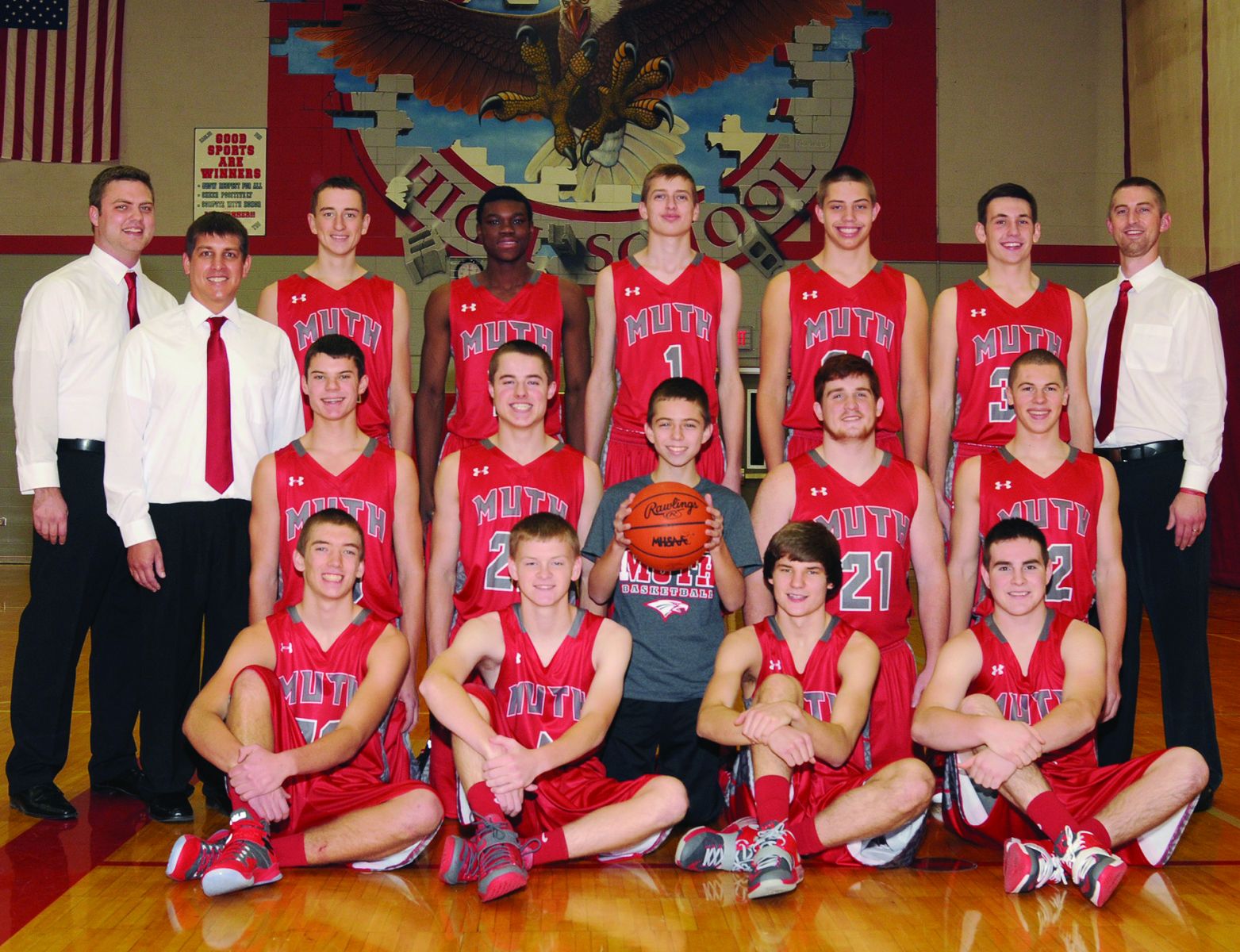 MEET THE FHS VARSITY CAGERS: The Frankenmuth varsity boys' basketball team opened its 2014-15 season with a game at Bay City Western Tuesday evening. The team members are, front row (l-r): Aaron Krafft, Mitchell Kischnick, Zac Janson and Brady Wood. Middle: Colton Zimmer, Bennett Dwan, Manager Thomas Brooks, Nick Szczepanski and Sam Bookmyer. Back: Assistant Coach Matt Cramer, Basketball Operations Jason Lipka, Grant Bronner, Mario Whitley, Grant Reene, Aaron Haubenstricker, Jonny Zink and Coach Andy Donovan. (Photo courtesy/Rummel Studio)
FHS cagers ready to contend for TVC East title
The Frankenmuth varsity boys' basketball team opened its 2014-15 season with a road win over a Class A school.
The Eagles traveled to Bay City Western on Tuesday, December 9, and used a 14-9 fourth-quarter scoring spurt to defeat the host Warriors, 57-49.
"This was a total team effort. We shared the ball well, played team basketball and really did a nice job of rebounding," FHS Coach Andy Donovan said.
FHS held a 14-12 first quarter lead and extended it to 34-24 by halftime. However, the Warriors cut the lead to 43-40, thanks to a 16-9 run in the third quarte.
Junior Sam Bookmyer registered 14 points and eight rebounds while senior Colton Zimmer had a great all-around game with 14 points, six boards, three assists and three steals.
Freshman Mario Whitley added 13 points, including a dunk, and contributed six rebounds and five steals.
Brandon Wise scored 19 points to lead Western. Travis Havercamp chipped in with 12 points.
Frankenmuth has its lone home game before the Christmas break on Wednesday, December 17, against Tri-Valley Conference East Division school North Branch. The final contest of 2014 will be at TVC East school Bridgeport on Friday, December 19. Both games will tip off around 7:30pm, following the 4:30pm freshmen game and the 6pm junior varsity contest.