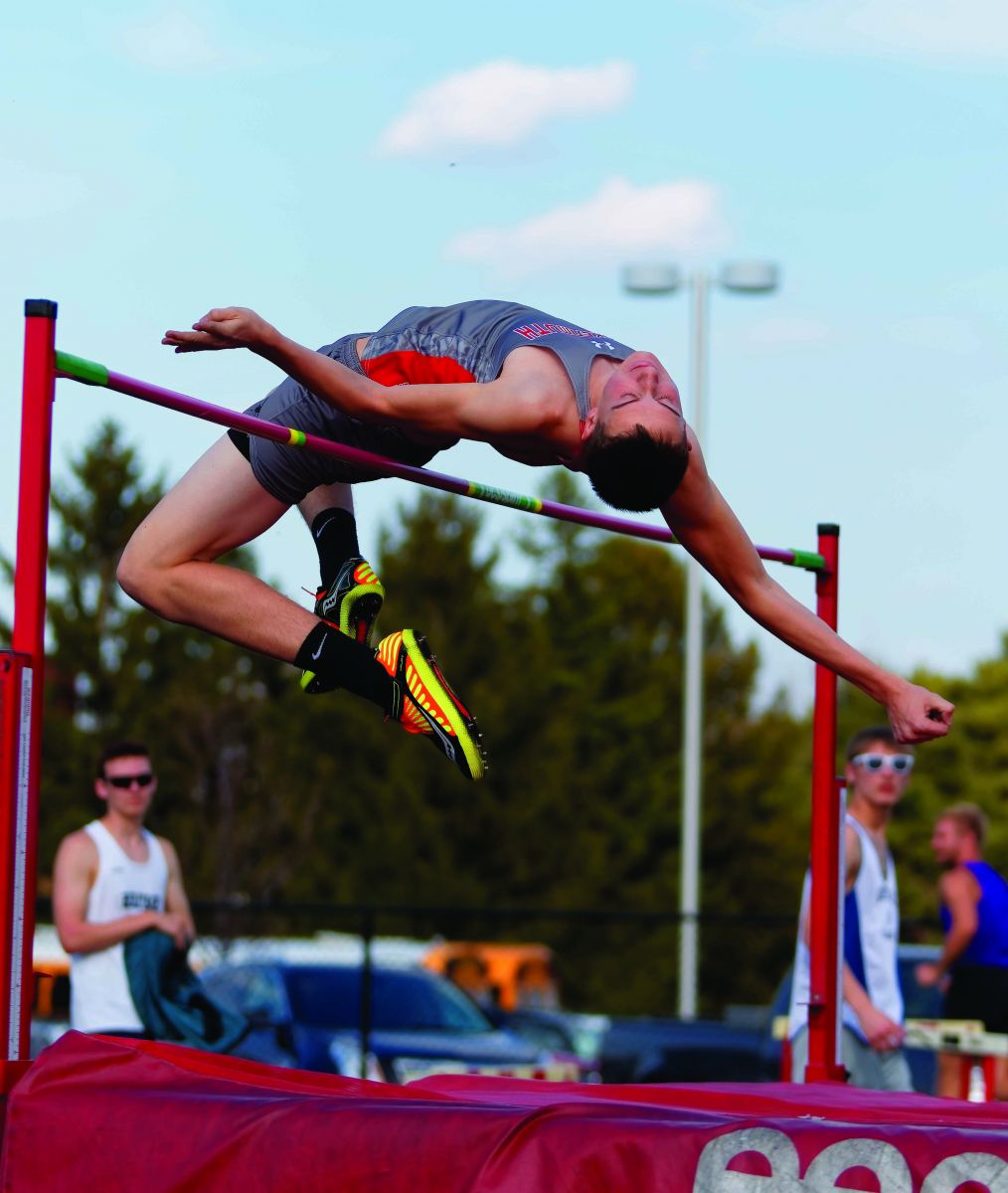 LEAPING EAGLE: Frankenmuth varsity track and field high jumper Grant Bronner looks to clear the bar during action at last Friday afternoon's Marco Marcet Invitational. Bronner won the event at 6-foot-3 and 'Muth took fifth place at the meet. (Photo courtesy/Chip DeGrace)
FHS track programs work on depth at Marcet Invite
The annual Marco Marcet Invitational, hosted by the Frankenmuth varsity track and field teams, is used as a springboard to the league and invite season.
As in past years, the Lady Eagle and Eagle thinclad programs compete shorthanded, due to the annual band festivals that take place in mid-April.
The girls' team took fourth place with 71.2 points while the boys ended up in fifth place with 74 points. Ten schools competed, with Class A Midland High winning both titles.
spite having 15 girls missing from the meet, the Lady Eagles had a very good showing," FHS Coach Mike Snyder said. "Several team members set personal records for their events."
Sydney Bronner was a key point producer for 'Muth and is expanding her prowess to the long jump. Bronner took fourth place with a leap of 16-feet, 3.25-inches.
"She was over the 17-foot mark but fell backwards. If she can be in the mid-17 foot range on a consistent basis, that may be one of her four events she could qualify and compete in at the MHSAA state finals," Snyder said.
Bronner won the 110-meter hurdles (:15.75), took second place in the high jump (5-2) and was third in the 300m hurdles (:48.71).
Carissa Schurr 𠇎xploded with a personal record in the 800m run with a time of 2:29.8. That was great progress toward qualifying for the state finals," Snyder noted. She took second place.
Sara Richmond also looked strong in the 800m, with a personal best 2:45.1. She took 11th place. Richmond also ran the 3200m for the first time and clocked a 14:36.
Depth looks good in the 800m as Jordyn Savage, new to that event, set a personal best mark with a 2:56.23.
Kendra Kujat is a first-time track athlete as a senior but has shown great potential in her sprint races and her high jumping, clearing 4-8 – a personal-best mark, Snyder indicated.
Stephanie Lambeth, who has cleared 12-0 this season in the pole vault to set yet another school record, won that event with an 11-6 vault. She was fifth in the long jump (16-2) and 10th in the 100m dash (:13.96).
Sarah Janson came through in the shot put with a second-place toss of 33-10.25.
The 400m relay of Kujat, Sarah Aldrich, Felicia Whitley and Lambeth took sixth place at :55.08;
Other top 10 finishers include Megan Ihrig in the 100m hurdles, seventh place, (:19.14), and in ninth place in the 300m hurdles (:56.80); Sarah Janson, ninth place in the discus (76-6); Emily Janson, eighth place in the high jump (4-6); and Kelsie Kujat, fifth place in the pole vault (8-0.50).
Sprinting and hurdle events paced the Eagle varsity tracksters.
In the 100m dash, three 'Muth sprinters were among the top 10. Denver Bonkowski was third at :11.75, followed by Stephen Messing in seventh place (:12.23) and Bennett Dwan in eighth place (:12.38). Bonkowski also took sixth place in the 200m dash (:24.26).
Michael Crary and Jack Veitengruber took seventh and eighth place, respectively, in the 400m dash, with times of :56.29 and :56.30.
Grant Bronner captured fifth place in the 110m hurdles at :16.44. Teammates Michael Benson and Jonathon Worden came in eighth and ninth, respectively, with times of :16.68 and :17.08.
Worden led 'Muth in the 300m hurdles with a sixth-place clocking of :43.46. Bronner was 10th at :43.93.
The 400m relay quartet of Joey Seder, Messing, Bronner and Bonkowski took sixth place at :46.77, the 800m relay squad of Seder, Messing, Crary and Bonkowski took third place at 1:36.04, the 1600 relay team of Worden, Veitengruber, Dwan and Crary was fourth at 3:44.60, and the 3200m relay foursome of Alex Benko, Isaak Biddle, Logan Karney and Josh Fitch took eighth place at 9:44.01.
Eagle weightman Matt McGee captured first place in the shot put (47.3.75) and discus (136-8). Dan Stone was third in the shot put (43-5) and ninth in the discus (112-0).
Bronner won the high jump with a leap of 6-3 while Benson tied for seventh place at 5-6.
Both varsity programs are in action today at Tri-Valley Conference East Division school Essexville Garber today (April 22) at 4pm. They will compete in the Clare Invitational on Friday, April 24 at 3pm and then head to Caro on Wednesday, April 29, for another TVC East competition.