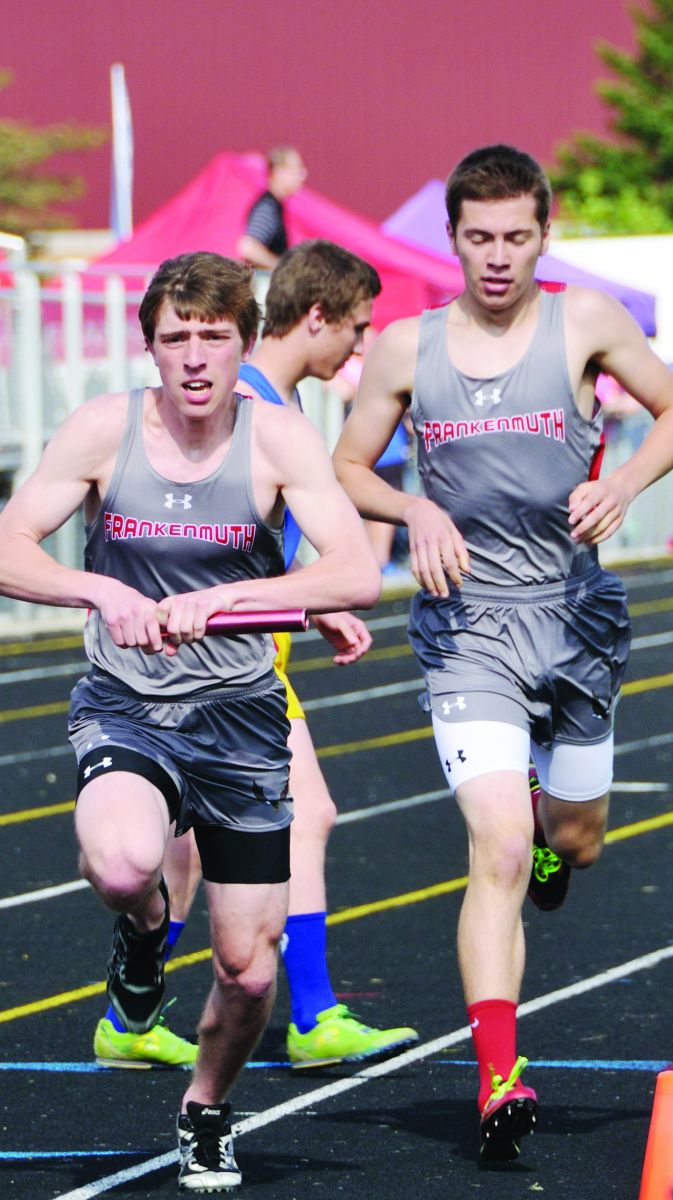 GOOD EXCHANGE! Frankenmuth varsity boys' track and field teammates Josh Pendleton (left) and Riley Fassezke compete in a distance relay during the overall TVC East Meet last week. The Eagles were busy the last few weeks, winning their regional, taking second place by one point at the East Meet and taking fourth at the MITCA Division 3 Team State Meet. (News photo/Kriss Olgren)
FHS tracksters among top five teams at MITCA Finals
The Frankenmuth varsity boys' track team survived a key injury or two and matured during the season, enjoying a successful 2014 campaign.
The Eagles kept improving, winning their MHSAA Division 3 Regional to earn a berth in the MITCA Team State Finals last Saturday afternoon in Kent City.
FHS fared very well, taking fourth place out of 13 teams, some who also earned berths by winning regionals and others who were invited by reputation.
Frankenmuth compiled 1,040 points. Hillsdale won with 1,303 points, followed by Standish Sterling (1,218 points) and Grand Rapids West Catholic (1,191 points).
"This meet is for the best in the state in Division 3. At the beginning of the season, with Brian (Stearns) hurt and all the young men on the team, I was not sure we would get to MITCA," FHS Coach Jerry Drake said. 𠇊s the season progressed, the boys improved every meet, until they won the regional."
The Eagle thinclads were seeded sixth and Drake felt a top five finish would be great.
"The boys had a great meet and like all our meets, it was a true team effort . . . that is fourth place out of 150 Division 3 schools in the state," Drake noted.
FHS has been invited to MITCA the past six years. During that time, the team has two first-place finishes, a second, fourth, fifth and eighth place finishes.
'Muth also survived its sprinting events without Denver Bonkowski, who broke his ankle last week.
The hurdle events have been a mainstay this year for the Eagles. Stearns took second place in the 110m hurdles with his best time of the year, :15.33. Christian Lambeth was fifth at :15.88 and Michael Benson eighth at :16.41.
In the 300m hurdles, Lambeth ran a personal best :40.58, good for second place. Jonathan Worden clocked a :42.57 (personal best) for sixth place and Grant Bronner filled in for Stearns to run a personal best :44.2, good for 11th place.
The weight event thinclads also performed well. Michael Frahm was fourth in the discus at 142-foot, Matt McGee was eighth at 123-11 and Alex Mawer was 27th at 103 foot.
In the shot put, Frahm was fourth at 49-4, Mawer was fifth at 48-3 and Chris Keinath was 16th at 43-4.
The relays were a bit up and down, The 800m relay team (1:36.18) was sixth, the 3200m relay team was eighth (personal best 8:32), the 400m relay team (:46.82) was ninth and the 1600m relay team (3:41.87)"ran well was a bit tired from the heat from a tough day, taking ninth," Drake said.
The sprints were led by Joey Seder in 17th place in the 100m dash (:12.12), DJ Bonkowski in 19th (:12:13) and Stephen Messing in 25th place (:12.39).
In the 200m, Messing was 20th at :25.06, Seder was 21 at :25.12 and Jacob Rummel was 27th at :25.46.
Three FHS 400m runners had personal best times. Jack Veitengruber was 15th at :54.53, Rummel was 17th at :54.78 and Michael Crary was 22nd at :55.36.
Matt Hinds led the 800m run with a seventh-place time of 2:05.68, followed by Kyle Schmitzer in ninth place (2:06.59) and Riley Fassezke in 16th place (2:08.89).
In the 1600m run, Josh Pendleton was 16th at 4:49.40, followed by Josh Fitch in 27th place (5:04.51) and Fassezke in 33rd place (5:16.72).
Pendleton took ninth place in the 3200m run with his personal best time of 10:30. Fitch took 26th place (11:26.4) and Issak Biddle was 27th at 11:31.42.
In the pole vault, Colin Worden had a personal-best 12-foot jump for sixth place. Parker Pasco was 19th at 9-9 and Nick Fisher was 20th at 9-9.
Long jump was marred by injuries and in the high jump, Matt Hinds cleared 5-2 for 27th place. Benson cleared 5-2 as well for 27th place while 'Muth's main high jumper, Grant Bronner, was fifth at 5-10.