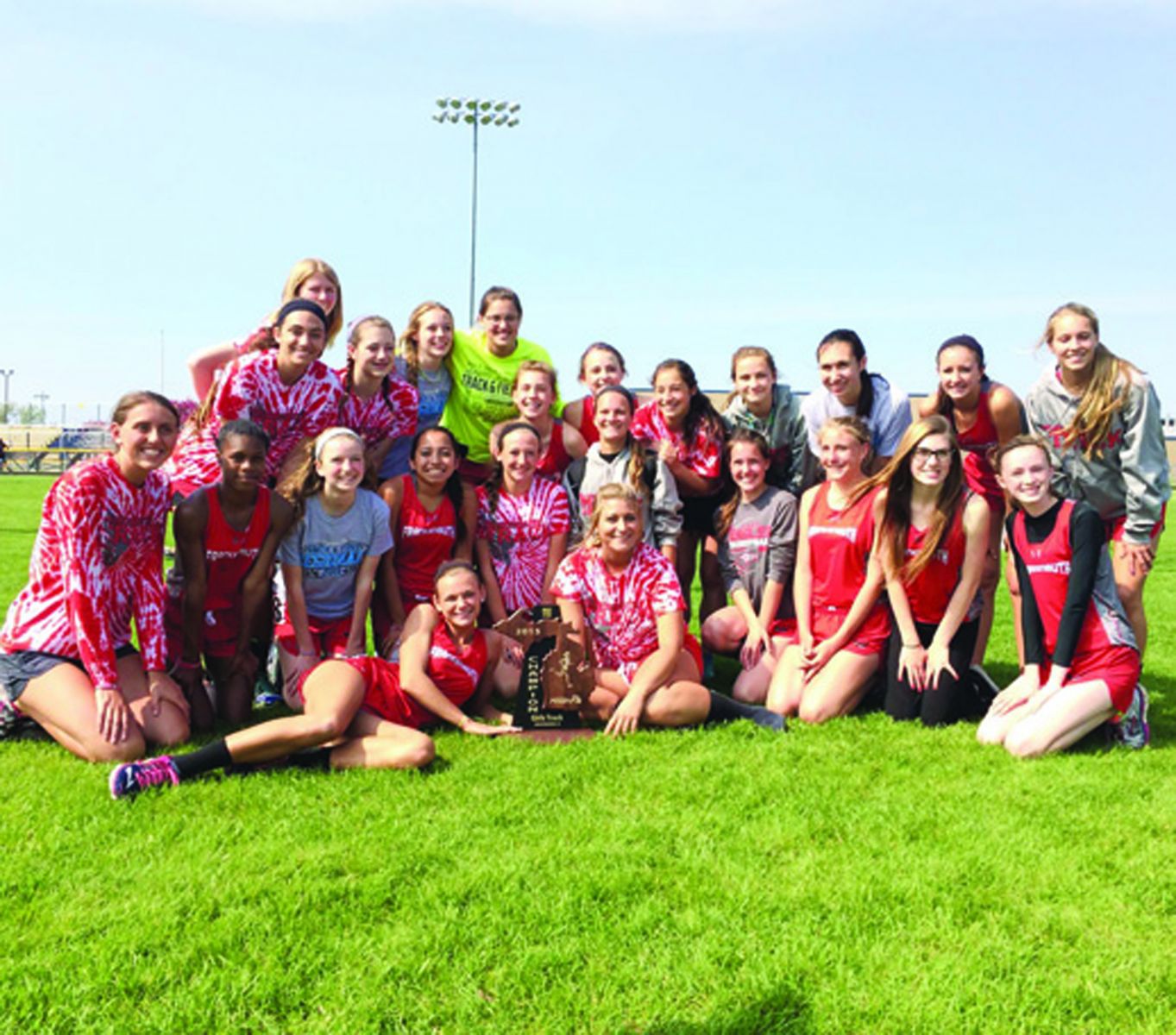 THE FHS VARSITY GIRLS' TRACK AND FIELD TEAM CLAIMED THE MHSAA DIVISION 3 REGIONAL TITLE
Lady Eagles qualify 11 for state meet, win D-3 regional
by Mike Snyder, Head Coach
Congratulations to the Frankenmuth High School Girl's Track & Field Team for their regional win on Saturday, May 16 at Bad Axe High School. The girls qualified eleven athletes in eleven events for the MHSAA state final track meet to be held at Comstock Park High School on Saturday, May 30. Twelve personal records were set on the way to victory.
Senior captains Sarah Beulla and Sydney Bronner led the way with each qualifying for states in four events. Sarah finished first in the 100m (12.86), first in the 200m (26.31), first as anchor leg in the first place 4 x 100 relay (51.49) and first as anchor leg in first place 4 x 200 relay (1:47.99). Sydney captured second in the high jump (5' 2"), first in the 100m hurdles (15.87), first in 300m hurdles (47.48) and first as lead leg in the 4 x 200 relay (1:47.99). Other members of the 4 x 100 relay include: Kendra Kujat, Sarah Pasco and Stephanie Lambeth. Other members of the 4 x 200 relay include: Felicia Whitley and Lauren Woodard.
Senior captain Stephanie Lambeth also qualified in the pole vault, clearing 12' 3" while taking first place. She had good attempts at 12' 6" and we are confident she will surpass that mark by the end of this season. The MHSAA division 3 pole vault state record is currently 12'. Stephanie was nationally ranked during the indoor track season with a vault of 13' 4". Stephanie also took fifth place in the long jump (15' 3.75").
Junior Keri Frahm qualified for states in two events as she took first in the discus (114' 11") and fourth in the shot put (34' 9.5"). Keri is currently one of the top division 3 discus throwers in the state and we look forward to her continued success. Senior captain Sarah Janson placed third and qualified for states by setting a personal record in the shot put (35' 2.25").
Sophomore captain Carissa Schurr ran a personal record in the 800m (2:25.56) placing third at Regionals and qualifying for the state meet. Junior Kelsie Kujat also qualified in the pole vault as she took second place (9') which tied her personal record. Kelsie also scored in the long jump while setting a personal record (14' 1.75").
Others who set personal records at the regional meet include sophomore Jordyn Savage in the 3200m (14:44.2), freshman Sarah Pasco captured third place in the 100m (13:52), freshman Sarah Richmond placed fifth in the 800m (2:33.93), sophomore Autumn Gentner placed fifth in the 1600m (5:49.22) and freshman Hannah Loucks placed eighth in the 1600m (6:02.28). The 4 x 400m relay of Kendra Kujat, Felicia Whitley, Lauren Woodard and Carissa Schurr set a season best (4:20.95) just missing the state qualifying standard by one second.
Freshman Felicia Whitley placed fourth in the 200m (28.63) followed by sophomore Lauren Woodard who placed fifth in the 200m (29.06). Kendra Kujat placed fifth in the high jump (4' 6"). Megan Ihrig placed third in the pole vault (8' 9") completing a 1-2-3 sweep in that event.
Coach Hayes and I are very proud of how the team performed as they met the expectations they set for themselves. It's an awesome feeling to know that the girls finished in the top of their region along with the boy's team. These athletes are holding up the strong tradition of Frankenmuth track and field. We look forward to once again standing on the winner's podium as a team.
Last year's MHSAA division 3 runner-up Pewamo-Westphalia also won their region by a large margin and will be our strongest competition at the state meet. PW has a very strong team that is very well coached and we look forward to this rematch. FHS girls will have to have stellar performances on May 30 in order to repeat as state champions. Coach Hayes and I know that our team will give their very best and that is all we can ask for.