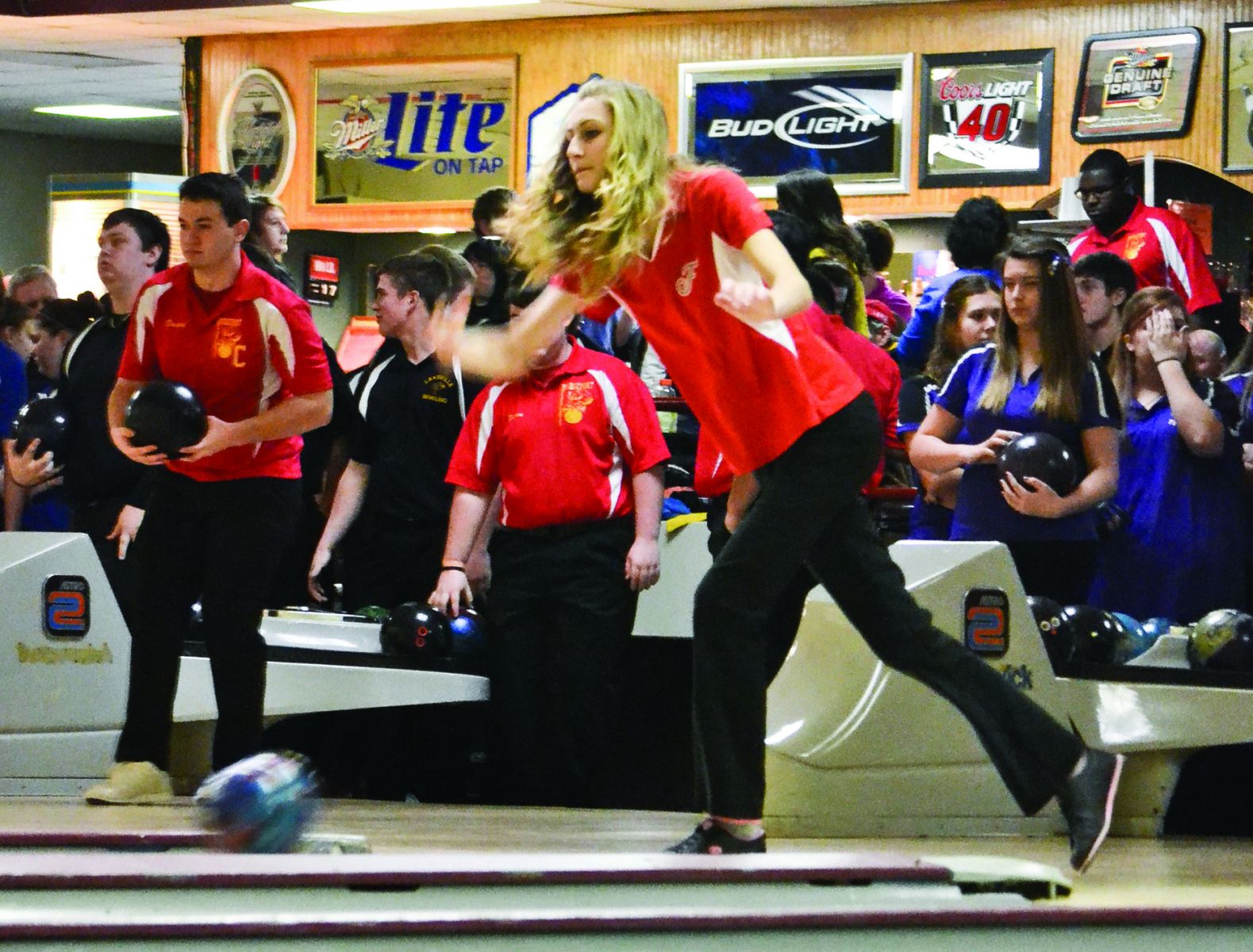 ANNIE MATZKE competes against Caro. (Photo/K. Jammer)
Lady Eagle bowlers fall to Birch Run, Caro
The Frankenmuth varsity girls' bowling team hosted a pair of Tri-Valley Conference East Division schools last Saturday afternoon at the Candlelite Bowling Center.
Birch Run was the first opponent and the Lady Eagles lost, 25-5. High scores for the match were turned in by Billie Harrington with a 182, Mckenzie Freeman with a 165, Madison Jammer with a 159, Anna Matzke with a 157 and Andrea Perlberg with a 155.
FHS lost both Baker games, only posting scores of 161 and 136, which put them 10 points behind Birch Run before the two head-to-head matches.
ven though our scores were a little low on the first game, we only lost totals by 30 pins," FHS Coach Laurie Harrington said. "The girls did bowl much better for the second game, but Birch Run bowled well also."
Caro was the final match and the Tigers tamed the Lady Eagles, 25-5. Perlberg rolled a 180 to lead the team, followed by Freeman with a 174, and Haley Goodall and Harrington each scored 156.
"We did not do well in our Baker matches. There were just too many frames left open in both games," Harrington said.
The head-to-head games saw 'Muth score well but it was not enough to overcome Caro.
Caro is a tough team to bowl against; you definitely need to be on your game and bowl really well," the coach added.
Frankenmuth returns to action at noon on Saturday, January 24, taking on North Branch and Bridgeport.