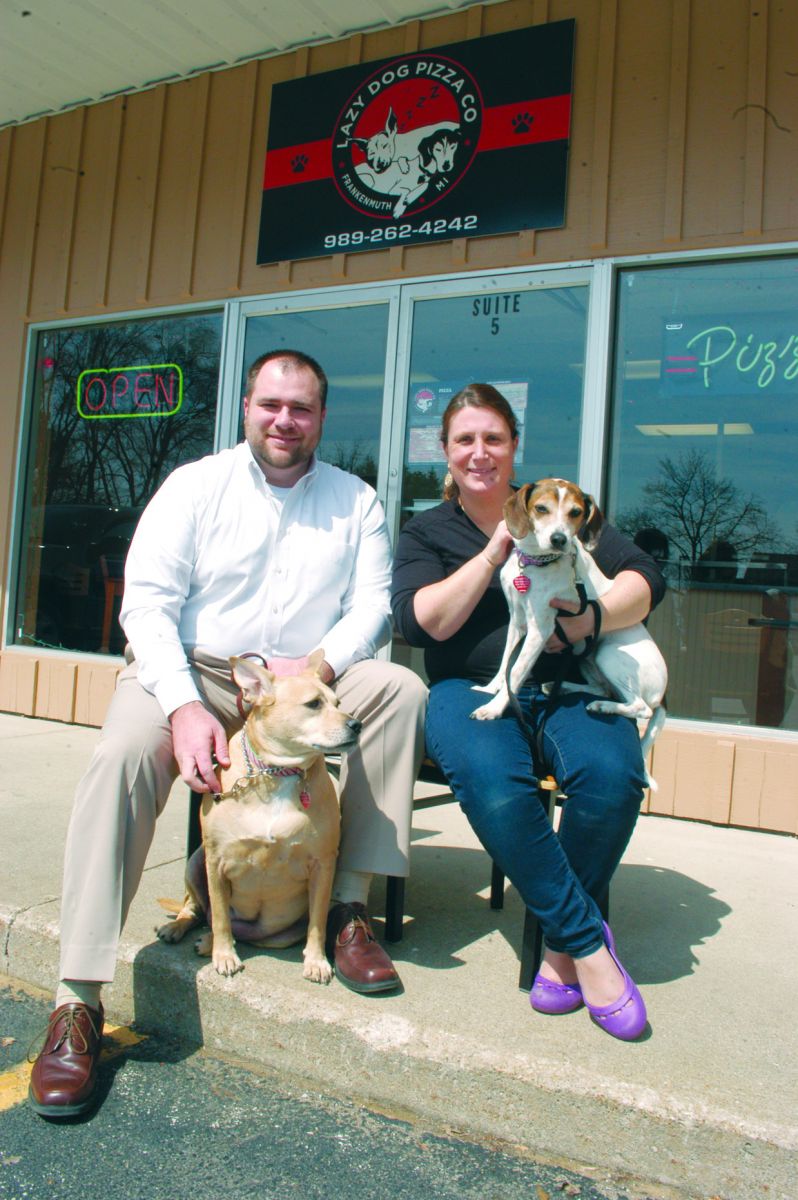 Stadlers open Lazy Dog Pizza Company
Chuck and Lisa Stadler have proven to the community they can create tasty and authentic Mexican food at Poblano's Mexican Grill and Cantina on North Main Street.
The couple has now turned its attention to Italian cuisine, taking over the former Daily Dish and renaming it the Lazy Dog Pizza Company, 154 South Main Street, Suite 5, in the Mid-Town Shops.
The Stadlers reopened the eatery on April 1, adding fresh-baked bread for sub sandwiches and Frankenmuth-area delivery.
Chuck and Lisa took over the former El Fuego at 418 North Main Street in June 2013 and renamed it Poblano's in January 2014. They changed the menu, added beer and liquor and improved the service.
The Daily Dish was opened nearly two years when it recently closed this winter. When it was shuttered, Chuck instigated talks with the former owners and a deal was struck in March.
"We saw this as an opportunity for growth. They had no delivery so we think adding that will be key, in addition to subs, salads and side dishes," Chuck said.
The name Lazy Dog Pizza Company came to the couple while they were on vacation over a month ago.
"It took us a long time to come up with a name and when we were in Florida, I saw a sign for a Salty Dog restaurant and I've always liked that name," Chuck said.
Making the decision easier was the fact the Stadlers have a pair of rescue dogs named "Slinky" and "Peanut." They rescued these dogs nearly 12 years ago and they are incorporated into their logo.
"We all love our pets and we took the positive aspect of that and tied it to our business," Chuck added.
The pizza oven is a state-of-the-art machine that is barely two years old and is still under warranty, Chuck pointed out. Lazy Dog offers build-your-own pizza from round personal, medium, and large, Detroit-style deep dish, thin crust and "gluten friendly."
"It is really funny how many things go into making a great pizza," Chuck said.
There's 11 specialty pizzas listed on the menu, including the Mediterranean and Loaded Bake Potato which features homemade white sauce, baked potato, bacon, Colby Jack and mozzarella cheese and chives.
The featured style is the "Whole Shebang" which lists its ingredients as red sauce, pepperoni, ham, bacon, beef, Italian sausage, green peppers, red onions, mushrooms and black olives. Overall, there are 21 possible toppings for a pizza.
Six different subs and four different salads are also available. The sub bread is delivered fresh each morning and when the restaurant runs out, they are done for the day making submarine sandwiches.
"The bread will have an Italian, pull-type texture," Chuck said.
The Stadlers have about 10 employees and will deliver for a minimum fee of $3 in the greater Frankenmuth area, however, they will deliver just about anywhere with the right-size order.
Robby Rosales, the general manager at Poblano's, will hold the same title at Lazy Dog Pizza.
The Lazy Dog Pizza Company will be open Sunday through Thursday, 11am until 10pm, and Fridays and Saturdays, 11am until midnight. The delivery hours will be the same. The restaurant may be reached at 989-262-4242. They also have a Facebook page.