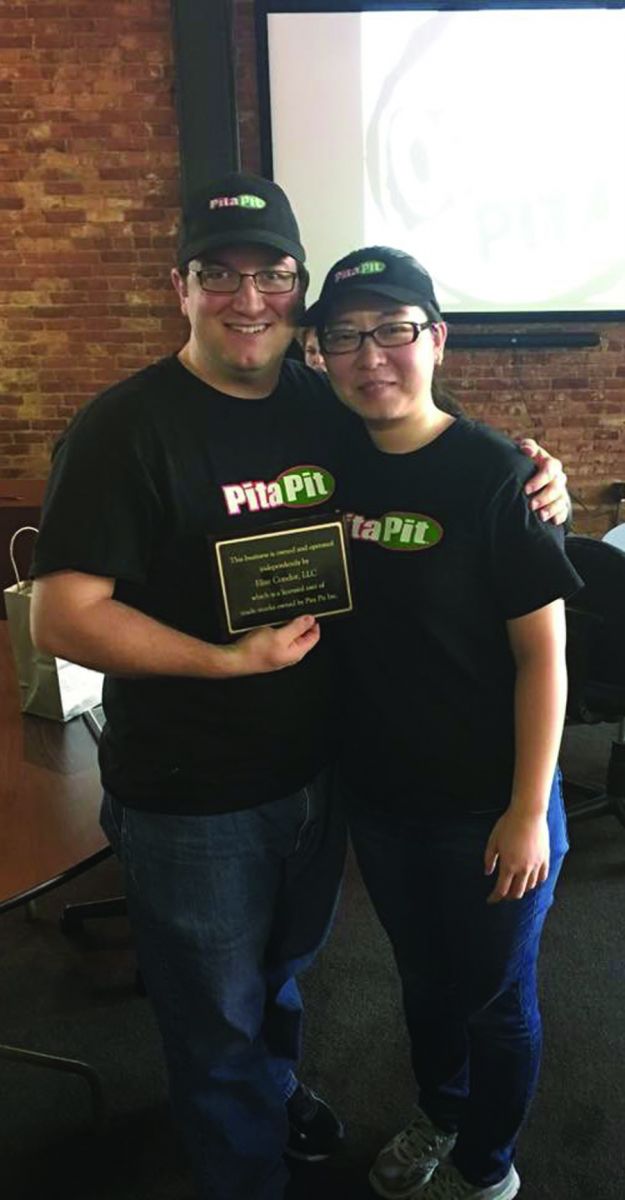 RYAN AND LUNA EHARDT . . . recently opened Pita Pit in Birch Run, next to Conlee Oil. The pair are Frankenmuth residents.
Local residents behind Pita Pit in Birch Run
Frankenmuth residents Ryan and Luna Ehardt are the force behind the newest fast-food restaurant in Birch Run, Pita Pit. With many Michigan locations in East Lansing, Mt. Pleasant, Kalamazoo, Shelby Township and Romeo Plank, Pita Pit has primarily been an attraction for late night college students. Birch Run and the greater Tri-City area is not your typical location to set up a restaurant such as Pita Pit. However, many of the residents in the area, along with travelers from all over have been looking for something healthy which stands out from all the familiar fast food chains.
"Once we made a connection with Conlee Oil, which has been in business around the area for 80 years, and found out that the space inside the Travel Center/Mobil Station right off of I-75 in Birch Run was available, we knew that we had a winning combination," Ehardt said.
Ehardt and wife Luna met at and graduated from Western Michigan University. After graduation in 2012, Ehardt was hired into Nexteer Automotive as an Industrial Engineer, where he currently works. During this time, Luna received her MBA from Saginaw Valley State University and also held various part time jobs throughout her schooling.
Having a small-town feel similar in nature to his hometown of Lexington Michigan, once hired into Nexteer Automotive, Luna and Ryan both agreed that Frankenmuth was going to be their location of choice to reside. They have been Frankenmuth residents since graduating from Western together four years ago.
"While we were in college, and both growing up inside family owned businesses, both of us were convinced that we would start some sort of a venture of our own one day, but did not have any specific ideas as to what type of business we would like to start," Ehardt commented. "While attending WMU we would frequent the Pita Pit that they have on campus and grew an affinity with the food and the brand."
Construction on the site commenced in January of 2016 and by June had opened their doors to customers. Luna manages the eatery full-time and Ryan is there as often as he is available.
"Starting a business has been an unfathomable learning experience for my wife and I, requiring concentration on aspects we would never have thought about prior, but looking back, we would not have had it any other way. The communities around the area have all come out with tremendous support, we feel so blessed to be a part of this wonderful community now as a business owner. Both my father, Bill Ehardt, and our landlord, Jeff Conlee, have been role models on how to conduct business, treat people fairly and show respect."
Pita Pit currently has 21 part-time employees and are still looking for a few more.
"They have all been doing a fantastic job, and I am proud of each and every one of them and how much they have learned and progressed in such a short amount of time," Ehardt continued. "It is such a wonderful feeling to, at the flick of a switch, suddenly create 21 new jobs which did not exist before. This is true small business and what it is all about."
With so many different options, Ehardt says there is a Pita for everyone. They are one of the few quick-serve restaurants who offer vegetarian, vegan and gluten free choices. They also have many meat options such as chicken caesar, gyro, prime rib and Philly cheesesteak along with many others. The benefit is being able to fully customize everything you want inside your Pita, and getting each meal made fresh to order right in-front of you.
"Thanks so much to everyone who has believed in us, helped us to succeed, and pushed us along on our journey so far. We couldn't have done it without the unrelenting support we have received."
The Pita Pit is located at 9180 Birch Run Road, Birch Run, next to the Conlee Mobil. They can be reached by calling (989-349-5050).