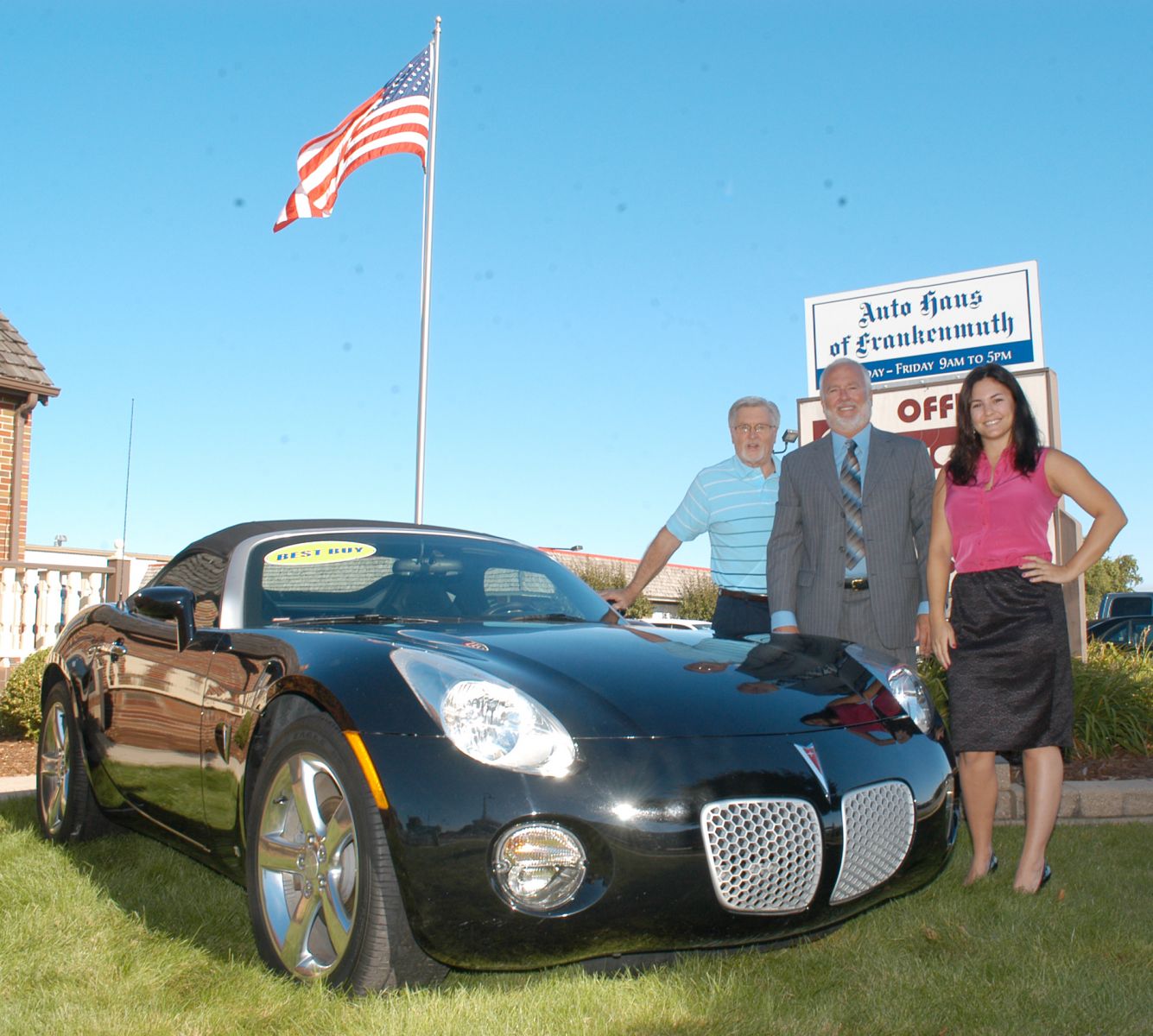 AUTOHAUS OF FRANKENMUTH LLC . . . opened its lot in mid-August and according to owner Scott R. Rausch, sales have been brisk. Pictured with Rausch, center, is his daughter, Tiffany, who is the office manager, and Ken Knieling, who ls the lot manager and salesman. The venture is located at 422 North Main Street and will share an office with Rausch & Associates Realtors. (News photo)
Rausch opens Autohaus of Frankenmuth, LLC
Frankenmuth's Scott R. Rausch has been selling real estate in mid-Michigan for nearly 40 years.
He is going back to his automotive roots in opening Autohaus of Frankenmuth, LLC.
The new venture opened late last month at his real estate office, 422 North Main Street. The dealership lot is located on the north side of the office.
Prior to his 39 years as a realtor, Rausch started his automotive interest back in 1970 when he became the service advisor for Autohaus Saginaw, Inc., a Mercedes-Benz and Volkswagen dealership.
Rausch is a graduate of Volkswagen World Wide, based in Grand Rapids.
Tiffany Rausch, the daughter of Scott and Debbie Rausch, will be the office manager. Tiffany also studied to become a realtor, taking the Michigan license exam last month.
Ken Knieling, a lifelong resident of Frankenmuth, will be the lot manager and salesman. While he will concentrate on the auto sales, Knieling is also taking the realtor exam next month. Rausch will continue selling property.
"I'll sell the real estate and our associates will sell the wheel estate," Rausch quipped. "I have owned the name 𠆊utohaus' for some time now and I always intended to be associated with cars in one way or another."
Since opening a little over a week ago, Autohaus has sold four vehicles. The first one, a 1974 Buick Riviera convertible, was sold and driven to Miami, Florida. The second car was a 2008 Volkswagen, bought by a Hesperia resident. A 2012 Fiat went to a Saginaw resident and a 2012 Chevrolet Impala is now in Manistee.
"We will sell nearly all makes and models from General Motors products to Mercedes Benz and Fiat. All service work will be done locally through quality local dealers. In addition, we will have access to hundreds of classic and specialty interest automobiles," Rausch stated. "I'm trying to make Frankenmuth a one-stop shop for automotive-related parts, service and cars and trucks."
Rausch said if his firm cannot find the vehicle the customer is looking for, there are four other dealerships here in Frankenmuth with large inventories of cars, trucks and service departments.
Autohaus of Frankenmuth is open six days a week; Monday through Friday, 9am until 5pm and Saturdays, 9am until noon. The telephone number is the same as the real estate office, 989-652-3238.