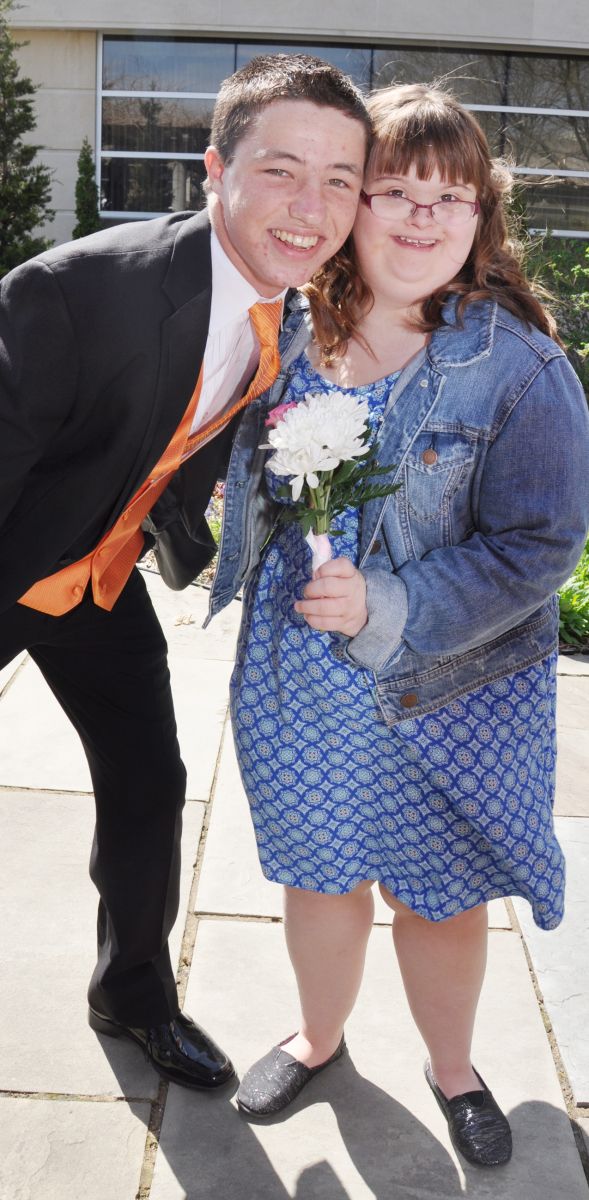 SPECIAL DAY FOR ELIZABETH: Frankenmuth High School senior Elizabeth Kischnick smiles as she receives a bouquet of flowers from her honorary date and Class of 2014 classmate Doyle Webb as she prepares for the prom.
Prom surprise for Elizabeth
As many of you know, it has been a very rough year for the Kischnick family. Well, something wonderful happened on Saturday that I must share with everyone. Only the parent of a special needs child will truly understand the depth of what I am about to tell you.
When Elizabeth was born and they told us that she had Down Syndrome, I automatically thought of all the things she/I would never get to experience, such things as getting her license, going to a prom, getting married, having children of her own, etc. Anyone who knows Elizabeth knows that she has a mind of her own; school dances, the prom or being the center of attention has never interested her.
On Saturday when everyone was getting ready to go to the prom I received a phone call from a senior parent asking if I thought Elizabeth would like to meet up with her senior classmates and do pictures with them? I told Angie I would ask her, but not to count on her. Within an hour I received another phone call giving me a heads up as to what was about to happen next.
Doyle Webb showed up at our house and asked Elizabeth if she would like to ride in the limo with her classmates to get pictures taken. Much to my surprise she said sure. When the limo pulled up Doyle got out to meet her and handed her a bouquet of flowers. Doyle stated that Elizabeth would be his honorary date (he already had an official date).
Yes, you have guessed it at this point I have tears rolling down my face witnessing something I never dreamed I would see. After all the pictures were done, Kristen Kueffner who has been a friend of Elizabeth's since elementary school asked if I thought Elizabeth would like to ride with the group of girls to the red carpet event.
Once again, I said you can ask her but I doubt it, once again, I was surprised by her answer and yes the tears again began to flow. Elizabeth had the biggest smile on her face the entire time and so did I, her Mom.
I can never thank the classmates enough, who were involved in including Elizabeth in this event, you will never understand the magnitude of your gesture for Elizabeth and myself. I always knew the gap would become bigger between Elizabeth and other classmates as the kids got older and always wondered if anyone would include her at high school. Saturday, I realized that there was not a gap, just classmates who have spent the last 13 years with each other.
I thank all of you from the bottom of my heart for including, accepting, tolerating and watching out for her even when you didn't fully understand your differences. By your actions I think that Elizabeth has also had a lasting impact on all of you. I am very proud of the young adults you have become and wish you loads of success as you begin the next chapter of your lives. Always remember the smallest gesture can mean the world to someone!
Thank you again, Elizabeth's Mom (Karolynn)