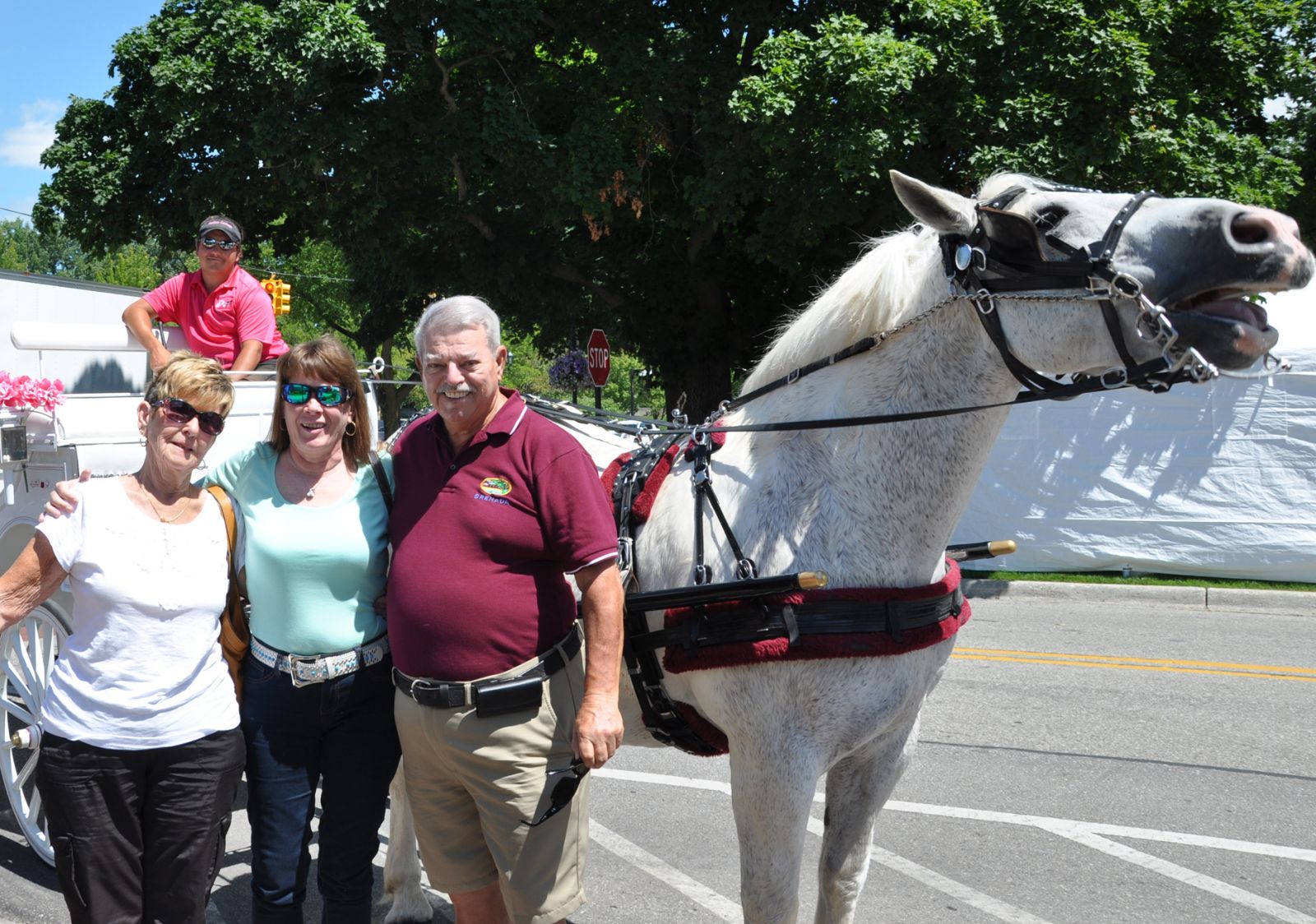 DOING THE TOWN: Florida residents Debbie and Bob Howell, center and right, recently visited Frankenmuth, enjoying the town's many sites and destinations. Gayle Baum, left, a Frankenmuth resident, encountered the couple during the Fantasy Carriage horse-drawn carriage ride, led by 𠇏red" the horse. To see what Gayle did for the couple, please read the guest column below.
Wonderful experience in Frankenmuth
I would like to take the time to share with you the wonderful experience my husband and I had in Frankenmuth.
We flew up last month from Florida with the sole purpose of seeing Bronner's CHRISTmas Wonderland, since I am a Christmas fanatic, it was a must for me to do. This was my second visit there.
We arrived at the Bavarian Inn a bit too early for check-in, but the lady behind the counter pre-checked us in and suggested things we could do. She was so polite and kind and just so very friendly to us. She gave us maps and brochures for review. We decided to make a quick stop at Bronner's to plan my adventure for the next day. Wow! Simply amazing! We went in the store and got ideas how to approach our Christmas shopping experience for the next day.
After that we went into town and ate at the Bavarian Inn restaurant for the seven-course meal. As we remembered it was wonderful, service was friendly and fast and the meal was terrific. Off back to the hotel we go to relax and enjoy our view of the river!
On July 24 we got up early had a delightful breakfast and down to Bronner's we go! We shopped and shopped 'til we dropped! Thank goodness for a snack bar to rest between all the selecting of Christmas items we wanted. Customer service there was outstanding! Ladies came out with ladders to take products off displays with no pressure to buy and no sign of any inconvenience to them. They were clearly happy we were there and having a good time in their store. We got lots of ornaments personalized and many other things; and we were offered extremely cheap shipping to our home giving us the convenience of not hauling the stuff back home by car. Everyone in Bronner's made it clear to us by their actions that they would make sure we enjoyed our experience in their store. The Bronner family should be very proud of the associates that work in the store!
After five-hours shopping, we decided to take a horse and buggy ride around your beautiful town and take in its sights and some history. We got up in the carriage and our dear horse, Fred, showed us the town! Along the way we saw a lady sitting on her stairs so my husband and I waived hello to her, and she waived back. What a cute and quaint little town, so charming and people so very nice! Much to our surprise this lady met us back at the place we picked up the carriage ride from. We were asked if we were the couple who waived and we said yes, and she handed my husband an envelope and said, "it's my birthday, thank you for being so nice and waiving, thank you and go have dinner on me." Please pay it forward. Wow!
We were so taken aback by her kindness! We asked if she would join us and let us celebrate with her but she declined. We said thank you and exchanged names but you know how vacations are, you meet so many people you forget names. We also had a picture taken of us together. What a wonderful lady! What a great town!
So off to Zehnder's, this time to eat. Food was great, service terrific and we got to see the Zehnder's chicken walking around putting smiles on peoples faces! Had another wonderful dining experience. Back to the room we went after checking out a few more shops.
Well, here I am in Frankenmuth and my boss from back home texts me and wants me to bring back some Pickled bologna and Red Hots that he so enjoyed when he lived in Michigan, so off to Kroger's we go. I went earlier and asked the store manager where it was and picked up a couple to take back home. He was so nice and said I know exactly what you are talking about, please let me take you to where they are; and he did. Great customer service! So here we are on our second trip to Kroger's after my bosses' text picking up more of the Pickled bologna and Red Hots that are only made in Michigan. Might I add, as we get up front by the registers the store manager sees us and opens up another line to quicken our shopping experience, thus valuing our time! Awesome customer service! Once again, great people in Michigan!
I could go on forever about the great people of your lovely town, for there were more experiences. We had such a great time and appreciated the kindness of the people and the beauty of the town itself. Thank you, Michigan, for a great vacation!
Bob and Debbie Howell