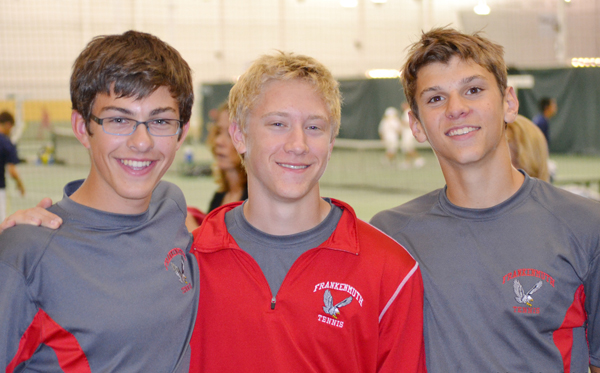 STATE FINAL TRIO: From the left, Frankenmuth varsity boys' tennis players Carson Waites, Joey Seder and Alex Borchard competed in the MHSAA Division 4 state finals and led the Eagle netters to a 16th place finish.
Trip to state finals fruitful for Eagle varsity boys' tennis team
The boys' tennis teams' trip to the state finals was a positive one as they posted a couple of first round wins on the way to an overall sixteenth place finish with three points.
Carson Waites and Alex Borchard drew Kalamazoo Hackett in three doubles play and posted a hard fought 7-5, 7-5 win to record the first state playoff point for the team in ten years. "Alex and Carson developed in the latter half of the season into a very good team that structured matches to their respective strengths. Carson was a baseliner that could stroke the ball with pace and depth. Alex was a real force at the net who hit overhead smashes into next week. They were a tough pair to score points on," stated Assistant Coach Bill Coulter.
The netters other points came from the racquet of four singles player Joey Seder who had a first round bye followed by a three set win against Kalamazoo Christian. After losing the first set, Joey won the next two 6-3, 6-1 to get a point for the bye and a point for the win. "Joey just out hit the other guy. He covers a lot of court and gets everything back. There were numerous long rallies that ended up going his way based on endurance and stroke mechanic discipline," stated Head Coach John Friend.
Four seniors played their last match for the Eagles. One singles player Zach Bierlein, three singles player Kevin Fresorger, and the one doubles team of Greg Perry/Jason Schaeff all lost in tough first round matches at Holly and Fenton High School respectively. Their departure leaves some big holes to fill as the team eyes next season. "We are strong on the doubles side with a number of guys coming back who have court experience in TVC and Regional playoff action. Replacing 50% of our singles flights is a challenge but also an opportunity for guys to step forward," added Friend.
The team bumped into familiar opponents as teams from Sandusky, Essexville Garber, Nouvel Catholic Central and Ann Arbor Rudolph Steiner all made the state finals. For the first time in school history, the one singles player from Saginaw High qualified as well. "We certainly compete against all these teams during the regular season, but I think all the respective coaches are glad to see that we all made it. I was especially happy for the athlete from Saginaw High. He's got game," stated Friend.
The perennial powerhouse of Ann Arbor Greenhill won the Division 4 state playoffs with Grand Rapids West Catholic earning the runner up spot.