Pitch clinic offered
FHS Golf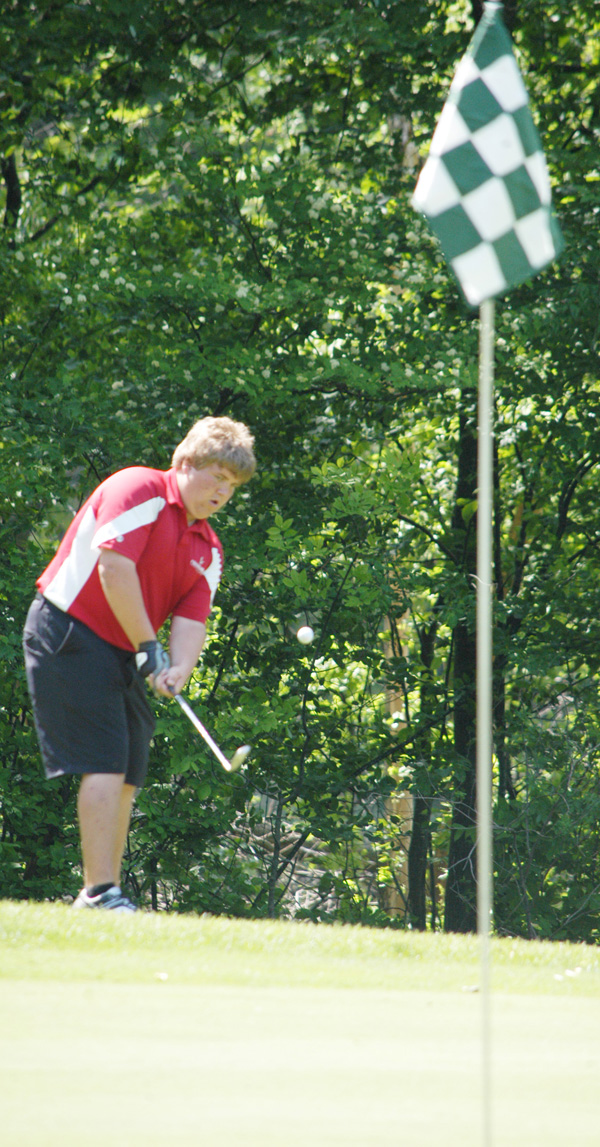 TRICKY CHIP: Frankenmuth varsity golfer Nate Maroun chips to the eighth green at The Timbers Golf Course during last Thursday's MHSAA Division 3 District. The Eagles took second place to advance to the regional set for Thursday, June 9, at the Flint Elks Club. (News photo)
'Muth golfers off to regionials
The Frankenmuth varsity boys' golf team tuned up for MHSAA District action with a trip to the Red Hawk Golf Club near Tawas last week.
The Eagles settled for fifth place at the Tawas Invitational, carding a 356. The hometown Braves and Davison tied at 330. Flint Powers was third at 336, followed by Alcona at 353.
Nate Maroun led FHS with an 11th place finish at 85. Joel Warnemuende shot an 88, followed by Chris List with a 90, Mitchell Leach fired a 93 and Brennan Zimmer scored 100 on the tough, 18-hole layout.
Medalist honors went to Tawas' Matt Mcardle with an eight-over-par 80. The weather conditions were nasty, cold and wet.
In Tri-Valley Conference East Division action, the weather caught up with the league's coaches and players. The Caro Jamboree was never completed.
"We tried separate days and were rained out on both. We (the coaches) decided to use the five matches to determine the league champs and the first and second team All-TVC East golfers," FHS Coach Dan Wagner said.
Essexville Garber took first place in the East with a five-match total of 818 strokes. The Eagles were 36 shots back with an 854. Caro was third at 870, followed by Birch Run (872), North Branch (879) and Millington (1,010). Bridgeport does not field a boy's golf team and Otisville-LakeVille will join the TVC East this fall.
List and Maroun were first-team, All-TVC East players while Warnemuende earned honorable mention status. Also on the first team were Garber's Zach Brewer and Seth Studer, Birch Run's Dalton Vollmer and North Branch's Nick Kreiner.
The Tawas tune-up worked for Wagner and his players as they took second place at the MHSAA Division 3 District 29 at The Timbers Golf Course May 30.
Playing on a very warm, sunny and humid day, Flint Powers Catholic won the match with an 18-hole score of 316. 'Muth was second at 335, followed by Garber (337), Caro (348), Birch Run (362) and Bad Axe at the 11-school event. The top six schools move on to the MHSAA Division 3 Regional at the Flint Elks Club on Thursday, June 9, at 9am.
Maroun paced FHS with a six-over-par 78. Warnemuende carded n 80, List fired an 87, Leach shot 90 and Brennan Zimmer a 95.
"Joel had his best 18-hole round of the season and he received top 10 honors. Nate continued to play consistent golf and also earned top 10 medal," Wagner said.
Garber's Brewer and Powers' Graham Fulcher each shot 75 to tie for medalist honors.
Wagner said his team is looking forward to playing the Elks Club.
"The Elks is more forgiving than The Timbers, but it is longer. It is known for its fast and demanding greens," Wagner said. "We will practice there once this week to prepare, focusing on putting speed and shot placement for the greens."
Battle Creek's Bedford Valley will be the site for the MHSAA Division 3 State Finals, set for Friday and Saturday, June 14-15.
2057