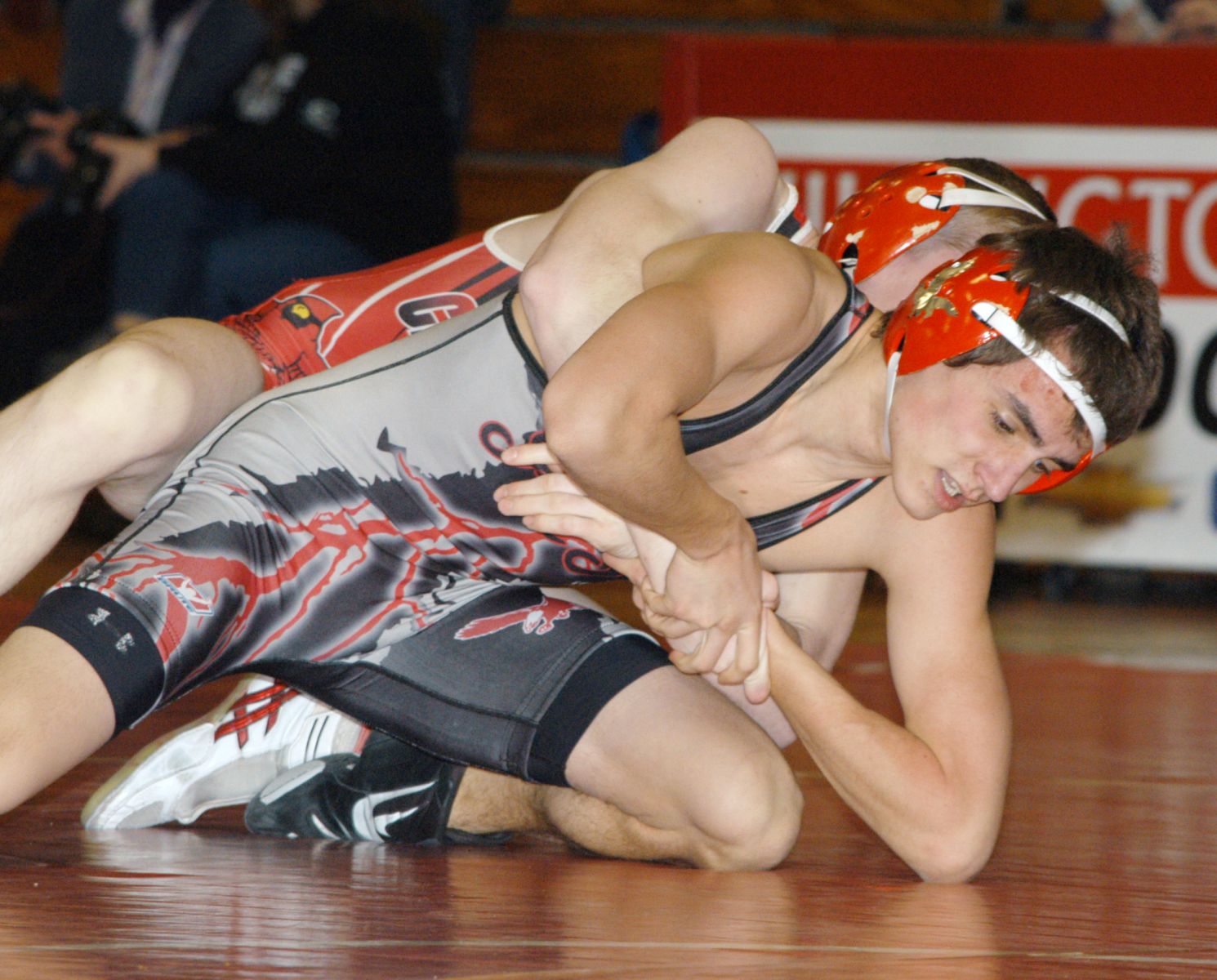 GETTING A GRIP: The Frankenmuth varsity wrestling team wrapped up it team season last week at the MHSAA Division 3 Team District at Millington, falling to the Cardinals, 1-0. Chandler White, at 112 pounds, continues to wrestle in the MHSAA Division 3 Individual Regional this Saturday, February 22, at Richmond. (News photo)
FHS wrestlers end team season; White continues to regionals
The Frankenmuth varsity wrestling team is wrapping up its 2013-14 season and has one grappler still alive in post-season action.
On Monday evening, the Eagles traveled to Millington for the MHSAA Division Team District. FHS met Millington while Caro took Bridgeport.
'Muth fell to the Cardinals and the Tigers defeated the Bearcats. In the end, Caro won the district and will advance to the regionals.
𠇊lthough the score did not show a great deal of improvement, our wrestlers did improve. We scored two pins with Anthony Schurr at 189 pounds and Alex Mawer at 215 pounds," FHS Coach Bob Slavik said. 𠇊lex pinned the No, 9-ranked wrestler in Division 3."
𠇏rom top to bottom, we wrestled better on our feet, scoring on most of Millington's wrestlers which we did not do the first time we dueled them," Slavik added. "The lower class men are already thinking next year and how we can improve in the off season. It's good to hear talk of dedication and commitment and the want to improve."
While the team portion of the season is over, Frankenmuth has one wrestler who advanced from the Individual District held at Oscoda on Saturday, February 8.
Chandler White, wrestling at 112 pounds, is off to the Individual Regional at Richmond, set for Saturday, February 15.
𠇌handler is a freshman who is having a great season with a record of 22-5. The entire team will continue to help prepare him for the rest of the season," Slavik said.
The 2014 Individual Finals are set for February 27 through March 1 at the Palace of Auburn Hills.