Pitch clinic offered
Eagle Football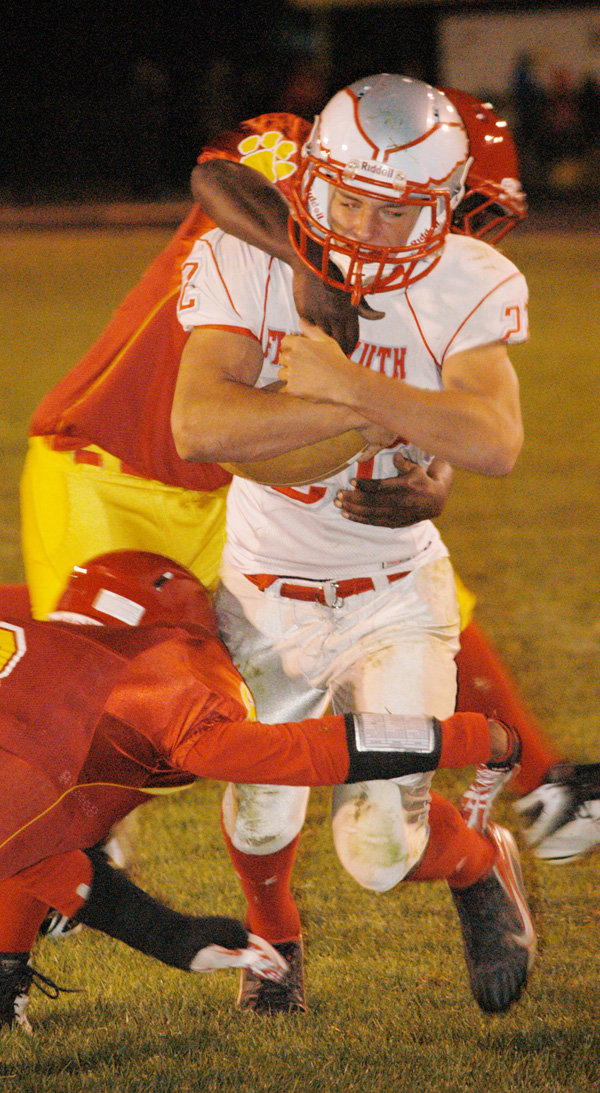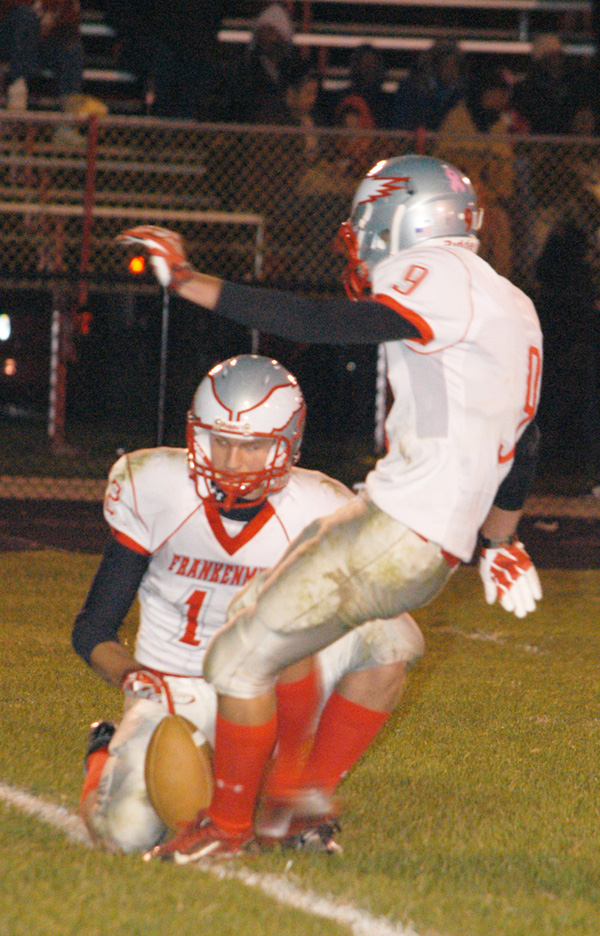 BALL SECURITY: Frankenmuth varsity running back Brian Stearns, above and left, scores one of his three touchdowns on the night against Bridgeport. Above and right, Aaron Krafft tacks on a PAT kick from the hold of teammate Tyler Janson. The Eagles defeated Bridgeport, 50-14.
Back-to-Back Titlesl!
Eagle gridders win 15th straight TVC East game; defeat Bearcats 50-14
Football weather finally arrived in time for the last Tri-Valley Conference East Division contest of the season for the Frankenmuth varsity football team.
The chilly temperatures and blustery winds did not deter the Eagles from their mission, winning the TVC East title outright as they defeated host Bridgeport, 50-14.
'Muth is currently 7-1, with the lone loss coming in week one against Hemlock, 19-12. The TVC mark of 7-0 gives them their first, back-to-back undefeated league crowns since the late 1960s.
The Eagles scored 21 points before nine minutes of the game were gone and led 35-0 at halftime.
"We were able to get off to a fast start paced by our offensive line. We started with a quick tempo to try and take advantage of our quickness and not let them take advantage of their size," FHS Coach Phil Martin said. "Also, our goal was to contain their two main offensive weapons and I thought out defense did a great job of tackling in space and limiting their big plays and any easy scores."
The Bearcats received the opening kick off and were held to four downs and out. Running back Brian Stearns capped a four-play, 53-yard drive with a two-yard touchdown plunge. The drive used just 50 seconds.
Aaron Krafft made the first of his six PATs and the Eagles led 7-0. Krafft is 32 of 35 in PAT kicks this season.
Bridgeport turned the ball over on downs and Frankenmuth went to work with 7:31 left in the first quarter. Eight plays and 67 yards later, Stearns scored on a two-yard run for 14-0 lead. Key plays were Stearns; 21 and 15-yard runs on third down and a Cam West 10-yard rush.
The Eagle defense rose to force a fumble and three incomplete passes on Bridgeport's third drive. Forced to punt, 'Muth's special teams blocked the Bearcat punt and Stearns scooped up the ball and ran 26 yards for a TD and a 21-0 score with 3:32 left in the opening quarter.
Bridgeport mounted a six-play, 53-yard march that ended with FHS defensive back Tyler Janson picking off Bridgeport quarterback Joe Hitzeman's pass at the Eagle 19-yard line. Janson dashed 33 yards and Frankenmuth was back in business near midfield.
Six plays later, FHS quarterback Nick Volk fumbled and Bridgeport recovered the ball at the Bearcat 21-yard line.
The defense allowed two first downs but stopped BHS, forcing a punt. 'Muth started at its own 15-yard line and nine plays and 85 yards later, the Eagles scored on a one-yard run by West. Volk and Stearns combined for most of the rushing yardage for the 28-0 advantage in the second quarter.
Frankenmuth made it 35-0 with a five-play, 67-yard drive. Jack Veitengruber got loose for a 22-yard TD run. Two key plays were Volk's lone completed pass, a 26-yard toss to Stearns, followed by Jake Reinbold's 16-yard rushing gain with 1:06 left to play in the half.
Frankenmuth took the second half kick and marched seven plays and 80 yards when West rambled 13 yards for a TD. Reinbold ran the ball four times for 39 yards in the drive and the Eagles led 42-0 with 7:12 left to play.
Bridgeport ended the shutout with a five-play, 17-yard drive following a 63-yard kick off return by Brian Burton. Burton scored on a three-yard run and Andre Jackson kicked the PAT and 'Muth's advantage was trimmed to 42-7.
Reinbold took his return game to another level and brought the Bearcat kick back 69 yards to the Bridgeport 20-yard line. Two plays later, West rushed 18 yards to paydirt with 1:32 left in the third quarter. Janson tossed a two-point PAT pass to Josh Stange to give FHS a 50-7 lead.
Bridgeport ended the scoring with an eight-play, 70-yard march, ended with a Hitzeman 15-yard pass to Aquavis Brooks at the 7:28 mark of the fourth quarter. Jackson booted the PAT.
On 'Muth's last possession, Krafft attempted a 46-yard field goal that was wide left.
Stearns led the 414 yard rushing attack with 129 yards on 11 carries. West amassed 112 yards on 12 carries and three TDs and Reinbold added 84 yards on eight rushes. Volk legged out 56 yards and was 1 for 6 for 26 yards passing.
Burton, the Bearcats high-octane running back, gained 80 yards on 17 carries while Hitzeman was 10 for 22 for 121 yards, one touchdown and one interception.
Defensively, Veitengruber collected nine tackles, four were solo efforts. Krafft added six tackles and Janson, Derek Warnemuende and Anthony Schurr posted five tackles each. Kyle Mikolaizyk recorded a 10-yard sack.
For the game, FHS totaled 440 yards of offense on 46 plays (9.6 yards per play) with 21 first downs, 20:56 time of possession and going 4 of 6 on third-down conversions.
"Our backs did a great job of eating up yards and moving the chains, putting up 414 yards on the ground," Martin noted. "Nick did a good job calling most of the offense at the line in the first half and getting us into the right play."
Bridgeport had 138 yards rushing and 121 passing for 259 yards. The Bearcats had 16 first downs, 52 offensive plays, held the ball 27:04 and were 4 of 10 on third down conversions.
For Vassar, this is a playoff game as they need a win to secure spot in the post season.
"I am sure they are going to put everything into this game. They are a good football team and have lost close games to Lakers, Reese and Marlette – all pretty good football teams," Martin said. "I believe the last time we won there was 2007 so we need to be ready to play in what will be a tough game. For us, this could be the difference between hosting a playoff game or being on the road the first week so this game is important to us as well . . . not just for bragging rights."
4993