Pitch clinic offered
Eagle Soccer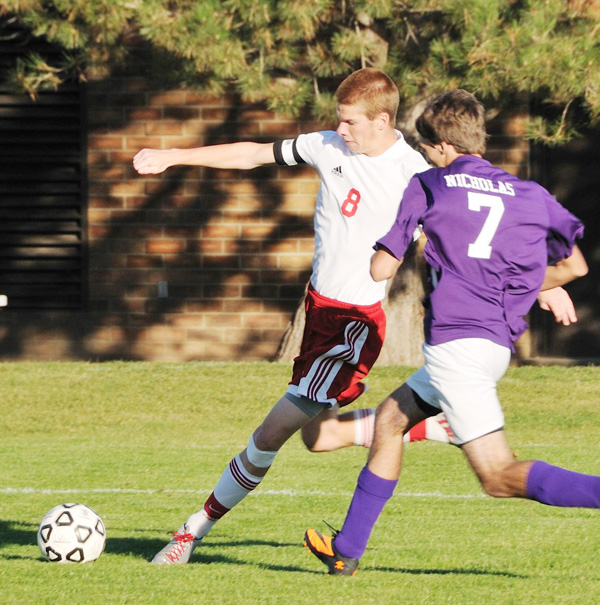 NATHAN WORDEN . . . a member of the Frankenmuth varsity boys' soccer team, controls the ball against a Caro player during last Monday afternoon's home MHSAA District playoff opening game. The Eagles blanked the Tigers for their 20th straight victory (21-2-0 overall, 1-0 in the TVC East) and will face Bad Axe at home today (October 16) in a district semifinal. (Photo courtesy/Kriss Olgren)
'Muth kickers win streak at 20 following 4-0 victory over Caro
Frankenmuth opened MHSAA District play on Monday with a convincing 4-0 win over the Caro Tigers. The Eagles were facing Caro for the third time this season, with Frankenmuth taking both prior matches, but Caro came into the game with confidence, having played well down the stretch, losing only to Frankenmuth in a close 2-1 game. In addition, Frankenmuth was without starting goalkeeper, Evan Kellom, who sustained an injury in an earlier game. However, the Eagles were up to the challenge as they were very aggressive on offense, while maintaining a solid defensive front, and transitioned from one to the other with seamless midfield play
Jimmy Johnson got Frankenmuth on the board early as he knifed through the Caro defense and ripped a hard shot into the upper left hand corner for a 1-0 lead just 2:37 into the contest. Frankenmuth continued to apply pressure for the rest of the half, but were unable to convert against Caro's excellent goalkeeper, Dakota Zapfe, until Nathan Worden intercepted a pass 20 yards in front of the Tiger goal. Capitalizing on the turnover, Worden turned and fired a long shot that eluded the Tiger keeper at the 38:45 mark, giving the Eagles the all-important two goal lead at the half.
Frankenmuth continued to possess the ball in the second half against the tough Caro defenders, and eventually the ball control and precision passing wore down the Tigers. When Matt Hinds scored at the 49:57 mark off a beautiful pass from Elliot Trombley, the wind really seemed to go out of Caro's sails. The final score came with just under 7:00 to play as Nathan Worden took the ball deep into the right corner and fired a cross to Elliot Trombley who headed it home with authority for the final 4-0 margin. For the game, Frankenmuth outshot Caro 10-2 and owned a 4-1 advantage in corner kicks. Mitchell Kischnick got the start in goal for the Eagles and responded by saving the only two shots Caro put on frame. Regular keeper Evan Kellom's status for future tournament games is currently unknown.
Prior to the Districts, Frankenmuth closed out a perfect TVC East season with an 8-0 shutout of Birch Run on Senior Night. Jimmy Johnson and Matt Hinds each scored a hat trick with Doyle Webb and Elliot Trombley adding one goal each. At halftime, the eleven Frankenmuth Seniors were introduced and honored along with their parents.
The Eagles also traveled last week to Kearsley High School for their final regular season game and pitched another shutout, this time 5-0 behind goals from Doyle Webb, Matt Hinds, Jimmy Johnson, Elliot Trombley, and Nathan Worden. The balanced Eagle attack, as usual, was complimented by suffocating defense, which allowed no Kearsley shots on goal.
The two season ending wins, coupled with the opening round District victory over Caro, runs Frankenmuth's winning streak to 20 consecutive games, moves their overall record to 21-2-0 (10-0-0 TVC East), and puts them into a second round District matchup on Wednesday at home against Bad Axe, 10-5 winners over Otisville-Lakeville. The winner of the Frankenmuth/Bad Axe game will advance to the District Finals to be held Friday at 4:30pm here in Frankenmuth.
552