Business News
Police Report
New Business
2013 City Yard Waste Program
Balloons in the Sky!
Military & Space Museum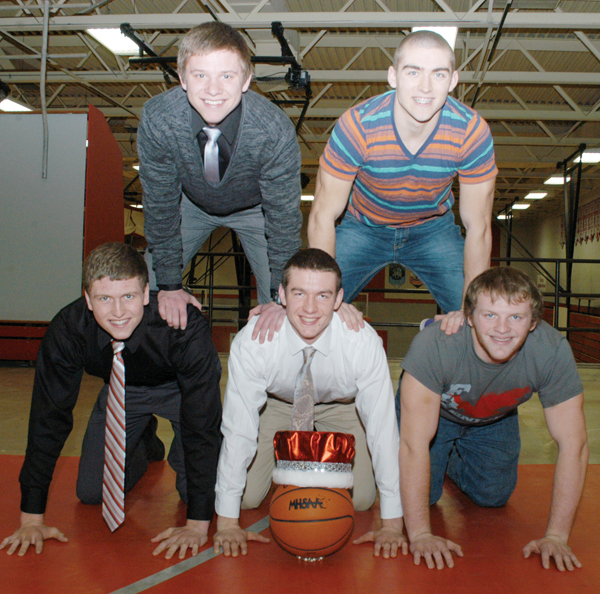 ONE TO BE KING: The Frankenmuth High School student body will celebrate Comehoming 2013 beginning today (January 30) and culminating with the Eagle and Lady Eagle varsity basketball games on Tuesday, February 5. Vying for Homecoming King are these five candidates, from left to right, Adam Bookmyer, Joel Warnemuende, Bryce Frahm, Ian Fischer and Jesse Micho. The crowning will take place at halftime of the Lady Eagles' contest. (News photo)
FHS student body to mark Comehoming 2013 Feb. 5
Video Games will be the theme for the Frankenmuth High School 2013 Comehoming activities.
Comehoming's Spirit Week will begin today (January 30) and will culminate with varsity basketball games on Tuesday, February 5, against Tri-Valley Conference East Division school Essexville Garber.
Each grade will have is own video game theme. The freshmen will have Wii Sports, sophomores will have Pac Man, the junior will have Rock Band, the seniors will have Mario Brothers and the FHS faculty will have Donkey Kong.
Today's Spirit Week theme is Beach Day, followed by Layers Day on Thursday (wear many t-shirts and remove one per hour is the original idea), Friday will be Cowboy/Cowgirl Day, Monday will be Video Games Day and Tuesday is the traditional Red and Gray Day.
There will be a pep assembly at 2:35pm to introduce the candidates and winter sports teams and activities. FHS teacher Jason Paetz will emcee the assembly, hosted by the Frankenmuth Student Council.
Comehoming is to basketball as Homecoming is to football in the fall. The biggest difference is that at Comehoming King will be crowned.
The Lady Eagles will take on the Dukes at 6pm and boys will follow around 7:30pm. The Comehoming King will be crowned at halftime of the girls' contest. The 2012 king, Alex Kueffner, cannot crown the new royalty. Rachel Williams, the 2012 Homecoming Queen, will do the honors.
The five Comehoming King candidates are: Adam Bookmyer, the son of Alison and Doug Bookmyer; Bryce Frahm, the son of Teresa Crook and Eric Frahm; Ian Fischer, the son of Dawn and Jeff Fischer; Jesse Micho, the son of Sandy Bernreuter and Kirby Micho and Joel Warnemuende, the son of Lori and Scott Warnemuende.
A special Friday FEED will take place where the king candidates get interviewed and then the entire student body votes for the king, after the airing of the FEED. That will give all students a chance to meet the candidates after airing the FEED.
During Comehoming, each grade creates a themed banner. For Comehoming, each grade competing in Door Décor.
"They each have a wooden door to decorate using their grade's theme and all the winter activities and sports. The doors will be on display at the Comehoming game with the winner being revealed during the halftime festivities," FHS Principal JoLynn Clark said.
The Comehoming chairperson is senior Lauren Peterson and the co-chair is Maria Martuch.
553