Business News
Cass River Dam project
Police Report
2013 City Yard Waste Program
Men's Fastpitch League
FHS Graduation
Frankenmuth's Farmer's Market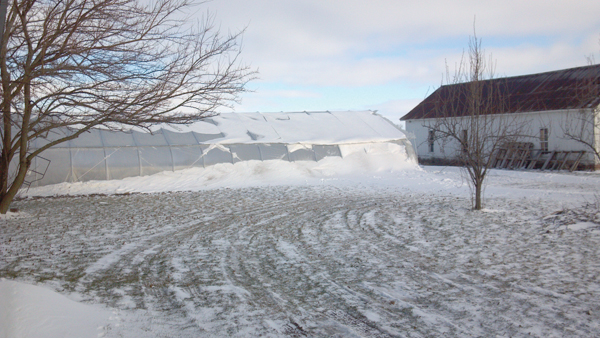 WHILE ITS COLD AND SNOWY OUTSIDE...the inside of Laurajeanne Kehn's hoophouse (pictured above and below) located in Frankenmuth Township is fairly wam and growing cold weather crops, such as lettuce, spinach, romain, Swiss chard and more.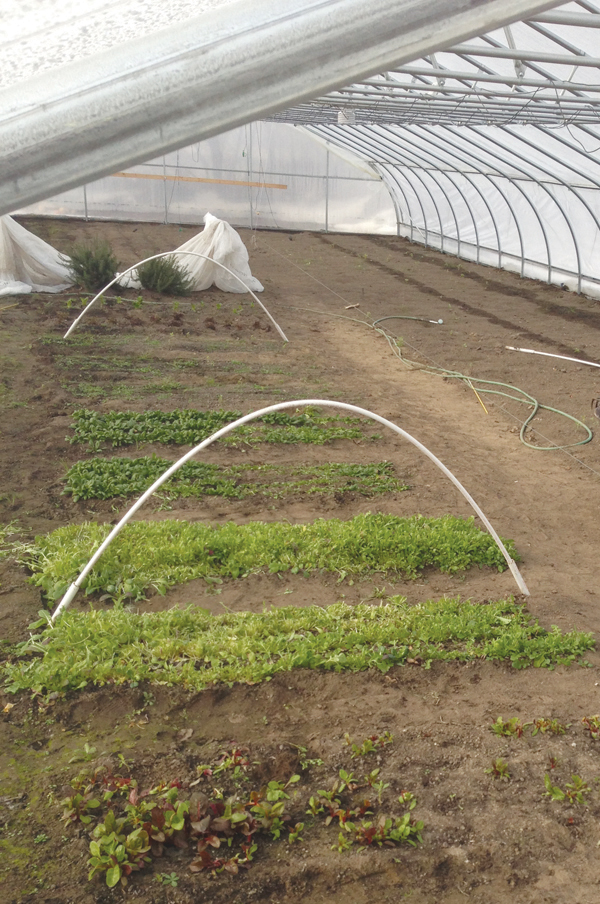 Winter Greens
An Interview with Market Manager Laurajeanne "LJ" Kehn by Dietrich Bronner
Dietrich Bronner: You are now growing greens in a hoophouse, mid-winter! What is a hoophouse?
Laurajeanne Kehn: Our 96'x30', 15' high hoophouse is an unheated greenhouse, a plastic covering over metal hoops arching out of the ground. My family built it last July, after the Michigan Farmers Market Association, MSU Organic Farm, and Michigan Food and Farming Systems presented workshops on extending the growing season using hoophouses. My family wanted to farm, create a sustainable food supply, and provide a source of income.
DB: Did this have anything to do with you managing the Frankenmuth Farmers Market?
LJ: No, I aim to sell large quantities of produce to restaurants and individuals wanting bushels for canning and preserving. I'll extend the season and the supply, and customers can extend their enjoyment of it!
DB: How did you come up with the name?
LJ: My late husband Jim had family in New York tending plots of land they named La Fattoria ("The Farm" in Italian). We adopted that name to honor Jim's Italian heritage. It's a great tribute to him. I miss him very much, but he would be so proud to see the first fruitful results of the harvest.
DB: Is La Fattoria considered organic?
LJ: Everything is grown 100% according to National Organic Program Standards, but certification takes three years. I also follow biodynamic principles, planting according to the phases of the moon which lend a "pull" to the plants in helping them grow.
DB: How is it possible to grow lettuce in the middle of winter?
LJ: Lettuces are cold weather crops. We planted the seeds in September, and they withstand temperatures down to 12°F. Even if covered in icicles, the leaves slowly thaw, dry out, and survive just fine. To maintain heat, the hoophouse has an optional internal cover that preserves soil temperature. Grasshoppers are still alive in there—it's a constant battle against them! Overcast nights and sunny days are ideal for growth. Saturday, January 5, it was 27°F outside but 48°F in the hoophouse.
DB: Is the hoophouse used all year long?
LJ: Yes, it extends the growing season of anything. You can plant earlier and harvest later, by controlling the environment, moisture, and temperature inside it. Our state-of-the-art weather system monitors the humidity and temperature in the greater hoophouse and also under the supplemental winter covering. I set it to notify me when temperature or humidity exceeds specified high or low limits. I can manually raise and lower the side panels of the hoophouse, or add extra layering if it's cold. A drip system waters the plants.
DB: Will you bring ­your hoophouse produce to the Market? Will you offer a CSA? (A CSA is "community-supported agriculture" in which customers sign up to buy a "share" of a farm's produce for the entire growing season, receiving weekly deliveries of whatever is ripe for harvest.)
LJ: Yes, I'll bring odd things to the Market, produce other farmers don't grow and things customers won't even recognize! We will offer a CSA limited to ten customers in February when our website goes live.
DB: So what's growing now? And how do we get it?
LJ: A mixture of lettuces: endive, mache, dandelion greens, Swiss chard, spinach, escarole, red oak leaf, romaine. I bring it weekly to Healthy Habitz when possible, but the supply is dependent on Mother Nature. Anyone interested can call me at (989) 295-9766. Should conditions stay perfect with a moderate winter, we will cut back the lettuce and it will regrow all the way through March. We will plant more in February for spring's harvest.
DB: What's the best way to eat this "winter green?"
LJ: Greens like this are never washed before they're sold, so they last up to three weeks in the fridge. Because of winter's limited light, every part of the plants is sweet. The leaves never reach full adult size, so nothing gets bitter.
DB: Local greens in the middle of winter—sounds like a "sweet" deal to me!
LJ: You're right! The hoophouse could pay for itself this year, but more realistically in two years. We're going "green" in more ways than one!
101 Ways for Winter Greens Salad
"Lettuce" celebrate local winter greens with a salad adaptable to any desire.
-La Fattoria greens, washed and dried
-Miller Orchard apples, diced
-Hoffman Farm hickory nuts, toasted
-Michigan dried cherries
-Michigan goat cheese
-Eddie ­Baker's chive vinegar
-Great Lakes Olive Oil Co. olive oil of choice
-Salt and pepper
Toss all ingredients in a bowl. Use one measure of vinegar to two or three measures of oil. Employ different fruits, nuts, cheeses, or flavors of salt, pepper, vinegar, or oil for a different salad every day.
–Recipe by Laurajeanne Kehn
Full article available at www.frankenmuthfarmersmarket.org
1166