Pitch clinic offered
FHS names new football head coach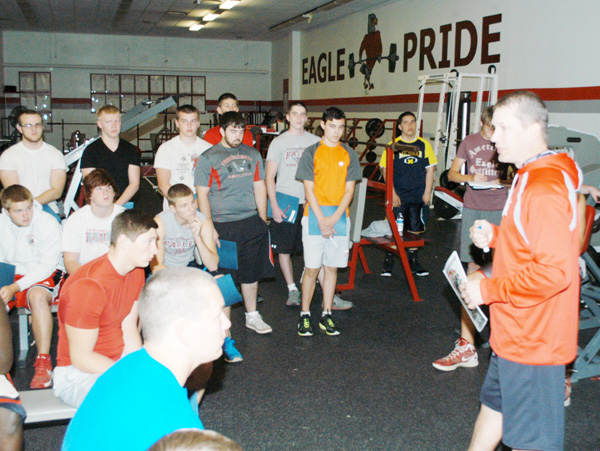 PHIL MARTIN . . . right, is the new Frankenmuth High School varsity football head coach, taking over for Tim VanWormer, who left the program to become the head coach of his alma mater, Houghton Lake. Above, Martin meets with some of players during a Monday weight room session. (News photo)
Martin named Eagle varsity head football coach
Phil Martin knows about the expectations for success when it comes to the Frankenmuth varsity football program.
Martin plans to continue that tradition as he takes over the head coaching position for the Eagles.
Martin was officially named the head coach May 31 and met with the players June 3, organizing staff, getting team camp set, preparing for August scrimmages and the 2013 season.
Tim VanWormer, the Eagles' head coach since 2009, stepped down earlier this spring to return to his home town Houghton Lake where he will lead the Bobcats' program. VanWormer was 24-15 over that time. VanWormer will also be the Bobcats' athletic director, will teach social studies and will look to turn around a program that was 1-8 last season.
When the coaching position became open, Martin said he was interested, had a few conversations with key people and with support from current people on the football coaching staff, decided to throw his hat in the ring. Martin was a junior varsity assistant coach since 2010.
With a 10-1 record last year, Martin plans to make only small tweaks to the program.
"This program has been very consistent and it is on very solid ground. It has been a model of consistency so why would I make a lot of tweaks to the tradition," Martin said. "Let's be honest, the pressure to win here is every year, regardless of the season."
The program was founded in 1956 and has a 382-147-4 overall record, the 20th best program (out of 589 high schools) in the state since 1950.
"Whenever you can be a part of a program with the community, student and alumni support such as Frankenmuth, it is exciting," Martin stated.
The option veer will continue to be the base offense, with defense getting "some alterations."
Martin is a 1988 Vassar High School graduate. He earned an associate degree in architectural technology from Delta College, received a bachelor's degree in marketing and business management from Northwood University and earned a master of school administration and career and technological education from Ferris State University.
Martin was an assistant football coach and defensive coordinator as well as JV baseball coach at Heritage High School, 1999-2003 and went on to be the head football coach at Flint Kearsley High School, 2004-2009, with a 15-39 record in the Big Nine Conference and then the Flint Metro League. He was the assistant principal at Kearsley 2005-2010 before becoming the assistant principal at FHS in 2010. He is also the district's financial manager.
It was a lot of fun at Kearsley. The kids showed up to compete and we were on the bubble for making the playoffs a couple times," Martin said.
Phil and his wife, Adele, have been married 19 years and have two children, Drew, 12 and Alec, 10. Adele is the Rittmueller Middle School principal since 2005. The Martins are members of the Frankenmuth United Methodist Church.
Martin said much of the current staff is staying on, including Jeff Reinbold and Dave Compau, with new faces yet to be officially named. A new JV coach also must be selected since John Blakenship left.
"I'm very kid oriented and I consider myself a players' coach. I want them to take great pride in themselves and the team and have a good time. I look forward to helping them mature as young men," Martin explained. "Having a hand in the next generation is a big deal to me."
Team camp will begin July 30, the first official day of practice is Monday, August 12, Hots 'n Brats Night is Sunday, August 11 and the first varsity contest is Friday, August 30.
Being the on the JV staff will help as he already knows the incoming players as they move to the varsity level.
"This group of seniors are good athletes. Some have game experience and others will be asked to step in and fill roles from those who graduated. And, some will pop up and surprise us," Martin said.
Martin said he is confident he will have enough time to devote to coaching as well as being the assistant principal and financial manager. He has been delegating some duties to other FHS staff members and pointed out his busy time of the year is actually the final months of the school year, when the next year's budget is formed.
"A full-time job is a full-time job. I was a head coach and was the marketing manager at Spicer Engineering. I was out of the building when I was at Carrollton. Being in the building will make things a whole lot easier," Martin explained. "Plus, we have a great staff here . . . I could never do this by myself."
Otisville-LakeVille will join the Tri-Valley Conference East Division this season and Martin said he has some familiarity with them as 'Muth took on the Falcons a few years ago.
"You can expect great effort from our players. My goal is to have coaches, athletes and parents take pride in giving 100-percent effort on and off the field. We will do our best to prepare and uphold the tradition and most importantly, develop and educate student-athletes to their fullest potential," Martin concluded.
Other applicants for the coaching position included FHS grads Tim Gibson and Dave Compau.
541